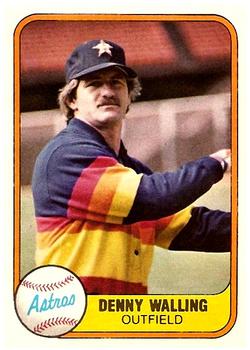 October 7, 1981: Denny Walling's walk-off single in 11th sends Astros to win in Game 2
---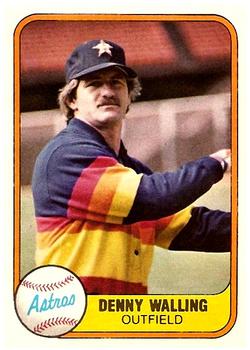 While most of his Astros teammates in the clubhouse were celebrating the 3-1 victory secured by Alan Ashby's two-run walk-off home run in the opening game of the National League Division Series, pinch-hitter and utility player Denny Walling sought out the speed bag and weightlifting equipment.
"The speed bag is my way of releasing my frustrations," said Walling, who had struggled through the season with a .234 batting average and decided his bat felt too heavy during batting practice. "I don't like to take my problems home with me and the speed bag helps me leave them in the clubhouse."1
Walling, who paced the Astros with six pinch hits in 1981, understood the value of being mentally and physically prepared to hit when coming off the bench in clutch situations. His two-run pinch-hit home run in a five-run ninth inning on October 1 had helped beat Cincinnati 8-1, putting the Astros 1½ games ahead of the Reds with three games remaining in the season. Now the team was facing the Dodgers in a tightly-matched series that was apt to hinge on strong pitching and clutch hits.
With a mixture of satisfaction and resentment, 42,398 fans packed the Astrodome on the afternoon of October 7 for the second game of the series. The satisfaction came from being a game up on the rival Dodgers, while the resentment was directed against Los Angeles starter Jerry Reuss (10-4, 2.30) who, in his last start on October 2, had shattered the kneecap of Houston's number-two starter, Don Sutton, with an errant pitch, putting Sutton out of the postseason. "ASTROS, WATCH YOUR KNEECAPS," cautioned a long banner unfurled in the stands.2
Astros manager Bill Virdon tabbed knuckleballer Joe Niekro to start for Houston. After winning 21 games in 1979 and 20 in 1980, the 36-year-old veteran had fashioned a disappointing 9-9 record in 24 starts, but his 2.82 ERA was a career best for his 15 seasons in the major leagues.
Both the Dodgers and the Astros picked up where they had left off in the previous game, with both pitchers locked in a tense duel and both lineups squandering scoring opportunities.
The Dodgers were the first to waste an opportunity when, with two outs in the second inning, Mike Scioscia singled to center and Bill Russell walked, but Niekro struck out Reuss to end the inning.
In the third inning, Davey Lopes led off with a single to right field and advanced to second on Dusty Baker's one-out single to center. Niekro, though, got Steve Garvey to pop up to catcher Luis Pujols and Rick Monday to ground out to shortstop Dickie Thon, snuffing out the rally.
Reuss, for his part, had been untouchable, retiring 13 batters in a row before Cesar Cedeno walked with one out in the fifth inning. Cedeno broke for second on a strike to Art Howe and drew a perfect throw from Scioscia to Russell, but Russell lost his glove when Cedeno slid into the bag, and Cedeno was safe on the error. After Howe was retired on a soft fly ball to center field, Thon hit a sharp grounder between short and third and, although third-base coach Don Leppert threw up the stop sign, Cedeno rounded third for home. Russell, however, made a diving, backhanded play on the ball, and his throw home produced a head-on collision between Cedeno and Scioscia a foot in front of the plate. Scioscia held on to the ball and the game remained scoreless. "I assume from what happened on the play that Cedeno thought the ball went into left field," Virdon said after the game.3
The Dodgers again failed to score in the sixth inning. Singles by Monday and Pedro Guerrero and a walk to Russell loaded the bases, but Niekro again left the runners stranded by striking out Reuss.
Niekro was pulled for a pinch-hitter in the Astros' eighth, after surrendering seven hits and three walks but stranding all 10 baserunners. Niekro had continually found himself working out of the stretch, retiring the side in order in only two of his eight innings.
"He was close to raindrops a few times," Virdon reflected. "He did not have as good of stuff as he usually has, but he came back and that's his forte."4
Right-hander Dave Smith came on to pitch the ninth inning, retiring the Dodgers in order while striking out Reuss and Lopes for the second and third outs.
Phil Garner lined a leadoff single to center field to open the home half of the ninth and, one out later, advanced to second on a single by Jose Cruz. Cedeno, though, fouled out back of first base and Howe grounded to Guerrero at third for the force on Garner.
Smith made short work again of the Dodgers in the top of the 10th inning.
Reuss, fatigued after pitching nine innings of five-hit shutout ball, told Dodgers manager Tommy Lasorda he was through for the day.
"I wanted to go on," Reuss said afterward. "But the reasonable side of me said not to. If I have any doubts, that always means it's wiser to be taken out. The hard part is being honest with yourself."5
Steve Howe, a left-hander who had been National League Rookie of the Year in 1980 and led the Dodgers in 1981 with eight saves, took the mound for Los Angeles to open the 10th inning. Thon singled to left field to open the frame, and Pujols sacrificed him to second, but that was all the Astros were able to muster.
Houston's ace reliever, lefty Joe Sambito, took over for the Astros in the top of the 11th. After Guerrero flied out to center field, Steve Yeager, batting for Scioscia, doubled to left. Russell walked to put runners at first and second. With Howe due up, Lasorda sent in Reggie Smith to hit. Sambito struck out Smith and then fanned Mike Marshall, who was batting for Lopes, to keep the Dodgers scoreless.
Dave Stewart, who had been the losing pitcher the day before on Ashby's walk-off home run, was brought in to pitch for the Dodgers, while Yeager remained in to catch and rookie Steve Sax took Lopes' spot at second base.
Garner lined a leadoff single to center field. Conventional wisdom might have called for Tony Scott to bunt Garner to second, but Houston skipper Virdon had other ideas.
"Well, I don't pass (the bunt) up most of the time," Virdon said. "Tony has had trouble bunting of late. But the main reason was I didn't want to waste Cruz."6
Had Scott laid down a successful sacrifice, Virdon expected that the Dodgers would intentionally walk Cruz, the Astros' leading home run (13) and RBI (55) producer for the season. Instead, Virdon had Scott swing away. Scott, swinging at an outside fastball, slapped it into left field for a single. Garner, who had been running with the pitch, advanced to third.
Lasorda pulled Stewart and brought in lefty Terry Forster to pitch to the left-handed Cruz. Cruz popped to shallow left field for the first out. Lasorda then pulled Forster in favor of Tom Niedenfuer, who intentionally walked Cedeno before fanning Art Howe on three pitches.
With the Astros now facing a two-out, bases-loaded situation, Virdon called on Walling to bat for Dickie Thon.
Walling had been observing the Dodgers' moves from the dugout, including the insertion of Derrel Thomas as a defensive replacement in right field for Rick Monday in the eighth inning.
"I noticed that [Thomas] was playing shallow in the last few innings and remarked about it on the bench," said Walling.7
With Howe and Forster gone, the Dodgers had exhausted their supply of left-handed relievers, so Lasorda stayed with Niedenfuer to pitch against the left-handed-hitting Walling.
Niedenfuer delivered one fastball low, then a second for a strike. According to Niedenfuer, the next pitch was a fastball that "started way inside off the plate but faded in too much."8
Walling was sitting on the fastball and launched Niedenfuer's serve on a line to right, over the head of Thomas, allowing Garner to trot home with the winning run and the Astros to head to Los Angeles with a two-games-to-none lead in the best-of-five series.
"If (Thomas) had been a little deeper, he might have been able to get it," Walling mused to reporters after the game.9
Lasorda could only comment on the vagaries of the game: "[Coach] Danny Ozark had been placing the outfielders perfectly all game. They hit a lot of line drives right at our outfielders. That time, it just didn't work out."10
This article appears in "Dome Sweet Dome: History and Highlights from 35 Years of the Houston Astrodome" (SABR, 2017), edited by Gregory H. Wolf. To read more articles from this book at the SABR Games Project, click here.
Sources
In addition to the sources cited in the notes, the author also consulted the Los Angeles Times, Newsday, and The Sporting News.
Notes
1 "Astros Nip L.A., 1-0, in 11 Innings," Paris (Texas) News, October 8, 1981: 13.
2 Jeff Katz, Split Season:1981: Fernandomania, the Bronx Zoo, and the Strike That Saved Baseball (New York: St. Martin's Press, 2015), 242.
3 "Walling Belts in Houston's Winning Run," Galveston (Texas) Daily News, October 8, 1981: C1.
4 Ibid.
5 "Quartet Held Pitching Clinic," Houston Chronicle, October 8, 1981: 4B.
6 "Astros' Brains Made Right Moves," Houston Chronicle, October 8, 1981: 4B.
7 "Astros Win for 2-0 Series Lead," New York Times, October 8, 1981: B11.
8 "Walling Prepared for Chance," Houston Chronicle, October 8, 1981: 1B.
9 "Houston Astros 1981 Division Series," The Astros Daily, Web, July 11, 2015.
10 "Strong Suit Deserts L.A.," Galveston Daily News, October 9, 1981: B1.
Additional Stats
Houston Astros 1
Los Angeles Dodgers 0
11 innings
Game 2, NLDS
---
Astrodome
Houston, TX
Box Score + PBP:
Corrections? Additions?
If you can help us improve this game story, contact us.
Tags
https://sabr.org/sites/default/files/WallingDenny.jpg
600
800
admin
/wp-content/uploads/2020/02/sabr_logo.png
admin
2018-09-20 12:18:33
2020-04-17 13:34:01
October 7, 1981: Denny Walling's walk-off single in 11th sends Astros to win in Game 2