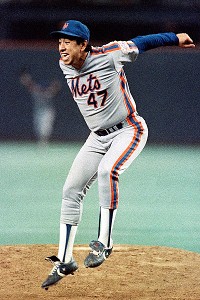 October 15, 1986: Mets win NLCS thriller in 16 innings
---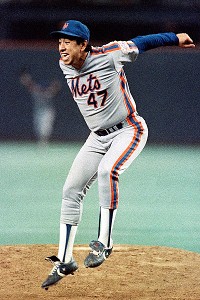 Time and again during their run to the world championship in 1986, the New York Mets clawed back in desperate situations. They were all but eliminated in Game Six of the World Series, when the Boston Red Sox were one strike away from winning it all for the first time since 1918. Earlier, in Game Six of the National League Championship Series that year — an excruciating 16-inning battle with the Houston Astros — the Mets also climbed out of a deep hole. The incredibly suspenseful game had sportswriters from around the nation at their best. Mike Downey of the Los Angeles Times wrote, "They [the Astros] made the Mets sweat and suffer, made them charge from behind and gasp to stay in front. …They were enervated, drained, battle-fatigued."1 In his chronicle of the '86 Mets, The Bad Guys Won, author Jeff Pearlman also vividly portrayed the mental and physical exhaustion that the players felt. Newark Star-Ledger columnist Jerry Izenberg devoted an entire book, The Greatest Game Ever Played, to this single contest.
Unlike Game Six of the '86 World Series, New York's season would not have ended with a loss to Houston. The Mets had won three of the first five games of the 1986 NLCS, including a 12-inning 2-1 victory the day before at now-demolished Shea Stadium. Had the Astros won Game Six, though, they would have sent their ace, Mike Scott, to the mound the next day. Scott had thrown a five-hit shutout in Game One, making a single second-inning run stand up. He went all the way again to win Game Four, 3-1. After the season ended, he was named the NL's Cy Young Award winner. He was on a lethal roll with his split-fingered fastball.
Just how dominant was Scott at that time? His won-lost record in the regular season was not spectacular at 18-10, though he did lead the league in ERA at 2.22. But after the All-Star break, including his two playoff wins, he was 12-5, 1.97 in 19 starts. On September 25 he threw a no-hitter against San Francisco to clinch the NL West division title. He had struck out 174 in 146? innings, while allowing just 83 hits and 37 walks for a WHIP (walks plus hits per inning pitched) of 0.82.
The Mets believed that something else was helping Scott's splitter to "drop off the table." After Scott's victory in Game One, New York manager Davey Johnson showed a group of reporters eight balls that were scuffed in exactly the same spot — a mark about the size of a 50-cent piece. However, National League President Chub Feeney called Scott "innocent until proven guilty" — though he added, "We will be watching closely the next time he pitches."2
Had the series gone to Game Seven, Scott would have faced Ron Darling. Darling had pitched well during the regular season (15-6, 2.81) but had given up four runs in five innings pitched in Game Three of the NLCS, which the Mets came back to win on a two-run homer in the bottom of the ninth by Len Dykstra. In 2006 Darling said, "I felt I couldn't give up any runs because Mike Scott wasn't going to."3
The adverb "desperately" has often been used to depict how much the Mets wanted to win Game Six. In their own words, this supremely confident team — viewed as arrogant in many quarters — didn't go quite that far. It is fair to say, however, that there were strong psychological undercurrents as the series shifted back to the Astrodome.
A note on that venue is in order too. The Astrodome — once known as the Eighth Wonder of the World — hosted its last big-league game in 1999, and though it was still standing as of 2013, it had fallen into disuse and disrepair. In 1986, however, the dome was also home to the Houston Oilers of the NFL. The Oilers had hosted the Chicago Bears just three days before Game Six — yard lines were still visible on the Astroturf.
The starters in Game Six were both lefties: Bob Knepper for Houston and Bob Ojeda for the Mets. Ojeda, perhaps New York's most reliable pitcher during the regular season (18-5, 2.57 ERA) had gone the route as the Mets won Game Two, 5-1. But the Astros got to him for three runs in the first inning of Game Six, and it could have been more except that Kevin Bass was tagged at home on a missed suicide-squeeze attempt. Ojeda settled down after that and did not allow another run before coming out for Rick Aguilera in the sixth inning. Aguilera pitched three shutout innings, giving up just one hit.
Meanwhile, Knepper — 17-12, 3.14 in the regular season, with a no-decision in this series' Game Three — was cruising. He'd given up just two hits and a walk as he took a shutout into the ninth inning. Yet the Mets broke through for the tying runs; pinch-hitter Dykstra ignited the rally with a leadoff triple. It was an unorthodox move by Johnson to send up a lefty swinger against Knepper. Also, while Bass in right field and José Cruz in left were playing deep, center fielder Billy Hatcher remained shallow, and he could not get back to make the play.
Mookie Wilson singled off the tip of second baseman Bill Doran's glove to score Dykstra. One out later, Keith Hernandez doubled, Wilson scored, and Houston closer Dave Smith entered. Smith, who'd given up Dykstra's homer in Game Three, was ineffective again. He walked the first two men he faced, which enabled the third run to score on Ray Knight's sacrifice fly. With the count 1 and 2 to Knight, home-plate umpire Fred Brocklander — whose controversial call at first base took a vital run away from Houston in Game Two — had the Astros screaming again when he called a ball.
Roger McDowell entered in the bottom of the ninth for the Mets and went on to pitch five superb innings. He faced the minimum 15 batters; the only baserunner he allowed, Bass, was caught stealing second base. It was McDowell's longest relief stint ever in the majors; his only longer outing came in one of his two big-league starts as a rookie in 1985. Smith pitched a scoreless tenth for Houston, and Larry Andersen blanked the Mets from the 11th through the 13th.
In the 14th the Mets got a run against veteran reliever Aurelio López. The portly Mexican was no longer "Señor Smoke" at this stage of his career, but he contained the damage with runners on second and third. Jesse Orosco came on to try to get the save for the Mets, but with one out, Hatcher pulled a drive high and deep. Would it stay fair? It hit the screen on the left-field foul pole, and the game was tied again.
After a scoreless 15th, New York put up three runs in the top of the 16th against López and Jeff Calhoun. One question about this game is why Houston manager Hal Lanier chose not to use lefty Jim Deshaies – twice passed over for starting assignments – at any point. Lanier said that Deshaies had not faced that kind of pressure before. But bullpen coach Gene Tenace apparently told Lanier that Deshaies didn't have good stuff while warming up.4
Yet the tension was far from over — the Astros chipped away for two. They had the tying run on second base and the winning run on first with Bass at the plate. First baseman Keith Hernandez warned the weary Orosco (accounts vary as to the choice of words) not to throw a single fastball. The count ran full, and Mets announcer Bob Murphy said, "Pulsating baseball… Nobody has sat down for the last four or five innings… Incredible." Finally — on the sixth straight breaking ball — Bass fanned.5 The Mets had won the National League pennant, and Orosco leaped in exultation. It had been the longest game in terms of innings in postseason history.6
Even if Houston had extended the series, at least some of the combative Mets still liked their chances against Scott. After Game Four, Ray Knight said, "You have to get that [the talk of scuffing] out of your mind and start thinking, 'What approach is best suited to hit this pitch?' and then you have to make adjustments at the plate."7 Scrappy second baseman Wally Backman said, "We're ticked and we're not going to take this lying down. I don't care if he scuffs 400 balls. I don't care if they're scuffed before the game. I don't think any pitcher can beat us three times in a row."8
On the flip side, however, Backman admitted after Game Six that Scott was in his head: "If we had lost and had to face Scott tomorrow, I wouldn't have slept at all." Catcher Gary Carter also said, "Mike Scott was our incentive to win."9 Davey Johnson added, "Amen. I feel like I'm on parole, like I've just been given a pardon."10 Perhaps a better choice of words would have been "reprieve" — the 1986 Mets just went from one grueling drama to the next.
This article was published in "Met-rospectives: A Collection of the Greatest Games in New York Mets History" (SABR, 2018), edited by Brian Wright and Bill Nowlin. To read more articles from this book at the SABR Games Project, click here.

Notes
Additional Stats
New York Mets 7
Houston Astros 6
16 innings
Game 6, NLCS
---
Astrodome
Houston, TX
Box Score + PBP:
Corrections? Additions?
If you can help us improve this game story, contact us.
Tags
https://sabr.org/sites/default/files/OroscoJesse-1986-NLCS.jpg
600
800
admin
/wp-content/uploads/2020/02/sabr_logo.png
admin
2014-07-17 17:48:57
2023-07-19 17:27:48
October 15, 1986: Mets win NLCS thriller in 16 innings