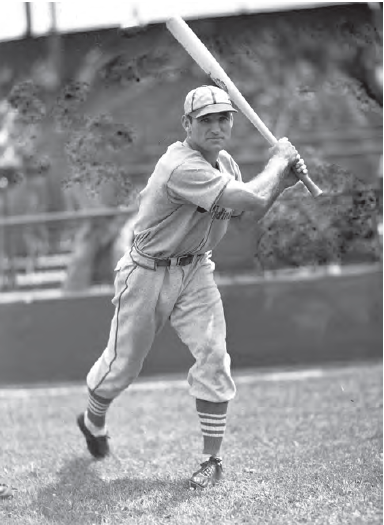 October 2, 1931: 'Wild Horse' Pepper Martin steals the show as Cardinals take Game 2 of World Series
---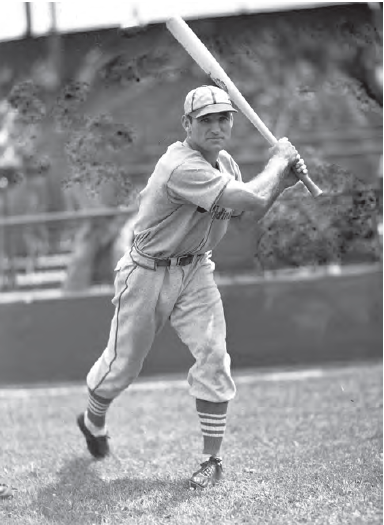 Bill Hallahan "cast a spell of impotence over the bats of the slugging Athletics," gushed St. Louis scribe J. Roy Stockton after the Cardinals southpaw's overpowering three-hit shutout of heavily favored Philadelphia.1 Hallahan "pitched magnificently," in the eyes of sportswriter S.O. Grauley of the Philadelphia Inquirer. "His curve ball was just wild enough to keep the Athletics in a continued puzzle."2 But as impressive as Hallahan was, Pepper Martin, the "Wild Horse of the Osage," stole the headlines with his daring baserunning and by scoring both Redbirds runs in a tightly played Game Two of the 1931 World Series.
The Hallahan-and-Pepper show came at a precipitous time. Following the Athletics' 6-2 victory in the opening contest of the fall classic, the mood at Sportsman's Park on Friday afternoon for Game Two was subdued. The crowd "showed discouragement [and] lacked the cheering and pep of game one," lamented E. Roy Alexander in the St. Louis Post-Dispatch, noting that the attendance of 35,947 was more than 2,500 fewer than on the previous day.3 The invincible-looking A's, winners of 107 games and shooting for their third straight title, hushed the Midwestern throng in batting practice as sluggers Al Simmons, Jimmie Foxx, and company pounded balls over the fence. To make matters worse for the rough-and-tumble Cardinals, A's owner-skipper Connie Mack sent right-hander George Earnshaw to the mound. "Big Gawge," as Philadelphia sportswriters liked to call him, was coming off his third consecutive season with at least 20 victories; however, more ominous was his commanding performance against the Cardinals in the 1930 World Series when he permitted just two earned runs in 25 innings and won two games as the A's emerged victorious in six games.
Cardinals skipper Gabby Street's ace in the hole was Hallahan. One of baseball's hardest throwers, Hallahan had emerged as a legitimate ace the previous season, his first as a full-time starter, posting a 15-9 record. He also shut out the A's on a seven-hitter in Game Three of that year's World Series. Hallahan's 19 victories tied for the NL lead in 1931, but true to his "Wild Bill" moniker, the hurler with a "sphinx face and pug nose" (according to Redbirds beat writer Sid C. Keener) paced the circuit in walks as well as punchouts for the second year on a row.4
After Hallahan set down the A's in order in the first, including swinging strikeouts of Mule Haas and Mickey Cochrane, the Cardinals threatened when George Watkins lofted a one-out single to short center. Haas was caught napping as Watkins raced to second, just beating Haas's throw. Watkins was left stranded, but his heads-up play epitomized the club's "small ball" mentality.
The Cardinals' speed was on full display in the second when the red-hot Martin, greeted by a loud ovation for his 3-for-4 performance in Game One, belted a one-out liner to left. When Simmons slightly fumbled the ball, Martin rounded first and slid into second in a cloud of dust.5 Martin, who swiped 16 of the Cardinals' big-league best 114 stolen bases, took advantage of Earnshaw's slow delivery and bolted for third, sliding in head-first and easily evading Cochrane's late throw. Martin tallied the game's first run on Jimmie Wilson's sacrifice fly to center.
Appearing unhittable, Wild Bill retired the first 11 batters he faced until Cochrane drew a two-out walk in the fourth. He encountered his first trouble of the game in the fifth, yielding a leadoff free pass to Foxx and then surrendering his first hit, a single by Bing Miller. After Jimmy Dykes moved up both runners on a sacrifice bunt, Hallahan played the percentages by walking Dib Williams to face Earnshaw.6 Although he was no slouch at the plate (30-for-114 and 13 RBIs in '31), Earnshaw hit into a 6-4-3 inning-ending twin killing.
It looked as though the A's might score their first run in the sixth when Cochrane smashed what Stockton considered a "dangerous looking" one-out liner to right field with Haas on first via a single.7 But Watkins made a "sensational catch" as he crashed into the pavilion wall to save a run.8
Earnshaw rolled through the Cardinals lineup, setting down nine straight batters before Frankie Frisch, the 1931 NL MVP, doubled with one out in the sixth; however, Big Gawge needed some runs.9 The A's threatened again, in the seventh, when Foxx led off with a single. After a two-out walk to Williams, Hallahan unleashed a wild pitch facing Earnshaw, permitting Miller (whose grounder had forced Foxx at second) to reach third. Hallahan fanned Earnshaw to end the rally, though, as the St. Louis faithful exhaled.
In the seventh Pepper Martin "put on a real display of dazzling baseball," wrote James C. Isaminger of the Philadelphia Inquirer, and had the crowd "spellbound."10 Martin led off with a single, swiped second, and moved to third on Wilson's grounder. With manager Street calling for a squeeze play, Charlie Gelbert bunted back to the mound. According to the Post-Dispatch, Cochrane "had the plate well blocked" and it looked as if Martin would be out.11 However, Earnshaw's poor throw pulled Cochrane off the plate.12 In what proved to be one of the defining moments of the Series, Martin executed a perfect hook slide to elude Cochrane's reach and made it 2-0. Martin "stole the game away from the clutching hands of the mightiest catcher in baseball," exclaimed sportswriter Stan Baumgartner in the Inquirer, comparing his daredevil tactics to those of Ty Cobb.13
A scoreless eighth during which both hurlers issued two-out walks gave way to what Baumgartner described as a "pulsating and nerve-racking ninth" when the "A's had the chance they seldom muff."14 Hallahan, whose "wildness made the contest a thriller," according to Stockton, began the frame by issuing his sixth walk, to Foxx.15 After Miller flied out, Dykes drew a walk as tension mounted, but Hallahan had ice in his veins. He fanned Williams looking, then met with his batterymate Wilson to discuss how to approach Jimmy Moore, pinch-hitting for Earnshaw.
The final sequence of events led Isaminger to pronounce that "Never in a World's Series did a game have a more theatrical ending."16 In a succession of weird plays, Moore swung at a third strike on a sharp-breaking curve in the dirt. (Some reports claimed that Wilson had dropped the ball.) According to sportswriter Herman Wecke, Moore headed to the dugout apparently thinking that the game was over, while Cardinals fans swarmed the field.17 But the game was anything but over as "entire playing field resembled a corner-lot ball game," opined Keener.18 Inexplicably, Wilson "almost pull[ed] a Merkle," wrote Stockton.19 After a short hesitation, Wilson fired the ball to third baseman Jake Flowers as both Foxx and Dykes had taken off with two strikes in what looked like a double steal. Almost simultaneously, A's coach Eddie Collins yelled to Moore and told him to run back to first and not to the dugout; then Collins charged toward home-plate umpire Dick Nallin to argue that Moore should be safe on first because Wilson did not tag him or throw him out following the third strike in the dirt. Nallin agreed. Wilson was charged with an error, the game's first, and the bases were loaded.
Philadelphia had caught a break. Now it was up to Max Bishop to capitalize on it while Hallahan had to keep his wits. Needing a single to tie the game, Bishop lofted a 0-and-1 pitch toward foul territory. First baseman Jim Bottomley raced toward the temporary field box seats, tracking the orb. Sunny Jim lunged for the ball with his glove stretching over the railing to make what the sports pages across the country universally hailed as a "spectacular catch" as he tumbled into spectators to end the game in a nail-biting 1 hour and 49 minutes.20
The game will be "buzzed over during the entire winter around the stove league," predicted the Inquirer's Grauley.21 The Cardinals' 2-0 victory was hailed as an immediate World Series classic. The Redbirds rode Hallahan, described by Baumgartner as a "half-pint southpaw with the kick of a keg in his sturdy left arm."22 In a scintillating performance against the reigning three-time pennant-winning A's, Wild Bill made 132 pitches (53 balls), including 28 in the final inning, and struck out eight.23 "[H]is fast ball zipped past batters," said batterymate Wilson. "He had a curve that stood them on their heads."24 Martin, a 5-foot-8 ball of energy, served as the team's inspiration, collecting two of the club's six hits, swiping two bases, scoring both runs, and making his case as one of the most disruptive and exciting players in baseball.
While sportswriters from the Gateway City and the City of Brotherly Love surrounded the two stars of the game, Wilson seemed dejected in a euphoric clubhouse. Eventually he had the chance to explain what many called his bonehead move, one that could have cost the Cardinals a victory. "Moore's swing was not a complete follow-through," he said, adding that he couldn't hear Nallin's call and thought it might have been a ball. He admitted he had hesitated and then threw to third because Foxx was running. In the end, Bottomley's catch made sure that Wilson was no Merkle.
This article appears in "Sportsman's Park in St. Louis: Home of the Browns and Cardinals at Grand and Dodier" (SABR, 2017), edited by Gregory H. Wolf. Click here to read more articles from this book online.
Sources
In addition to the sources cited in the Notes, the author also accessed Retrosheet.org, Baseball-Reference.com, SABR.org, and The Sporting News archive via Paper of Record.
Notes
1 J. Roy Stockton, "Martin Hits Safely Twice, Steals Two Bases, Scores Both Runs; Hallahan in Form," St. Louis Post-Dispatch, October 2, 1931: 1C.
2 S.O. Grauley, "Tables Turned for Cards by Hallahan Just as Last Year," Philadelphia Inquirer, October 3, 1931: 17.
3 E. Roy Alexander, "35,947 See Second Game, Smaller Than Opening Day Crowd," St. Louis Post-Dispatch, October 2, 1931: IC.
4 Sid C. Keener, "Wilson's Explanation of Play That Nearly Made Him a 'Merkle,'" St. Louis Star and Times, October 3, 1931: 3.
5 Stockton.
6 Although BaseballReference.com and Retrosheet.org describe the play as an intentional walk, contemporary play-by-play reports do not; rather, they describe it as four consecutive bad pitches (inside and outside). See S.O. Grauley, "Pursue That Elusive World's Series Pellet Here Tracing the Contest to Marvel at Hallahan's Brilliance and to Condole with the Macks," Philadelphia Inquirer, October 3, 1931: 19.
7 Stockton.
8 "The Game, Play-by-Play," St. Louis Post-Dispatch, October 2, 1931: 1C.
9 Frisch's smash down the left-field line was officially ruled a ground-rule double because of fan interference.
10 James C. Isaminger, "A's Defeated, 2-0; Hallahan and Martin Put Cards in Race," Philadelphia Inquirer, October 3, 1931: 1.
11 Stockton.
12 Isaminger.
13 Stan Baumgartner, "Pepper Martin Hero as Hallahan Hurls Three-Hit Triumph," Philadelphia Inquirer, October 3, 1931: 19.
14 Ibid.
15 Stockton.
16 Isaminger.
17 Herman Wecke, "Stupid Play by Wilson Gives Home Fans Scare in the Ninth," St. Louis Post-Dispatch, October 2, 1931: 1C.
18 Keener.
19 Stockton. Merkle refers to the New York Giants rookie Fred Merkle, whose baserunning blunder against the Chicago Cubs on September 23, 1908, led to his being forced at second base for the game's final out instead of a game-winning hit. [Merkle never made it to second as he headed for the dugout as fans poured onto the field after Moose McCormick, who was on third, scored what appeared to be the game-winning run.] Given the ensuing chaos, play did not resume and the game was declared a tie. The Cubs won the makeup game, and eventually the pennant – by one game over the Giants – and went on to capture the World Series.
20 Stockton.
21 Grauley, "Tables Turned for Cards by Hallahan Just as Last Year."
22 Baumgartner.
23 Pitch counts are from Grauley, "Tables Turned for Cards by Hallahan Just as Last Year."
24 Keener.
Additional Stats
St. Louis Cardinals 2
Philadelphia Athletics 0
Game 2, WS
---
Sportsman's Park
St. Louis, Mo
Box Score + PBP:
Corrections? Additions?
If you can help us improve this game story, contact us.
Tags
https://sabr.org/sites/default/files/Pepper%20Martin.png
600
800
admin
/wp-content/uploads/2020/02/sabr_logo.png
admin
2018-11-07 12:27:19
2020-04-17 13:34:00
October 2, 1931: 'Wild Horse' Pepper Martin steals the show as Cardinals take Game 2 of World Series