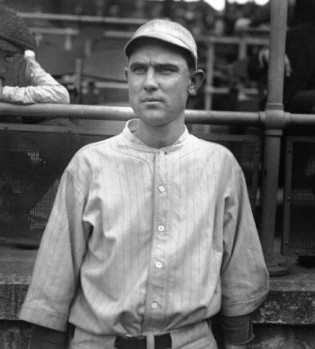 October 12, 1915: Ernie Shore leads Red Sox to Game Four victory
---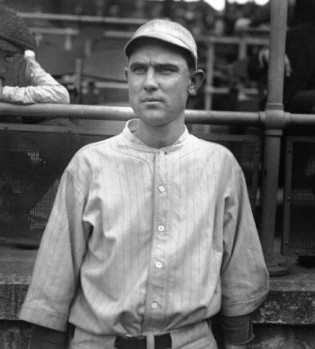 Game Four of the 1915 World Series was the second home game in the Series for the American League champion Boston Red Sox – but it was not played on their own home field. A year earlier, the National League-pennant-winning Boston Braves had "borrowed" Fenway Park from the Red Sox for the World Series because the two-year-old jewel box stadium provided an upgrade from their own South End Grounds. Now, in an interesting reversal, theSox accepted the offer of Braves owner James Gaffney to play their World Series games against the Philadelphia Phillies at spanking new Braves Field, opened only two months before and boasting the largest capacity in the major leagues, a little over 42,000.1
After a 3-1 opening-game loss in Philadelphia, the Red Sox had gained the upper hand, taking two straight contests by identical 2-1 scores. Their Game Three victory the previous day at Braves Field was especially encouraging, as it came against Phillies ace Grover Cleveland Alexander , upon whom much of Philadelphia's hopes rested.
Although Game Four attendance, reported officially at 41,096, was slightly lower than that of Game Three, it was not through a lack of fans desiring admission. In fact, there was such a crush of prospective ticket-buyers that the fans found themselves somewhat in physical peril as they attempted to muscle through the ballpark gates: "The police were powerless, as apparently no systematic and intelligent arrangements had been made to handle the enormous crowd."2Recognizing potential danger, the Red Sox decided to stop selling standing-room tickets, and thus estimated thousands were turned away. Of course, many of these sought out what vantage points were available outside the park and watched from a distance.
The weather was excellent for the 2:00 P.M. start, the "brilliant October sun having in its rays the warmth of early summer."3October 12 was Columbus Day, and Boston was celebrating with a number of public activities. Although the usual military parade was canceled due to "conditions in Europe" (the World War was raging), there was a parade of coast artillery from the city's harbor-defense corps, and the third annual Pan-American meeting was held at Faneuil Hall, presided over by Mayor James Michael Curley. Fireworks on the Common were scheduled for 3:00 P.M.4
Boston manager Bill Carrigan sent Ernie Shore to the mound on three days' rest. In his second year with the Red Sox, and having enjoyed a career-best season, (19-8, 1.64 ERA), Shore was looking to avenge his Game One loss to Alexander. Today he would face George Chalmers, who, at 27 years old, in the penultimate season of an unspectacular seven-year major-league career, was essentially manager Pat Moran's fifth starter behind Alexander, Erskine Mayer, Al Demaree, and Eppa Rixey. But Chalmers got the call ahead of Demaree and Rixey, and for the most part made Moran look like a genius in choosing him. The two teams together had produced but 10 runs in the first three games, and the huge audience at Braves Field was in for another pitchers' duel.
Third basemanMilt Stock led things off for the Phillies with a single down the left-field line but was erased trying to take an extra base by Duffy Lewis's swift peg to shortstop Everett Scott covering second. A walk to future HallofFamer Dave Bancroft was wasted too, as Shore then fanned Dode Paskert and Cravath.The Red Sox also failed to start well, Harry Hooper and Scott striking out and Tris Speaker getting caught stealing after drawing a base on balls.
Another inning and a half went by without scoring, both pitchers looking strong. Shore was perhaps getting the worst of the pitchers'match, walking a batter in each of the first four innings. He may have been a little wild, or it could have been that Moran's men were finally showing some patience at the plate – as Boston Globe columnist (and former nineteenth-century major leaguer) Tim Murnane suggested, consciously "waiting him out."5
Boston broke the scoreless tie in the bottom of the third. Second baseman Jack Barry walked and took second on Hick Cady's bunt single. Shore sacrificed Barry to third, and he tallied on Hooper'sinfield hit.
The Phillies threatened in the fourth, putting two men on, but came up empty when Chalmers hit into an inning-ending force out. Things were quiet on the Red Sox side too until the sixth, when first baseman Dick Hoblitzell stroked his second single of the game and was driven home by Lewis's double into left.
An apparently spontaneous show of patriotism erupted at the outset of the seventh inning, as a brass band struck up "The Star-Spangled Banner." The Braves Field crowd responded en masse, standing and doffing their headwear, and the players and umpires followed suit.6
Speaking of crowd demonstrations, Boston's Royal Rooters made their presence in the park well known. Ty Cobb commented in his syndicated column: "It is pretty tough when people have to pay from $1 to $5 for a seat to see a ball game and be pestered to death with the terrible strains of 'Tessie' through an entire world's series."7
Meanwhile, Shore had settled down and was picking up steam as the afternoon progressed. In the Philadelphia seventh, Chalmers, aiming to help his own cause, reached on a one-out blooper to center, but the opportunity died on Stock's double-play grounder.
One of the most hotlydiscussed matters of the Series was the lack of production from Phillies slugger Gavvy Cravath. At age 34 he had enjoyed one of his best seasons, topping the National League in runs, homeruns, RBIs, walks, total bases, and slugging percentage. But here in his only postseason series, he was struggling miserably, with just one hit and one RBI to his credit in three games. Many blamed the spacious dimensions of Braves Field, but then again, Cravath did no better in his home park, going 1-for-8 in the Baker Bowl games, the same as in the Boston games. Cravath finally rose somewhat to the occasion in the eighth inning, mashing a two-out, full-count triple past Speaker in center. First baseman Fred Luderus, the one consistent bright spot in Moran's lineup this October, followed with a single that scored Gavvy and cut the Boston lead in half. Oscar Dugey pinch-ran for Luderus and when he stole second, the Phillies had the tying run in scoring position.8But Shore got Possum Whitted on an easy grounder back to the mound, and the uprising was quelled.
In the bottom half of the eighth, three men reached base for the Sox, but Larry Gardner's tapper back to the mound was fired to the plate by Chalmers, forcing Speaker. Catcher Eddie Burns inturn "shot the ball down to Whitted"9 at first, nipping Gardner. The snappy doubleplay ended Boston's batting for the day. Shore put the Phillies down 1-2-3 in the ninth inning on only four pitches10and Game Four went into the books as the third straight 2-1 win for the Red Sox, placing them on the brink of the championship.
Eppa Rixey had been warming up all day, but things never got to the point where he was needed.11It was generally agreed that Chalmers had pitched above expectations, perhaps more effectively than either Alexander or Mayer in their games.Tim Murnane, referring to Chalmers as a "moist ball pitcher," said he pitched a "very intelligent game."12
The next day, the scene shifted back to Philadelphia for the final act: a 5-4 Red Sox victory in Game Five, giving the city of Boston its second of three consecutive World Series titles from 1914 to 1916.
This article appeared in "Braves Field: Memorable Moments at Boston's Lost Diamond" (SABR, 2015), edited by Bill Nowlin and Bob Brady. To read more articles from this book, click here.
Sources
In addition to the sources mentioned in the Notes, box scores for this game can be seen on baseball-reference.com, and retrosheet.org at:
http://www.baseball-reference.com/boxes/BOS/BOS191510120.shtml
http://www.retrosheet.org/boxesetc/1915/B10120BOS1915.htm
Notes
Additional Stats
Boston Red Sox 2
Philadelphia Phillies 1
Game 4, WS
---
Braves Field
Boston, MA
Box Score + PBP:
Corrections? Additions?
If you can help us improve this game story, contact us.
Tags
http://bioproj.sabr.org/bp_ftp/images4/ShoreErnie.jpg
600
800
admin
/wp-content/uploads/2020/02/sabr_logo.png
admin
2015-06-15 06:40:06
2020-04-17 13:34:08
October 12, 1915: Ernie Shore leads Red Sox to Game Four victory