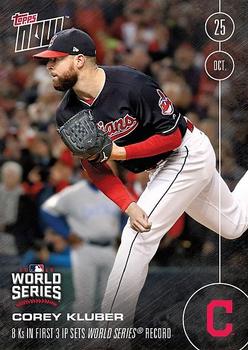 October 25, 2016: Kluber leads Indians' 6-0 shutout of Cubs in World Series opener
---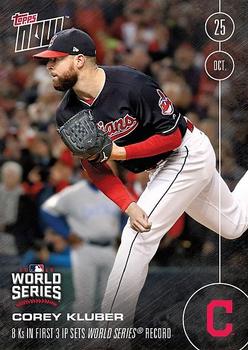 Neither team had won a championship in decades. The Cleveland Indians and the Chicago Cubs, the two teams with longest postseason title droughts, knew that one of them would finally end the years of disappointment. For the Cubs, it had been 108 years since their last championship. Indians fans had to go back only 68 years to remember the last time their team won the World Series.
As both teams prepared to face off in the first game, Indians first baseman Mike Napoli said: "The baseball gods are really happy right now. I think it's going to be a special World Series. There's two droughts, and there's going to be a winner."1 A total of 38,091 fans, the smallest crowd to see a World Series game outside of Boston, poured into Progressive Field ready to see history made.2
The Indians sent Corey Kluber to the mound. Terry Francona, the Indians' manager, expressed confidence in Kluber: "He's a good pitcher all the time. In these playoffs, he's been about as good (as he can be).3 Kluber entered the game with a 2-1 record and a 0.98 ERA in the postseason, and so Francona had good reason to express confidence in his ace.
Kluber immediately showed that he was ready. He struck out Dexter Fowler on five pitches and then got Kris Bryant out on a called third strike six pitches later. Anthony Rizzo ended the Cubs half of the first inning when he hit a pop fly to third.
Jon Lester started for Cubs. He had also pitched well in the playoffs. Lester won two of the three games he pitched on the Cubs' road to the World Series. He also struck out 14 while walking just two batters in the 21 innings he pitched in the playoffs. Lester was no stranger to the World Series, having won three games when he played for the Boston Red Sox.
Like Kluber, Lester started strong. He struck out leadoff batter Rajai Davis and got Jason Kipnis to line out to first. But then Francisco Lindor singled and stole second. Lester walked Napoli and Carlos Santana to load the bases. Jose Ramirez knocked in the first run when he singled. Lester hit Brandon Guyer on an 0-and-2 pitch to bring in the second Indians run. The Cubs finally got out of the jam when Lonnie Chisenhall fouled out behind home plate.
"The first inning hurt. The walks, not even the dribbler or the hit batter. It was about the walks prior to that that really hurt us," said Cubs manager Joe Maddon after the game.4
Ben Zobrist opened the second inning with a double and for a few moments, Cubs fans thought that they might bounce back. But Kluber struck out the next three batters to leave Zobrist stranded on second and the Cubs scoreless.
It was almost a repeat in the third. Kluber struck out leadoff batter Addison Russell. David Ross then singled. Once again Kluber frustrated the Cubs as he got Fowler and Bryant to strike out. When Bryant swung and missed the pitch to end the inning, Kluber had struck out eight Cubs in three innings of work.
By the time Kluber walked off the mound in the seventh inning, he had shut out the Cubs, scattering four hits over six innings. As he headed for the dugout, the crowd at Progressive Field stood and shouted their approval. "He's our ace. Every time he steps on the mound, I expect big things from him. He was awesome. We had a good game plan going on before the game. We executed pitches, and he was outstanding," said Indians catcher Roberto Perez after the game.5
Kluber also gave a lot of credit to Perez: "Roberto did an unbelievable job. It's almost like he knew what they were looking for. He had them off balance the majority of the night. Really, the only time they got hits was when I didn't execute a pitch."6
Besides his solid work behind the plate, Perez also helped Kluber offensively. In the fourth inning, he hit Lester's second pitch for a home run to give the Indians their third run of the game. Perez extended the Indians lead in the eighth inning. With Guyer and Chisenhall on base, Perez came to bat and hit his second home run of the game over the left-field fence to give the Indians a 6-0 lead.
Perez had hit only three home runs all season and suddenly he had three in the postseason. It was also just the fifth time a catcher had knocked in two home runs in a World Series game. "What he did at the plate tonight, my goodness, that was exciting to watch," Francona said after the game. Perez told reporters: "I'm just playing with a lot of confidence right now. I'm not trying to do too much at the plate. It's an unbelievable feeling."7
Francona removed Kluber in the seventh after he gave up a leadoff single to Zobrist. He brought in Andrew Miller from a Tribe bullpen that had excelled at putting out fires all season. "It's not rocket science. When you have the game on the line, in leverage situations, you want to use guys in the right spots," said Francona about his decision to send Miller to the mound.8
Miller had won the MVP award in the ALCS for his work. He pitched 7⅔ innings for the Indians as they beat the Toronto Blue Jays in five games. He struck out 14 while walking none in late relief in that series. Miller had yet to give up a run in his 14 innings of postseason pitching.
Miller gave up a walk to Kyle Schwarber. When Javier Baez followed with a single, the Cubs suddenly had the bases loaded with no outs. It was their best scoring opportunity of the evening. Miller got Willson Contreras to fly out to center field, not deep enough to score a run. Then Miller struck out Russell and Ross to end the Cubs' chances.
The Cubs had a chance to score again in the eighth when Miller walked Bryant and then gave up a two-out single to Zobrist that left runners on first and third. The threat ended when Schwarber struck out swinging. When Miller left the field, he had struck out 24 batters in 13⅔ relief innings in the postseason.
After Perez's home run in the eighth, the Indians called on their closer, Cody Allen. He entered the game with five saves along with 12 strikeouts in 7⅔ innings on the Tribe's postseason path to the World Series. Allen struck out leadoff batter Baez. Then he gave up a double to Contreras. But that was all the Cubs could muster. Allen ended the Cubs' last hope of a rally by striking out Russell and pinch-hitter Miguel Montero to win the game.
"We were fortunate enough to win this one. We'll enjoy it tonight, but we have to show up and be ready tomorrow," Allen said after the game.9
Although it was just one win, Cleveland fans were ready to celebrate. The Cleveland Cavaliers had celebrated their NBA championship earlier that night. "This night, none of us will ever forget. From this building [where we won the NBA championship] to next door, where our guys are opening the World Series," Cavaliers player Lebron James had told the crowd before he showed up at Progressive Field to cheer on the Indians as they attempted to make more Cleveland sports history.10
Sources
In addition to the sources cited in the Notes, the author used Baseball-Reference.com and Retrosheet.org for box-score, player, team, and season information as well as pitching and batting game logs, and other pertinent material.
baseball-reference.com/boxes/CLE/CLE201610250.shtml
retrosheet.org/boxesetc/2016/B10250CLE2016.htm
Notes
1 Tyler Kepner, "For Cubs or Indians, Decades of Waiting Are Nearly Over," New York Times, October 24, 2016.
2 Rich Exner, "All-Time World Series Attendance Records: Game 1 of 2016 Had Smallest Crowd Since 2007," Cleveland.com, October 25, 2016.
3 Paul Hoynes, "Cleveland Indians Ride Corey Kluber Express to 6-0 Victory Over Cubs in Game 1 of World Series," Cleveland.com, October 25, 2016.
4 Jill Martin, "Corey Kluber Shuts Down Cubs in World Series Debut as Indians Win Game One, CNN.com, October 26, 2016.
5 Jordan Bastian and Carrie Muskat. "Corey, Corey, Hallelujah: Tribe Wins Big Game One," MLB.com, October 26, 2016.
6 Hoynes.
7 Colleen Kane, "Indians' Roberto Perez Calls Two-Homer Game 'Unbelievable Feeling,'" Chicago Tribune, October 26, 2016.
8 Ian Crouch, "The Thrilling Competence of Joe Maddon and Terry Francona, The New Yorker, November 2, 2016.
9 Bastian.
10 Martin.
Additional Stats
Cleveland Indians 6
Chicago Cubs 0
Game 1, WS
---
Progressive Field
Cleveland, OH
Box Score + PBP:
Corrections? Additions?
If you can help us improve this game story, contact us.
Tags
https://sabr.org/sites/default/files/KluberCorey-2016Topps.jpg
600
800
admin
/wp-content/uploads/2020/02/sabr_logo.png
admin
2018-06-07 16:56:06
2020-04-17 13:34:02
October 25, 2016: Kluber leads Indians' 6-0 shutout of Cubs in World Series opener