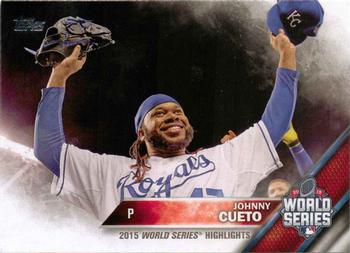 October 28, 2015: Dominant Cueto leads Royals past Mets in Game 2
---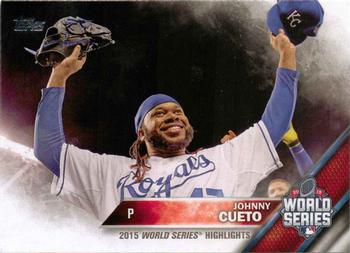 When New York Mets and Kansas City Royals faced off in Game Two of the 2015 World Series on October 28 both teams may have been a bit tired. The night before, Game One had lasted more than five hours before the Royals won 5-4 in 14 innings. Although no one got much sleep, the players, coaches, umpires, and others involved were back at Kansas City's Kauffman Stadium all too quickly.
"It's the World Series," Royals manager Ned Yost said after getting just 2½ hours' rest following Game One.1 "Nobody gets much sleep. It's kind of exhausting, but it's exhilarating at the same time."
The Mets hoped to come back after their disappointing loss in the opener. The Royals wanted to build on the momentum from their extra-inning win to sweep the Mets at home before heading to New York.
Yost started right-hander Johnny Cueto, who had been erratic during the playoffs. Cueto was dominant in the American League Division Series clincher against Houston, but he was awful in the AL Championship Series against Toronto. In his lone ALCS start, he lasted just two innings and gave up six hits, four walks, and eight earned runs. Based on that performance, Yost set up his World Series rotation so that Cueto would not have to pitch on the road.2 "Johnny thrives in this environment and he's comfortable in this park. He loves our fans," Yost told reporters.3
Terry Collins, the Mets' manager, sent Jacob deGrom to the mound. The right-hander had won his first three playoff starts. He was also dominant, allowing just four earned runs in 20 innings (1.80 ERA) while striking out 27 batters. Collins was counting on another solid performance from his young starter to help the Mets even the series.
The game began as a pitchers' duel. Both starters kept the opposing hitters off balance. Cueto picked up two strikeouts in the first three innings and kept the Mets from making hard contact. In the second, Lucas Duda rapped a single for the Mets' first hit, but Travis d'Arnaud grounded into a double play that cut short any scoring chances. DeGrom also looked strong in the first three innings. The only baserunner he allowed came in the third on an Alex Gordon walk.
The Mets scored first when they put a runner across the plate in the top of the fourth inning. Cueto walked leadoff batter Curtis Granderson and, after getting David Wright to foul out, walked Daniel Murphy. Yoenis Cespedes came to the plate and nearly grounded into an inning-ending double play. Third baseman Mike Moustakas, though, tagged third and then made a wide throw to first that pulled Eric Hosmer off the base and allowed Cespedes to reach safely. Duda got another single, a line drive to right, that scored Murphy from second.4 The Mets pulled ahead 1-0.
Signs of things to come arrived in the fourth inning. The Mets defense almost allowed the Royals to tie the game. First baseman Duda misplayed a groundball by Ben Zobrist that likely could have been handled by Murphy at second base. Zobrist reached first on his error. With one out, Hosmer hit a soft fly to center that went for a single. Zobrist was not running hard, though, and only ended up on second.5 DeGrom eventually got out of the inning.
While Cueto continued to pitch well, deGrom lost his ability to find the strike zone in the fifth inning. He walked Alex Gordon and gave up singles to Alex Rios and Alcides Escobar. After getting the next two batters out, he gave up three more singles as he struggled to get the ball over the plate. "I told Jake not everything has to be a strike," Collins said afterward. "You've got to change speeds, give them something to look at. If you continue to pound the strike zone, they're going to put it in play, and that's what they did."6 The Royals ended up scoring four runs, and never looked back.
Cueto was now in a rhythm and kept the Mets hitters in check. He picked up another strikeout in the sixth as he got the Mets out in order. In the seventh inning, Cueto struck out Cespedes for his fourth strikeout. He then got Duda and d'Arnaud to hit fly balls.
In the eighth, it was more of the same for the Mets. Cueto did get some help from the Royals defense. Moustakas, for instance, snagged a liner to rob Wilmer Flores of a hit. Also, Juan Lagares hit a ball off Cueto's leg that Escobar grabbed and threw to first before Lagares could touch the base.7 Cueto had now retired 13 straight batters.
Collins sent Jon Niese to the mound in the seventh inning. Although he walked Lorenzo Cain, Niese kept Kansas City from scoring. But the Royals' relentless offense struck again in the eighth. Moustakas started things off with a single on a groundball that got past Duda, and Salvador Perez sent Moustakas to third with a double to left. Alex Gordon doubled off shortstop Flores' glove to bring Moustakas home and send Perez to third.
With that, Collins pulled Niese and replaced him with Addison Reed. Paulo Orlando drove Reed's first pitch deep to left field. Cespedes made the catch but could not throw out Perez. Escobar then stepped to the plate and drove in Gordon with a triple.8 Collins went to his bullpen again, calling on Sean Gilmartin, who got the last two outs. But the Royals now led 7-1.
With the three runs in the eighth adding a cushion, Yost sent out Cueto to finish the game. The fans roared when they saw him emerge from the dugout. Chants of "John-ny Cue-to" filled the ballpark. Yost said Cueto fed off the crowd's energy, and that was clear by the ninth inning.9 Cueto did not let the fans down. He started the ninth by getting Curtis Granderson and Wright on groundouts. He walked Murphy, but Cespedes followed with a lazy fly ball to right, ending the game.
Cueto threw 122 pitches. He allowed just two hits en route to giving Kansas City a two-games-to-none lead in the Series. Cueto became the first American League pitcher to throw a complete game in the World Series since Minnesota's Jack Morris did it in the seventh game of the 1991 Series.10 "Tonight was everything we expected Johnny to be," Yost said. "He was on the attack. He kept the ball down. He changed speeds. It was just a spectacular performance by him."11
Teammate Hosmer said of Cueto's performance: "He was electric tonight. That was the type of outing we needed."12
Sources
In addition to the sources cited in the Notes, the author also used the Baseball-Reference.com, Baseball-Almanac.com, and Retrosheet.org websites for box score, player, team, and season pages, pitching and batting game logs, and other pertinent material.
Notes
Additional Stats
Kansas City Royals 7
New York Mets 1
Game 2, WS
---
Kauffman Stadium
Kansas City, MO
Box Score + PBP:
Corrections? Additions?
If you can help us improve this game story, contact us.
Tags
https://sabr.org/sites/default/files/CuetoJohnny.jpg
600
800
admin
/wp-content/uploads/2020/02/sabr_logo.png
admin
2017-03-31 00:41:52
2020-04-17 13:34:06
October 28, 2015: Dominant Cueto leads Royals past Mets in Game 2