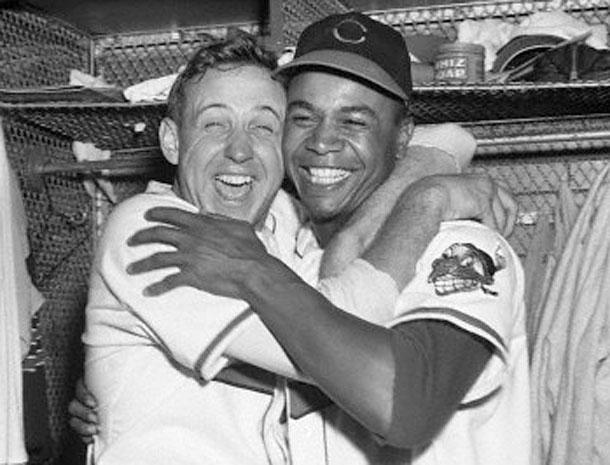 October 9, 1948: Gromek, Doby give Indians 3-1 lead in World Series
---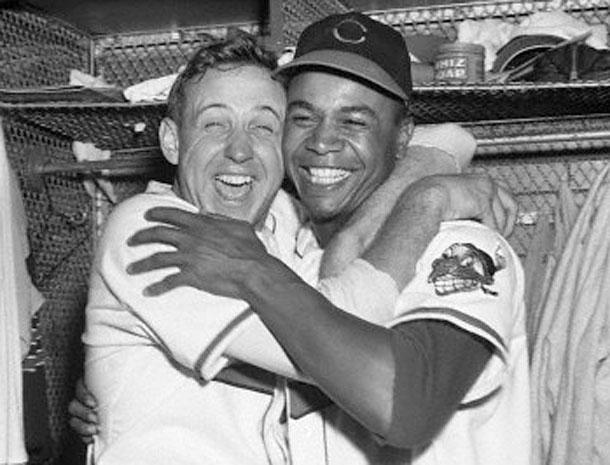 The Cleveland Indians boasted a big three who anchored their pitching staff in 1948. The triumvirate featured Bob Lemon (20-14, 2.82 ERA), Gene Bearden (20-7, 2.43), and Bob Feller (19-15, 3.56). They were followed by spot starters Sam Zoldak (9-3, 2.81) and Steve Gromek (9-6, 2.84).
Since one of the big three had each pitched in a previous game in the 1948 World Series, and were not ready to toe the rubber for a second start, Cleveland manager Lou Boudreau chose Gromek to take the ball for Game Four. Gromek's last start had been on September 19 against Philadelphia in the second game of a doubleheader. He threw a three-hitter in the 2-0 win over the Athletics. The win enabled Cleveland to climb to within a half-game of the league-leading Boston Red Sox. The last time Gromek saw action was in mop-up duty in Game 154, a 7-1 loss to the Detroit Tigers. That defeat forced a one-game playoff between the Indians and the Red Sox to determine the winner of the American League pennant.
The Boston Braves countered in Game Four with Johnny Sain. Although Sain was pitching on two days' rest as he hurled the Braves to a 1-0 victory in Game One. Still Boston skipper Billy Southworth felt that Sain was his best choice to start for Game Four. The veteran right-hander was 24-15 with a 2.60 ERA in 1948. His 24 wins were tops in the league. As strong as he was in the regular season, Sain was outstanding in Game One of the World Series. He went the distance in beating Bob Feller 1-0, scattering four hits and striking out six.
As in the previous three games, the offense in Game Four would be at a minimum. But Cleveland struck first in the bottom of the first inning. Dale Mitchell singled to center field. He moved to second base on a groundout by Larry Doby. Mitchell then scored when Boudreau doubled to right field and was thrown out at third base. It was another controversial call by umpire Bill Stewart. In Game One, Feller and Boudreau got into a heated discussion with Stewart on a play at second base in the eighth inning. Feller and Boudreau argued that they had executed a pickoff play to erase Phil Masi at second base. But Stewart ruled him safe. Masi eventually scored the only run in the Braves 1-0 win.
The Indians extended their lead to 2-0 in the third inning. With two outs, Doby hit a solo homer run to right-center field. "It was a change of pace," Doby said of the pitch. "Although even Sain's change of pace is quicker than most pitchers' fast ones. I sort of hitched on the pitch when he let up on me, but I got a real full swing and hit it with power, even though maybe it didn't look that way from upstairs."1
Sain bore down after giving up the home run to Doby. He retired 16 of the next 17 batters he faced. The only hit was an infield single by Eddie Robinson in the fifth inning.
Meanwhile, Gromek kept the Braves scoreless through the first six innings. A solo home run by Marv Rickert leading off the seventh inning sliced the lead in half. Gromek was not overwhelming the Braves hitters. Not by any means. The second and ninth were his only 1-2-3 innings. The Braves stranded six runners. Two of those were Earl Torgeson who doubled twice, but did not score.
The stat lines for Sain and Gromek were similar. Sain scattered five hits while Gromek gave up seven. Sain struck out three, while Gromek whiffed two Braves batters. Each pitcher gave up a solo home run. But the extra run scored by the Tribe was the difference.
The attendance at Cleveland Stadium was 81, 897, a record for a World Series game. Game Five was also in Cleveland, and it would match Nelson Potter and Bob Feller. There was a fair chance that a new attendance mark might be set. With the win, Cleveland took a commanding 3-games-to-1 Series lead. The fans would be hanging from the rafters if need be to see Game Five. "I admit there's not much enthusiasm today; there never is," said Indians second baseman Joe Gordon." But wait until you see it tomorrow."2
Sain was asked to comment about the two big hits that produced both Indians runs. "He went with it," said Sain of Boudreau's double in the first inning. "He's a good hitter. Doby? I don't know. He was doing his best and I was doing mine."3
Braves second baseman Eddie Stanky said of Gromek, "He's smart. He's in and out and always changing. He doesn't compare with the others, but he's smart, pitches with his head."4
The day after the game, a picture of Gromek and Doby embracing after the Indians' win was on the front page of many newspapers across the country. It became an iconic photo of two men, one white, one black, sharing a glorious moment. With the integration of major-league baseball just one year old, and with all the emotions that came out because of it, the photo spoke volumes. For many, it was just not something they had ever seen before.
But maybe the photo was not just about a black man and a white man embracing. Perhaps it was just two teammates enjoying the moment of victory, and not giving a damn what people thought.
Sources
In addition to the sources cited in the Notes, the author also accessed Retrosheet.org, Baseball-Reference.com, and SABR.org.
https://www.baseball-reference.com/boxes/CLE/CLE194810090.shtml
http://www.retrosheet.org/boxesetc/1948/B10090CLE1948.htm
Notes
Additional Stats
Cleveland Indians 2
Boston Braves 1
Game 4, WS
---
Cleveland Stadium
Cleveland, OH
Box Score + PBP:
Corrections? Additions?
If you can help us improve this game story, contact us.
Tags
https://sabr.org/sites/default/files/GromekSteve-DobyLarry-1948-WS.jpg
600
800
admin
/wp-content/uploads/2020/02/sabr_logo.png
admin
2017-08-07 17:35:19
2020-04-17 13:34:05
October 9, 1948: Gromek, Doby give Indians 3-1 lead in World Series