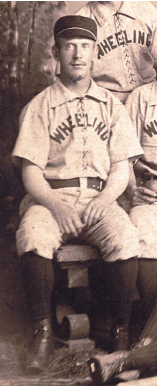 October 4, 1884: Sam Kimber's one-of-a-kind no-hitter
---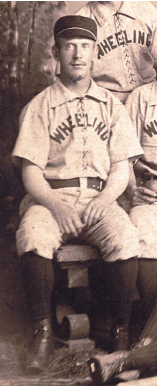 There once was a major-league game that served up all of these delectable ingredients:
The first no-hitter by a pitcher representing one of major-league baseball's longest standing and most storied franchises.
The first major-league no-hitter that went extra innings.
The first major-league no-hitter in which the pitcher who was the victim of it had previously thrown a no-hitter himself.
The only major-league no-hitter to date in which the pitcher who was the victim of it did not suffer a loss even though his team was shut out.
The only pitcher to date to hurl a complete-game major-league no-hitter of nine or more innings and not be credited with a decision.
The only scoreless no-hit major-league game to date that lasted nine or more innings.
The first major-league no-hitter that occurred in the month of October.
The first no-hitter in major-league history by a rookie pitcher who had passed his 30th birthday.
The only major-league no-hitter to date that highlighted a pitcher and an umpire who were once major-league teammates and later were business partners.
Any one of these distinctions would have been sufficient in the present day to draw momentous attention, some of course substantially more than others. That there are no less than nine on the list of unique and meritorious feats in this superlative game is in itself perhaps the most remarkable distinction of all.
Yet, with all that, there is another first that may prove a shock to most readers. To our knowledge this is both the first account of that game in the 131 years since its occurrence and the first ever to tabulate its many extraordinary features.
The 31-year-old rookie author of this one-of-a-kind game was a 5-foot-10½, 165-pound right-hander named Samuel Jackson Kimber, who had joined the minor-league Brooklyn Greys of the International Association midway through the 1883 season and accompanied the City of Churches club when it boldly cast its lot with the major-league American Association the following year. By the conclusion of spring practice sessions in 1884, Kimber in manager George Taylor's estimation was the Greys' best pitcher, thereupon earning the honor of starting the present Los Angeles Dodgers franchise's first official game as a major-league entity, on May 1, 1884, at Brooklyn and losing in a most embarrassing manner to Washington rookie John Hamill in a 12-0 blowout. Hamill would win only one more game in the process of sculpting a horrendous 2-17 ledger in his lone big-league season, but Kimber quickly put the egregious Opening Day pasting behind him and logged a team-best 18 wins for an otherwise lackluster second-division team.
Far and away Kimber's most significant pitching performance in 1884 was not a win, however, but a tie. It came on October 4, 1884, at Brooklyn, when he was caught by fellow rookie Jack Corcoran and held the Toledo Blue Stockings hitless for 10 innings before the game was called by darkness with the score still 0-0 as his Brooklyn mates managed just four hits off Toledo's kingpin, Tony Mullane. Two of the hits came off the bat of the offensive star of the game, Greys first baseman Charlie Householder, including the contest's lone extra-base hit, a double. Kimber fanned six and gave up three walks, one of which was issued to his box opponent, Mullane, who was the only Toledo baserunner to reach second base, after a Kimber wild pitch. In its account of the game in its October 15, 1884, issue, Sporting Life marveled that in a battle between two second-division teams not only had the pitching been exceptional but "not a single fielding error was charged to either nine, all the errors committed — and they were few — being batting errors, bases on called balls and wild pitches."1 The paper added: "Darkness stopped play just as the eleventh inning was about to be commenced. The contest abounded in good plays. There were good catches, clever stops and beautiful throws to the bases, all of which tended to make the game a most interesting one."
According to the New York Times of October 5, 1884, a crowd of 1,200 attended the Saturday-afternoon game. The Times recounted: "During the past nine years the feat of retiring a club for nine innings without a safe hit has been accomplished 35 times, but there is no record of a man's pitching 10 innings in one game without having a safe hit charged against him."2 Among the 35 previously recorded no-hitters3 was one by Mullane on September 11, 1882, that was a famous first in its own right. Mullane, with Louisville at the time, registered the first no-hitter in American Association history when he blanked the eventual inaugural AA pennant winner, the Cincinnati Reds, 2-0 at Cincinnati.
The October 5 issue of the Brooklyn Daily Eagle echoed in its headline: "An Unprecedented Base Ball Contest at Washington Park."4
The umpire in the Kimber no-hitter was Louisville native John Dyler, a one-game outfielder with the fledgling Louisville American Association entry in 1882.5 The Louisville team also numbered Mullane, then in the first full season of a checkered career that nonetheless would almost certainly have brought him a plaque in the Baseball Hall of Fame long before now had he not been suspended for one full season and lost half of another when he jumped his team in a contract dispute, thereby sacrificing a probable 30 to 40 victories that would have put him well over the magic figure of 300, a number that has assured Hall of Fame entry thus far for every pitcher who has reached it. Dyler would join with Mullane in 1886 to open a combination saloon and poolroom on Vine Street in Cincinnati that was dubbed The Base-Ball Headquarters. The "bar fixtures" were "of cherry wood and the beveled-edged, plate-glass mirror behind the bar" was "cut in the shape of a baseball diamond."6
Historians will quickly observe after examining the box score of the Kimber game that missing from the Toledo lineup that day was the Blue Stockings' largest contribution to baseball lore, their African-American catcher Moses Fleetwood Walker. Walker's last appearance with Toledo (and final major-league appearance) had come exactly a month earlier in a home game against Pittsburgh when he caught Mullane in a 4-2 win over Jack Neagle of the Allegheny club.
Through 2015, Kimber remained the only hurler to fashion a major-league complete-game no-hitter of nine or more innings without being credited with a decision, a distinction one could say with almost utter assurance will be his forever.
This article was published in SABR's "No-Hitters" (2017), edited by Bill Nowlin. To read more Games Project stories from this book, click here.
Notes
1 Sporting Life, October 15, 1884: 6.
2 New York Times, October 5, 1884: 2.
3 The Times's proclamation that Kimber had hurled the 35th no-hitter to that point is provided without any substantiation. Nor did the Times offer its criteria for what constituted a no-hitter in its estimation — i.e., nothing about the level of competition, the number of innings pitched, etc. Starting with Joe Borden's no-hitter in 1875, the first recorded at any level of competition, Kimber's no-hitter was the 19th full-length no-hitter in major-league history, including two perfect games. There were also three no-hitters previous to Kimber's in 1884 that were curtailed to less than nine innings either by rain or darkness; these were the first abbreviated no-hitters in the major leagues. The Encyclopedia of Minor League Baseball, 3rd Edition, lists only two no-hitters in the minors prior to October 4, 1884, bringing the number of full-length professional no-hit games to 21 at the time of Kimber's achievement.
4 Brooklyn Daily Eagle, October 5, 1884: 1.
5 Sporting Life, the Brooklyn Eagle, and the New York Times, the author's three primary research sources, all credit Dyler with umpiring the Kimber no-hit game in Brooklyn on October 4, 1884, along with Brooklyn's last previous game, on October 1 versus Louisville. However, Sporting Life also credits Dyler with a physical impossibility: umpiring an American Association game in Richmond that day, as does Retrosheet.org, which credits the Kimber game to John Valentine even though Valentine umpired no other Brooklyn home games in September or October 1884. For the moment we trust most the Brooklyn Eagle and the New York Times since both papers provided daily coverage of the Brooklyn team throughout the 1884 season.
6 Sporting Life, February 24, 1886: 4.
Additional Stats
Brooklyn Greys 0
Toledo Blue Stockings 0
10 innings
---
Eclipse Park
Brooklyn, NY
Corrections? Additions?
If you can help us improve this game story, contact us.
Tags
https://sabr.org/sites/default/files/kimber.png
600
800
admin
/wp-content/uploads/2020/02/sabr_logo.png
admin
2018-10-22 18:01:12
2020-04-17 10:23:51
October 4, 1884: Sam Kimber's one-of-a-kind no-hitter