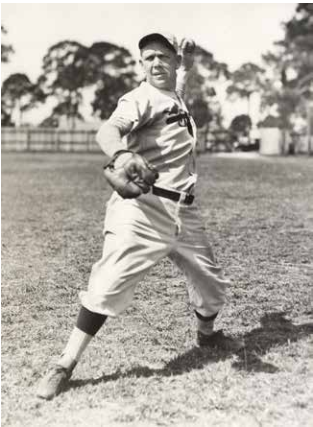 October 4, 1930: Wild Bill Hallahan shuts out A's in Game 3 to rekindle Redbirds' hopes
---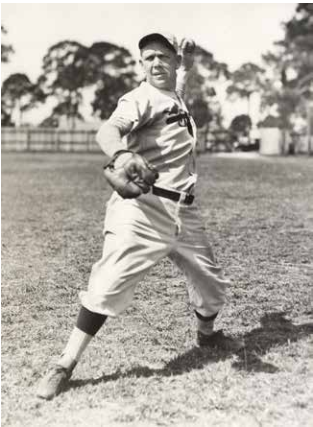 The mood was gloomy and subdued at Sportsman's Park in the Gateway City on October 4, 1930, as the Cardinals prepared to face the seemingly invincible Philadelphia Athletics in the third game of the World Series, having lost the first two contests in the City of Brotherly Love. There was "none of the concerted cheering, none of the sustained enthusiasm," reported the St. Louis Post-Dispatch, comparing the atmosphere to that of previous fall classics in the city when the Redbirds upset the powerful New York Yankees in 1926 and then lost four straight to the Bronx Bombers in 1928.1
Bill Hallahan, the Cardinals' southpaw, "retouched that somber world series picture," gushed sportswriter J. Roy Stockton. He shut out the mighty Mackmen on seven hits to rekindle the Cardinals' hope of joining the 1921 New York Giants as the only team in World Series history to capture a title after losing the first two games.2
Praise for Hallahan's performance was effusive. "A red-breasted but thoroughly lion-hearted Cardinal brought down a White Elephant," pronounced John Drebinger of the New York Times.3 "[Hallahan] hurl[ed] horsehide-covered thunderbolts from this mound," wrote Roy Alexander of the Post-Dispatch, while Stockton lauded Hallahan for "pour[ing] his darting curves and his flashing fast balls through the strike zone."4
Outscored 11-3 in the first two games of the World Series, the 92-62 Cardinals seemed overmatched by the Athletics (102-52), who appeared to be en route to their second consecutive championship. St. Louis sportswriter Sid Keener blamed the losses on "powder-puff punching and erratic pitching."5 Hallahan, a 28-year-old who had entered the 1930 season with just six victories in parts of three campaigns, entered the game having established himself as the Redbirds' ace, posting a 15-9 record and establishing a reputation as one of the hardest throwers in baseball as he led the NL in strikeouts (177). But true to his nickname, Wild Bill, he also walked a league-high 126 in 237⅓ innings. Connie Mack, the A's owner-manager and master of subterfuge, gave no inkling who he'd send to the mound in Game Three. Fifteen minutes before the game, Lefty Grove (28-5) and swingman Eddie Rommel were warming up.
On a sunny, warm 80-degree Saturday afternoon, Sportsman's Park was packed with an estimated 40,000 spectators, hundreds of whom had waited since 11:00 A.M. the previous day hoping to purchase a bleacher ticket and then sell it for a few dollars' profit as the Great Depression tightened its grip on the Mound City.
The Cardinals "looked entirely too clean," opined Stockton, as they took the field in brand-new white uniforms instead of their sweat- and dirt-stained ones.6 A rough-and-tumble squad, the Cardinals had led the NL in scoring (1,004 runs) while all eight starters batted at least .300. Backstop Jimmie Wilson, who had missed the first two games of the Series with a sore ankle, donned the tools of ignorance to help steady the potentially erratic Hallahan in what proved to be an anxious first frame. After Max Bishop led off with a single, Hallahan fanned Jimmy Dykes on a curve that "looked like a jug handle," wrote Stockton.7 After a walk to Mickey Cochrane, Hallahan punched out Al Simmons, whose .381 season average led the AL, on three pitches. Shortstop Charley Gelbert knocked down Jimmie Foxx's grounder through the box, but his throw to second was not in time to erase Cochrane. With the bases loaded, Hallahan made Bing Miller look silly on a curve in the dirt to fan the side and end the threat. It was a good omen for the Redbirds: every A's hit in the first two games had figured in runs.
The A's "had the air of conquerors as they came on to the field," wrote Alexander. "They're big, thick-necked, brawny fellows beside whom the Cardinals looked very youthful and just a bit spindle-shanked."8 On the slab was a surprise starter – 34-year-old left-hander Rube Walberg, who had an 88-79 record in parts of nine seasons, including 13-12 in an inconsistent campaign in 1930. Walberg looked sharp, though, setting down the first nine Redbirds he faced.
Meanwhile Hallahan still struggled with his control. In the third he issued consecutive one-out walks to Dykes and Cochrane, then escaped the jam when Simmons hit into a 6-4-3 inning-ending twin killing. The Cardinals faithful breathed another sigh of relief.
After Hallahan's 1-2-3 fourth, Taylor Douthit, hitless in nine at-bats in the Series thus far, walloped a home run to left field. The smash was like "an explosion that must have reverberated around the world like the shot at Lexington," wrote Drebinger excitedly.9 Unshaken, Walberg retired the next three batters.
The Cardinals struck again in the fifth when Ray Blades, fresh off a fielding gem the previous inning when he grabbed Bishop's smash off the right-field screen and held him to a single, drove a one-out single of his own to center. Wilson, described by Stockton as a "smart hit-and-run batter," moved Blades to third on a single.10 Gelbert followed with a single to left, driving in Blades. When Simmons fumbled the ball, the slow-footed Wilson tried for third but was gunned down on a perfect strike from Bucketfoot Al. Walberg's afternoon ended when he walked Hallahan. Right-hander Bill Shores, who had posted a 12-4 record as a swingman, retired Douthit to end the threat.
Hallahan faced the heart of the A's order in the sixth, retiring Cochrane on easy grounder to second sacker Frankie Frisch. Simmons followed with a hefty smash off the pavilion wall in right field. George Watkins, who had replaced Blades in right to start the frame, fielded the ball cleanly to hold Simmons to a double. Foxx, who had finished third in the AL with 156 RBIs to go along with 37 round-trippers and a .335 batting average, hit a foul ball to the first-base side, seemingly out of play. In the defensive gem of the game, first baseman Jim Bottomley ran 40 feet from the bag, and according to St. Louis sportswriter Herman Wecke, "gripped the rail of the box seats with his bare hand, reached far over the heads of the spectators," and made the catch.11 Miller then flied out to end the threat.
Entering the seventh nursing a precarious two-run lead, Hallahan recorded two quick outs. Then he walked Shores and surrendered a single to Bishop, leading many to "wonder if Bill was weakening," according to Stockton.12 On a day when everything seemed to go right for Wild Bill, though, Dykes chopped at curve in the dirt and grounded harmlessly to Bottomley.
Bespectacled Chick Hafey led off the seventh with what Stockton called a "whistling drive" that "crashed against the bleachers wall a yard from the foul line" for a single.13 Watkins followed with a single that center fielder Mule Haas "foolishly" threw to third in a bid to erase Hafey.14 The throw was late, enabling Watkins to advance to second. Mack, dressed in his usual suit, sat on the temporary bench in front of the box seats that had been erected on the dugouts. The Tall Tactician, who had flapped his scorecard all game long, moving his players into position, recognized a turning point. He waved for shortstop Joe Boley to move in toward the plate with Wilson at bat, but the move backfired. The right-handed hitting Wilson, who had batted .325 and .318 in 1929 and 1930, respectively, hit a sharp grounder through the left side of the infield to drive in Hafey and Watkins for a 4-0 lead, sending Shores to the showers. "Had [Boley] stayed back," wrote Stockton, "he would have stopped Wilson's grounder."15 In relief came ageless wonder 46-year-old Jack Quinn, who yielded a two-out single to Douthit, but ended the frame with runners on the corners to keep the A's within striking distance.
With Cochrane, Simmons, and Foxx due up in the eighth, Mack sent Grove to the bullpen to warm up in case the A's mounted a comeback. After Cochrane was retired on a grounder to short, Simmons lined a single to right. Foxx hit a tailor-made double-play ball to Frisch, who bobbled the ball to wipe out any chance of a twin killing; his hurried throw to first beat Foxx by a split-second. Miller's grounder to short ended the frame.
In the eighth the slumping Bottomley doubled down the right-field line with one out for his first hit in 12 at-bats in the series. Hafey's double into the right-center-field gap drove in Sunny Jim for the Redbirds' fifth tally.
Jimmy Moore, pinch-hitting for Haas, singled to lead off the ninth, but the Redbirds bullpen remained silent. Home-plate umpire Harry Geisel momentarily interrupted the game when a spectator tried to district Boley with a mirror. Hallahan needed no smoke and mirrors to win this game. He retired the next two batters before yielding his fifth and final walk of the game, to Bishop. Playing it safe, Street sent Jim Lindsey and Syl Johnson to warm up, but they barely had a chance to stretch their arms. Hallahan notched his sixth punchout, fooling Dykes on an outside curve, to end the game in 1 hour and 55 minutes. The Cardinals' 5-0 victory was just the second win for an NL team in the last 16 World Series games.16 More importantly for the Redbirds, their title hopes were revived.
This article appears in "Sportsman's Park in St. Louis: Home of the Browns and Cardinals at Grand and Dodier" (SABR, 2017), edited by Gregory H. Wolf. Click here to read more articles from this book online.
Sources
In addition to the sources cited in the Notes, the author also accessed Retrosheet.org, Baseball-Reference.com, SABR.org, and The Sporting News archive via Paper of Record.
Notes
1 Roy Alexander, Fans Stand All Night and Enter Park Without Rush; Little Selling of 'Places,'" St. Louis Post-Dispatch, October 4, 1930: 1.
2 J. Roy Stockton, "Hallahan Blanks Athletics; 5-0, to Give Cardinals First Series Victory; Douthit's Homer Starts the Scoring," St. Louis Post-Dispatch, October 5, 1930: 17.
3 John Drebinger, "Hallahan Shuts Out Athletics by 5 to 0 as Cards Come Back," New York Times, October 5, 1930: S1.
4 J. Roy Stockton, "Hallahan Blanks Athletics; 5-0, to Give Cardinals First Series Victory; Douthit's Homer Starts the Scoring."
5 Sid Keener, "Hallahan Will Pitch Today's Game With A's," St. Louis Star and Times, October 4, 1930: 1.
6 J. Roy Stockton, "Cards Defeat Athletics, 5-0; First Victory. Hallahan Yields Only Seven Hits and Strikes Out Six; Douthit Poles a Home Run," St. Louis Post-Dispatch, October 4, 1930: 11.
7 Ibid.
8 Roy Alexander, "Roar of Crowd Spurs Cardinals to First Victory of World Series," St. Louis Post-Dispatch, October 5, 1930: 1.
9 Drebinger.
10 Stockton, "Cards Defeat Athletics, 5-0."
11 Herman Wecke, "Cardinals Say Victory Turned Tide of Series," St. Louis Post-Dispatch, October 5, 1930: 1C.
12 Stockton, "Cards Defeat Athletics, 5-0."
13 Ibid.
14 Ibid.
15 Ibid.
16 Since the Cardinals beat the Yankees in Game Seven of the 1926 World Series, the AL had beaten the NL in 14 of 15 games. The Yankees swept the Pittsburgh Pirates in 1927 and the Cardinals in 1928. The A's defeated the Chicago Cubs in five games in 1929 and had taken the first two games in 1930.
Additional Stats
St. Louis Cardinals 5
Philadelphia Athletics 0
Game 3, WS
---
Sportsman's Park
St. Louis, MO
Box Score + PBP:
Corrections? Additions?
If you can help us improve this game story, contact us.
Tags
https://sabr.org/sites/default/files/HallahanBill.PNG
600
800
admin
/wp-content/uploads/2020/02/sabr_logo.png
admin
2018-11-08 16:33:55
2020-04-17 13:34:00
October 4, 1930: Wild Bill Hallahan shuts out A's in Game 3 to rekindle Redbirds' hopes