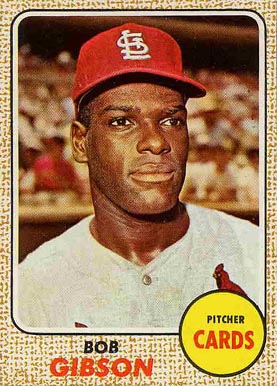 October 12, 1967: Gibson, Cardinals lift Cardinals to title over 'Impossible Dream' Red Sox
---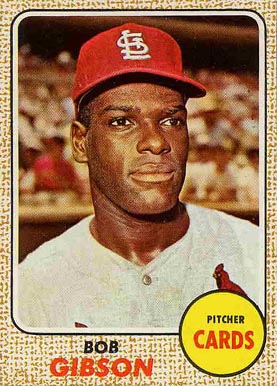 It all boiled down to one game.
The Boston unbelievables had once again come back from adversity, and in the process had defied all odds and logic.
The preseason 100-1 long-shot Red Sox had swept the Minnesota Twins in the final weekend showdown and won the American League pennant. They came back from a three games-to-one deficit in the World Series and forced a decisive Game Seven.
This spirited comeback prompted Boston Globe's Bud Collins to write, "… the Fenway Phoenixes [Red Sox] have risen from the ashes so many times that they must be on pulleys, like Peter Pan."1
Dick Williams declared, "They can call it destiny, luck, ability, or a combination of all three. Whatever it is, I hope it lasts one more day."2
The stunned Cards were heavy favorites to win the Series after Game Four, but it was now a virtual toss-up. The bleak and suggestive headlines in the St. Louis Globe-Democrat provided little optimism: "Take Your Pick; Bosox Have Plenty of Heroes."3
Momentum favored the Cinderella team, who had consistently transformed such intangibles into opportunities.
"My lineup is simple. Lonborg and champagne," smirked Williams referencing the title of his Boston Record American article. Possibly written by an overzealous ghostwriter, this comment enraged the Cards and would haunt the Red Sox.4
The Cardinals hoped to stop Boston's miracle ride with ironman Bob Gibson. "It's time to stop talking about the breaks, and to start making our own breaks," St. Louis manager Red Schoendienst told his team.5
So the stars were aligned, the script perfected. Lonborg and the better-rested Gibson were set to duel in the epic World Series finale.
Both aces were fastball right-handers, both thrived in pressure games, and neither would hesitate to throw a brushback pitch or two.
Each had allowed only one run in 18 innings pitched. Lonborg gave up a miniscule four hits in his two games compared to the 11 allowed by Gibson.
Gibson would pitch on three days' rest, Lonborg with only two. Lonborg had twice pitched on two days' rest during the season, beating the Kansas City Athletics on August 9 and losing to the Cleveland Indians on September 27.
"I'd rather have him than any other pitcher in baseball, even with two days' rest," said Williams.6
Including the pennant-clinching game against the Twins on October 1, Lonborg had pitched three clutch games in nine days, and now was being asked to go again.
I'm not going to kid myself about it," Lonborg admitted to the Boston Globe's Will McDonough. "I'm not going to be as strong as I'd like to be. But I'm just going to give it everything I have. Why save it? There's nothing after tomorrow."7
Gibson concurred: "Rest is something that's not too important at this stage. You'll find an little extra — somewhere."8
Lonborg retired the Redbirds on nine pitches in both the first inning and the second. Light-hitting shortstop Dal Maxvill's leadoff triple off the center-field fence in the third started Lonborg's demise.With two outs, Flood stroked a single to center scoring Maxvill. Roger Maris followed with a single to right, and Flood reached third. On a wild pitch, Flood scored the Cards' second run, one more than Lonborg had allowed the prior 20 innings.
Gibson himself took a tiring Lonborg deep in the fifth with a home run off the center-field wall behind the corner of the bleachers. Lou Brock followed with a single to left (the first hit he'd gotten off Lonborg in the Series), then stole both second and third, scoring on a Maris sacrifice fly to right field. Brock ended the day with three stolen bases and seven overall, a new World Series record.
Gibson simply dazzled the Red Sox. Though he walked leadoff hitter Joe Foy in the first inning, he pitched hitless ball through four innings, striking out seven. He gave up only one hit through seven innings — a triple to the center-field triangle by George Scott in the fifth; Scott scored on the same play when Julian Javier's errant throw went into the Cardinals' dugout.
The sixth inning marked the end for Gentleman Jim Lonborg. Tim McCarver led off with a sinking line-drive double to right field. Shannon reached first on Foy's error. Javier followed with a three-run homer to center field to extend St. Louis' lead to 7-1. With Gibson on the mound, the end was near for Lonborg and the Beantown team.
Having labored through six innings, a weary and dejected Lonborg walked off the mound for the final time that season to a standing ovation. It was an unfortunate departure for the young teary-eyed fallen star who had provided the fans with a lifetime worth of thrills during the prior six months. "Jim's heart was there, but his arm wasn't," Carl Yastrzemski said.9
The Sox scored one more time, when Rico Petrocelli doubled to lead off the bottom of the eighth. He took third on a wild pitch, and (after Dalton Jones walked) scored on an infield forceout. That was the last run of the game and the final score was 7-2, Cardinals. Three different Red Sox pitchers recorded one out each in the top of the ninth.
Bob Gibson threw a complete game three-hitter and was rightfully named Series MVP.
In the Redbirds clubhouse, many a Cardinal spun a variation on Dick Williams' pregame quote, reminding all that the champagne belonged to them.
"Tears instead of champagne flowed today in the clubhouse of the Boston Red Sox, who fell one miracle short" and lost the Series.10
For the Red Sox and their fans, their fairy-tale year ended in an uncelebrated fashion in an anticlimactic extension of the regular season. The pennant drive and pennant fever had taken its toll.
To many, this Series would simply serve as a benchmarked endpoint to one of the most remarkable Red Sox seasons ever. The spirit and memories of the Impossible Dreamers would forever endure, while any tears shed in the World Series were quickly forgotten.
This article appears in "The 1967 Impossible Dream Red Sox: Pandemonium on the Field" (SABR, 2017), edited by Bill Nowlin and Dan Desrochers. To read more stories from this book, click here.
Sources
In addition to the sources mentioned in the Notes, box scores for this game can be found on baseball-reference.com, and retrosheet.org at:
https://www.baseball-reference.com/boxes/BOS/BOS196710120.shtml
http://www.retrosheet.org/boxesetc/1967/B10120BOS1967.htm
Notes
Additional Stats
St. Louis Cardinals 7
Boston Red Sox 2
Game 7, WS
---
Fenway Park
Boston, MA
Box Score + PBP:
Corrections? Additions?
If you can help us improve this game story, contact us.
Tags
http://sabr.org/sites/default/files/images/GibsonBob.jpg
600
800
admin
/wp-content/uploads/2020/02/sabr_logo.png
admin
2017-09-20 18:57:07
2020-04-17 13:34:05
October 12, 1967: Gibson, Cardinals lift Cardinals to title over 'Impossible Dream' Red Sox