October 4, 1955: Brooklyn Dodgers win first World Series as 'Next Year' finally arrives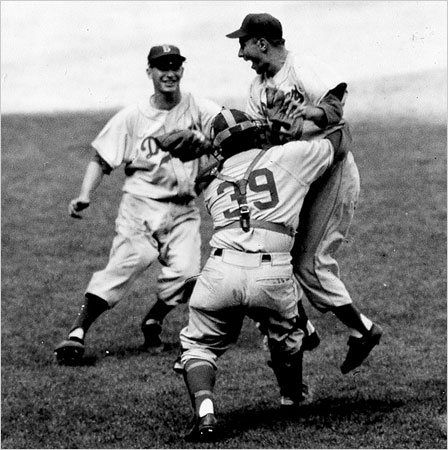 Wait 'til Next Year! The phrase became a euphemism for a baseball season gone awry and nowhere did it receive greater play than in the 1940s and 1950s with the Brooklyn Dodgers and their long-suffering fans.1 The Dodgers had never won a World Series and in those two decades leading to the 1955 season, they had lost the World Series five times to the arch-rival New York Yankees – 1941, 1947, 1949, 1952, and 1953. And we haven't even mentioned the "trauma" for Dodgers fans of "The Shot Heard 'Round the World," Bobby Thomson's home run off Ralph Branca in the 1951 National League playoff against the Dodgers to put the New York Giants in the World Series against those same Yankees.2
The wait finally ended for Brooklyn Dodgers fans of all ages. With two outs in the bottom of the ninth inning in Game Seven of the 1955 World Series, Elston Howard grounds to Dodgers shortstop and captain Pee Wee Reese who throws to first baseman Gil Hodges for the third out, sealing a 2-0 win and the first and only World Series title for the Brooklyn Dodgers. Reese would later comment that "it seemed to take hours to pick up that ball."3 How did the 1955 Dodgers under second-year manager Walter Alston get to that moment of unbounded joy?
As fate would have it, the 1955 season turned into a "no contest" National league title for the Dodgers. On April 16, four days into the season, they were all alone in first place, where they remained for the rest of the season. The Dodgers won their first 10 games and on May 10 were 22-2, 9½ games ahead of the Giants. Their first-place lead grew to 17 games in early September. Of course, fans remembered what happened in 1951, when a 13-game lead over the Giants on August 11 evaporated, requiring a three-game playoff for the National League title.4 That didn't happen again and Brooklyn had an eighth shot at winning their first World Series.5
The first six games of the World Series followed the conventional formula of a home-team advantage. The Yankees won the first two games at Yankee Stadium and the Dodgers won the next three at Ebbets Field. A Yankees win at home in Game Six set the stage for a seventh and final game at Yankee Stadium. While contemplating the endless possibilities of how Game Seven would play out, one need only look back to the baserunning in Game One to understand the intensity of this rivalry and the competitiveness of its combatants.
With two outs in the bottom of the sixth inning and the Yankees leading 6-3, Billy Martin tripled to deep left field off Don Newcombe. Martin tried to steal home but was tagged out by Roy Campanella. The fiery Martin took a few steps toward Campanella, but decided instead to retreat to the dugout. He later said he thought he had been tagged on the throat. After the game in the company of the press, Campanella replied, "tell that little so-and-so that I missed. I tried to put the ball in his mouth."6
In the same game, the Dodgers trailed by two runs with two outs in the top of the eighth inning and Jackie Robinson was, as was customary, dancing off third base. Robinson knew that "I was reaching the end of my peak years as an athlete"7 with diminishing physical skills. When Robinson steals home, protestations by Yankees catcher Yogi Berra ensue but the safe call by umpire Bill Summers stands.8 Robinson understands that it was not the best baseball strategy, but "whether it was because of my stealing home or not, the team had a new fire."9 Broadcaster Harry Caray declared, "Perhaps never in the history of the World Series has one man played such a unique role as has Jackie Robinson this year … through the inspiration of his own play … his own daring and imagination."10
For the Yankees and manager Casey Stengel, the choice for Game Seven starter was pretty straightforward. Tommy Byrne, a 16-game winner in the regular season, had pitched a strong complete-game five-hitter for the Yankees' 4-2 Game Two victory. The conventional choice for Dodgers manager Walter Alston could have been Don Newcombe, a 20-game winner in the regular season, but Newcombe had been hit hard by the Yankees in Game One (allowing eight hits and six runs in 5 2/3 innings) and had won only two games since July 31. The Yankees were teeing off on right-handed fastball pitching and Newcombe's lack of an effective curve was a significant risk. It became apparent that Alston had decided against using Newcombe for the remainder of the World Series.11 Johnny Podres was his choice after pitching a complete game to beat the Yankees in Game Three, 8-3.
In the first three innings, the Dodgers could manage only two walks with neither runner advancing into scoring position. The game remained scoreless in the bottom of the third when a fluke play ended a Yankee threat. With two outs, Phil Rizzuto walked and Billy Martin singled him to second. Gil McDougald's little grounder toward third base seemed like a sure hit since Don Hoak was playing back at third, but the batted ball hit a sliding Rizzuto and the inning was over with Yogi Berra stranded on deck.12
The Dodgers scored the game's first run in the fourth inning. With two outs and Roy Campanella on third, Gil Hodges knocked him in with a single to left field. Good fortune followed when the Dodgers manufactured a second run in the top of the sixth inning. Reese singled and Duke Snider was safe on an attempted sacrifice when Bill Skowron dropped his bunt. Campanella's bunt was successful and the bases were loaded after Carl Furillo was intentionally walked. Bob Grim replaced Byrne to face Hodges and yielded a sacrifice fly to deep right-center field for a 2-0 Dodgers lead.
As the Dodgers took the field in the bottom of the sixth inning, the stage was being set for one of the most dramatic plays in their history. Alston's use of pinch-hitter George Shuba required a series of defensive moves, one of which included inserting Sandy Amoros in left field. Later, it was dubbed the "most fortunate strategic move" of the World Series."13
Martin walked and McDougald singled to open the bottom of the sixth. When Berra hit a fly ball into the left-field corner, Amoros raced and caught the ball on the run. He wheeled around and threw to Pee Wee Reese, who fired to first base to double off Gil McDougald.14 Martin was stranded at second when Hank Bauer grounded out. For the Dodgers, that double play set a new World Series record, 12 by one team,15 but its significance stood above the others as the game entered its final three innings.
The Dodgers were unable to muster much offense in the final three innings, just two singles and a walk, so Podres needed to bear down. In the bottom of the seventh, Elston Howard's two-out single brought up pinch-hitter Mickey Mantle, whose hamstring pull limited his playing time in this Series to three games.16 Mantle homered off Podres in Game Three but this time he hit a pop fly to Reese. In the bottom of the eighth inning, the Yankees again had a scoring opportunity with runners on first and second and one out, but Podres retired Berra on a fly ball to right and struck out Bauer. The bottom of ninth may have seemed interminably long for Dodgers fans but Podres retired the side in order. Howard grounds to Reese who throws to Hodges for the third out, an indelible moment in Brooklyn's baseball history.17
The wait 'til next year was over. The celebration and carnival atmosphere in Brooklyn, dancing in the streets, blowing horns and decorated cars, were described by Dan Daniel, acclaimed sportswriter for The Sporting News, in his World Series diary.18 He added his own prognosis, "I dare say Bob Moses is not likely, now, to oppose the wishes of the people of Brooklyn as regards that new ball park Walter O'Malley wants to build at Flatbush and Atlantic avenues."19 Soon enough, Dodgers fans of all ages would learn otherwise! For now, they needed to celebrate a World Series victory and over the Yankees, at that.
Author's note
For the author, sneaking a small transistor radio into school for a World Series broadcast or watching a game at home on a 12-inch black-and-white television was a regular occurrence. Just four years earlier, this third-grader raced home from school, grabbed some carrots off the kitchen table and settled in front of that basement television for the last few innings of the third and final game of the 1951 National League playoff series. The unthinkable unfolded before my very eyes, The Shot Heard 'Round the World, and I cried. The first Dodgers World Series championship in 1955 and subsequent brief encounters with both Bobby Thomson and Ralph Branca made things right again.20
Sources
The author accessed Baseball-Reference.com for box scores/play-by-play information (baseball-reference.com/boxes/NYA/NYA195510040.shtml) and other data, as well as Retrosheet.org (retrosheet.org/boxesetc/1955/B10040NYA1955.htm).
Notes
1 Paul Dickson, The Dickson Baseball Dictionary, 3rd Edition (New York: W.W. Norton & Company, 2009), 918. "A Willard Mullin cartoon (New York World-Telegram, August 9, 1939) depicted a character in a Dodgers uniform claiming that his theme song was 'Wait 'Till Next Year: A Torch Ballad in One Flat' with words and music by The Dodgers."
2 Scott Ferkovich, "The Shot Heard 'Round the World," in Bill Nowlin et al., editors, The Team That Time Won't Forget: The 1951 New York Giants (Phoenix: Society for American Baseball Research, 2015), 365.
3 Robert Creamer, "When Brooklyn Won," Sports Illustrated, October 17, 1955: 57.
4 On August 11, 1951, the Dodgers split a doubleheader with the Boston Braves for a 70-36 record and a 13-game lead over the Giants. The Giants proceeded to win 37 of their last 44 games and both teams ended the regular season with 96-58 records.
5 In addition to the five Dodgers-vs.-Yankees World Series mentioned previously, the Brooklyn Robins lost in 1916 to the Boston Red Sox, 4 games to 1, and in 1920 they lost to the Cleveland Indians, 5 games to 2.
6 The Sporting News, October 12, 1955: 21.
7 Jackie Robinson, I Never Had It Made (New York: Putnam, 1972), 118.
8 "Robinson Steals Home," MLB.com, accessed July 29, 2018, mlb.com/video/robinson-steals-home/c-9336883.
9 Robinson, 120. Note: Robinson's steal of home was not without controversy and comment by second-guessing grandstand managers. For example, Fred Haney, deposed manager of the Pirates, and Chuck Dressen, manager of the Senators, differed in their appraisal when interviewed on Bill Stern's radio show after the game. "Haney called it a 'stupid' move, while Dressen upheld it as a move that had an upsetting influence on the Yankees." (The Sporting News, October 12, 1955: 21.)
10 Arnold Rampersad, Jackie Robinson (New York: Ballantine Books, 1997), 285.
11 Bill Roeder, "First-Game Rout Steered Alston Off Newcombe," The Sporting News, October 12, 1955: 19.
12 Berra doubled when he came up in the fourth inning, but this time Podres stranded him at second base.
13 J. Roy Stockton, "Series in Review: High and Low Spots of '55 Classic," The Sporting News, October 12, 1955: 19.
14 "Fildeo de Sandy Amoros Serie Mundial 1955," YouTube, accessed July 29, 2018, youtube.com/watch?v=Xcw7TH581uo&app=desktop.
15 Leonard Gettelson, "45 Records Set, 28 Tied in '55 Classic," The Sporting News, October 12, 1955: 8.
16 James Lincoln Ray, "Mickey Mantle," SABR Baseball Biography Project, sabr.org/bioproj/person/61e4590a.
17 "Dodgers Win 1955 World Series," YouTube, accessed July 29, 2018, youtube.com/watch?v=1Li5QM_cxPg.
18 Dan Daniel, "Over the Fence: A World Series Reporter Gossips (Tuesday, October 4)," The Sporting News, October 12, 1955: 10.
19 Ibid.
20 In the mid-1960s, I found myself on a helicopter flight from Newark Airport to LaGuardia, sitting next to Bobby Thomson. We shared a few laughs over the story I had to tell him. Years later, I met Ralph Branca at a book festival on Fifth Avenue in New York City and he signed my copy of The Giants Win the Pennant! The Giants Win the Pennant! written by Thomson and co-authors. Two gentlemen in every way.