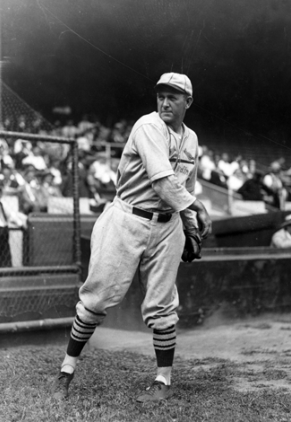 October 5, 1930: Jesse Haines defeats Lefty Grove in Fall Classic pitchers' duel
---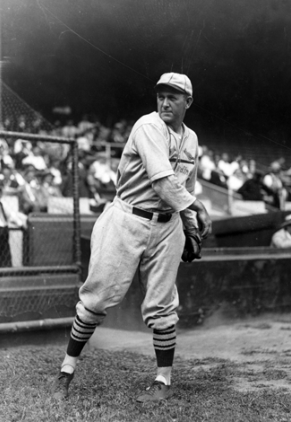 With the Cardinals trailing the Philadelphia A's two games to one in the 1930 World Series, most St. Louis fans expected Cardinals manager Gabby Street to send Burleigh Grimes to the mound in Game Four at Sportsman's Park, especially with ace Lefty Grove scheduled to pitch for the visitors. Grimes had 240 career wins to that point and been the Cardinals' best pitcher since coming to the team in a trade with the Boston Braves in June; he had also thrown a complete-game five-hitter, albeit in a losing effort, in Game One of the Series against Grove four days earlier.
But Grimes, known as "Ol' Stubblebeard" because he never shaved on days when he pitched, was freshly shaved when he arrived at the ballpark that day.1 Instead, in a game the Cardinals could ill afford to lose, Street gave the ball to 37-year-old Jesse Haines, who had yet to pitch in the Series. "If I am going to win this Series, Haines has got to win a game for me," Street said, "and I might as well find out right now if he can come through."2
Street may have had some second thoughts about his choice in the early going. Max Bishop led off the game for the A's with a smash single down the first-base line that might have gone for extra bases had first baseman Jim Bottomley not gotten a glove on it. Bishop went to second base on Jimmy Dykes' sacrifice, took third on a wild pitch, and scored on a two-out single by Al Simmons. Jimmie Foxx then reached on an infield hit when Cardinals second baseman Frankie Frisch couldn't handle his twisting groundball, and Bing Miller followed with a slow bouncer that shortstop Charlie Gelbert charged to field behind the mound. "On any other shortstop Bing probably would have reached first and the bases would have been loaded," James C. Isaminger wrote in the next day's Philadelphia Inquirer, "but Gelbert is one of the most powerful throwers in baseball and he simply burned the ball to Bottomley and beat Miller there by a step" to end the inning.3
Haines got in trouble again after retiring the first two batters in the second inning. Grove reached base when Frisch fumbled his groundball for an error, and then Bishop walked after fouling off two full-count pitches. That led Street to call on Jim Lindsey to start warming up in the Cardinals bullpen. But Dykes grounded out to end the threat … and after that the A's batters were baffled. Haines allowed only one hit over the final seven innings and no Philadelphia runner got as far as third base.
Meanwhile Haines helped his own cause in the bottom of the third. With one out, Gelbert slashed a hit down the first-base line that, according to Isaminger, struck a temporary stand in right field and took a violent bounce past right fielder Miller. By the time Miller got the ball back to the infield, Gelbert had reached third with a triple. That brought Haines to the plate. Grove's first pitch was called a strike and Haines fouled off the second, but then Haines hit a ball up the middle through Grove's legs for a single to tie the game, 1-1. (Haines wasn't a bad hitter, with a .246 average during the 1930 season. And exactly four years prior to this game he had hit a home run while pitching a shutout against the Yankees in Game Three of the 1926 World Series.)
The key moment of the game came in the bottom of the fourth. After Grove retired the first two Cardinals, Chick Hafey hit a ball to right field that struck the wall on the fly and then dropped between the wall and a wire screen that had been built in front of it to protect outfielders. Hafey circled the bases while Miller tugged at the wire to try to get the ball. The umpires called it a ground-rule double.4
The next batter, Ray Blades, hit a routine groundball to Dykes near the third-base bag. Hafey was running on contact with two outs and had practically reached third by the time the ball was fielded. (Newspaper accounts had Blades anywhere from one to six feet away from Dykes once the ball was gloved.) "Hafey came to a dead stop within a step of Dykes," according to St. Louis Star sports editor Sid Keener.5 Dykes "had only to turn around and tag Hafey to retire the side," Isaminger wrote.6
But Dykes threw to first base to try to retire Blades. His throw was wide and first baseman Foxx "extended as far as he could and finally left the bag and knocked the ball down in front of him," wrote Isaminger. "Hafey, quickly sizing up the situation, took a chance and charged full tilt for the plate." Foxx didn't realize right away that Hafey was trying to score; when he did, he made a throw home that "was both half-hearted and slow," according to Isaminger, allowing Hafey to score what would turn out to be the winning run.
"The uproar which followed beggars description by the most trenchant pen," wrote the Inquirer's Stan Baumgartner. "The huge concrete stadium was turned into an inferno of noise. Wave after wave of hysterical yells piled up against each other until the park rocked."7 (The crowd of 39,946 was the largest ever to see a baseball game in St. Louis to that point.)
Dykes was charged with an error, but Foxx "was equally culpable with Dykes for the loss of the game," in Isaminger's view.8 Dykes disagreed. "I can't alibi on that one and I won't try," he said after the game. "I thought maybe I was too far up to get back in time to tag [Hafey]. I thought the moment I grabbed the ball that I would go back and touch him, but I changed my mind, as there were two out. So I threw to first. It was a rotten throw and that's all there is to it. Nobody but myself is to blame."9
The error left Blades on first base. He went to third on a hit-and-run single by Jimmie Wilson. Gelbert then hit a ball that bounced off Grove (one report said off his shin, another said off his bare hand) for a single, scoring Blades to make it 3-1 in favor of St. Louis.
And that held up as the final score, as the A's managed only three baserunners against Haines after that, all on walks. Grove went the distance for the A's, allowing just five hits, all in the third and fourth innings when the Cardinals scored their runs. "Grove pitched good enough ball to win," wrote Walter S. Cahall in the Inquirer, "but his playmates played just bad enough to lose."10
"Grove was good, but Haines was better," Foxx (or his ghost writer) wrote in his syndicated newspaper column the next day. "That sums up why we lost."11
The A's had a .294 team batting average in 1930 but mustered only four singles off Haines.12 "I had to pitch mighty carefully against this great ball club," Haines said while sitting in a rocking chair on the front porch of his hotel after the game. "I pitched a great many balls during the game [123, according to the Philadelphia Inquirer].13 This was because I was afraid to give such fine hitters as Simmons, Mickey] Cochrane and Foxx a chance to get hold of a good one. All the time I was trying to make the A's hit at bad balls. I used three styles of pitching, a fast ball, a curve and a half-speed knuckle ball which acted as a change of pace."14
The Cardinals' win tied the Series, 2-2, with Game Five to follow the next day at Sportsman's Park. "I can't see how we can lose the Series now," Bottomley said. "We have the A's on the run."15
This article appears in "Sportsman's Park in St. Louis: Home of the Browns and Cardinals at Grand and Dodier" (SABR, 2017), edited by Gregory H. Wolf. Click here to read more articles from this book online.
Sources
Game stories in the St. Louis Post-Dispatch, St. Louis Star, and Philadelphia Inquirer were accessed via Newspapers.com. Stories in The Sporting News were accessed via PaperofRecord.com.
Notes
1 Stan Baumgartner, "Tasty Tidbits Served for the Fans, Red Hot Off the Series' Griddle," Philadelphia Inquirer, October 6, 1930: 16. The derivation of Grimes's nickname is included on his page at the Baseball Hall of Fame's website, https://baseballhall.org/hof/grimes-burleigh.
2 "Haines Hero of Fourth Game, When He Allows Four Hits," The Sporting News, October 9, 1930: 7.
3 James C. Isaminger, "Haines Bests Grove in Twirlers' Clash to Deadlock Classic," Philadelphia Inquirer, October 6, 1930: 14.
4 Baumgartner, "Tasty Tidbits."
5 Sid Keener, "Sid Keener's Column," St. Louis Star, October 6, 1930: 14.
6 James C. Isaminger, "A's Give Due Credit to Callahan, Haines," The Sporting News, October 9, 1930: 1.
7 Baumgartner, "Jimmy Dykes' Error Costly to Mackmen," Philadelphia Inquirer, October 6, 1930: 15.
8 James C. Isaminger, "Haines Bests Grove in Twirlers' Clash to Deadlock Classic."
9 James L. Kilgallen (International News Service), "Haines Explains How He Elected to Pitch to Stop Athletics," St. Louis Star, October 6, 1930: 14.
10 Walter S. Cahall, "Footnotes of A's-Cards Battle," Philadelphia Inquirer, October 6, 1930: 14.
11 Jimmie Foxx, "Foxx Still Thinks Macks Should Be Favorites to Win," St. Louis Star, October 6, 1930: 14.
12 The A's had four or fewer hits in a game only seven times during the 1930 regular season.
13 "Pitched Balls" chart, Philadelphia Inquirer, October 6, 1930: 14.
14 Kilgallen.
15 Jim Bottomley, "Haines' Fine Game Tribute to Street, Bottomley States," St. Louis Star, October 6, 1930: 14.
Additional Stats
St. Louis Cardinals 3
Philadelphia Athletics 1
Game 4, WS
---
Sportsman's Park
St. Louis, MO
Box Score + PBP:
Corrections? Additions?
If you can help us improve this game story, contact us.
Tags
https://sabr.org/sites/default/files/HainesJesse.PNG
600
800
admin
/wp-content/uploads/2020/02/sabr_logo.png
admin
2018-11-08 16:38:05
2020-04-17 13:34:00
October 5, 1930: Jesse Haines defeats Lefty Grove in Fall Classic pitchers' duel