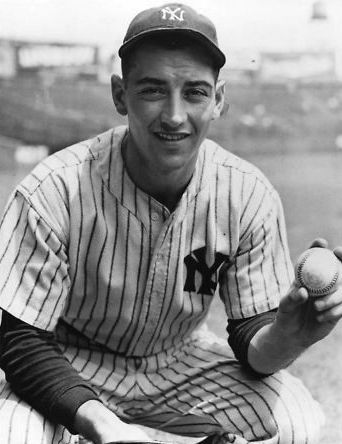 October 10, 1943: Marius Russo's one-man show leads to Yankees' win in Game 4
---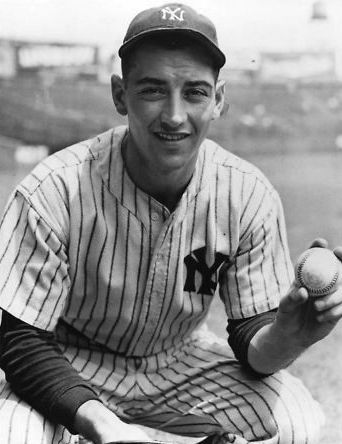 The 1943 World Series was a rematch of 1942's fall classic, with the St. Louis Cardinals and the New York Yankees topping their respective leagues. However, in 1942, the first two games were played in St. Louis and the next three were played in New York. In 1943 the first three games were played in New York due to World War II travel restrictions, so the Cardinals did not get a chance to capitalize on their home-field advantage until Game Four, when the Series moved to Sportsman's Park.1
In 1943 the Cardinals had lost "three of their most important starters — Enos Slaughter, Terry Moore, and Johnny Beazley" to military service.2 Even so, the Cards won 105 games in the regular season. For New York, Joe DiMaggio, Tommy Henrich, Red Ruffing, and Phil Rizzuto were off at war but they still won 98 games and captured the pennant by 13½ games.
The Yankees entered the game up two games to one. The three games in New York were characterized by sloppy Cardinals defense (eight errors leading to five unearned runs), a lack of St. Louis hitting (no more than seven hits in a game), and late Yankees rallies (two — almost three — come-from-behind victories). For Game Four, the visiting Yankees made a surprise move and put Marius Russo on the hill. He had been a 1941 All-Star, but his 1943 record was 5-10 and he spent much of the season nursing a bad arm and contemplating retirement.3 Yet in this game he brought forth "his talented left-handed pitching and even more astonishing right-handed batting."4 Russo had been used both as a starter (14 games) and reliever (10 games) during the season. St. Louis turned to Max Lanier, its star southpaw, to try to even the series. He sported a record of 15-7 with a league-leading 1.90 ERA. Lanier had lost Game One, 4-2, "the victim of a harrowing wild pitch that ruined his opening game effort."5 A crowd of 36,196 jammed into Sportsman's Park for the show.6
The pitchers controlled the game in the first few innings. Ray Sanders got the first Cardinals hit in the bottom of the second but was forced at second by Danny Litwhiler for the inning's final out. In the top of the third, Russo became the Yankees' first baserunner by drawing a two-out walk. Tuck Stainback reached on an error by second baseman Lou Klein, and New York had a rally going. Frankie Crosetti stroked a shot to right field for a single. Russo rounded third and headed home, but the relay from right to first to home cut down the sliding pitcher for the third out.
In the New York half of the fourth, Joe Gordon doubled with two outs. Bill Dickey, appearing in his 37th World Series game with the same club, a new record (he broke Babe Ruth's record of 36 games),7 came to the plate and singled for an RBI, "before anybody could think of walking him."8 New York led, 1-0. An inning later Russo doubled with one out, but his teammates could not capitalize with a runner in scoring position, as Lanier kept the Yankees in check.Russo defended his one-run advantage until the seventh inning. With two outs Sanders reached on an error, as shortstop Crosetti dropped an easy pop fly, losing the ball in the glaring sun. Litwhiler then drove a ball that struck the first-base bag and bounced into right field for a double. Yankees manager Joe McCarthy played percentage baseball, loading the bases by intentionally walking Marty Marion. Now with the bases loaded and Lanier due up, Cardinals skipper Billy Southworth had to make a decision. He "elected to shoot straight for victory and, without any further hesitation, called upon the veteran outfielder, Frank Demaree, to pinch hit for Lanier."9
Demaree grounded to third baseman Billy Johnson, who fumbled the ball, and everyone was safe as Sanders scored the tying run and pandemonium broke out at Sportsman's Park. The Cardinals fans in the left- and center-field bleachers showed their exuberance by giving "the outfield grass a shower of bottles,"10 which caused a delay in the game and perhaps caused the St. Louis momentum to fade while the grounds crew came out to clean up. With the bases loaded, Klein smashed a hard shot to the right of second base. Gordon scooped it up and flipped to shortstop Crosetti, covering the bag at second, for out number three. But the Cardinals had tied the score.
Another lefty, Harry Brecheen, now came on in the top of the eighth inning. Russo greeted him with a double into the left-field corner, his second two-bagger of the game. Stainback laid down a perfect sacrifice bunt, allowing Russo to move to third. He scored when Crosetti lifted a long sacrifice fly to center. The Yankees had manufactured the go-ahead (and winning) run.
The St. Louis fans urged their team on in the bottom of the eighth. With one out, National League MVP Stan Musial got his second infield hit of the game. Walker Cooper, who had driven with his brother Mort (a Cardinals pitcher) through the night from Independence, Missouri, where they attended the funeral of their father a day earlier,11 hit a ball over second base that shortstop Crosetti knocked down, but Cooper reached with a single as Musial stopped at second. Suddenly the Cards had a rally. Whitey Kurowski12 flied out to left. Sanders then hit a hard, skimming grounder toward second base. Gordon bobbled it and threw late to Crosetti for the force on Cooper. Cooper was initially called safe, but he overran the bag, and Crosetti tagged him out. According to the St. Louis Post-Dispatch, Cooper's "determination was fine, but the momentum played old ned with the situation and when he couldn't apply the brakes he just fell away from second base,"13 allowing Crosetti to slap a tag on Cooper and bringing a loud groan from the fans.
New York loaded the bases with two outs in the ninth, thanks in part to a pair of intentional walks, one of which brought Russo to the plate again. McCarthy stuck with his pitcher instead of bringing in a pinch-hitter and Russo struck out to bring up the Cardinals in their final at-bat. After Litwhiler grounded out to short, Marion doubled to left field. But Russo buckled down and retired pinch-hitter Sam Narron and then Klein to end the game.
Game Four of the fall classic featured a tight pitching duel. Lanier pitched well enough to win, scattering four hits and striking out five, but his opponent was better. Russo was the hero for the Yankees. Until the seventh inning, he allowed only three singles and no runners had reached second base. Had his defense held up, he might have pitched a complete-game shutout. At bat he was 2-for-3 with two doubles and a walk. Although the middle of the Cardinals batting order got hits, there weren't many opportunities to drive in runners. With the 2-1 victory, the Yankees took a commanding three-games-to-one lead in the Series and moved to the threshold of another championship.
This article appears in "Sportsman's Park in St. Louis: Home of the Browns and Cardinals at Grand and Dodier" (SABR, 2017), edited by Gregory H. Wolf. Click here to read more articles from this book online.
Sources

In addition to the sources mentioned in the Notes, the author consulted baseball-almanac.com, baseball-reference.com, and retrosheet.org. The author also recommends a video recap of the 1943 World Series produced by the American League of Professional Baseball Clubs (the 22-minute video can be found online at http://youtube.com/watch?v=hdMLEaC1haQ).
Notes
1 In 1943, the World Series moved to a new 3-4 format in order to reduce travel for teams during the war.
2 Gregory H. Wolf, "The St. Louis Cardinals in Wartime," in Who's on First: Replacement Players in World War II (Phoenix, Arizona: Society for American Baseball Research, 2015), 175.
3 Cort Vitty, "Marius Russo," SABR BioProject, https://sabr.org/bioproj/person/f12997d8.
4 John Drebinger, "Yanks, With Russo, Beat Cards by 2-1; Lead, 3-1, in Series," New York Times, October 11, 1943: 1.
5 Ibid.
6 The size of the crowd at Sportsman's Park was a few thousand over capacity (34,023), yet this number was dwarfed by the approximately 69,000 who watched each of the first three games in Yankee Stadium.
7 Dickey played in Game Five as well, extending his record to 38 games. Another Hall of Fame Yankees catcher, Yogi Berra, played in 14 World Series with a total of 75 games with the same club. Both Dickey and Berra wore number 8 for New York.
8 J. Roy Stockton, "Yankees Victors in 4th Game," St. Louis Post-Dispatch, October 11, 1943: 10.
9 Drebinger.
10 Stockton.
11 Drebinger.
12 Kurowski was playing with a handicap, as he had suffered a gall-bladder attack the night before the game. He was given strong sedatives to relieve the pain and spent the morning sleeping under the influence of the medication.
13 Stockton.
Additional Stats
New York Yankees 2
St. Louis Cardinals 1
Game 4, WS
---
Sportsman's Park
St. Louis, Mo
Box Score + PBP:
Corrections? Additions?
If you can help us improve this game story, contact us.
Tags
https://sabr.org/sites/default/files/RussoMarius.jpg
600
800
admin
/wp-content/uploads/2020/02/sabr_logo.png
admin
2018-11-14 11:58:01
2020-04-17 13:34:00
October 10, 1943: Marius Russo's one-man show leads to Yankees' win in Game 4