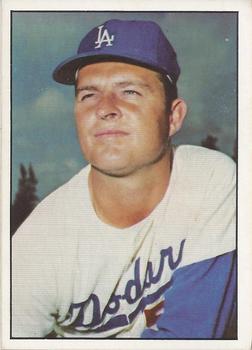 October 5, 1963: Drysdale gives Dodgers 3-0 lead in 'best pitched game of superbly pitched series'
---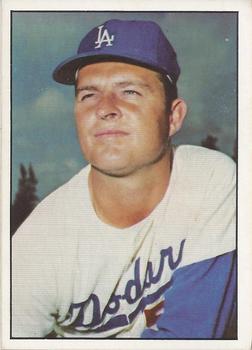 Depending on who you listened to, the New York Yankees were either shell-shocked or coolly determined as they approached the third game of the 1963 World Series. The venue had shifted across the continent to Los Angeles, but the pall of the Yankees' losses to the Los Angeles Dodgers in the first two games of the Series hung over the 1962 World Series champions.
No team had ever lost the first two games of the World Series at home and come back to win. New York Mayor Robert Wagner assessed their chances and decided not to join them in Los Angeles.1
The Los Angeles Times found the Yankees rocked to their soles. "The glum, grimly-determined Yankees held a star-chamber session in the clubhouse before working out at Dodger Stadium Friday," wrote Frank Finch. Yankees manager Ralph Houk downplayed the glum and the grim, saying the meeting was a standard review of the opposition after the first two games of any series. "There was no 'Let's win one for the Gipper oration' by me," he said.2
Veteran Yankees third-base coach Frank Crosetti summed up the company line. "We've been two down before and come back to win. There's no reason why we can't do it again."3
The move from the left-handed-pitcher-loving Yankee Stadium to the pitcher-loving Dodger Stadium had both managers choosing to start their lead right-handers. Jim Bouton had emerged that season for the New Yorkers, winning 21 games with a team-leading 2.53 earned-run average. Bouton had pitched five times in Dodger Stadium against the Los Angeles Angels. It was a sterling record of two starts, including a five-hit shutout, and three relief appearances – a total of three earned runs surrendered in just over 25 innings.
For the Dodgers, Don Drysdale took his deceptive 19-17 record to the mound. His 2.63 earned-run average was a better indicator of how he had pitched. The Dodgers' anemic offense seemed to be even worse when Drysdale took the mound. In nine of his losses, the team's hitters had scored one run or been shut out. The previous Sunday, attempting to win his 20th while tuning up for the Series, Drysdale had pitched five shutout innings. The offense had scored once and the bullpen had given up three runs to the Phillies, leaving Drysdale with a no-decision.
The managers made small accommodations to the lineups, reflecting that they were now facing right-handers. John Blanchard replaced the injured Roger Maris in right field for the Yankees. Ron Fairly took over right field from Frank Howard for the Dodgers. Normally, Fairly would have played first base, but Dodgers manager Walt Alston chose to stick with Moose Skowron as the streaky veteran seemed to be on one of his streaks.4 The crowd of 55,912 came out in 74-degree weather and were treated to one of the great pitching duels of World Series history.
The offense can be summarized quickly. In the Dodgers' first inning, Jim Gilliam drew a one-out walk. He moved to second on a wild pitch by Bouton. After a line out by Willie Davis, National League batting champion Tommy Davis came to the plate and hit a hard shot up the middle. It eluded Bouton, received a mild deflection from the edge of the pitcher's mound and ricocheted off Bobby Richardson's shin into short right field. Gilliam scored.
Richardson said he lost sight of the ball after Bouton lunged at it. The deflection and the bank of white shirts in the stands behind home plate did not help. "I just plain old didn't see it," said Richardson. "Who would think a little play like that so early in the game would be so decisive."5 Two of the three official scorers ruled it a hit.6
The end of offense served to ratchet up the tension in the ballpark. Bouton gave up only three more singles in six more innings, leaving the game well within the range of Yankee hitters. He blamed himself. "I walked too many," he said. None of the rest scored.7
Drysdale, meanwhile, battled a powerful Yankees lineup that was always one swing away from a tied game. "Drysdale pitched with a swaggering confidence that bordered on insolence," wrote New York Times columnist Arthur Daley.8
The Yankees tried to shake that confidence. In the sixth inning, with Crosetti complaining loudly about spitballs, home-plate umpire Larry Napp went to the mound. Tony Kubek was on third and Mickey Mantle at the plate. Napp ordered Drysdale to wipe his fingers after every visit to his mouth. Drysdale struck out Mantle.9
In the late innings, poor Dodger baserunning ruined a chance to give Drysdale a better cushion. Johnny Roseboro led off the seventh inning with a single and with the Yankees' Clete Boyer drawn in expecting a bunt, Dick Tracewski slapped the ball past him. Roseboro beat the throw to third and Tracewski took second. Drysdale bounced to Richardson and Roseboro faked going home. Richardson threw out Drysdale at first, but Tracewski had misread Roseboro's fake and joined him on third, where he was tagged out. The Dodgers had gone from runner on second and third with no outs to a runner on third with two outs. A Maury Wills groundout ended the seventh. In the eighth, Gilliam was gunned down by Elston Howard trying to steal third with one out.
Drysdale continued to dominate. After his brush in the sixth inning, he surrendered only one single. The tension grew another notch with two outs in the ninth. Joe Pepitone hit a high fly ball to deep right that brought hearts into throats. "I was scared," Drysdale admitted.10 But then he saw Fairly would catch it just in front of the Yankees' bullpen gate.
"It was a normal Drysdale game in that his teammates got him that one run and left the rest of the job up to him," wrote Los Angeles Times sports editor Paul Zimmerman.11 "Koufax and Podres were great, but I don't think I've ever seen Drysdale any better," echoed Alston.12
From a more neutral vantage point, Sports Illustrated's William Leggett wrote: "In two hours and five minutes Don Drysdale pitched the best pitched game of this superbly pitched series. The Dodgers gave him one cheap, lucky, idiotic, precious run, and he defended it."13
For bettors, the Dodgers were now listed at 15-1 favorites.14 But Houk kept his stiff upper lip.
"The last game is the toughest to win. Nothing is impossible," he said.15
When asked about starting Game Five, Johnny Podres joked, "I'll be happy if I don't have to pitch again. I'd like to make other plans for Monday."16
Sources
In addition to the sources mentioned in the Notes, the author consulted Baseball-Reference.com, Retrosheet.org, and the following books, video, and digitized box scores:
Spink, C.C. Johnson, compiler. Official Baseball Guide for 1964 (St. Louis: Charles C. Spink & Son, 1964).
"Major League Baseball Presents the World Series of 1963" (retrieved August 17, 2020, at youtube.com/watch?v=HFjFv00JagA)
baseball-reference.com/boxes/LAN/LAN196310050.shtml
retrosheet.org/boxesetc/1963/B10050LAN1963.htm
Notes
1 "It Looks Bad, so N.Y. Mayor Stays Home," Los Angeles Times, October 5, 1963: A3.
2 Frank Finch, "Grim Yankees Hold Meeting Before Drill," Los Angeles Times, October 5, 1963: A3.
3 Braven Dyer, "We've Come Back Before, Says Crosetti," Los Angeles Times, October 5, 1963: A3.
4 John Drebinger, "Maris Considered Unlikely to Play," New York Times, October 5, 1963: 41.
5 John Hall, "Richardson Has No Alibi for T. Davis 'Hit,'" Los Angeles Times, October 6, 1963: I2.
6 Frank Finch, "Big D Cuts Off Yank Power Again, 1-0," Los Angeles Times, October 6, 1963:  I1.
7 Finch, "Big D Cuts Off Yank Power Again."
8 Arthur Daley, "On the Edge of the Cliff," New York Times, October 6, 1963: 198.
9 Dan Hafner, "Teammates Feel Drysdale Best Series Hurler of All," Los Angeles Times, October 6, 1963: I2.
10 Finch, "Big D Cuts Off Yank Power Again."
11 Paul Zimmerman, "Dodgers Push Yanks to Brink of World Series Humiliation," Los Angeles Times, October 6, 1963: G1.
12 Hafner.
13 William Leggett, "KooFoo the Killer," Sports Illustrated, October 14, 1963: 23.
14 "Dodgers Now 15-1 to Hit the Jackpot," Los Angeles Times, October 6, 1963: I5.
15 Hall.
16 Hafner.
Additional Stats
Los Angeles Dodgers 1
New York Yankees 0
Game 3, WS
---
Dodger Stadium
Los Angeles, CA
Box Score + PBP:
Corrections? Additions?
If you can help us improve this game story, contact us.
Tags
https://sabr.org/sites/default/files/DrysdaleDon_0.jpg
600
800
admin
/wp-content/uploads/2020/02/sabr_logo.png
admin
2020-10-07 14:28:07
2020-10-08 16:56:03
October 5, 1963: Drysdale gives Dodgers 3-0 lead in 'best pitched game of superbly pitched series'