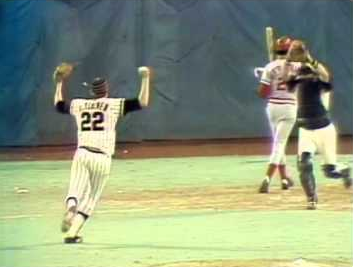 October 5, 1979: A 'Family' celebration as Pirates sweep NLCS
---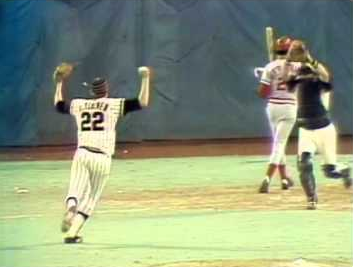 It was, in a word, anticlimactic. On the basis of the performance of the two playoff teams in this final game of the 1979 NLCS, one could strongly argue that Cincinnati was a beaten team even before the third game was played on Friday afternoon. It would have been little short of a miracle for them to have rallied from an 0-2 deficit in a best-of-five-game series anyway. But after two heartbreaking extra-inning losses in their own ballyard, a reversal of their ultimate fate would have required direct divine intervention, several times.
1
Which would not be forthcoming — not in this electrically charged atmosphere, not before 42,000-plus rabid members of the partisan Pirates "Family." Even with a short rain delay before the first pitch, the smell of sweet revenge for their decade-long humiliations at the hands of these Cincinnati guys wafted about the stadium. Early on in the season, the Pirates had adopted as their theme song the catchy, thumping disco tune "We Are Family" by the group Sister Sledge. It was now blaring from everywhere. And almost like grandpa among a bunch of kids who looked to him for leadership, Willie "Pops" Stargell had then adopted the song as a suitable metaphor for the team. The joyful unity in the stands mirrored that of a loose, confident clubhouse. Hirsute, swaggering, and even a bit scruffy, the Pirates embodied almost perfectly their rough-edged, working-class hometown. "We took a back seat to nobody," manager Chuck Tanner proclaimed proudly. "We were a 'dirty shirt' ball club. … We weren't afraid to try anything. … (A) blue-collar club in a blue-collar town."2
And the heart if not the soul of that club was Stargell. He had broken in with the Pirates in the fall of 1962 and by 1979 at age 39 was nearing the end of a sterling career. A seven-time All Star and 11-time MVP candidate, Stargell, expanding paunch and arthritic knees aside, actually enjoyed two of his best years in 1978 and 1979, averaging 30 home runs and 90 RBIs. Of course, he had posted prodigious numbers for years, and the distance he powered some balls out of NL parks became legend. "He was so strong and generated such tremendous bat speed," his biographer wrote, "that when he really laid into one the result was often a blast of absurd, almost cartoonish proportions."3
But sparkling numbers aside, Pops was special: the "elder statesman" and emotional center of the team. The gold "Stargell stars" he awarded teammates for extraordinary feats on the field proudly adorned the caps of honored Bucs. Kent Tekulve had a galaxy on his. Outfielder Bill Robinson described Pops as "kind of a father figure" to the team, "our crutch" who took on all their problems, personal or professional.4
So it was more than fitting that as he had played a key role in Game One of the series, Stargell did likewise in Game Three. He hit his second home run of the NLCS, off lefty Fred Norman, to open the Bucs' half of the third inning, a shot high into the second deck in right field. After a joyous welcome from his teammates, Pops took a curtain call and blew a kiss to the ecstatic crowd. But even before Stargell's blast the Reds already trailed by two. Pittsburgh scored a run in the first when Omar Moreno sprinted home on a fly ball to left by Dave Parker and another the next inning when Phil Garner, who had tripled, scored on a second sacrifice fly by Tim Foli. That had been enough to chase the Reds' starter, Mike LaCoss. Bill Madlock added a solo homer of his own later in the third inning, and at the end of three the Pirates led 4-0. And they continued to pile it on the hapless Norman in the fourth inning. Pirates starter Bert Blyleven singled and Moreno bunted him to second. After a fly out, Parker walked. Which brought Stargell to the plate again to a deafening welcome from the crowd. Pops obliged them once more by smashing a vicious grounder past first baseman Dan Driessen down the line in right for a double and scoring two more runs. The Pirates led by six.5
The rest is easily told. Blyleven, a future Hall of Fame pitcher whom naysayers branded as a guy who couldn't win the big games, went the distance and surrendered only one run, a solo homer by Johnny Bench in the sixth. Blyleven scattered eight hits and struck out nine in his first career postseason win. The Pirates added another run in the eighth on an ugly misplayed fly ball to left-center for an error by four-time Gold Glove center fielder César Gerónimo. The game ended with the score 7-1, Pirates. As Roger Angell observed, the Reds "looked corpselike at the end."6
But Three Rivers went crazy. A harbinger of the end-of-game frenzy had already occurred during the seventh-inning stretch, when the Pirates wives seated just behind the screen began dancing to "We Are Family" blasting from the stadium's loudspeakers. Now they had "clambered up onto a low, curving shelf that rims the field around home plate."7 First a few, then many more young women ran down the aisles and joined them. "They were all dancing together there arm in arm, jiving and boogieing and high-kicking in rhythm, in their slacks and black-and-gold scarves and long, ballplayer-wife's fur coats, all waving and laughing and hugging and shaking their banners in time to the loud music. It was terrific."8
Indeed it was. Little did anyone in Steel Town realize that raucous evening that it would be 11 more years before a string of NLCS losses from 1990-92, and then well into the next century before the Pirates could even think about going to the World Series again. The MVP for the NLCS was obvious: Willie Stargell hit .455, 5-for-11, with three walks, two doubles, two homers, and six RBIs. Garner and Parker deserved honorable mentions. The three-game Pirates sweep in the 1979 NLCS sounds a lot more dominating than it actually was. But these Pirates were bound for glory. There would be no stopping them even after they were down three games to one in the ensuing World Series with the Orioles. They had a date with Destiny.
This article appeared in "When Pops Led the Family: The 1979 Pitttsburgh Pirates" (SABR, 2016), edited by Bill Nowlin and Gregory H. Wolf. To read more game stories from this book at the SABR Games Project, click here.
Notes
1 All statistical data and play-by-play information in this article derived from baseball-reference.com.
2 "Revisit the 'Family's' 1979 NLCS," pittsburgh.pirates.mlb.com/content/printer_friendly/pit/y2004/m10/d12/c891911.jsp; John McCollister, Tales from the 1979 Pittsburgh Pirates Dugout: Remembering "The Fam-A-Lee" (New York: Sports Publishing, 2005), 1.
3 James Forr, "Willie Stargell," SABR Baseball Biography Project, sabr.org/bioproj/person/27e0c01a.
4 Ibid.
5 Joseph Durso, "Pirates Win National League Pennant in Sweep of Reds," New York Times, October 6, 1979. See also, youtube.com/watch?v=VaG6T_XOC3M.
6 Roger Angell, Late Innings: A Baseball Companion (New York: Simon and Schuster, 1982), 211.
7 Ibid.
8 Ibid.
Additional Stats
Pittsburgh Pirates 7
Cincinnati Reds 1
Game 3, NLCS
---
Three Rivers Stadium
Pittsburgh, PA
Box Score + PBP:
Corrections? Additions?
If you can help us improve this game story, contact us.
Tags
https://sabr.org/sites/default/files/1979-Pirates-NLCS.png
600
800
admin
/wp-content/uploads/2020/02/sabr_logo.png
admin
2018-05-18 11:55:47
2020-04-17 13:34:02
October 5, 1979: A 'Family' celebration as Pirates sweep NLCS