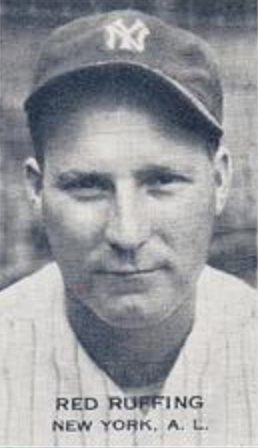 October 5, 1938: Yankees' Red Ruffing shackles Cubs in World Series opener
---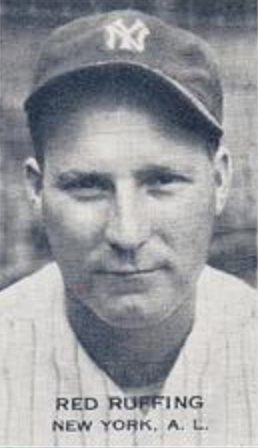 After a six-year hiatus, the Chicago Cubs and the New York Yankees resumed hostilities in the 1938 World Series. The pairing pit the underdog but hard-charging National League Cubs against the two-time defending champion big boppers from the American League. Before the games began, Chicago miracle-maker/player-manager Gabby Hartnett boldly predicted, "We'll win the Series. We have the kind of pitching that will fool those Yankee sluggers and we'll do some slugging ourselves."1
Notwithstanding this verbal bluster and the fact that many of the boldfaced names had changed since 1932, when the Yankees swept the Cubs, the 1938 World Series began with another victory for the Bronx Bombers. On a blustery Wrigley day, New York prevailed 3-1 in the opener thanks in large part to the outstanding performances of a trio of players, pitcher Red Ruffing, catcher Bill Dickey, and shortstop Frankie Crosetti.
Unlike Game Four of the 1932 fall classic, when neither starting pitcher survived the first inning, both Bill Lee, "whose whipcord right arm virtually lifted Chicago into this world series,"2 and Ruffing hurled strong games following strong seasons (Lee had gone 22-9, and Ruffing 21-7). Both aces faced the minimum number of batters in the opening frame. Stan Hack of the Cubs did single, but, thwarting a hit-and-run, "Ruffing calmly tossed a pitch-out to Dickey, and Hack, out to get the jump by stealing second base, was thrown out with room to spare."3
In what would be his last World Series, New York's Lou Gehrig began a rally in the top of the second with a one-out walk. Dickey singled Gehrig to third and advanced to second on a throw from right field by Phil Cavarretta, who started there for the injured Augie Galan. "With the infield in, George Selkirk slapped a tricky grounder at Billy Herman. That usually infallible second sacker booted it all over the lot, Gehrig scored, Dickey moved to third and Selkirk was safe at first."4 Joe Gordon drove in Dickey with a single to put the Yanks up 2-0. Lee induced a 6-4-3 DP from Ruffing to keep the margin manageable.
No batter reached again until Tommy Henrich legged out an infield single in the third. Hartnett threw out Henrich trying to steal; early on, Game One showcased the defensive prowess of two of the game's most lauded backstops in Dickey and Hartnett.
Perhaps inspired by its player-manager's howitzer, the Cubs got the bats going in the bottom of the third. Ripper Collins began the inning with a base hit. With two outs and Collins having advanced to second on a groundout, Hack singled to cut the New York lead to 2-1. Hack moved to second on Henrich's throw to Dickey. In a matchup of future Hall of Famers, Ruffing confronted Herman in what would prove to be the pivotal sequence of Game One. "Herman's hard smash toward third base went as a hit. Red Rolfe knocked it down, but couldn't find it," reported the New York Times. "But Eagle-Eye Crosetti spotted the ball, retrieved it, pegged it to Bill Dickey and Bill held it low to the ground by the plate. That was where Stanley Hack put his foot in it. Instead of tying the score he had retired his side."5
Chicago flashed some leather of its own in the fourth to prevent New York from adding a third run. Billy Jurges threw out Joe DiMaggio. In his last complete season, "Gehrig looked bad as a base runner when he attempted to stretch his sharp single down the right field foul line into a double in the fourth," wrote the Chicago Tribune.6 With no mates on base, a Dickey infield hit proved harmless.
The Cubs went out in order in the bottom of the fourth, but the Yankees had a major threat in the top of the fifth after Gordon doubled, the first extra-base hit of the game. Ruffing smartly sacrificed, but Lee bore down to fan Crosetti and to retire Rolfe on a grounder to Herman.
Again Chicago went out in order in the bottom of the fifth, and again a New York batter, Henrich this time, doubled to start the top of the next frame "on the hardest clout of the game … a double off the right field fence …"7 This time, the Yankees eschewed the small ball and cashed in the run. Neither DiMaggio nor Gehrig got the job done, but Dickey came through with his third straight hit and second RBI to plate Henrich and put New York up 3-1. After the game, Lee lamented, "I threw only two bad balls all afternoon. They were inside balls to Dickey and he whacked them in the scoring innings."8
Trailing by two, the Cubs had Lee scheduled to lead off the bottom of the sixth. Hartnett could have managed aggressively and sent up a hitter for Lee, but instead Lee, who had a .198 batting average in 1938, stayed in to hit and flied out. Hack singled, but Chicago failed to score him.
New York threatened to extend its lead in the seventh. With one out, Lee hit Crosetti, who advanced to third on a Rolfe single. Henrich lined to Collins, who turned an unassisted twin killing to douse the threat.
Chicago had two hits in the bottom of the seventh, which turned into an unlucky inning. Cavarretta led off with a single, but Carl Reynolds grounded into a 6-3 double play. With just one triple in 353 appearances during the 1938 season, Hartnett surprisingly followed with a three-bagger but failed to score after Collins grounded to short on a "nice pickup"9 by Crosetti. The Cubs had a single and a triple in the same frame but still could not tally.
With two outs in the top of the eighth, Dickey singled for his fourth hit of the day and then swiped second. Dickey had made a prophet of the renowned sportswriter Grantland Rice, who in a syndicated preview column commented, "The star of any World Series usually or often pops out from the unexpected entry. If I had to make one guess it would be Bill Dickey."10 Selkirk flied out to leave the catcher in scoring position.
Chicago had a good start in the bottom of the eighth with a Jurges single, but pinch-hitter Ken O'Dea hit into a force out on a "treacherous bounder to Crosetti"11 before Hack bounced into another DP.
Jack Russell relieved Lee and pitched around a two-out double by Crosetti in the top of the ninth. Facing the heart of the batting order, Ruffing got Herman and Frank Demaree on flies to the outfield. In a last-chance at-bat, Cavarretta kept hope alive with a single and, on "a ball which took a bad hop and struck Tom Henrich in the face,"12 advanced to second with an error charged to the usually reliable Henrich.
Representing the tying run, Reynolds came to the plate. Over the first decade of his career with the White Sox, Browns, Red Sox, and Senators, Reynolds had frequently faced Ruffing and had at least two homers. But in 1938, the 35-year-old Reynolds had just three home runs in 530 plate appearances. On this day, Reynolds, late on the Ruffing pitch, could only pop to Gordon, a fitting coda to the opener of the fall classic that would end with Reynolds going 0-for-12 and the Cubs once again getting swept by the relentless and versatile Bronx Bombers.
This article appears in "Wrigley Field: The Friendly Confines at Clark and Addison" (SABR, 2019), edited by Gregory H. Wolf. To read more stories from this book online, click here.
Sources
https://www.baseball-reference.com/boxes/CHN/CHN193810050.shtml
https://www.retrosheet.org/boxesetc/1938/B10050CHN1938.htm

Notes
1 James P. Dawson, "World Series Spirit Grips Chicago as Throngs Arrive for First Game," New York Times, October 5, 1938.
2 John Drebinger, "Yanks Start Bid for Third Straight World Title at Chicago Today," New York Times, October 5, 1938.
3 John Drebinger, "Yanks Top Cubs, 3-1, in Series Opener as 43,642 Look On," New York Times, October 6, 1938: 28.
4 Gerry Moore, "Beaten Cubs Gamble on Dean," Boston Globe, October 6, 1938: 1.
5 John Kieran, "Action on the Western Front," New York Times, October 6, 1938.
6 Arch Ward, "In the Wake of the News," Chicago Tribune, October 6, 1938: 23.
7 "Gossip of First Game," The Sporting News, October 13, 1938: 6.
8 James P. Dawson, "Hartnett Says Yanks Were Lucky to Win; Counts on Dean to Even Series Today," New York Times, October 6, 1938.
9 Edward Burns, "Cubs Will Send Dean Against Gomez Today," Chicago Tribune, October 6, 1938: 24.
10 Grantland Rice, "Cubs Enter Series With the Fans Solidly Behind Them," Boston Globe, October 5, 1938: 21. One can quibble with Rice's characterization of Dickey as "unexpected" given that he finished second in the 1938 AL MVP balloting behind Boston's Jimmie Foxx and ahead of Detroit's Hank Greenberg, who hit 58 homers that season. Ruffing finished fourth.
11 Irving Vaughan, "Yankees' Brilliant Defense Halts Cubs," Chicago Tribune, October 6, 1938: 23.
12 "Timely Hits Decided Opener; Ruffing Victor Over Bill Lee," The Sporting News, October 13, 1938: 3.
Additional Stats
New York Yankees 3
Chicago Cubs 1
Game 1, WS
---
Wrigley Field
Chicago, IL
Box Score + PBP:
Corrections? Additions?
If you can help us improve this game story, contact us.
Tags
https://sabr.org/sites/default/files/RuffingRed.jpg
600
800
admin
/wp-content/uploads/2020/02/sabr_logo.png
admin
2019-12-03 12:05:07
2020-04-17 13:33:55
October 5, 1938: Yankees' Red Ruffing shackles Cubs in World Series opener