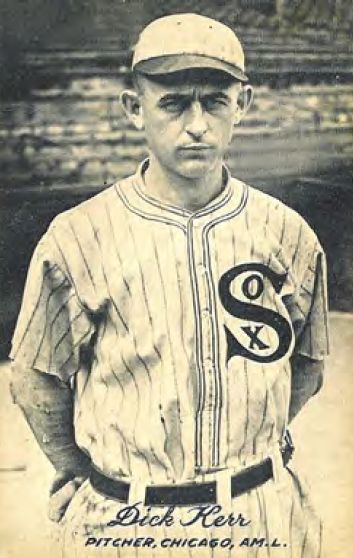 October 3, 1919: White Sox rookie Dickey Kerr turns tables on Reds, gamblers in Game 3
---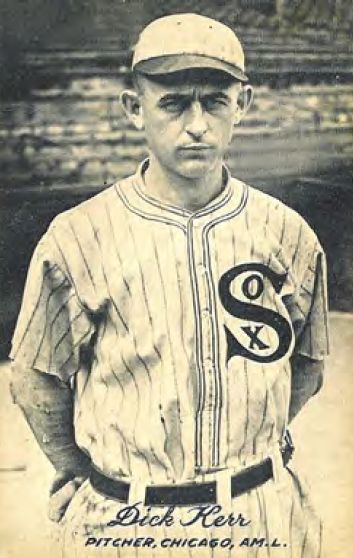 After the Chicago White Sox lost the first two games of the 1919 World Series to the Cincinnati Reds in Cincinnati, the Series shifted to Chicago's Comiskey Park for the next three tilts. Though Reds manager Pat Moran admitted his team was lucky to have beaten Lefty Williams in Game Two, he also insisted the Reds were "brimming over with [confidence]" and had "nothing to fear of the other pitchers of Gleason's staff."1
Gleason, of course, was White Sox manager William "Kid" Gleason and one of the pitchers they had no fear of was diminutive left-hander Dickey Kerr, a 26-year-old rookie who was once described by legendary writer Damon Runyon as being "too small for too much of anything, except, perhaps, a watch charm …"2 Standing only 5-feet-7 and tipping the scales at just over 150 pounds, Kerr was hardly an imposing figure, but he was a very good pitcher who went 13-7 with a 2.88 ERA in 17 starts and 22 relief appearances in 1919, and he'd be getting the ball in Game Three.
Kerr had two opponents to face on October 3, 1919 – the Reds and his own crooked teammates, who swore to gamblers that they'd never win for a "busher."3 Rumors had swirled even before the Series began that the fix was in and several members of the White Sox had sold their souls for a massive payday. All they had to do was lose convincingly to the Reds. First baseman Chick Gandil and ace pitcher Eddie Cicotte were at the fore of a group that also included superstar left fielder Shoeless Joe Jackson, center fielder Happy Felsch, shortstop Swede Risberg, infielder Fred McMullin, Williams, and, allegedly, third baseman Buck Weaver.4
Cicotte, who had gone 29-7 with a 1.82 ERA during the regular season, plunked Reds second baseman Morrie Rath with his second pitch of Game One, which allegedly signaled gamblers that the fix was on, and lasted only 3⅔ innings in a 9-1 drubbing that was the most lopsided Game One rout in World Series history.5 Then Williams, a 23-game winner, lost 4-2 in the second contest to put the White Sox in a two-games-to-nothing hole. Both losses raised eyebrows – Cicotte had hit only two batters all year before drilling Rath, and Williams's regular-season high in walks was four before he walked six Reds in Game Two.
---
---
Opposing Kerr in Game Three was Ray Fisher, a nine-year veteran who was in his first year with the Reds after spending his first eight big-league seasons with the Yankees. Dubbed "The Vermont Schoolmaster," the spitball artist went 14-5 with a 2.17 ERA in 26 games, and his experience against the White Sox and in Comiskey Park was supposed to give him an edge. But the afternoon belonged to Kerr, who was about to pitch the game of his life.
Kerr and Fisher traded goose eggs in the first – Kerr disposed of Rath on an easy grounder to Risberg and Jake Daubert on a fly ball to Felsh, and fanned Heinie Groh on four pitches; Fisher retired Nemo Leibold on a liner to right that Greasy Neale snared off his shoetops before turning a somersault, Eddie Collins grounded back to the box, and Weaver popped to first. Kerr dispatched the Reds with relative ease in the top of the second, but not before a questionable play by Risberg turned what should have been a double play into a single out that kept the inning alive. After Pat Duncan dropped a Texas League blooper in for a hit with one out in the inning, Larry Kopf grounded to Risberg, who "messed the ball around until too late to get Duncan at second," but Kerr coaxed Neale to ground out to Collins to end the frame.6
The White Sox struck first in the bottom of the second and plated two runs to take a 2-0 lead. "The climax, which happened all too prematurely, came as the wind from the stock yardes [sic] laden with life-giving balsam to the White Sox wafted over the diamond," waxed the New York Tribune's W.O. McGeehan. "It tickled the nostrils of Joe Jackson, the first of the White Sox to bat in the second inning. Joseph drove a hit to left."7 Felsch followed with a sacrifice bunt that Fisher fielded and threw into center field, and the White Sox had runners at second and third with no outs.
That brought up Gandil, who rapped a single to right that scored both runners and advanced to second on Neale's throw to the plate. Risberg worked a walk to keep the rally going, which brought Groh to the mound to settle Fisher down. It worked. Ray Schalk hit a roller toward third that Fisher scooped up and tossed to Groh to nip Gandil, who went in standing up. Then Kerr grounded to Fisher, who threw to third again for another force out.8 Leibold grounded to Groh to end the threat.
Kerr allowed a one-out single to Fisher in the top of the third on a bounder that the pitcher reached before he fell down, but retired the others with relative ease. Fisher got himself into another jam in the bottom of the frame when he surrendered hits to Eddie Collins and Weaver to put runners at first and second with nobody out, but Jackson bunted into an out thanks to a nifty play by Daubert, and Felsch grounded into an around-the-horn double play to end the inning.
Despite being up by two with Kerr seemingly in control, the hometown throng could be forgiven for getting a little antsy heading into the next inning. "In the fourth inning the Chicagoans were breathing their own odorous air in short anxious gasps," wrote McGeehan. "In the first two games it was the fourth that proved the fatal inning for the White Sox."9 Indeed, Cicotte was lifted from his start in the fourth with his team down 6-1 and Williams allowed three runs on two hits and three walks in that frame in his turn on the mound.
Kerr gave the Windy City crowd a brief scare when he walked Groh to lead off the inning, but he recovered nicely to get Edd Roush on a grounder to short that advanced Groh to second. Duncan clubbed Kerr's fourth offering toward Risberg, who snared the drive and flipped to Collins for a double play. As if to ensure that they exorcised the curse of the fourth inning forever the White Sox tallied their third run on a Risberg three-bagger that got past Neale, who was "depressed and befogged by the local ozone," and a Schalk base knock.10
Schalk topped a grounder toward Fisher, but as the pitcher was about to make the play, the ball hit something and bounced over his head. Risberg scooted in with the third and final run of the game. Kerr allowed a leadoff single to Kopf in the fifth and the Reds reached second base after two groundouts by Neale and Bill Rariden, but that was as close as Cincinnati would get to home plate for the rest of the game.
Kerr retired the last 15 batters in order and cruised to a 3-0 victory, and the Sox pulled to within a game of Cincinnati going into their fourth tilt.
This article will be published in an upcoming SABR Digital Library book on the greatest games at Comiskey Park.
Sources
In addition to the sources mentioned in the notes, the author consulted baseball-reference.com and retrosheet.org.
Notes
1 "Eller Will Pitch Today Against Kerr or Cicotte," Des Moines Register, October 3, 1919.
2 Eliot Asinof, Eight Men Out (New York: Simon & Schuster, 1963), 108-109.
3 Gene Carney, "New Light on an Old Scandal," Baseball Research Journal #35: 77.
4 Along with seven of his teammates, Weaver was banned from the major leagues for life by Commissioner Kenesaw Mountain Landis for throwing the World Series to the Reds, except that Weaver's crime was having "guilty knowledge" of the fix and not reporting it. Despite attending some meetings in which the plot to throw the World Series was discussed, Weaver maintained his innocence until the day he died and still has strong support to clear his name.
5 The Milwaukee Brewers topped that with a 10-0 victory over the St. Louis Cardinals in Game One of the 1982 World Series.
6 W.O. McGeehan, "White Sox With Kerr in Box Win Third Game of World Series by a Score of 3 to 0," New York Tribune, October 4, 1919.
7 Ibid.
8 Claims were made that Gandil slowed up just enough to be thrown out and that proved he was trying to throw Game Three, but there's no evidence he did that. Had he slid, the play would have been closer, but it wouldn't have guaranteed he'd be safe. He also insisted in a 1956 interview with writer Melvin Durslag that the fix was off before the Series even began, but that has to be taken with a grain if salt.
9 McGeehan, "White Sox With Kerr in Box."
10 Ibid.
Additional Stats
Chicago White Sox 3
Cincinnati Reds 0
Game 3, WS
---
Comiskey Park
Chicago, IL
Box Score + PBP:
Corrections? Additions?
If you can help us improve this game story, contact us.
Tags
https://sabr.org/sites/default/files/DickeyKerr.JPG
600
800
admin
/wp-content/uploads/2020/02/sabr_logo.png
admin
2019-09-17 14:03:53
2022-08-09 17:25:10
October 3, 1919: White Sox rookie Dickey Kerr turns tables on Reds, gamblers in Game 3