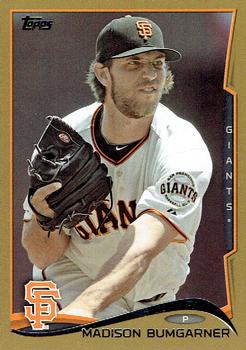 October 5, 2016: Bumgarner, Gillaspie lead Giants to NL wild-card victory
---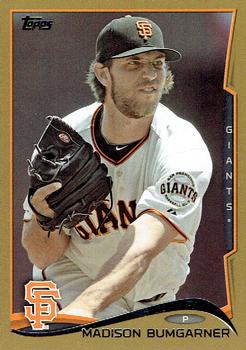 The addition of the wild-card play-in game to the major-league playoff schedule in 2012 added the potential for greater postseason drama. It was now possible for a team with a comparatively mediocre record to get hot, qualify for the play-in game, and drive through the playoffs to win the World Series. As of 2018 it has happened only once (2014, San Francisco Giants), the possibility is as real as it is tantalizing, and so adds additional urgency to late-season baseball.
It also presented a chance for players to achieve real baseball notoriety. Playoff-game performances, of course, are magnified — the whole baseball world is now watching. And the win-or-go-home nature of the wild-card play-in game virtually guarantees that a great performance will garner attention.
The 2016 version of the National League wild-card play-in game featured the San Francisco Giants and the New York Mets. The Giants had finished the season 87-75. Managed by three-time World Series winning manager Bruce Bochy, the Giants had to pull off a sweep of the Dodgers in the final series of the season to qualify for the wild-card game.
The home-team Mets, managed by Terry Collins, had also finished with an 87-75 record, and had won four of their last five games to clinch their playoff berth. The Mets had gained the home-field advantage for this game by virtue of their 4-to-3 advantage over the Giants in head-to-head competition during the season.
The Giants featured top pitchers Madison Bumgarner and Johnny Cueto, along with All-Star catcher Buster Posey and Gold Glove shortstop Brandon Crawford. The Mets featured top pitchers Noah Syndergaard and the seemingly ageless Bartolo Colon, along with All-Star outfielder Yoenis Cespedes and veteran outfielder Curtis Granderson.
Not surprisingly for a win-or-go-home game, both teams led with their formidable ace pitchers, Syndergaard and Bumgarner, both large, imposing men with pitching and batting power to match. It looked as though a real heavyweight showdown would be in the offing.
The Game
The Giants' first three innings at the plate were unproductive — no baserunners, five strikeouts, only two balls hit out of the infield. Syndergaard was clearly sharp, throwing 37 pitches through three innings.
The Mets' first three innings at the plate were not much better — one baserunner via a third-inning single by Rene Rivera (quickly erased on a 4-6-3 double play), four pop flies, one strikeout. Bumgarner was both sharp and efficient, needing only 21 pitches through three innings to stymie the Mets.
The middle innings produced a little more action at the plate. The Giants had baserunners in the fourth (walks to Denard Span and Brandon Belt), but were not able to capitalize when Span was caught stealing, Posey flied out to right field, and Hunter Pence struck out swinging. The Giants sixth inning featured a two-out single and a stolen base (both from Span, whose single also broke up Syndergaard's no-hitter). But they were unable to score — Granderson made a wall-colliding catch of a long fly ball to center field by Belt, and the Giants remained scoreless.
The middle innings for the Mets produced a lone single in the fourth (from Asdrubal Cabrera), a double in the fifth (hit by T.J. Rivera), and a walk in the sixth (issued to Cabrera). But these also produced no runs, and both teams were scoreless through six innings. By now, Syndergaard had thrown 94 pitches, Bumgarner 86.
A walk to Crawford and a single by Angel Pagan in the seventh had the Giants threatening with two outs, but Joe Panik hit a groundball back to the pitcher to end the inning. The Mets went 1-2-3 on just eight pitches in their half of the seventh.
In the top of the eighth inning, the Mets had a new pitcher, Addison Reed. By now, Syndergaard had thrown 108 pitches through seven innings. Reed had a fine 2016 season, pitching 80 innings with a 1.97 ERA.
But Reed struggled as the Giants pushed to score. Conor Gillaspie greeted Reed with a single to right field. Bumgarner sacrificed Gillaspie to second. After Span popped out, Belt walked. A passed ball moved Gillaspie to third and Belt to second. Reed intentionally walked the Giants' best hitter, Posey. Then he retired Pence on a swinging third strike, and the Giants left the bases loaded.
In the bottom of the eighth, Bumgarner gave up a single to pinch hitter Ty Kelly (batting for Reed) before retiring the side.
Now to the ninth, with the game still scoreless.
Mets closer Jeurys Familia came in to face the Giants. Familia had earned 51 saves during the season and allowed just one home run in 78 innings pitched. The leadoff batter, shortstop Crawford, hit a line-drive double to left field. Pagan struck out, but Panik coaxed a full-count walk from Familia, putting runners on first and second.
Now Gillaspie came to the plate. With the count at one ball and one strike, he drove an errant sinker 388 feet over the right-center-field wall for a home run. Crawford and Panik scored ahead of him. As Gillaspie circled the bases, he was clearly overcome by the moment, letting out an open-mouthed scream of joy.1
In the Giants' dugout, the reaction was also very excited. As Zach Schonbrun of the New York Times noted, "Gillaspie arrived to a dugout celebration that seemed unrivaled, even with the Giants' impressive postseason success. 'I don't think I've seen one like it, to be honest,' Giants catcher Buster Posey said."2 Wrote Barry Bloom of mlb.com, "When Bumgarner met Gillaspie back in the dugout, he had these words for him: 'I appreciate it. We all appreciate it.'"3
Gillaspie had broken the game open, but the Giants still had some work to do.
After Familia induced fly-ball outs from Bumgarner and Span to retire the Giants, the Mets came up with one final chance, with their 3-4-5 hitters due up. Bumgarner was equal to the task, and needed just 13 pitches to retire the heart of the Mets order on two fly outs and T.J. Rivera's line drive to Span to end the game.
Bumgarner had just thrown a 119-pitch shutout against a Mets lineup that had hit 218 home runs during the season, second most in the National League. No Mets batter reached third base. His postseason scoreless inning streak had now reached 23 innings. This was just the latest in a series of excellent, even historic, postseason pitching performances by Bumgarner.
Post-Game Wrap
This Giants' win meant that they would face the Chicago Cubs in the National League Division Series. Most postgame commentary, though, focused on the game that had just concluded.
As Schonbrun of the New York Times reported, "Gillaspie entered the clubhouse after the game to chants of his name. His cleats squeaked with champagne. He took them off and walked quietly around the room, embracing everyone. He spoke softly with a hoarse voice.
" 'I think it was a fastball,' Gillaspie said. 'I couldn't tell you where it was at. … I'd be lying to you if I said I had words to describe that moment,' Gillaspie said. 'Wow, I mean, I'm a lucky guy.'"4
As for Familia, James Wagner of the Times reported, " 'I trust myself,' Familia said afterward, his head held high, calm and at ease with a throng of reporters surrounding him in the Mets' clubhouse. 'I was thinking I was going to make it. … I try to make quality pitches. I think I was just trying to be too perfect. That's all.'"5
Bumgarner said, "You can't go out there and pitched scared like you're afraid to give up that home run. You've got to throw every pitch with conviction and believe it's the right one and try to execute it."6
Giants' manager Bochy said of Gillaspie: "We needed help, and he's done more than that. What he did tonight, he'll never forget that hit. Nor will I."7
Photo Credit
Courtesy of The Topps Company
Sources
baseball-reference.com/boxes/NYN/NYN201610050.shtml.
retrosheet.org/boxesetc/2016/B10050NYN2016.htm.
Notes
1 Barry Bloom, "Gillaspie Delivers Huge Blow with Three-Run HR," mlb.com., October 6, 2016. mlb.com/news/conor-gillaspie-hits-huge-homer-wild-card-game/c-205105292.
2 Zach Schonbrun, "Conor Gillaspie's Winning Homer Culminated a Journey of Soul-Searching," New York Times, October 6, 2016. nytimes.com/2016/10/06/sports/baseball/conor-gillaspie-home-run-san-francisco-giants.html.
3 Bloom.
4 Schonbrun.
5 James Wagner, "Madison Bumgarner and One Big Blast Leave the Mets Blanked and Blue," New York Times, October 5, 2016.nytimes.com/2016/10/06/sports/baseball/new-york-mets-san-francisco-giants-nl-wild-card.html.
6 Henry Schulman, "Giants Win Wild-Card Game on Gillaspie's Home Run," sfgate.com., October 6, 2016.sfgate.com/giants/article/Giants-win-wild-card-game-on-Gillaspie-s-home-9827575.php.
7 Schonbrun.
Additional Stats
San Francisco Giants 3
New York Mets 0
NL Wild Card Game
---
Citi Field
Queens, NY
Box Score + PBP:
Corrections? Additions?
If you can help us improve this game story, contact us.
Tags
https://sabr.org/sites/default/files/Bumgarner-Madison-NLWC.jpg
600
800
admin
/wp-content/uploads/2020/02/sabr_logo.png
admin
2018-11-20 13:52:55
2020-04-17 13:33:59
October 5, 2016: Bumgarner, Gillaspie lead Giants to NL wild-card victory