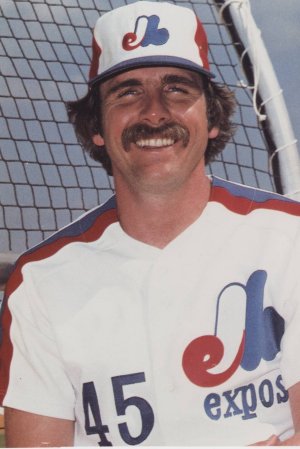 October 16, 1981: Expos' Steve Rogers wins Game 3 of NLCS
---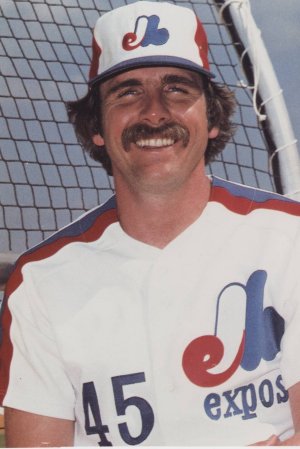 Steve Rogers was preparing for a showdown against the Pittsburgh Pirates in the heat of the 1979 National League East Division pennant race when a reporter told him that manager Dick Williams had just said he would have preferred to start one of his good pitchers but that he had to go with Rogers.
This kind if comment was typical of the Rogers-Williams mutual animosity society that went on when the latter was the skipper, due in part to Williams's belief that Rogers couldn't do it in the clutch.
"He [Rogers] couldn't win the big one," Williams said. "If you needed a big game, he couldn't give you that total effort."1
Fast-forward to the 1981 National League Championship Series between the Expos and Dodgers. The Expos were in the NLCS due mainly to Rogers' pitching in the Division Series against the Phillies that resulted from the 50-day players' strike earlier in the season. Rogers had defeated Philadelphia ace Steve Carlton twice in the five-game matchup, including a 3-0 complete-game shutout performance in the clincher. Big-game pitcher indeed.
Rogers' next assignment came on October 16, 1981, as Montreal hosted the first League Championship Series game played outside the United States in chilly (46 degrees at game time and dropping) Olympic Stadium. "The Expos spiritedly took batting practice wearing their official team ski caps," wrote Dick Kaegel in The Sporting News. "Young men in the grandstand stripped to the waist, thus advertising the balmy clime to television viewers. Santa Claus appeared and the stadium organist, in high good humor, hit the chords to Jingle Bells."2
The cold weather promised a hot showdown, just like the Old West. Well, the Old Midwest, actually, as Rogers and Dodgers starter Jerry Reuss continued a pitching rivalry that began in state high-school tournaments in Missouri. Like Rogers, Reuss was undefeated in the 1981 playoffs; he pitched nine scoreless innings in the Game One of the Division Series against the Houston Astros, although the Astros won 1-0 in 11 innings. Reuss held the Astros scoreless for nine innings again in Game Five, except this time the Dodgers won 4-0, without needing extra frames, to win the series.
Game Three of the NLCS started as one might expect in a game between two pitchers who between them had given up one earned run in their last 35⅔ innings. (Rogers gave up a run in Game One of the Division Series against Philadelphia.) Reuss and Rogers both breezed through the opposing lineups the first time around without breaking much of a sweat, which would have been difficult anyway, considering the temperature. Reuss was particularly nasty, as his slider was acting like a buzzsaw.3
The Dodgers opened the scoring in the fourth inning. In a manner reminiscent of the punchless Dodgers teams of the 1960s, they scored without benefit of an extra-base hit. Dusty Baker led off with a single, raced to third on a Steve Garvey single, then scored on Ron Cey's groundout. No doubt former Dodgers manager Walter Alston approved.
Reuss's pitching so far in the playoffs indicated that one run could have been enough, but no one told that to Jerry White. When Williams managed the Expos, he called White the best fourth outfielder in baseball, which is the baseball equivalent of winning Miss Congeniality in a beauty pageant. Even after the Expos traded away right fielder Ellis Valentine for Jeff Reardon in May 1981, White still did not play every day. That is until the Expos fired Williams on September 7 and replaced him with Jim Fanning. Fanning gave White more playing time, first in left to replace an injured Tim Raines, then in right when Raines returned. He was in right field for this game, which was fortunate for Montreal.
The bottom of the sixth inning started off well for Reuss. Despite getting behind the first two hitters, Raines and Rodney Scott, he got them out easily, Raines on a grounder to third and Scott on a popup to second. Andre Dawson singled, then reached second when Reuss walked Gary Carter. With two on, Larry Parrish singled to score Dawson and tie the game. Then up came White using, ironically, a bat left behind by Valentine.
White was no power hitter, as attested by his 18 home runs in 512 games to that point. But Reuss got a 2-and-1 pitch up in the strike zone; White swung and a no-doubter flew over the left-field wall. As he watched the ball in flight, White started skipping sideways toward first base, just as Carlton Fisk did after he hit his famous home run in Game Six of the 1975 World Series. White, though, didn't need the body English. The high fives he received when he arrived at home almost hit the Richter Scale. The fans, to say the least, were ecstatic.
"Montreal, or at least the part of it that jammed Olympic Stadium, went slightly wild. … Men kissed each other. Some others took their shirts off. Jerry White, a little surprised himself, just stood and watched it go."4
That ended the scoring for the game, but the Dodgers wouldn't go quietly. Steve Garvey and Ron Cey led off the ninth with back-to-back singles, but Rogers got Pedro Guerrero to ground into a 5-3 double play when Parrish nabbed his grounder at third, touched the bag, then threw to first. Rogers finished with a flourish by striking out Mike Scioscia to end the game.
The Expos won the game with all the elements of winning baseball. They got the pitching they needed, power when they needed it, and great defense, particularly from Parrish. In addition to the double play he started in the ninth, he also initiated a twin killing in the fifth when Reuss attempted a sacrifice bunt with Bill Russell on first. Parrish grabbed it and threw it to shortstop Chris Speier covering third, who in turn gunned the ball to Rodney Scott covering second. Parrish's defensive gems complemented a fine day at the plate; he went 2-for-4 with an RBI and a run scored.
Rogers, for his part, gutted it through despite not having his best stuff. "I can look back on it with a little bit of a smile, but it certainly was a lot harder work," he said of his outing. "I had a good sinker and I was able to get a lot of groundballs. My curve was only fair."5
The Expos also employed some subterfuge, which is a fancy way of saying they were sneaky.
"The Expos suspected that [Dodger] First Base Coach Manny Mota was tipping off the Dodgers as to what pitches were coming — he could tell, for instance, that a fastball was on the way if Catcher Carter set up on the inside of the plate with a righthander up," wrote Wulf. " 'We messed up their minds,' Carter said triumphantly after the game. What he did was simply call for an inside pitch and set up on the outside."6
After the game, Expos players laid a path of red towels from their clubhouse entrance to White's locker. Pretty damn good for a fourth outfielder.
This article appeared in "Au jeu/Play Ball: The 50 Greatest Games in the History of the Montreal Expos" (SABR, 2016), edited by Norm King. To read more articles from this book, click here.
Sources
In addition to the sources listed in the notes, the author consulted:
Los Angeles Times.
Milwaukee Journal.
youtube.com.
Box scores for this game can be found on baseball-reference.com, and retrosheet.org at:
http://www.baseball-reference.com/boxes/MON/MON198110160.shtml
http://www.retrosheet.org/boxesetc/1981/B10160MON1981.htm
Notes
Additional Stats
Montreal Expos 4
Los Angeles Dodgers 1
Game 3, NLCS
---
Olympic Stadium
Montreal, QC
Box Score + PBP:
Corrections? Additions?
If you can help us improve this game story, contact us.
Tags
http://sabr.org/sites/default/files/images/RogersSteve.jpg
600
800
admin
/wp-content/uploads/2020/02/sabr_logo.png
admin
2017-10-10 14:55:41
2020-04-17 13:34:05
October 16, 1981: Expos' Steve Rogers wins Game 3 of NLCS