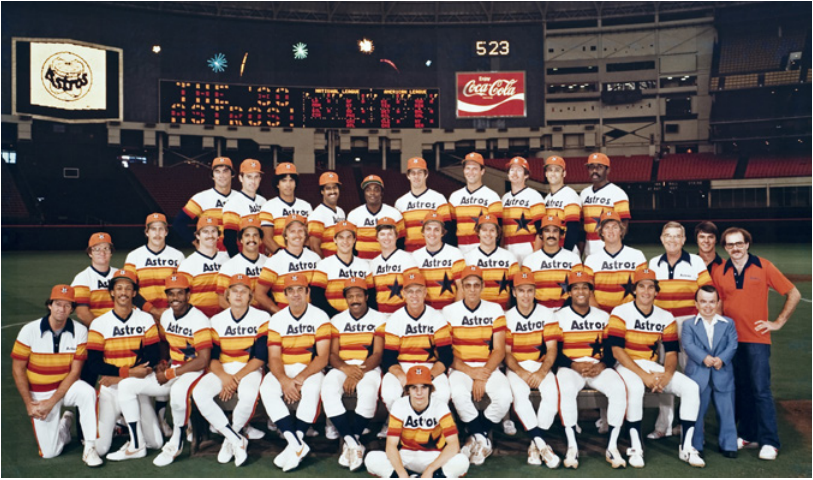 October 10, 1980: Astros win 11-inning NLCS thriller to reach brink of World Series
---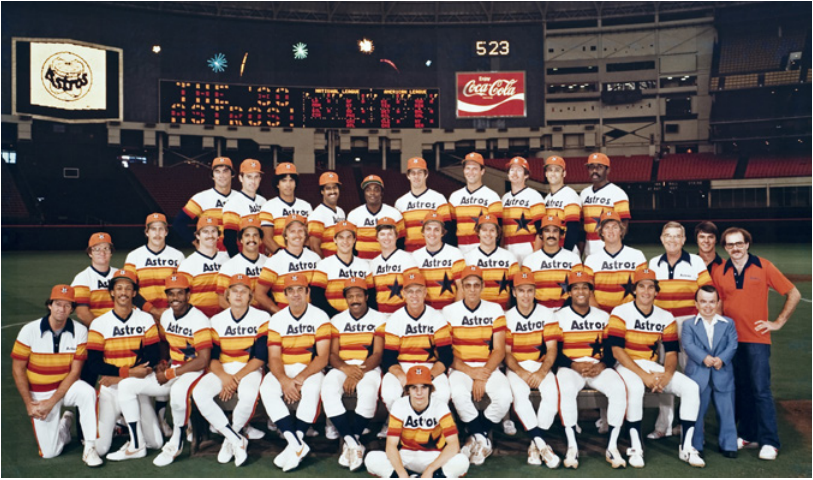 The Houston Astros (originally the Colt .45s) had begun play in 1962, and the Astrodome had opened in 1965, but the team had endured a long wait for its first postseason appearance. In 1980 the Astros survived a one-game playoff with the Los Angeles Dodgers to win the NL West division with a 93-70 record. They began the NLCS against the Phillies by splitting the first two games in Philadelphia, using a four-run outburst in the 10th inning to win Game Two. Now, on October 10, 1980, the Astros were hosting the first playoff game in the Dome, which was also the first indoor playoff game in major-league history, before a rabid crowd of 44,443 Houston fans.
The Phillies were determined not to repeat their postseason failures of 1976-78, but they would have to beat an Astros team that was tailor-made for its home ballpark. The cavernous Astrodome did not lend itself to a power game — outfielder Terry Puhl led the team with 13 home runs — so the Astros used pitching, speed, and defense to overcome their opponents. In the NLCS, they also had a "tenth man" in the home crowd. As Puhl recalled years later, "One side of the Astrodome would yell 'HOUSTON.' The other side would answer 'ASTROS.' In the dugout, you couldn't talk to the player next to you because it was so loud. … I never heard the Astrodome like that."1
Amid the cacophony of the Dome, knuckleballer Joe Niekro, who posted a 20-12 record during the season, took the mound and proceeded to throw 10 shutout innings against the Phillies, though he received a no-decision for his effort. After Niekro retired the first two batters of the game, Mike Schmidt, who slugged 48 homers and would be voted the 1980 National League MVP, took a page out of the Astros' playbook when he singled and stole second base; however, Greg Luzinski grounded out to end the inning. The first inning was an omen for the Phillies: Though they had at least one baserunner in eight different innings (seven times against Niekro), they mounted only one real scoring threat and failed to plate a single run.
The Astros fared no better as they were held scoreless for 10 innings by Phillies starter Larry Christenson and relievers Dickie Noles and Tug McGraw. Puhl led off the bottom of the first inning with a double and advanced to third base on Enos Cabell's groundout. The rally gained momentum when Joe Morgan walked to put runners at the corners with one out, but Jose Cruz grounded into a double play that put an end to the Astros' hopes for a quick lead.
The Phillies' best scoring opportunity came in the top of the third inning when Pete Rose hit a one-out single and raced to third on Bake McBride's base hit. McBride advanced to second base on a passed ball before Schmidt hit a grounder that third baseman Cabell rifled to catcher Luis Pujols to retire Rose at home plate. Luzinski stepped up and smashed a ball to deep left field, but Cruz caught it on the warning track and the Phillies came away empty-handed.
Cruz provided the Astros with their second chance to score when he stroked a one-out triple in the bottom of the fourth inning, but his hit went for naught when Cesar Cedeño and Pujols bookended an intentional walk to Denny Walling with groundouts. A scant two innings later, the Astros had yet another runner in scoring position after Cabell led off with a single and went to second base on Morgan's groundout. Christenson then issued his second intentional walk of the game — this time to Cruz — which paid off exactly as the Phillies had hoped when Cedeño grounded into a double play.
The double play ended up being double trouble for the Astros: Cedeño dislocated his right ankle as he tripped over first base trying to beat second baseman Manny Trillo's throw. Cedeño, a speedy center fielder who had batted .309 with 32 doubles and 48 stolen bases during the season, underwent surgery immediately, and his loss was a great blow to the team. Morgan, Houston's veteran second baseman, who had been a two-time MVP and two-time World Series winner with the Cincinnati Reds, said that the Astros' rallying cry all season had been "Cesar, go score a run."2 Nevertheless, Morgan also tried to reassure his team and its fans, saying, "This will hurt us a lot, but this team has overcome so much adversity already. I think we're strong enough to go the rest of the way without him"3
The Astros squandered yet another scoring opportunity in the bottom of the eighth inning. Puhl singled off Noles, who had relieved Christenson in the seventh inning, and advanced to second on Cabell's sacrifice bunt, after which McGraw took the mound for the Phillies. Morgan flied out, Cruz received the third intentional walk issued by Phillies pitchers, and Dave Bergman flied out to strand Puhl at second base.
In Niekro's 10th and final inning of work, he set down Rose, McBride, and Schmidt in order after McGraw had reached first base on an error. In light of Niekro's performance, the Phillies actually may have been happy that ace rookie reliever Dave Smith took the mound for the Astros in the top of the 11th. Smith gave the Phillies a brief glimmer of hope when he surrendered a two-out double to Garry Maddox; however, after issuing an intentional walk to Larry Bowa, Smith struck out Del Unser, who was pinch-hitting for catcher Bob Boone. The 10½ innings without a run constituted the longest scoreless tie in NLCS history, which dated back to 1969, but the first and only run of the game would score soon.
The Phillies left McGraw in the game to pitch the bottom of the 11th inning, and Morgan lined his third pitch to right field for a leadoff triple. The usually speedy Morgan was suffering from strained ligaments in his right knee, so Astros manager Bill Virdon sent Rafael Landestoy in to pinch-run for him. Phillies manager Dallas Green turned to the evening's favored strategy and had McGraw intentionally walk both Cruz (his third of the game) and pinch-hitter Art Howe to load the bases and set up a force at any base. Virdon played a hunch by using Howe, and the intentional walk played right into his hands. As he later explained, "If I don't pinch-hit for Bergman, they may pitch to him and walk Walling. Then I'm not happy with myself. I wanted the bases loaded."4
Walling got into a quick 0-and-2 hole before lofting the third pitch he saw to left field for a sacrifice fly that scored Landestoy and gave the Astros a 1-0 victory. Walling was the second Astro, along with his manager, to claim that he had an idea of what the Phillies would do. He said of his at-bat against McGraw, "I kept it really simple. I knew the adversary. I watched how he was pitching to Craig Reynolds and Terry Puhl [two other left-handed hitters] and assumed he would pitch me the same way."5
Walling's RBI made him a hero, but it was Morgan's triple that had ignited that Astros' winning rally. Morgan had started his career with the Astros in 1963 and had been the team's starting second baseman for seven years, but he had been traded to the Reds after the 1971 season. After the 1979 season, he had signed with the Astros because, as he said, "[Originally] they were the only organization willing to sign a 5-foot, 140-pound second baseman. I always wanted to repay them for that."6
Though Morgan batted only .243 in 141 games that season, he was a proven winner who provided a veteran's steadiness as well as inspiration to the 1980 Astros squad. Since Morgan was the team's elder statesman, he was asked if he played the same role for the Astros that Willie Stargell had played for the Pittsburgh Pirates the previous year. After Morgan shook his head and deferred to Stargell as "special people," a reporter asked, "But do the young players here call you Pops?" Morgan smiled and said, "No, I can run faster than most of these guys. Willie can't."7
After their second consecutive extra-innings victory in Game Three, Morgan and the Astros hoped that they were off and running to an NL pennant.
This article appears in "Dome Sweet Dome: History and Highlights from 35 Years of the Houston Astrodome" (SABR, 2017), edited by Gregory H. Wolf. To read more articles from this book at the SABR Games Project, click here.
Notes
1 Bill Brown and Mike Acosta, The Houston Astros: Deep in the Heart (Houston: Bright Sky Press, 2013), 87.
2 Joseph Durso, "Astros Top Phils, 1-0, in 11 Innings to Lead Playoff, 2-1," New York Times, October 11, 1980.
3 "Houston Astros 1980 NLCS," astrosdaily.com/history/1980/, accessed July 3, 2015.
4 Lowell Reidenbaugh, "N.L. Playoff Gleanings," The Sporting News, October, 25, 1980:16.
5 Brown and Acosta, 88.
6 Dave Anderson, "Joe Morgan Repays a Debt," New York Times, October 12, 1980.
7 Ibid.
Additional Stats
Houston Astros 1
Philadelphia Phillies 0
11 innings
Game 3, NLCS
---
Astrodome
Houston, TX
Box Score + PBP:
Corrections? Additions?
If you can help us improve this game story, contact us.
Tags
https://sabr.org/sites/default/files/1980Astros.PNG
600
800
admin
/wp-content/uploads/2020/02/sabr_logo.png
admin
2018-09-18 11:54:41
2020-04-17 13:34:01
October 10, 1980: Astros win 11-inning NLCS thriller to reach brink of World Series