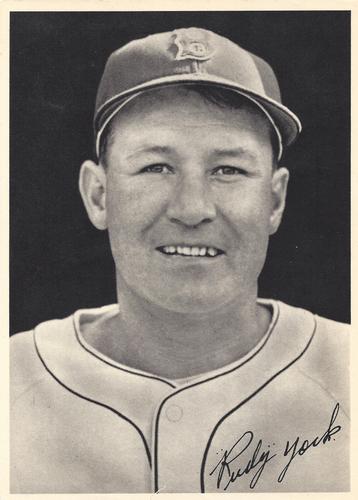 October 6, 1946: Rudy York's homer lifts Red Sox to win in World Series opener
---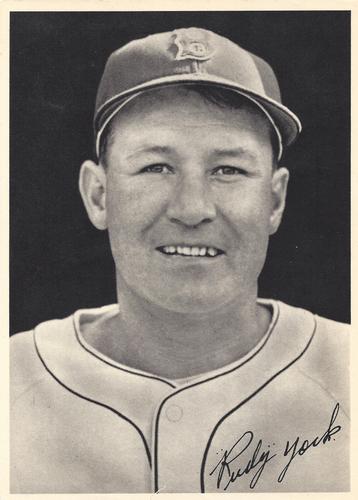 The Boston Red Sox had not won a World Series since 1918, almost 30 years. As all the teams reassembled their full rosters in the wake of World War II, the Red Sox found themselves with a superb team and jumped out to a very strong start. They were 21-3 by May 10. They clinched on September 13, one of the earliest clinches a team has ever enjoyed, but it left the Sox marking time as they awaited the outcome of the National League race to learn which team would be their opponent. As they played the schedule, to keep in shape, they inevitably lacked some of the fire that characterized the St. Louis Cardinals, who fought the Brooklyn Dodgers right to the final day — and then some. The Cards and Dodgers tied and had to fight it out in a three-game playoff for the pennant. St. Louis won the first two games, and the pennant.
Irving Vaughan of the Chicago Tribune declared that the Sox "had such a formidable lead that they merely had to stumble into a pennant" but that they should therefore be in a "delightfully relaxed state." Rather than being worn ragged by the pennant race and playoffs, though, the Cardinals may have been "put in the mood that convinces them they are tough."1
The day of the first playoff game, the Sox scheduled an exhibition game against a collection of American League all-stars, recruited to help them keep in form. Williams was hit in the elbow by a Mickey Haefner pitch. X-rays were negative, but the elbow was badly bruised. On October 3, team physician Dr. Ralph McCarthy told the press, "Ted will be able to start the series, but he won't have the proper use of his elbow for at least another week."2
Cardinals manager Eddie Dyer was taking no chances. Having noted that the Yankees had held Williams to an average of under .200 on the season, Dyer figured he'd better learn how.3
Odds were cited at 11 to 5 in favor of the Red Sox. The first two games were played in St. Louis. Dyer decided to start back-to-back southpaws, with Howie Pollet (21-6, league-leading 2.10 ERA) pitching the first game against Joe Cronin's ace, Tex Hughson (20-11, 2.75). Dyer tapped Harry Brecheen to pitch the second game, and Cronin was expected to start Mickey Harris.
The game got underway in unseasonably warm weather at 82 degrees. It turned out to be, for Cardinals fans, "a game to sire nightmares."4
The Sox scored first with a run in the top of the second, taking advantage of a Pollet pitch that hit Rudy York and a walk to Bobby Doerr on a 3-2 count that moved York into scoring position. Third baseman Pinky Higgins singled to center to drive in York.
Enos Slaughter tripled with two outs in the fourth, and even rounded third heading for home, when Johnny Pesky fumbled the relay, but Pesky got ahold of the ball and Slaughter retreated to third.
The Cardinals did not score until the bottom of the sixth when Red Schoendienst singled, took second on a bit of a bumble scored a fielder's choice, and then cruised home on Stan Musial's double off the right-field wall at Sportsman's Park to the delight of the largest crowd in park history. Musial took third on Tom McBride's wild throw in. Slaughter was walked intentionally, and Hughson hit Kurowski, loading the bases, but rookie catcher Joe Garagiola struck out.
St. Louis had something going in the seventh, when Harry Walker walked and Marty Marion sacrificed him to second. Pollet whiffed, but Schoendienst beat out an infield hit and Walker took third. Schoendienst then stole second, with Sox catcher Hal Wagner electing to throw to third rather than second, hoping to catch Walker off the bag. Moore flied out deep to Ted Williams in left.
The Redbirds broke the 1-1 tie in the bottom of the eighth. With two outs, Whitey Kurowski singled down the third-base line. Garagiola drove a high fly ball deep to DiMaggio in center field and Dominic lost sight of the ball. It has nothing to do with the sun; there was a heavy haze hanging over the field.5 Dom was just a fraction of a second too late and the ball ticked off his outstretched glove. He fired the ball to Pesky, who expertly relayed to Higgins, and Garagiola was cut down at third — before Kurowski crossed the plate. Kurowski was awarded home plate, though, with obstruction called against Higgins for blocking him as he'd come around third. Higgins admitted he'd been in the way, so Cronin's squawk was cut short.6 St. Louis had a one-run lead to defend heading into the ninth inning. Pollet had given up just four hits and the one run.
Doerr struck out, leading off the ninth. Higgins hit a ball right to Marion at short, but it scooted through his legs. "It just stuck to the ground," said Cardinals pitcher Red Barrett.7 It was ruled a single, but it was a big break for Boston. Both teams agreed after the game that it was the play that turned things around. Don Gutteridge pinch-ran for Higgins. Cronin put in Rip Russell (.208 on the season) to pinch-hit for Boston's catcher Hal Wagner, and Russell ripped a solid single to center. Gutteridge took third. His third substitution of the inning, Roy Partee, came in to hit for Hughson, but Partee struck out. Tom McBride was 0-for-4 on the day; he hadn't gotten the ball out of the infield. And Pollet had two strikes on him. This time, though, McBride hammered a one-hopper between short and third, and drove in Gutteridge to tie the score. Johnny Pesky flied to Enos Slaughter in right, and the Sox were retired. "The Earl of Emergency" – Earl Johnson — took over for Hughson and set the Cardinals down 1-2-3, and the game went into extra innings. Pollet was tiring, though; he'd given up four hits in the last two innings.
In the top of the 10th, Pollet showed he still had some stuff. He got DiMaggio on a grounder to short. Ted Williams was 1-for-2 on the day, a single, and Pollet had walked him twice. In the 10th, Ted hit a "towering foul fly" to Musial.8 Two outs, but the Cardinals feared York as much as Williams. Earlier in the season, on July 27, York had hit two grand slams in the same day against the St. Louis Browns, in this very same ballpark.
Pollet's first two pitches to the veteran York were both out of the strike zone. He had to get one over and fired a curve which York pounded "almost to the concession stand high up in the [left-field] bleachers" to give the Red Sox a 3-2 lead.9 Doerr singled, but Earl Johnson's ground ball forced Doerr at second base.
Johnson didn't have an easy time of it. Pesky erred on Schoendienst's ground ball, and Terry Moore sacrificed Schoendienst to second. With the Cardinals' best two hitters – Stan Musial and Enos Slaughter – coming to the plate, Cronin took McBride out of right field, replacing him with the more experienced Wally Moses. Musial grounded to Doerr, but Schoendienst took third on the play. With two outs, Slaughter hit a ball to right-center field but Moses ran it down for the third out.
Boston won the first game of the World Series, 3-2, in 10 innings. In the clubhouse after the game, Hal Wagner jumped on a trunk wearing just his shorts, and shouted, "Let's give a little hand to ol' Rudolph!"10 York took a deep bow to sustained applause. He was one of only three Red Sox with previous Series experience. Gutteridge and Higgins were the other two Sox who'd seen Series play. The Cardinals had 15 players with Fall Classic resumes.
"It was a fast ball, inside," York explained. "At least that's what I thought it was the last time I saw it. Then I closed my eyes and swung."11 Cronin thought the pitch was a slow curve. The Herald's Burt Whitman thought it a change of pace. Pollet himself said it was a "fast curve" — the same pitch he'd gotten York on twice before. Whatever pitch it was, York converted it into an arcing shot traveling 410-450 feet, and snared one-handed by a "steel-fisted fan."12 In the dressing room after Game One, York said, "I stopped at second to watch it."
This article appears in "Sportsman's Park in St. Louis: Home of the Browns and Cardinals at Grand and Dodier" (SABR, 2017), edited by Gregory H. Wolf. Click here to read more articles from this book online. An earlier version of this article first appeared in Cecilia Tan and Bill Nowlin, "The 50 Greatest Red Sox Games" (John Wiley, 2006).
Notes
1 Irving Vaughan, "Red Sox and Cardinals Launch World Series Tonight," Chicago Tribune, October 1, 1946: A1.
2 Hy Hurwitz, "Injured Elbow Will Handicap Williams in Opener; Sox Head West," Boston Globe, October 4, 1946: 1.
3 Dyer pulled an extreme "Cleveland shift" on Ted Williams — moving the third baseman all the way to the other side of the second base bag, and leaving the shortstop in place. It worked in the second inning, but in the sixth Ted singled past the unorthodox defense. He wrote in his column, "I got a single into right field over the third baseman's head. Brother, that's one for the books." In the third inning, Ted had hit a deep drive that had home run distance but landed foul, then was walked by a wary Pollet.
In the daily Boston Globe newspaper column written by Williams on October 1, he admitted betting on a World Series game — back in 1931 at age 13, when he'd been rooting for the St. Louis Cardinals. The junior high school student wagered 25 cents on the Cardinals to win, and presumably collected since they defeated the Philadelphia Athletics, four games to three. Ted Williams, "Ted's Column," Boston Globe, October 1, 1946: 9.
4 J. Roy Stockton, "York's Homer Deciding Blow in 3-2 Victory in First Game," St. Louis Post-Dispatch, October 7, 1946: 2B.
5 Ted Williams wrote in his column: "It's wonder the outfielders didn't lose more. I never saw a worse haze in the outfield than the one that hung over Sportsman's Park." Ted Williams, "Ted Williams Says: 'Whee! I Singled to Right Field Over the Third Baseman's Head," Boston Globe, October 7, 1946: 7.
6 The play was described in detail in W, J. McGoogan, "Ump Explains Play on Which Kurowski Scored," St. Louis Post-Dispatch, October 7, 1946: 2B.
7 Associated Press, "Cards Grumble Over Beating By Red Sox," Los Angeles Times, October 7, 1946: 9.
8 Associated Press, "Red Sox's Late Surge Overcomes Cards in Frist Game of Series," New York Times, October 7, 1946: 24.
9 J. Roy Stockton, who added, "It was the only run of the afternoon that wasn't tainted." York thought it was a fastball, but Pollet said it was "a curve exactly like the one he had thrown two innings before, when York, a big broad-shouldered giant of an athlete, had popped helplessly in foul territory to Joe Garagiola."
10 Associated Press, "York Takes A Bow As Mates Applaud in Dressing Room," Chicago Tribune, October 7, 1946: 27.
11 Will Cloney, "Rudy Says: Closed Eyes and Swung," Boston Herald, October 7, 1946: 1.
12 Burt Whitman, "York Homer Wins in 19th, 3-2," Boston Herald, October 7, 1946: 1.
Additional Stats
Boston Red Sox 3
St. Louis Cardinals 2
10 innings
Game 1, WS
---
Sportsman's Park
St. Louis, Mo
Box Score + PBP:
Corrections? Additions?
If you can help us improve this game story, contact us.
Tags
https://sabr.org/sites/default/files/YorkRudy-BOS.jpg
600
800
admin
/wp-content/uploads/2020/02/sabr_logo.png
admin
2018-11-14 13:51:39
2020-04-17 13:33:59
October 6, 1946: Rudy York's homer lifts Red Sox to win in World Series opener