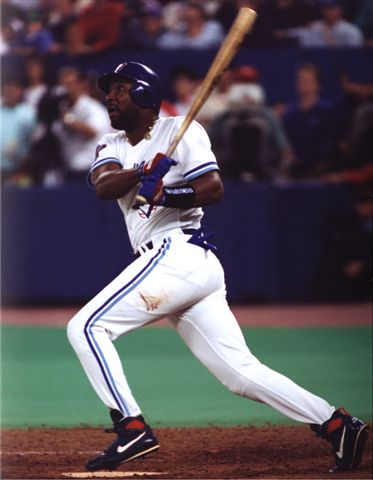 October 23, 1993: Blue Jays repeat as Series champs on Joe Carter's walkoff blast
---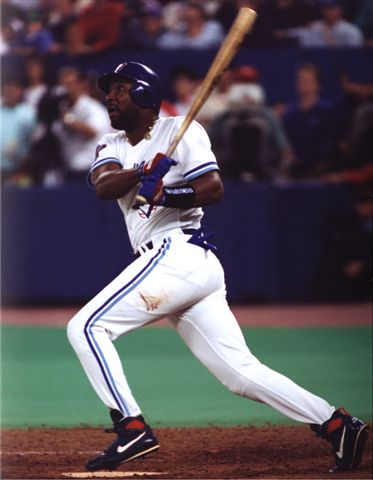 When Paul Molitor crushed a solo home run in the bottom of the fifth inning to give the Toronto Blue Jays a four-run lead, 52,195 fans in a delirious SkyDome were certain the Blue Jays would coast to a Game Six victory and a second straight World Series title. After postseason veteran ace Dave Stewart set down Philadelphia in order in the next inning, it seemed fitting on this night as Molitor and Stewart were the Blue Jays' prized free-agent acquisitions the previous winter.
Toronto built a quick 2-0 lead in the first inning on three pitches. With one out, Philadelphia left-hander Terry Mulholland issued ball four to Devon White, then the "Ignitor" Molitor lived up to his nickname with a triple on the next offering to score White. Joe Carter hammered the first pitch he saw to the left field warning track for an easy sacrifice fly. The Blue Jays added another run when Roberto Alomar singled to cash in John Olerud's double.
The two clubs traded single runs in the fourth inning and Philadelphia looked to add more in the fifth. The Phillies loaded the bases on two fielding errors and a walk, but Stewart induced Dave Hollins to ground out sharply to first base on the first pitch to end the threat. In the bottom half, Molitor stepped to the plate with one out as chants of "M-V-P!" began to crescendo. The veteran ripped a 1-and-1 hanging curveball well into the left-field mezzanine seats, increasing the Blue Jays' lead to 5-1. (Molitor was indeed named World Series MVP and finished the Series batting .500 with a World Series record-tying 10 runs. He and Alomar also tied the Series record for most hits, 12, in a six-game World Series.)
With the reality of elimination drawing closer, the Phillies solved Stewart to start a rally in the seventh, initiated by the patience of their No. 8 and No. 9 hitters. Kevin Stocker earned a 10-pitch walk after fouling off four pitches, then moved to third when Mickey Morandini singled to left-center after fouling off three offerings from Stewart. That brought up the most dangerous batter in the Phillies' lineup.
If Molitor had been sparking rallies all Series long for Toronto, the same could be said of Lenny Dykstra for Philadelphia. The veteran center fielder was a career .516 hitter with runners in scoring position in the postseason, and his bat had carried the Phillies in October. Dykstra worked the count to 3-and-1 then smoked a fastball into the second deck in right field, cutting Toronto's lead to 5-4. It was Dykstra's sixth home run of the postseason, tying the then all-time record. He became the first NL player in 38 years to hit four home runs in the World Series. For Stewart, a start that looked so solid minutes before had suddenly derailed. He handed the ball to righty Danny Cox to protect the slimmest of margins.
Re-energized, Philadelphia continued to rally. Mariano Duncan greeted Cox with a single to center, then stole second. Hollins atoned for his earlier rally-killing groundout by hitting a game-tying RBI single off the mound into center field. After a walk and infield single loaded the bases, Toronto manager Cito Gaston brought in reliever Al Leiter. Pinch-hitter Pete Incaviglia hit a first-pitch fastball for a sacrifice fly to score Hollins with the go-ahead run. Stocker struck out on three pitches to end the inning but the damage was done. Five runs on five hits meant the Phillies had a 6-5 lead and Game Seven suddenly became a distinct possibility.
Toronto loaded the bases in the eighth inning on two walks and a hit batter, but reliever Larry Andersen, battling his control, wriggled out of it by getting an inning-ending popfly out to second base off the bat of Toronto catcher Pat Borders.
Needing three outs to win Game Six and tie the World Series, Philadelphia manager Jim Fregosi handed the ball to embattled closer Mitch "Wild Thing" Williams. While Williams had recorded 43 regular-season saves and closed out Philadelphia's upset NLCS victory over Atlanta, his appearances were an uneasy adventure for fans and teammates alike. In his previous game, entrusted with a 14-10 lead, with the Phillies at home in Game Four, Williams allowed two inherited runners to score and gave up three more runs, allowing Toronto to improbably prevail 15-14.
The bottom of the ninth began with unintentional humor … or perhaps an omen. Leadoff batter Rickey Henderson called for time, granted by plate umpire Dana DeMuth but with the crowd noise increasing and Williams facing first base working out of his usual stretch position, he did not know time had been called. As he kicked and turned to throw, Henderson, catcher Darren Daulton and DeMuth all backed away rapidly from the plate area and at the last split-second, Williams held onto the ball as he tumbled to his right.
Possibly unnerved, Williams walked Henderson on four high pitches. White flied out to left-center, bringing Molitor back to the plate. The Ignitor lined a single into center, moving Henderson to second. Now the tying run was in scoring position and the World Series-winning run was at first as Carter approached the plate.
Williams fell behind, 2-and-0, then evened the count at 2-and-2 on a slider in the dirt that Carter swung over. "The second baseman, Mickey Morandini, had moved right behind second base because I was a dead pull hitter. When Mitch let go of the ball, the background was Morandini's jersey, so the ball was moving in and out of shadows. I lost it and it dropped on me," Carter said two decades later, recalling the at-bat.1
With two strikes, Carter wanted to put the ball in play and while he recalled the next pitch as a fastball, Fregosi remembered it as "a bad slider down and in."2 Williams simply called the pitch "a mistake," saying, "It was supposed to be up and away."3 Whether fastball or slider, there was no mistaking where the ball was headed after Carter swung, though he once again lost sight of the ball. "I knew it had enough height to get out. I didn't know if it would, though, because I lost it in the lights."4
"A swing and a belt … left field … WAY BACK! BLUE JAYS WIN IT! The Blue Jays are World Series champions as Joe Carter hits a three-run home run in the ninth inning and the Blue Jays have repeated as World Series champions. Touch 'em all, Joe, you'll never hit a bigger home run in your life!"5
With millions across Canada listening to the most famous call of his career, Blue Jays' radio broadcaster Tom Cheek exhorted Carter to touch all the bases. "It's a kid's dream, and I'm just a kid playing this game," Carter said after jumping up and down all the way to first base, then clapping and punching the air on his victory tour around the bases.6
As SkyDome technicians unloaded their remaining supply of home-run fireworks into the air above center field, the Blue Jays rushed out of the dugout and mobbed Carter when he touched the plate, then hoisted him onto their shoulders as the slugger raised his arms in triumph. The 37-year-old Molitor, with tears pouring down his face, found Gaston and gave him a long embrace, overcome with emotion at finally realizing his World Series dream. "It's one of those instantaneous feelings where everything starts to sink in. You run the gamut of emotions. Then you just join the mob scene," Molitor said.7 "When you toil for 15 years, watching postseason after postseason go by, naturally you want to be a part of it," he continued.8 "More than anything, I have a feeling of thankfulness."9
"I told my wife something really great was going to happen tonight, but I'll be danged! I never quite expected that," Carter said in the clubhouse.10 On just the second World Series-ending home run ever, Carter's blast gave the Blue Jays an 8-6 win over Philadelphia and its second straight World Series title. It was the 19th time a club had repeated as World Series champion, the first time since 1978. Toronto skipper Gaston joined the likes of Connie Mack, John McGraw, Miller Huggins, Casey Stengel, and Sparky Anderson as the 11th manager to win two consecutive World Series.
The next afternoon, the Blue Jays held their victory parade inside SkyDome. General manager Pat Gillick, who deftly replaced 10 players from the 1992 World Series roster through free agency and trades, revved up the crowd when he declared, "I hate to borrow from Pat Riley, but let's 'threepeat' in 1994."11 Added Borders, "I've got three empty fingers on my hand, and I'd like to fill them up."12 With a second World Series banner unfurled, the Blue Jays could afford to crow about their success, thanks to Joe Carter having provided one of the most dramatic moments in baseball history.
Sources
Besides the sources cited in the Notes, the author also consulted the following:
Morgan Joe, Jon Rochmis, and Buck Martinez. A Series to Remember (San Francisco: Woodford Publishing, 1993).
"World Series Game Six: Philadelphia Phillies at Toronto Blue Jays," CBS Television (Buffalo, New York: WIVB, October 23, 1993).
Notes
Additional Stats
Toronto Blue Jays 8
Philadelphia Phillies 6
WS, Game 6
---
SkyDome
Toronto, ON
Box Score + PBP:
Corrections? Additions?
If you can help us improve this game story, contact us.
Tags
http://sabr.org/sites/default/files/images/Carter%20Joe%202469.94_Bat_NBL.jpg
600
800
admin
/wp-content/uploads/2020/02/sabr_logo.png
admin
2016-03-03 17:45:24
2020-10-23 02:42:22
October 23, 1993: Blue Jays repeat as Series champs on Joe Carter's walkoff blast