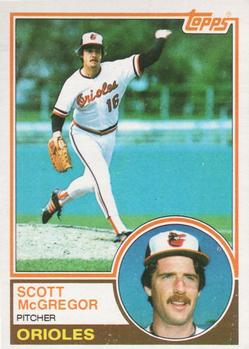 October 12, 1979: Pirates succumb to Orioles' McGregor after rain delay
---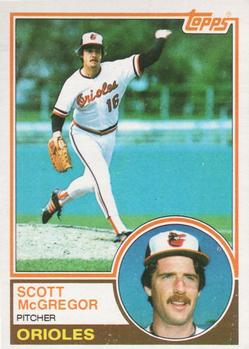 Game Three brought a change of scenery to the World Series as play shifted to Pittsburgh's Three Rivers Stadium, but the cold, rainy weather of Baltimore had followed along and would again affect the outcome of events. In spite of the conditions, 50,848 fans packed the nine-year-old ballpark for the Pirates' homecoming in the hopes of getting to sing the Bucs' theme song — "We are Family" by Sister Sledge — as a victory anthem at the end of the evening. Pirates fans who recalled the 1971 Series between these same two teams no doubt hoped that the hometown nine could duplicate the feat of that earlier squad and win all three games to be played in Pittsburgh, which would result in a quick Series victory for the 1979 Pirates. John Candelaria, the Pirates' 6-foot-7 left-hander, took the mound against fellow lefty Scott McGregor, but he soon found out that he would not be facing the same Orioles lineup that had been held to a mere six hits in each of the first two games.
To counter Candelaria, Orioles manager Earl Weaver brought in a new middle infield of shortstop Kiko Garcia and second baseman Rich Dauer and inserted Gary Roenicke in center field alongside Benny Ayala in left field, which gave him an all right-handed-hitting lineup for the game, since switch-hitters Ken Singleton and Eddie Murray would turn around to hit from the right side; even the left-handed pitcher McGregor was a natural right-handed batter. When asked about his strategy, Weaver stated, "It's designed to score runs. Nothing unusual, we did it [lineup changes] all summer."1 Garcia and Ayala, two of Weaver's new starters, led off the game with a double and single respectively before Candelaria set down the next three batters to quell the immediate scoring threat.
In the Pirates' half of the first, Omar Moreno began to shake off his hitting funk by drilling a leadoff double to center field. With Tim Foli at the plate, first-base umpire Terry Tata called McGregor for a balk and Moreno advanced to third. Weaver had a surprisingly calm debate with Tata over the call, which Orioles catcher Rick Dempsey afterward validated: "I saw (McGregor) move. I called for a changeup and he signaled for me to go around again (with the sign sequence) and then I saw him move."2 After Foli popped out foul to Dempsey, Dave Parker hit a sacrifice fly that scored Moreno for a quick 1-0 lead.
In the second inning, the Bucs set to work on extending that lead. Willie Stargell led off with a sharp single and, two batters later, catcher Steve Nicosia advanced him to second base with a single of his own. Phil Garner then lined a two-run double to the wall in left-center, but he was caught in a rundown and eventually tagged out at third base when he tried to advance on an anticipated relay throw by Garcia to the plate instead of to third. Candelaria followed with what would have been an RBI single to left field had Garner been safe on the previous play; nonetheless, after Moreno's groundout ended the inning, the Pirates still led 3-0.
The Garcia-and-Ayala tandem that had led off the game for the Orioles struck again to greater effect in the top of the third when Garcia drew a one-out walk that Ayala followed with a home run over the wall in left-center to narrow the gap to 3-2. As the two-run blast left the park, an agitated Candelaria — who thought he had fanned Ayala on the previous pitch — complained briefly to home-plate umpire Russ Goetz. After Ken Singleton stroked a base hit, Candelaria issued his second walk of the inning to Eddie Murray. With two outs, another of Weaver's new lineup additions, Gary Roenicke, grounded a single past a diving Bill Madlock into left field. Bill Robinson scooped it up and quickly threw to Nicosia, who took the throw in front of the plate and lunged to his left to tag out the sliding Singleton. After this play, both teams had time to reflect and to strategize as a steady downpour caused the game to be delayed for 67 minutes.
Once play resumed, it soon appeared as though an entirely different ballgame was being played. McGregor posted his first scoreless inning of the game in the bottom of the third, and then the Orioles' bats broke out for their second five-run inning of the World Series — the first having come in the first inning of Game One — although not without some help from an error and inconsistent pitching by the Pirates. The Orioles' Rich Dauer led off the frame with a double to left-center that skipped by Moreno on the wet turf, and advanced to third on a single by Dempsey. Then Tim Foli lost the handle on a high hop off McGregor's grounder for an error that loaded the bases. Garcia, who turned out to be a super substitute for usual shortstop Mark Belanger on this night, cleared the bases on a 1-and-2 count with a triple to right-center that gave the Orioles a 5-3 advantage. Candelaria, who was ineffective after the rain delay, was replaced by Enrique Romo at this point.
Weaver elected to play the percentages and sent in left-handed-hitting Al Bumbry to pinch-hit for Ayala against the right-handed Romo. Romo hit Bumbry square in the back with his first pitch to put Orioles runners at the corners, and Singleton drove in Garcia with his second base hit of the game, past a diving Garner. Bumbry scored two batters later on a grounder by Doug DeCinces that forced Singleton at second base after Garner made an errant throw on his attempt at a double play, and the Orioles now led 7-3.
While Candelaria was unable to record a single out after the game had been delayed, McGregor became stronger and more effective as the game continued. His only concerns with Pirates batters after the rain delay came in the bottom of the fifth inning as Parker's long drive with a man on was hauled in by Singleton to retire the side, and in the sixth when Stargell belted a one-out double and scored on Bill Madlock's single to make the score 7-4. Other than those two hiccups, McGregor retired the side in order in the fourth, seventh, eighth, and ninth innings and allowed one hit — Moreno's second double of the game — in the fifth. After the game Dempsey said of McGregor, "Thank God for the rain delay. He was a little tired afterward and his ball sinks better when he's tired."3 McGregor offered his own theory as to why he was more effective later in the game: "We've had quite a few delays like that the past few years. I don't know why I'm usually better after the interruption. Maybe it's the second warm-up."4 Whatever the reason, the Pirates were unable to mount any real threat against McGregor after the rain-delayed third inning.
As for the Orioles, after their five-run outburst in the top of the fourth inning, they added only one additional run through the rest of the game. Romo gave up a one-out double to Dempsey in the seventh inning, and Dempsey scored two batters later on Garcia's looping single to center field. Garcia's base hit gave him a four-hit game, the 38th in World Series history [Dave Parker had registered the 37th in Game One], and led to an odd sequence of events that included the second Pirates error of the night.5 Moreno knew he could not throw out Dempsey at home plate, so he fired the ball to Stargell at first base, who was behind Garcia and had him caught in a rundown. Stargell's throw to second base hit Garcia in the back for an error that enabled Garcia to reach the base safely. Bucs manager Chuck Tanner sent Grant Jackson to the mound to relieve Romo, and Jackson retired Bumbry to end the scoring threat.
McGregor and Kent Tekulve, who took the mound for the Pirates in the top of the eighth inning, did not allow any further baserunners for the remainder of the game, and the Orioles took the home-field advantage back from the Pirates with an 8-4 victory that gave them a 2-1 lead in the Series.
After his rough first two innings, McGregor had settled down to pitch a dominant complete-game victory in which he threw only 95 pitches, an amazing 78 of which were strikes.6 Weaver's modified lineup also paid great dividends at the top: Leadoff hitter Garcia was 4-for 4, drew a walk, scored two runs and drove in another four; number-two batter Ayala was 2-for-2 with a home run and two RBIs. Garcia, the Orioles' hitting star of Game Three, turned out to be the "second most celebrated player born in Martinez, California," after Joe DiMaggio.7 For one night at least, Garcia, who would finish his career with an anemic .239 batting average, had hit like DiMaggio as well.
This article appeared in "When Pops Led the Family: The 1979 Pitttsburgh Pirates" (SABR, 2016), edited by Bill Nowlin and Gregory H. Wolf. To read more game stories from this book at the SABR Games Project, click here.
Sources
https://www.baseball-reference.com/boxes/PIT/PIT197910120.shtml
http://www.retrosheet.org/boxesetc/1979/B10120PIT1979.htm
Notes
1 Joseph Durso, "Orioles Win, 8-4, and Lead Series, 2-1," New York Times, October 13, 1979.
2 Lowell Reidenbaugh, "Kiko's Bat a Lethal Weapon, Stunned Pirates Concede," The Sporting News, October 27, 1979: 9.
3 Ibid.
4 Ibid.
5 Ibid.
6 Ibid.
7 Dave Anderson, "Kiko Moves Into the Spotlight," New York Times, October 14, 1979.
Additional Stats
Baltimore Orioles 8
Pittsburgh Pirates 4
Game 4, WS
---
Three Rivers Stadium
Pittsburgh, PA
Box Score + PBP:
Corrections? Additions?
If you can help us improve this game story, contact us.
Tags
https://sabr.org/sites/default/files/McGregor-Scott.jpg
600
800
admin
/wp-content/uploads/2020/02/sabr_logo.png
admin
2018-05-02 14:36:38
2020-04-17 13:34:02
October 12, 1979: Pirates succumb to Orioles' McGregor after rain delay