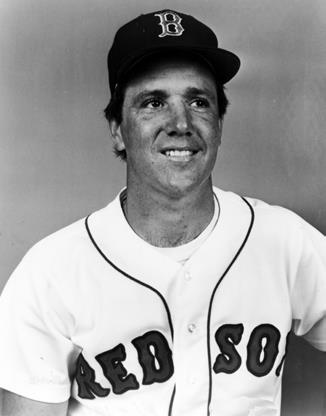 October 14, 1986: Barrett continues hot streak as Red Sox roll in Game Six
---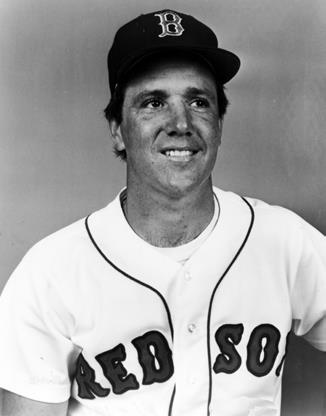 Two days and 3,000 miles away from its improbable 11th-inning victory in Game Five of the American League Championship Series, the Boston Red Sox continued their march toward the AL pennant with another elimination-game victory. Back home in Fenway Park, the Red Sox batted around in the third inning, scoring five times off Angels starter Kirk McCaskill, and won Game Six easily.
The day before the game, Red Sox starter Dennis "Oil Can" Boyd called his assignment "the biggest game I've ever pitched. … I have to pitch the best game I've ever pitched."1
Boston second baseman Marty Barrett said his teammates were feeling no pressure, despite trailing in the series, three games to two: "I was running in the outfield before the game and I said to myself, 'This is almost like a dream.' There was no pressure. None. We all felt we shouldn't even be playing this game. … The fifth game was our seventh game."2
Barrett hoped the Red Sox could get out to a quick lead. "We've got to jump on them for a change. … I'd like to see us get five or six runs in the first three innings." 3
Boyd, pitching on short (three days) rest, had a rough beginning, throwing 44 pitches in the first inning and giving up two runs, the runs scoring on consecutive doubles by Reggie Jackson and Doug DeCinces. With two outs and the bases full of Angels, Red Sox reliever Al Nipper was warming up in the bullpen and Boyd was likely one more hit away from being taken out of the game. Boyd battled Rob Wilfong for 11 pitches — Wilfong fouled off eight straight offerings — and got him to pop up to first for the third out. (While it's hard to label a play in the top of the first inning as the turning point in the game, retiring Wilfong was a critical out for the Red Sox. Barrett: "I don't think people realize how big that [out] was."4)
"I really wanted Oil Can to get out of that jam because, ideally, we were hoping he'd give us seven innings," Red Sox manager John McNamara said. "He was throwing the ball well, but I couldn't let him stay out there if he got us into a hole."5
"I went out there with the right idea," Boyd said, "but then I started rushing a little bit. The balls were feeling big in my hand. … I only yielded two runs. … I just have to leave that inning where it was."6
Boyd was instantly let off the hook as his teammates tied the score in the bottom half of the first, although they did not record a hit. Wade Boggs and Marty Barrett both walked; Boggs scored on a passed ball and Barrett scored on Jim Rice's groundout to second. Boyd: "The runs picked me up. … I knew a job had to be done and my guys had come to play."7
The Red Sox would not get their first hit until the third inning, when Spike Owen lined a single to center. Boggs followed with a single to right. Barrett, who led the American League in 1986 with 18 sacrifice bunts, tried to put one down, but failed. He then lined a 1-and-2 pitch into the left-center-field gap, scoring Owen. (Barrett was now 7-for-8 with runners in scoring position in the ALCS.) Bill Buckner followed with an RBI single to center and Boston led 4-2. After a visit to the mound, McCaskill got Rice to ground to third. DeCinces threw home and Barrett was caught in a rundown and eventually tagged out.
Don Baylor singled to right-center. Buckner hobbled to third on his bad ankles and did not try to score. However, Rice seemingly expected Buckner would be waved home; he rounded second and Baylor took a big turn at first. As the ball came in from the outfield, Rice scrambled to get back to second. Angels first baseman Bobby Grich cut the ball off on the third-base side of the mound. "I saw what I thought to be Rob Wilfong at first in a ready position," Grich said. "But when I let the throw go, I realized it was their first-base coach [Walt Hriniak]."8 Grich's throw was wild. Buckner limped home and Rice was also awarded the plate. Baylor advanced to third and Boston led 6-2. Dwight Evans's short fly dropped into center field for a hit, bringing Baylor home. That was the end of McCaskill's night. The six hits he allowed in the inning tied an ALCS record. Left-handed reliever Gary Lucas struck out Rich Gedman and got Dave Henderson on a popup. Boston led 7-2.
Meanwhile, Boyd had settled down after his troubles in the opening inning. Oil Can stranded a man in scoring position in the second, and struck out two Angels in the third. Grich and Wilfong began the fourth inning with singles, but Boyd fanned Bob Boone and Gary Pettis, and retired Ruppert Jones on a fly ball into the right-field corner. A California single in the fifth was erased on a double play.
Boston added a run against Angels reliever Doug Corbett in the fifth inning. Baylor was hit by a pitch, and Evans and Gedman followed with singles, loading the bases. Henderson's hard smash to third hit off DeCinces' glove. He did recover in time to force Evans at third, but Baylor scored easily, making it 8-2.
Boston finished its scoring in the bottom of the seventh. Gedman singled, Henderson walked, and both came home on Spike Owen's triple into the triangle in center. Owen's fourth error of the series (which set an ALCS record) gave the Angels a run in the eighth, to complete the scoring.
Barrett's sixth-inning single was his 11th hit of the series, tying an ALCS record set by Chris Chambliss of the Yankees in 1976 and Fred Lynn of the Angels in 1982. However, both Chambliss and Lynn collected their hits when the ALCS was a best-of-five series.
Reggie Jackson set two ALCS batting records. His first-inning RBI was the 20th ALCS run batted in of his career, breaking George Brett's record. Jackson also broke Brett's record of 36 ALCS hits when he singled in the fifth inning.
California's rookie first baseman Wally Joyner remained back on the West Coast sidelined by a bacterial infection. According to an Angels spokesman, Joyner "had his shin lanced twice, but the swelling came back. Hopefully, he'll join us for Game Seven."9
Angels reliever Donnie Moore received two cortisone injections after Game Five — one for his arm and one for his rib cage. Moore: "The changeup is what really hurts. My arm doesn't hurt as much when I'm throwing a fastball or a slider. But you'd like to have command of all of your pitches."10
After the Game Six win, Roger Clemens — Boston's expected starter in a winner-take-all Game Seven — told reporters he was suffering from an allergic reaction that felt like a head cold or the flu. "I had a problem with people smoking on the charter flight home from California," Clemens said. "I'm allergic to smoke to a certain point. … When it happens it breaks me out into a cold sweat. … I started to feel it on the plane. I had some ice put on my face. … Because of that, I couldn't do as much running as I normally would have done yesterday, the day before I pitch. . . . My whole body feels weak. … All I'm hoping is that this doesn't make my legs weak. … I don't think it will affect my arm at all."11
This article appeared in "The 1986 Boston Red Sox: There Was More Than Game Six" (SABR, 2016), edited by Leslie Heaphy and Bill Nowlin. Read more game stories from the book at the SABR Games Project by clicking here.
Sources
https://www.baseball-reference.com/boxes/BOS/BOS198610140.shtml
http://www.retrosheet.org/boxesetc/1986/B10140BOS1986.htm
Notes
1 Joe Giuliotti, "Sox Hope It's in the Can," Boston Herald, October 15, 1986: 96.
2 Leigh Montville, "There's Only One Game That Matters Now," Boston Globe, October 15, 1986: 1.
3 Joe Giuliotti.
4 Lesley Visser, "Subtly, Barrett Makes His Mark," Boston Globe, October 15, 1986: 50.
5 Tim Horgan, "Straight-A Students," Boston Herald, October 15, 1986: 133.
6 Michael Madden, "New ID for Can," Boston Globe, October 15, 1986: 49.
7 Larry Whiteside, "Sox Take It to the Limit, 10-4; Blitzing of Angels Forces Showdown," Boston Globe, October 15, 1986: 49.
8 Joe Giuliotti.
9 Lesley Visser, "Joyner Still Hospitalized," Boston Globe, October 15, 1986: 51.
10 John Powers, Jackie MacMullan, Lesley Visser, Ian Thomsen, "Moore Gets Cortisone," Boston Globe, October 15, 1986: 54.
11 Roger Clemens, "Roger: I'll Be Ready," Boston Herald, October 15, 1986: 137.
Additional Stats
Boston Red Sox 10
California Angels 4
Game 6, ALCS
---
Fenway Park
Boston, MA
Box Score + PBP:
Corrections? Additions?
If you can help us improve this game story, contact us.
Tags
http://sabr.org/sites/default/files/BarrettMarty.jpg
600
800
admin
/wp-content/uploads/2020/02/sabr_logo.png
admin
2018-02-22 12:13:47
2020-04-17 13:34:03
October 14, 1986: Barrett continues hot streak as Red Sox roll in Game Six