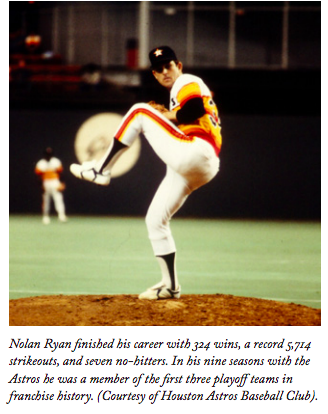 October 6, 1981: Alan Ashby's walk-off homer in ninth preserves Ryan's two-hitter in NLDS opener
---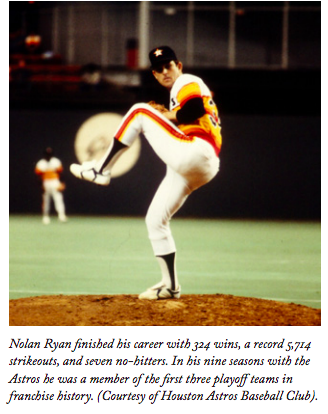 The first game of the best-of-five 1981 NL West Division Series lived up to all of the pregame hype, most of which focused on the clubs' starting pitchers. The Astros' 34-year-old Nolan Ryan, not quite yet the major leagues' ageless wonder, but described by the Houston Chronicle as the "ace of the best pitching staff in baseball,"1 had hurled his record-breaking fifth no-hitter in his last home start of the season, coincidentally against Los Angeles. The Dodgers' 20-year-old rookie southpaw, Fernando Valenzuela, had taken the league by storm as "Fernandomania" swept across the nation.
After the "Ryan Express" and "El Toro" battled to a 1-1 stalemate through eight innings, Houston's Alan Ashby belted a dramatic walk-off home run with two outs in the ninth off rookie reliever Dave Stewart to preserve Ryan's overpowering two-hitter. "It's a daydream come true," said Ashby. "It is just like a Walter Mitty story. When you hit a home run to win it with two outs in the ninth, well, it was just the biggest moment in my career."2
The playoff format for the 1981 strike-shorted season provoked a heated debate. Club owners divided the season into two halves, with the division winners of each half facing off in the NLDS. Los Angeles, the first-half winner of the NL West (36-21), slumped to 27-26 in the second half. Houston improved on its losing record in the first half (28-29) to record the best record in the NL in the second half (33-20). Nationally syndicated columnist Red Smith described the entire postseason as "dishonest,"3 as neither the NL West Cincinnati Reds (66-42) nor the NL East St. Louis Cardinals (59-43) participated despite having the best overall records in their respective divisions.
The 44,836 fans who packed the Astrodome on Tuesday, October 6, were probably not concerned as to whether Houston, with the third-best record in the division, deserved to be in the postseason or not. They came to see Ryan, lauded by the Chronicle as an "intense competitor who doesn't flinch,"4 and the Astros avenge their heartbreaking defeat in the 1980 NLCS to the Philadelphia Phillies in five games. In his second season with the Astros, Ryan had posted a 11-5 record and led the majors with a 1.69 ERA in 149 innings. His postseason struggles against the Phillies (16 hits and 8 runs in 13⅓ innings) the year before seemed like a distant memory. "I might need to pitch a shutout against Valenzuela,"5 said Ryan, recognizing that he'd need his best to defeat the Mexican-born southpaw, author of a big-league-best eight shutouts in '81.
As billed, the game shaped up as an intense pitchers' duel. Ryan yielded a one-out single to Ken Landreaux in the first inning and a one-out walk to Rick Monday in the second before retiring 16 consecutive batters. Only twice did the Dodgers hit the ball hard, both times in the fifth inning: Center fielder Tony Scott made a routine running catch on Pedro Guerrero's fly ball, and Terry Puhl camped under Mike Scioscia's deep fly on the warning track in right field.
Valenzuela, who captured both the Cy Young and Rookie of the Year awards on the strength of a 13-7 record and league-high 180 strikeouts, matched Ryan through five innings. In the second inning Cesar Cedeño slapped a one-out single and stole second but was stranded. In the fifth Art Howe rapped a one-out single, but then was caught napping by Valenzuela, who picked him off first.
Still scoreless in the bottom of the sixth, Valenzuela flinched first. Terry Puhl lined a two-out single to right. Fearing that Puhl, Houston's biggest threat on the basepaths with 22 thefts in 26 attempts, might attempt to steal and move into scoring position with Phil Garner at the plate, Dodgers skipper Tommy Lasorda called for two pitchouts. Garner, a midseason acquisition from the Pittsburgh Pirates, eventually walked. The next batter, Scott, lifted a bloop single just out of the reach of second baseman Davey Lopes. "Television replays showed that Lopes could have made the catch if he had extended his arms," wrote David Leon Moore of the San Bernardino County Sun.6 Puhl scored easily while both Garner and Scott advanced to third and second respectively on Lopes' ill-advised throw to the plate. Cleanup hitter Jose Cruz grounded to first to end the frame.
With two outs in the seventh, Steve Garvey ended the Dodgers' streak of futility against Ryan by blasting the Texan's first pitch for a game-tying home run, which hit above the orange line on the wall in left-center field. It was just the third homer Ryan had surrendered all season.
The Astros threatened in the seventh when Cedeño led off with a double. According to the Associated Press, successive stellar plays in the outfield helped save a potential run. Right fielder Rick Monday made a "shoestring catch" of Howe's blooper, followed by Landreaux's "over-the-head" snare of Kiko Garcia's shot to center.7 Valenzuela then intentionally walked Ashby to face Ryan. Cedeño stole third while Ryan batted, but the pitcher hit a weak grounder that forced Ashby at second.8
Puhl's leadoff single to start the eighth reignited the Astros' hopes, which were unceremoniously quashed by quick outs by Garner, Scott, and Cruz. Nonetheless, the eighth inning spelled the end for Valenzuela, who was due to lead off the ninth. He surrendered six hits and two walks in eight strong innings.
After Ryan set down the Dodgers in order in the ninth, Los Angeles rookie right-handed reliever Dave Stewart dispatched Cedeño and Howe. Craig Reynolds, pinch-hitting for Garcia, singled to left to bring up Ashby.
Ashby, a 29-year-old switch-hitting catcher in his ninth season, had been Houston's hottest hitter over the final five weeks of the season, batting .313 (26-for-83) and slugging all four of his home runs in that span. However, his start behind the plate was a gametime decision. According to Harry Shattuck of the Houston Chronicle, skipper Bill Virdon had intended to go with right-handed-hitting Luis Pujols, who might better hit Valenzuela's forkball.9
There also was some bad blood between Ashby and the Dodgers. In the teams' one-game playoff to determine the West Division championship the previous year, Ashby had collided violently with Dodgers catcher Joe Ferguson at home plate. According to Harry Shattuck, Ferguson slammed his knee into Ashby, in anger.10 Though Ashby remained in the game, he suffered a separated rib that allowed him to play in only two games of the ensuing NLCS.
"It's foolish for me to say that I was thinking about hitting the ball out," said Ashby after the game, "but I was thinking about hitting something hard."11 The good-natured Californian from metropolitan LA pulled Stewart's first pitch over the right-field wall for a dramatic, game-ending two-run homer and a 3-1 victory in the series opener. "There was no doubt when it was hit," said Puhl of the homer, which ended Houston's streak of four consecutive extra-inning games in the playoffs.12 "I made a good pitch – a fastball, low and in," said a dejected Stewart. "He just hit it."13
"I ran to the plate when Alan hit the ball," said Ryan, who was on deck. "I wanted to get a good look at whether it was fair or foul. I knew he hit it far enough."14 As the modest Ashby rounded the bases, his teammates poured out of the dugout and mobbed him at home plate. Ashby basked in the moment, jumping up and down with his hands in the air. "I don't usually do that," he said.15 The stoic Virdon, not known for congratulatory outbursts, took Ashby's game-winning clout in stride. "He's been a big asset for us offensively," he muttered.16
Ashby had the heroics, but the "grandest performance," suggested the Associated Press, belonged to Ryan, who finished with a two-hitter, striking out seven and walking one. "I think he had even better stuff [tonight]," responded Ashby when asked to compare Ryan's outing to the hurler's no-hitter which Ashby also had caught less than two weeks earlier. "His curveball was even better."17 Virdon, who had guided the Astros to their first playoff berth the previous season, agreed. "I think Nolan was capable of pitching another no-hitter tonight. He was ahead of the hitters all night."18 The normally loquacious Lasorda, who had apparently seen enough of Ryan lately, summed up the performance in one word: "dominating."19 Known for keeping his emotions in check throughout his 27-year Hall of Fame career, Ryan admitted, "I made a couple of mistakes they hit," but added that "overall there wasn't much difference in this game and the no-hitter."20 It was Ryan's first victory in the postseason since he tossed seven innings of three-hit ball to defeat the Atlanta Braves in Game Three of the 1969 NLCS as a member of the "Amazin' Mets."
After winning the first two games of the NLDS in the Astrodome, Houston surprisingly lost three straight in Los Angeles. Taking the mound in that fifth and deciding game, Ryan battled Jerry Reuss for five scoreless innings before yielding three hits and a walk in the sixth, which led to three runs (two earned) in an eventual 4-0 loss.
This article appears in "Dome Sweet Dome: History and Highlights from 35 Years of the Houston Astrodome" (SABR, 2017), edited by Gregory H. Wolf. To read more articles from this book at the SABR Games Project, click here.
Sources
In addition to the sources cited in the Notes, the author also accessed Retrosheet.org, Baseball-Reference.com, the SABR Minor Leagues Database, accessed online at Baseball-Reference.com, SABR.org, and The Sporting News archive via Paper of Record.
https://www.baseball-reference.com/boxes/HOU/HOU198110060.shtml
http://www.retrosheet.org/boxesetc/1981/B10060HOU1981.htm
Notes
1 Harry Shattuck, "Ashby's HR a Sweet One," Houston Chronicle, October 7, 1981: Section 2, 1.
2 United Press International, "Astros Win, 3-1, on Homer in Ninth," New York Times, October 7, 1981: B15.
3 Red Smith, "Sports of the Times. Baseball's Dishonest Season," New York Times, October 7, 1981: B17.
4 Shattuck.
5 Ibid.
6 David Leon Moore, "Ashby's Dream HR Is Dodgers Nightmare," San Bernardino County (California) Sun," October 7, 1981: D1.
7 Associated Press, "Astros Win on 9th Inning HR," Detroit Free Press, October 7, 1981: 3-F.
8 "Houston Astros1981 Division Series," The Astros Daily, astrosdaily.com/history/1981NLDS/#Game1.
9 Shattuck.
10 Ibid.
11 UPI, "Astros Win, 3-1, on Homer in Ninth," New York Times.
12 Mark Purdy, "Ashby's Homer Tips Dodgers, 3-1," Cincinnati Enquirer, October 7, 1981: B1.
13 Moore.
14 Shattuck.
15 Ibid.
16 Ibid.
17 UPI, "Astros Win, 3-1, on Homer in Ninth," New York Times.
18 Ibid.
19 Moore.
20 Ibid.
Additional Stats
Houston Astros 3
Los Angeles Dodgers 1
Game 1, NLDS
---
Astrodome
Houston, TX
Box Score + PBP:
Corrections? Additions?
If you can help us improve this game story, contact us.
Tags
https://sabr.org/sites/default/files/Ryan_Nolan1981.png
600
800
admin
/wp-content/uploads/2020/02/sabr_logo.png
admin
2018-09-19 14:12:39
2020-04-17 13:34:01
October 6, 1981: Alan Ashby's walk-off homer in ninth preserves Ryan's two-hitter in NLDS opener