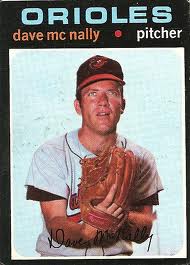 October 9, 1971: Dave McNally leads Orioles to win in World Series opener
---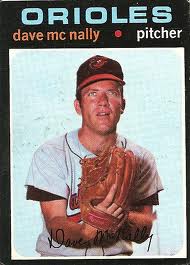 The 1971 World Series pitted the best teams from each league, the NL's Pittsburgh Pirates (97-65) against the AL's Baltimore Orioles (101-57). The first game of the fall classic provided excitement for the 53,229 fans who packed Baltimore's Memorial Stadium. This was "the third-largest [crowd] to ever see a baseball game at the Stadium."1 In 1971, the ballpark's regular-season capacity was 52,137.
Orioles skipper Earl Weaver handed the ball to Dave McNally for this opening game of the World Series, even though the Pirates had "won 39 and lost only 19 against lefthanders during their run to the National League pennant."2 McNally's .808 winning percentage (21-5) led the major leagues in 1971, despite his missing 38 days with a sore left elbow.3 This was his fourth consecutive season with at least 20 wins, and he was part of Baltimore's record-tying quartet of 20-game winners.4 For the Pirates, right-hander Dock Ellis got the starting nod. He had won 19 games during the regular season (a career high) and had allowed the San Francisco Giants only two earned runs in his League Championship Series start.
Roberto Clemente doubled with two outs in the top of the first but was stranded when Willie Stargell struck out. It was the eighth straight World Series game in which Clemente had hit safely. In the top of the second, Pittsburgh's Bob Robertson walked and went to second on a wild pitch. Manny Sanguillen hit a routine grounder to short, right in front of Robertson, but the runner tried to take third. Mark Belanger fielded the ball and threw to third baseman Brooks Robinson; the ball caromed off Robertson's head as he slid and bounced into foul territory, allowing Robertson to get up and score easily. Sanguillen ended up on second base on the play and when Jose Pagan grounded out (pitcher to first), he went to third. Pirates manager Danny Murtaugh then called for Jackie Hernandez to execute a suicide squeeze bunt. McNally fielded the ball and threw home, but catcher Elrod Hendricks never saw the throw. The ball skidded through his legs, rolled to the backstop and Sanguillen was safe. Hernandez never stopped running and ended up standing on third base. He then scored run number three on Dave Cash's single to center. In the wild inning, Pittsburgh had jumped to an early 3-0 lead and all three Pirates runs were unearned.
Frank Robinson got one back for Baltimore in the bottom half by launching a 1-and-1 breaking pitch well beyond the fence in left-center field (estimates put the homer's flight at 375 feet5), his seventh home run in 20 World Series games. Afterward, Weaver felt this was the turning point in the game, stating, "It showed we could get to Ellis."6
After a mild threat in the third when Clemente singled and Stargell walked, McNally "deflated the core of the Pirate batting order." The 29-year-old lefty escaped the inning without allowing a run, striking out both Robertson and Sanguillen and getting Pagan out on a fly ball to Don Buford in left.
Platoon outfielder Merv Rettenmund gave the Orioles the lead by delivering on a pregame prediction and hitting a three-run home run in the bottom of the third. "I just mentioned to dad at breakfast that I was going to hit a home run. Actually, I never think home run. I just try to hit the ball, get it into play, keep it in the park and get on base for Frank Robinson, Boog Powell, and those other guys."7 Rettenmund got a little help from Buford. Belanger and Buford had each singled and were on second and first base, respectively, when Rettenmund stepped into the batter's box with one out. Buford noticed that the ball Ellis was holding had a green stain on it. According to the Baltimore Sun, "Stadium ground-keepers dyed the grass green prior to the series to help cover up bare patches created by pro football games the last two Sundays in the rain and mud."8 Buford's single to right had rolled in the green dye. He yelled to Rettenmund to request a new ball (according to Buford, "a shadow, or dirty spot, maybe can affect a hitter's concentration"9), and home-plate umpire Nestor Chylak obliged. With a count of 2-and-1, Ellis threw a high slider inside and Rettenmund's bat sent it over the left-field wall where the Baltimore bullpen crew sits. Stargell made a gallant effort but later told reporters, "I missed catching it by five feet."10 He added, with some humor, "I was surprised I jumped as high as I did. I don't get as high as that on cocktails." Baltimore now led, 4-3. Ellis then walked Powell. Even though he had allowed just four hits, Ellis was taken out of the game after just 2⅓ innings, as two of those hits were home runs by Frank Robinson and Rettenmund. Bob Moose came on in relief.
In the fifth, Buford "delivered an insurance four-bagger."11 His home run off Moose to deep right increased the score to 5-3, in favor of the home team. In the next frame, Davey Johnson launched a fly ball to deep left field, but Stargell made a good leaping catch to "save the Bucks further trouble."12 The Baltimore bats were then silent until the bottom of the eighth. After Powell grounded out to the first baseman, Frank Robinson singled to center. Hendricks followed with an infield single to the right side. Brooks Robinson popped out (to the Pirates' third baseman Pagan in foul territory), and then Johnson hit a groundball deep into the hole at short and everyone was safe. With the bases loaded, Belanger grounded a ball back at the shortstop Hernandez, who fielded it cleanly and tossed it to Cash at second for the force on Johnson and the third out.
Pittsburgh couldn't get anything going offensively. The Pirates started the ninth with Robertson flying out to left. McNally had lived up to his uniform number by retiring 19 Pirates batters in a row. Then Sanguillen hit a grounder to Belanger at short, who misplayed the ball for an error. Belanger, who won his second career Gold Glove Award at shortstop in 1971,13 committed two errors in the game (both times off the bat of Sanguillen). He had made just three errors in day games all season. Seemingly unfazed, McNally retired Pagan on a fly ball to right-center. Al Oliver came on to pinch-hit for Hernandez as Pittsburgh's last hope. When McNally struck him out to end the game and preserve the 5-3 victory, the Orioles had won their 15th straight game (they had won 11 consecutive games to complete the regular season and then had swept the Oakland A's in the American League Championship Series).
McNally "stood the Pirates on their ears with a staunch three-hitter."14 He was very methodical, with "a strikeout here, a groundout there, and an occasional flyout the rest of the day."15 When asked about his accomplishment, McNally said, "I'm not a three-hit pitcher. A good game for me is a six- or seven-hitter. I don't retire a lot of men in order, certainly not anything like 19 straight, very often, either."16 He had masterfully struck out nine Pittsburgh hitters while walking just two. Weaver was boastful of McNally, stating, "Mac had very good stuff, with a good fastball. He put the ball in most of the spots he was supposed to. He pitched just great."17 Lou Hatter, a beat writer for the Baltimore Sun, labeled the Orioles hurler "Dave McPlucky."18 Orioles coach Billy Hunter agreed, saying, "I'll tell ya. He's a gutty son-uva-gun. He finds a way to win."19
Ellis took the loss. Moose and Bob Miller followed Ellis to the hill, each allowing three hits, completing the 10-hit Baltimore attack.
Some Pittsburgh players were naturally impressed by McNally's performance on the mound. Robertson said, "The only thing I can tell you about him is that he's a pitcher, not a thrower. He never throws a fastball down the middle and he keeps moving the ball around.20 Some other players were not in awe of McNally. Clemente told reporters, "I faced a lot of good pitchers. Another good one don't mean anything to me. Ask him what he thought about me. I get two hits off him so I say we're even."21 However, as Bob Maisel wrote in the Baltimore Sun, "The Pirates played a decent ball game, but you don't win many when you get one hit in each of the first 3 innings, and none after that."22
Author's Note
Andy Gaetano, my wife's grandfather, attended this game and his ticket stub is displayed. Section 13 was part of the left-field bleachers, in an area known to the fans as Birdland. Rettenmund's home run was hit into Birdland, but it never made it close to Row 39, where Andy was sitting.
Sources

In addition to the sources mentioned in the Notes, the author consulted baseball-reference.com and retrosheet.org.
baseball-reference.com/boxes/BAL/BAL197110090.shtml.
retrosheet.org/boxesetc/1971/B10090BAL1971.htm.
Notes
1 Jim Elliot, "Oriole Bats Overcome Errors, Pirates as McNally Wins Series Opener, 5-3," Baltimore Sun, October 10, 1971: 1.
2 Bill Christine, "McNally's Three-Hitter Halts Pirates," Pittsburgh Press, October 10, 1971: 81.
3 Lou Hatter, "Just Call Him 'McPlucky,'" Baltimore Sun, October 10, 1971: 21, continued on page 34.
4 The other three were Pat Dobson (20-8), Mike Cuellar (20-9), and Jim Palmer (20-9). The four Orioles hurlers tied the record for most pitchers on the same team with at least 20 wins in a season, set by the 1920 Chicago White Sox, with a staff of Red Faber (23-13), Lefty Williams (22-14), Dickey Kerr (21-9), and Eddie Cicotte (21-10).
5 Elliot.
6 Christine.
7 Lou Hatter, "Rettenmund Calls Shot on His Homer," Baltimore Sun, October 10, 1971: 21.
8 Ibid.
9 Ibid.
10 Christine.
11 Ibid.
12 Ken Nigro, "Stargell Stays Calm in Slump," Baltimore Sun, October 10, 1971: 34.
13 Belanger won eight Gold Glove Awards as Baltimore's shortstop, including six in a row from 1973-1978. His eight career awards put him one behind American League co-leaders Luis Aparicio and Omar Vizquel, although Vizquel did win two more awards while playing in the National League.
14 Christine.
15 Elliot.
16 Christine.
17 Hatter, "Just Call Him 'McPlucky.'"
18 Ibid.
19 Ibid.
20 Nigro.
21 Ibid.
22 Bob Maisel, "The Morning After," Baltimore Sun, October 10, 1971: 34.
Additional Stats
Baltimore Orioles 5
Pittsburgh Pirates 3
Game 1, WS
---
Memorial Stadium
Baltimore, MD
Box Score + PBP:
Corrections? Additions?
If you can help us improve this game story, contact us.
Tags
https://sabr.org/sites/default/files/McNallyDave.jpg
600
800
admin
/wp-content/uploads/2020/02/sabr_logo.png
admin
2018-09-18 14:14:12
2020-04-17 13:34:01
October 9, 1971: Dave McNally leads Orioles to win in World Series opener