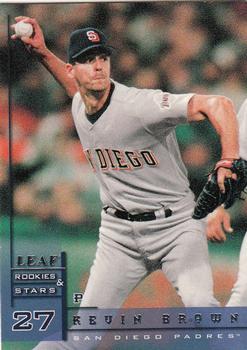 September 29, 1998: Padres' Kevin Brown outduels the Big Unit in NLDS opener
---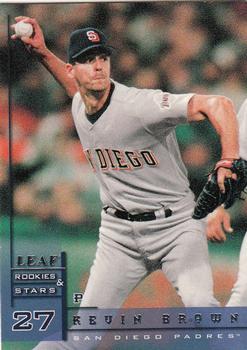 The 1998 Houston Astros strode into the postseason with the confidence due the franchise's best team ever. They had won 102 games in the regular season, the only time as of 2015 that the Astros produced more than 100 wins in a season, and most prognosticators and pundits favored them to make the World Series and play the New York Yankees (who had won 114 games).
Powered by the Killer Bees of Craig Biggio, Jeff Bagwell, and Derek Bell, the strong Astros offense led the National League in runs scored (874), runs batted in (818), runs per game (5.40), and on-base-percentage (.356), and carried the lowest payroll ($41 million) of any team in the playoffs. "We're a great club," boasted Bagwell. "Anything less than getting to the World Series is going to be a disappointment for us."1
They had also acquired pitching ace Randy Johnson from the Seattle Mariners at the July 31 trade deadline, when they led the NL Central Division by 3½ games. Johnson won 10 games for Houston and lost only one, with a 1.28 earned-run average. Houston won nearly 70 percent (37 of 53) of its remaining games, finishing with a 12½-game lead over the second-place Chicago Cubs in the NL Central Division. Average home attendance increased by nearly 10,000 fans.2
The Astros opened the playoffs at home against the San Diego Padres in a best-of-five series. The two teams shared several common threads. "Actually, they're a lot like us," observed Astros pitcher Mike Hampton. Each team carried a dominant pitching staff and a strong lineup. Padres Ken Caminiti, Steve Finley, and Donne Wall had formerly played for the Astros, while Astros Bell, Ricky Gutierrez, Brad Ausmus, and Sean Bergman were former Padres.3
Moreover, Padres owner John Moores lived in Houston before he bought the team in 1995. A graduate and supporter of the University of Houston, Moores followed the Astros as a youngster, rooting for his favorite players, Nolan Ryan and Terry Puhl.4
The mayors of the two cities offered the traditional wager on the outcome of the series. Houston Mayor Lee Brown put up 10 pounds of Texas barbecue to match San Diego Mayor Susan Golding's offer of a crate of avocados, five pounds of chips, and a gallon of salsa.5
Houston called on "guardian angel" Randy Johnson, the "ace up their sleeve,"6 to start against the Padres' Kevin Brown. San Diego general manager Kevin Towers said he would "take Kevin Brown head-to-head with Randy Johnson in any game on AstroTurf, cement, asphalt, grass, you name it. … I don't care where it is."7 The hard-throwing right-hander had finished second in earned-run average in the National League (2.38), second in strikeouts (257), and fourth in wins (18). But Astros outfielder Carl Everett was still not convinced: "I don't give anybody credit until after they do something. He has to pitch [today], so right now, who is Kevin Brown?"8
A crowd of over 50,000 filled the Astrodome on the afternoon of Tuesday, September 29. Both pitchers proved themselves worthy, as neither team scored through the first five innings. To that point Johnson allowed just four hits while striking out five and walking only one. Brown came in a notch better, giving up only one hit and one walk with nine strikeouts in the first five frames.
The Astros posed the only real early scoring threat, in the bottom of the third inning, when Brad Ausmus' one-out single was followed by two consecutive passed balls by Padres catcher Carlos Hernandez. But with Ausmus perched on third base, Brown answered with strikeouts of Johnson and leadoff hitter Biggio.
Tony Gwynn led off the sixth inning for San Diego with a double on a shot down the left-field line, the first of three consecutive hits off Johnson. Gwynn stayed at second base on Greg Vaughn's infield single to third, then Ken Caminiti loaded the bases with a broken-bat bloop single to right.
Jim Leyritz immediately broke the deadlock with a fly ball to deep center field that allowed Gwynn to score the game's first run. The other runners advanced as well, but Johnson halted any further action with a strikeout and a groundout to end the inning with the Padres in front 1-0.
Ausmus reached third base again in the bottom of the sixth inning. After the catcher's leadoff single, Johnson fouled out on a bunt attempt. Brown hit the next batter, Biggio, and then Billy Spiers' groundout advanced the runners to second and third. However, third-place hitter Bell struck out swinging, stranding the two runners in scoring position.
Though Johnson allowed the lead runner to reach base in four straight innings (the fourth through the seventh), he managed to keep the score 1-0 until Greg Vaughn led off the top of the eighth by clobbering a 2-and-0 pitch far down the left-field line and over the wall for a home run. Vaughn, who terrorized NL pitchers during the regular season with an impressive 50 home runs and 119 runs batted in, had given the Padres a 2-0 lead. Johnson, the Astros' ace, closed out the inning with no further damage. He had pitched well, though not his best, giving up just two runs on nine hits and a walk in eight innings while striking out nine.
Brown responded in the bottom of the eighth with three strikeouts, though he did issue a walk to Dave Clark, pinch-hitting for Johnson. In his eight innings on the mound, Kevin Brown had outdueled Johnson and had shut down the mighty Houston attack, allowing no runs and only two singles, both to eighth-place hitter Ausmus, while throwing 119 pitches. He walked two and hit a batter but struck out 16 Astros, a Division Series record, and fell only one strikeout short of Bob Gibson's postseason record of 17 set in Game One of the 1968 World Series.
"This is the best I've seen him," said Houston manager Larry Dierker of Brown. "He wasn't throwing a lot of slow stuff. It was tough to get a good pitch."9
"He kept them honest by throwing one pitch that was moving in and one that was moving away," said former Astro turned ESPN announcer Joe Morgan. "He was in complete control."10
Houston reporters offered some colorful interpretations of the pitching masterpiece. One scribe opined that Brown mowed down the Astros "like he was wielding a buzz saw. Those closest to the field must have gagged on the sawdust."11 A second writer put a Texas spin on the game, stating, "It was as if he rode into town and stole the sheriff's horse. He showed up at Johnson's big playoff dance and did a soft-shoe on the head of a pin."12
Everett, who was 0-for-4 with two strikeouts in three trips against the Padre ace, now knew who Brown was and praised his work, saying, "I give Brown his credit. He kept hitting those spots, and that's what good pitchers do."13
Houston reliever Jay Powell struggled in the top of the ninth. He walked Carlos Gomez with one out before striking out John Vander Wal, pinch-hitting for Brown. Powell then uncorked a wild pitch that enabled Gomez to reach second with two outs, and hit Quilvio Veras with a pitch to put runners at first and second. Doug Henry replaced Powell on the mound and struck out Ruben Rivera to end the Padres threat.
Still down 2-0, Houston managed a semblance of a rally in the bottom of the ninth against shutdown closer Trevor Hoffman. Spiers hit a groundball past third for a double to open the inning. After Hoffman set down Bell on a fly out and Bagwell on strikes, Moises Alou grounded a ball to third baseman Caminiti, whose wild throw allowed Spiers to score from second. Alou was credited with an infield hit but no RBI. But with the tying run aboard, Everett flied out to center to end the game with the final score Padres 2, Astros 1.
The "Killer Bees" had gone 0-for-10 with seven strikeouts. Combined with the previous year's playoff performance, they were now 2-for-47 with 15 strikeouts in the postseason, prompting the Houston Chronicle's Joseph Duarte to rename them the "Killer Freeze."14
"It was just one of those days," said Biggio. "This year we're confident. And we still are."15
Houston evened the series with a 5-4 victory in Game Two, but lost the next two games in San Diego, 2-1 and 6-1. No previous 100-win team had dropped a Division Series, and The Sporting News' Jay Greenberg had argued in late September that all three rounds of the playoffs should be best-of-seven series. His prediction: "Certainly one of these years, somebody good is going to get it in the back." The 1998 Houston Astros fulfilled that prophecy.16
This article appears in "Dome Sweet Dome: History and Highlights from 35 Years of the Houston Astrodome" (SABR, 2017), edited by Gregory H. Wolf. To read more articles from this book at the SABR Games Project, click here.
Notes
1 Carlton Thompson, "Playoff Experience No Longer New," Houston Chronicle, September 29, 1998.
2 Carlton Thompson, "Johnson's Efforts Make New Teammates Better," The Sporting News, September 28, 1998: 76.
3 Thompson, "Astros Note Similarities with Padres," Houston Chronicle, September 28, 1998.
4 Mickey Herskowitz, "Astros Like Family to Padres' Moores," Houston Chronicle, September 29, 1998.
5 "Mayors Make Wager on Astros-Padres," Houston Chronicle, September 30, 1998.
6 Thompson, "A Tall Order – Randy Johnson," Houston Chronicle, September 29, 1998.
7 Thompson and Joseph Duarte, "Astros Padres Summary," Houston Chronicle, September 29, 1998.
8 Duarte, "A Pair of Aces," Houston Chronicle, September 29, 1998.
9 W.H. Stickney Jr., "Brown Gets Drop on Johnson," Houston Chronicle, September 30, 1998.
10 David Barron, "ESPN's Morgan Heaps Praise on Brown," Houston Chronicle, September 30, 1998.
11 Dale Robertson, "B's Flail Away, Hope This Year Isn't Last Year," Houston Chronicle, September 30, 1998.
12 Fran Blinebury, "Familiar Scene as Padres Ace Slams the Door," Houston Chronicle, September 30, 1998.
13 "Astros Summary."
14 Duarte, "Press-Box View Astros Padres," Houston Chronicle, September 30, 1998.
15 Jayne Custred, "Offensive Problems Don't Deflate Astros," Houston Chronicle, September 30, 1998.
16 Jay Greenberg, "Postseason Preview," The Sporting News, September 26, 1998: 59.
Additional Stats
San Diego Padres 2
Houston Astros 1
Game 1, NLDS
---
Astrodome
Houston, TX
Box Score + PBP:
Corrections? Additions?
If you can help us improve this game story, contact us.
Tags
https://sabr.org/sites/default/files/BrownKevin-1998.jpg
600
800
admin
/wp-content/uploads/2020/02/sabr_logo.png
admin
2018-10-02 12:42:39
2020-04-17 13:34:01
September 29, 1998: Padres' Kevin Brown outduels the Big Unit in NLDS opener