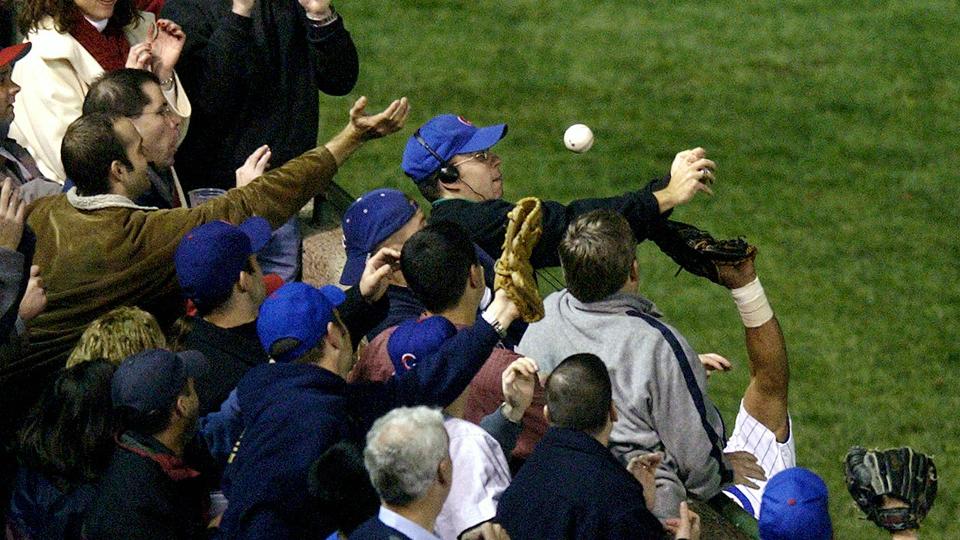 October 14, 2003: The Bartman Game
---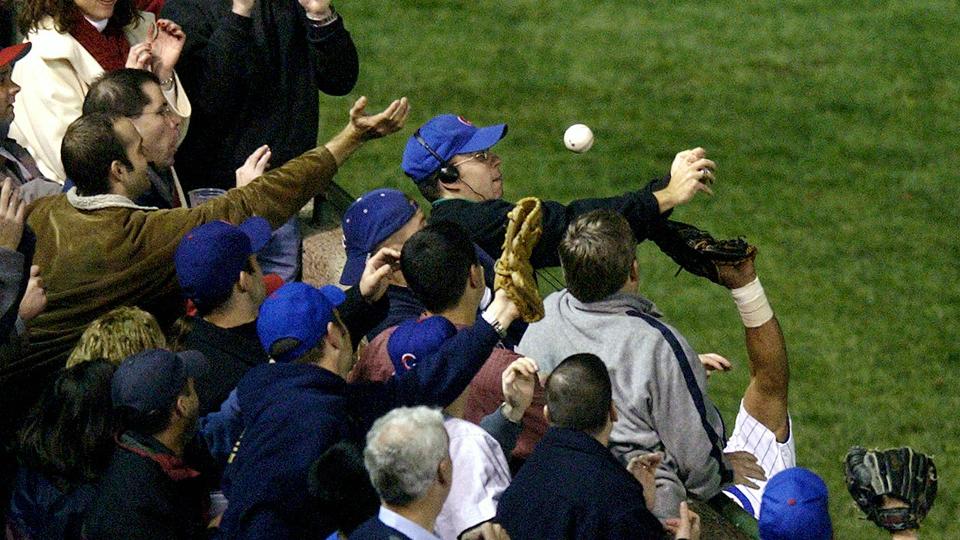 The pain has now subsided. The wound has now healed — perhaps even slightly for the principal character of this infamous game.
A World Series championship, something the Chicago Cubs were allergic to for 108 seasons, will cause such a development.
But the notorious nature by which many North Siders acted in this moment of baseball crisis is still etched in history. It was a night when the "Friendly Confines" turned hostile on one of its own.
Twenty-six-year-old Steve Bartman — sporting a black sweatshirt over a green turtleneck, a Cubs hat, and earphones — sat in the first row along the left-field line. Aisle 4, row 8, seat 113.1He, like a majority of the 39,577 in attendance and thousands more on the nearby streets and millions of loyalists around the world, was eagerly anticipating a moment that probably nobody living had ever witnessed.
Before Bartman's unexpected entrance into Chicago lore, the Cubs had the look of a pennant winner. In taking a 3-games-to-1 NLCS lead on the Florida Marlins, they had outslugged their wild-card opponent by the combined score of 33-19. A Game Five loss at Pro Player Stadium didn't elicit many thoughts of impending doom. What it did conjure up was the hope that the Cubs could clinch a National League title — for the first time since 1945 — on their venerable home field.
A slim 1-0 edge — courtesy of a first-inning double by Sammy Sosa that scored Kenny Lofton — was extended with single runs in the sixth and seventh.
Now backed by a three-run cushion, Cubs starter Mark Prior, who had retired the last seven Marlins hitters he faced, was working on a shutout as the Marlins' eighth inning began. He continued to keep the Florida offense off-balance as Mike Mordecai flied to Moises Alou in left field.
There were just five outs remaining.
Juan Pierre lined a double to left field. The right-handed Prior and Luis Castillo battled to a full count. Then the switch-hitting Castillo hit one to left field — destined to either be an out or a foul ball. Alou drifted toward the limited area of foul ground and over by the wall separating the fans from the field. The barrier was short enough, and the ball came down close enough, that Alou could elevate and attempt to make a play. As Alou yearned for the ball, so did several fans in the vicinity — just as anyone else would do in that moment.
But it was Bartman's reach that obstructed Alou — not worthy of fan interference, however, in the judgment of the left-field umpire, Mike Everitt, as the ball was outside the field of play while it descended. The ball deflected off the hands of Bartman, onto the ground and eventually into the hands of someone else standing nearby. Alou showed visible anger over what had just happened, slamming his glove to the ground and then staring in the direction of Bartman. This anger permeated throughout the crowd as events developed.
With the count still at 3-and-2, Prior's next pitch was wild. Castillo walked and Pierre advanced to third. The tying runs were aboard. Ivan Rodriguez, Florida's Division Series hero, brought one in with a single on a two-strike curveball. Now leading by a score of 3-1 and with a man out, Prior could still escape if he could induce a groundball from Miguel Cabrera. The 20-year-old did exactly that. A tailor-made 6-4-3 double play if there ever was one. But surehanded shortstop Alex Gonzalez booted it. Safe all around.
Prior, on the other hand, was anything but safe. Derek Lee took his next offering and laced it to left field. Castillo and Rodriguez crossed the plate. Tied at three. A sacrifice fly by Jeff Conine, sandwiched between two intentional passes, gave the Marlins a lead they wouldn't let go. To make sure of that, the offense continued to add on. By now, Prior's sterling performance was but a memory. Kyle Farnsworth had come in relief, but gave little of it. Mordecai's ivy-raiding double to left-center went between and beyond either outfielder's reach and emptied the once-loaded bases. Pierre, the 11th (and second-to-last) batter to come up in this nightmarish half-inning for Chicago, hit a single to right that drove home the eighth run, five of which were unearned because of Gonzalez's miscue.
In a matter of minutes, the Marlins completely took the wind out of the sails of the Windy City. Cubs fans went from planning a victory party to preparing for the worst. The same supporters who used unwelcome billy goats and traversing black cats to reason their team's near-century of misfortune now had a new scapegoat to lay the blame on, no matter how unwarranted the blame was.
As the Marlins' hits and runs accumulated in a most painful fashion, so too did the abhorrent castigation, with words and debris, by abusive patrons upon Bartman — rather than toward the well-salaried players who were failing to withstand the Marlins' onslaught. The Fox television cameras relentlessly focused on Bartman, who remained solemn despite the madness that surrounded him.
Wrigley Field security staffers, worried for his safety, escorted Bartman into the bowels of the ballpark for the remainder of Florida's 8-3 victory. They dressed him in disguise and waited until just about every depressed patron had departed the surrounding area before sending him off.2
"I had my eyes glued on the approaching ball the entire time and was so caught up in the moment that I did not even see Moises Alou, much less that he may have had a play," Bartman said in a statement released the next day. "I am so truly sorry from the bottom of this Cubs fan's broken heart."3
From then on, Bartman receded into total exile. And until recently, when the Cubs bestowed him with a 2016 World Series championship ring,4 the most notorious fan in American sports had no known contact with the organization — despite the overtures to have him appear at Wrigley Field. He also refused hundreds of media requests which, according spokesperson and friend Frank Murtha, was to avoid the notoriety and the inevitable uproar in the aftermath.5
The ball that he accidentally made contact with, meanwhile, lived a far less tortured life. It was sold to Harry Caray's Restaurant and demolished before a crowd of joyous onlookers.6
The destruction of the ball and the condemnation of Bartman would never have happened had the Cubs recovered to win the Series' deciding contest the next night. But after Game Six's debacle, you didn't have to be a psychic to know what was coming next. You just had to know of recent curse-addled Chicago Cubs history.
Florida won Game Seven, 9-6, and won the World Series against the New York Yankees for the franchise's second championship in its 11-year tenure. The Cubs, meanwhile, were left to wait some more. Ninety-six years and counting.
This article appears in "Wrigley Field: The Friendly Confines at Clark and Addison" (SABR, 2019), edited by Gregory H. Wolf. To read more stories from this book online, click here.
Sources
In addition to the sources cited in the Notes, the author also used his scoresheet from the game, Baseball Reference.com, and Retrosheet.org.
https://www.baseball-reference.com/boxes/CHN/CHN200310140.shtml
https://www.retrosheet.org/boxesetc/2003/B10140CHN2003.htm
Photo credit: MLB.com
Notes
1 Chris Kuc, "Fan in 'Bartman Seat' for Game 6 just 'happy, thrilled to be here,'" Chicago Tribune, October 22, 2016.
2 Catching Hell. Dir. Alex Gibney. ESPN Films, 2011. Film.
3 ESPN.com news services, "Fan Sorry From 'Bottom of Broken Heart,'" ESPN.com, October 16, 2003.
4 Mark Gonzales, "Seeking Closure, Cubs Give World Series Ring to Steve Bartman," Chicago Tribune, July 31, 2017.
5 Ben Strauss, "Steve Bartman Remains Invisible, 10 Years Later," New York Times, October 13, 2013.
6 Gibney.
Additional Stats
Florida Marlins 8
Chicago Cubs 3
Game 6, NLCS
---
Wrigley Field
Chicago, IL
Box Score + PBP:
Corrections? Additions?
If you can help us improve this game story, contact us.
Tags
https://sabr.org/sites/default/files/BartmanSteve-MLB.jpg
600
800
admin
/wp-content/uploads/2020/02/sabr_logo.png
admin
2020-01-08 16:52:57
2020-04-17 13:33:55
October 14, 2003: The Bartman Game