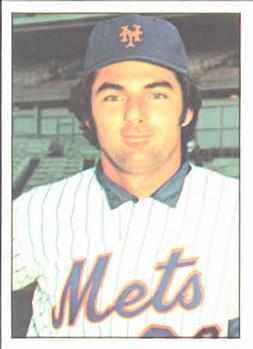 September 11, 1974: Cardinals prevail over Mets in 25 innings at Shea Stadium
---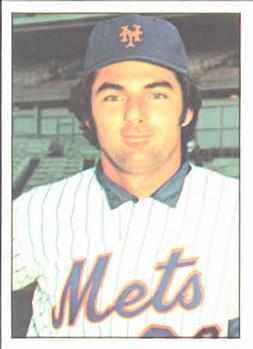 This game is tied as the second longest in big-league history in terms of innings.1 Fifty players took part — 26 Cardinals and 24 Mets — and nine stayed in throughout. 12 other records were set or tied.2 The seesaw between monotony and intrigue lasted 7 hours and 4 minutes and ended at 3:12 A.M. Had it been an AL game, a weeknight curfew of 1 A.M. would have suspended play.3
Around 10 P.M. in the top of the ninth, Mets starter Jerry Koosman seemed to have things under control. He had a three-hitter and a 3-1 lead. Each team had scored in the first; Cleon Jones hit a two-run homer in the fifth off Cards starter Bob Forsch.
After striking out Joe Torre, Koosman wavered, giving up a single and wild pitch. He then struck out Bake McBride, who eventually won the game with his daring baserunning. But with two outs, Ken Reitz — looking fastball — stopped exiting fans in their tracks by hitting a tying homer.4 The Mets went down quietly; thus both teams began an exhausting, seemingly endless odyssey to score again.
Lou Brock led off the 10th with a single off Harry Parker but was caught stealing. McBride stole after his two-out single in the 11th but was left stranded. The Mets paired two-out singles off Rich Folkers in the 12th, but couldn't cash in.
In the 13th, Torre was thrown out at the plate. New York stranded two more in both that inning and the 14th.
Parker, Bob Miller, and Bob Apodaca threw seven scoreless innings for the Mets. Jerry Cram took over in the 17th. Summoned from Triple-A in August, Cram hadn't pitched in two weeks. This became his signature moment in the big leagues: eight scoreless innings. He'd have been the hero instead of McBride if the Mets could have scored.
Cram put two on but got two force outs, setting his team up to win. It was a recurring theme. The Mets wasted a leadoff single, and Cram pitched a 1-2-3 18th. Despite Cram's two-out single off Claude Osteen (his only big-league hit), still the Mets couldn't score. Yet Cram didn't consider how long he could go. "You get three outs, you go back in, you get three outs, you go back in," he said.
As each scoreless frame ticked by, Cram remembered pitching coach Rube Walker asking if he was okay. "I said, 'Yeah Rube, I'm fine, I'm fine.' I don't know if it was a superstition or what, but he came over just about every inning, especially after about five innings." Cram had been a short reliever all year but had been a starter in prior years, so it didn't surprise him to step up and go eight.
Cram gave up leadoff hits in the 19th and 20th, but emerged unscathed each time — whereupon the Mets went down 1-2-3. Mets manager Yogi Berra was ejected with one out in the 20th for arguing a pitch that home-plate umpire Ed Sudol called a strike. It's likely the latest inning that a big-league manager has been tossed.5
Tug McGraw, the Mets' colorful closer, said the ebbs and flows of the contest affected the players along with the umpires and fans. "There was a lot of pep on the bench until about the 15th inning and then everybody sagged. Then about the 20th we got our second wind … and there was a lot of noise on the bench."6
The pattern continued in the 21st — Reitz singled to lead off but Cram wiggled out of danger. By then an estimated 1,000 diehards remained from the original crowd of 13,460.7 They were either punchy or delirious. Two embracing male fans danced in the concourse during "the 21st inning stretch" at 1:50 A.M.8
"One guy was even dancing in the aisles every inning in right field," said Mets executive James K. Thomson. "It amazes me that the people stay that late."9
After the Mets went down in order again, Cram tossed a clean 22nd, and Felix Millan singled to lead off the home half. But after a sacrifice and intentional walk, Wayne Garrett and Dave Schneck couldn't seal the deal. Schneck's 11 at-bats tied a single-game record, which has since been equaled.
After the Cardinals wasted Reitz's two-out single in the 23rd, the Mets came close. After a one-out single by catcher Duffy Dyer, Cram reached on Osteen's error. Ken Boswell's bullet toward first looked sure to score Bruce Boisclair, running for Dyer. However, Torre snagged the liner. "Torre beat us," said Berra. "That saved the game."10 Millan walked but Jones flied out, ensuring yet another inning.
In the top of the 24th, Ron Hodges replaced Dyer. Dyer's 23 innings behind the plate were not a record. Teammate Jerry Grote had caught the whole game when the Mets lost 1-0 to the Houston Astros in the Astrodome in 24 innings on April 15, 1968.11 Grote's 1974 season ended on August 26 after a foul ball hurt his hand.
Cram walked the tightrope once more, escaping a bases-loaded jam. In the bottom half, with two outs, the Mets loaded the bases yet again. Cram departed at last for Rusty Staub, who'd sat out all of the previous three games. Le Grand Orange finished his career with 99 pinch hits, many game-winners. But this time he hit a comebacker to Sonny Siebert, who'd entered in the 23rd after 9⅓ scoreless innings by Osteen.
Hank Webb, a 24-year-old righty with sparse big-league experience, became the Mets' sixth pitcher. McBride beat out an infield hit to short, manned by Garrett after Bud Harrelson left in the 17th with injuries.
Webb, well aware of McBride's blazing speed, tried to pick him off. But his throw got by John Milner; as the ball rattled around in foul territory, McBride took off.
Webb said he's gotten a bum rap. "I had a good move; I threw that ball over … and it went right through [Milner]. A perfect throw, and I got an error." By many other accounts, however, Webb's throw was off the mark. What's more, umpire Bob Engel called a balk. Had the rule had not been revised a few years before, the ball would have been dead, and McBride would have had to stop at second.12 Instead, he could advance at his own risk — and did.
"I didn't try to stop him and I didn't wave him on," said Cardinals third-base coach Vern Benson. "He just kept going."13 According to St. Louis beat writer Neal Russo, though, McBride ran through Benson's stop sign. Skipper Red Schoendienst quipped, "Bake was running so fast that he couldn't see the sign."14
After taking Milner's throw, Hodges was in haste. Webb said, "Hodges has the ball, turns around to tag him, and he literally drops the ball out of his glove onto home plate." However, a photo shows McBride sliding across safely while Hodges still had his back to the plate awaiting the ball.15
The deadlock was broken — but the game didn't end there. There was still one more breath of life for the home team.
With two outs, 21-year-old rookie Brock Pemberton (who'd made his debut the night before) singled for his first big-league hit. From the dugout, Mets ace Tom Seaver joked with Sudol not to take the ball out of play as the customary souvenir for Pemberton, saying it was the last ball left.16
That mightn't have been far off. Mets equipment manager Herb Norman said the game used 15 dozen baseballs.17
Finally — mercifully — it ended when Milner struck out.
"It was a high fastball," Siebert recalled. "It wasn't a strike, I don't think. … He was swinging for the fences and just swung through it."
After the Mets trudged to the clubhouse, Cram slumped at his locker, unable even to pull off his jersey.
"I remember just sitting there. I was drained," he said.
So was Sudol, the plate ump in two previous Mets marathons.18 He'd been hit five times by foul tips and said, "This neck of mine feels like I've been in a head-on collision with a brick wall."19 He added, "My legs feel like a couple of lead posts."20
Commissioner Bowie Kuhn and his wife were among the fans who stayed until the end.21 The advance ticket window at Shea finally closed. Yet other stadium employees still weren't done. Security guards remained on duty until 4 A.M. The sweepers finished well after sunup, at 9:30.22
Acknowledgments
This account was adapted from a story by Kevin Duffy originally published in the Mets magazine Inside Pitch in August 2010. It was edited by Len Levin and fact-checked by Bruce Slutsky.
Sources
Kevin Duffy conducted telephone interviews with Jerry Cram (October 16, 2016; December 1, 2016; and January 26, 2017), as well as Hank Webb (May 19, 2010) and Sonny Siebert, (October 11, 2016).
The author accessed Baseball-Reference.com for box scores/play-by-play information and other data, as well as Retrosheet.
https://www.baseball-reference.com/boxes/NYN/NYN197409110.shtml
https://www.retrosheet.org/boxesetc/1974/B09110NYN1974.htm
Notes
1 On May 8, 1984, the Chicago White Sox defeated the Milwaukee Brewers, 7-6. Only the 1-1 tie in 26 innings between the Boston Braves and Brooklyn Robins on May 1, 1920, was longer.
2 Joseph Durso, "Baseball's Longest Night Ends 3½ Hours Before Sunrise at Shea," New York Times, September 13, 1974.
3 Ibid.
4 Neal Russo, "Cardinals Shade Mets in 25 Innings," St. Louis Post-Dispatch, September 12, 1974.
5 SABR member Phil Lowry, whose field of expertise is marathon games, could not confirm whether any big-league manager ejections took place in a later inning. However, in the game that started on July 4, 1985, Mets manager Davey Johnson was ejected, along with Darryl Strawberry, after 3 A.M. It was "only" the 17th inning, though, because of rain delays. Note also that in the 33-inning Triple-A game that began on April 18, 1981, Pawtucket Red Sox manager "Walpole Joe" Morgan was ejected in the 22nd inning.
6 Jack Lang, "Baseball's Longest Night — Mets bow in 25 innings and 7 hours, 4 minutes," Long Island Press, September 12, 1974.
7 Durso.
8 Maury Allen, "Cardinals 4, Mets 3," New York Post, September 12, 1974.
9 Durso.
10Associated Press photo accompanying Allen, "Cardinals 4, Mets 3."
11 So did Grote's opposite number in that game, Hal King. On July 21, 1945, Bob Swift of the Detroit Tigers and Buddy Rosar of the Philadelphia Athletics also caught all of a 24-inning game.
12 Durso.
13 Lang.
14 Russo.
15 Associated Press photo accompanying Russo, "Cardinals Shade Mets in 25 Innings."
16 Lang.
17 Ibid.
18 On May 31, 1964, the Mets lost to the San Francisco Giants, 8-6, in 23 innings at Shea in the second game of a doubleheader. Sudol was also behind the plate at the Astrodome on April 15, 1968.
19 Lang, "Baseball's Longest Night." Lang, "Oh, Shea, Can You See by Dawn's Early Light?" The Sporting News, September 28, 1974: 13.
20 Russ.
21 Durso.
22 Durso.
Additional Stats
St. Louis Cardinals 4
New York Mets 3
25 innings
---
Shea Stadium
New York, NY
Box Score + PBP:
Corrections? Additions?
If you can help us improve this game story, contact us.
Tags
https://sabr.org/sites/default/files/CramJerry.jpg
600
800
admin
/wp-content/uploads/2020/02/sabr_logo.png
admin
2019-02-12 16:45:17
2020-04-17 10:23:39
September 11, 1974: Cardinals prevail over Mets in 25 innings at Shea Stadium