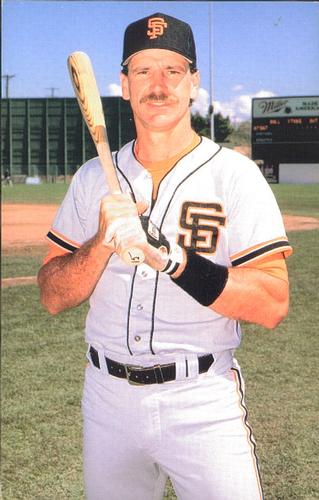 September 14, 1986: Giants' Bob Brenly goes from outhouse to the penthouse with 4 errors, 2 home runs
---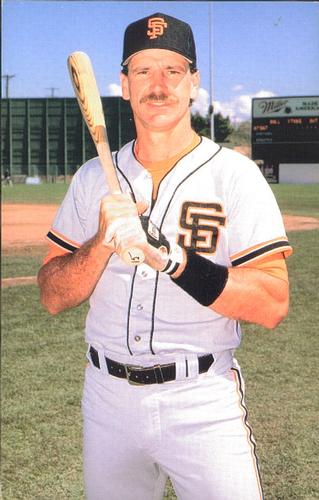 The Braves-Giants game of September 14, 1986, drew only 8,594 fans.1 Perhaps many Bay Area sports fans were instead watching the 49ers-Rams football game.2 Those who came not only saw a player make four errors in an inning: They saw him atone for the four runs he allowed by knocking in four himself — including his walk-off home run!
The Giants (72-71, 9½ games back of Houston in the NL West) were hosting Atlanta (65-76, 15½ games back of Houston). Neither team was destined for the postseason.
Mike LaCoss (10-11, 3.70 ERA) took the mound for the Giants. He allowed a single to Ken Oberkfell, who stole second but was left there when Bob Horner grounded out. Charlie Puleo's3 results in the bottom of the first were about the same. He walked Will Clark, who advanced to second on a groundout by Mike Aldrete, but was left on when Candy Maldonado flied out.
Both pitchers worked 1-2-3 second innings.
LaCoss allowed a single to Glenn Hubbard to open the third, followed by two strikeouts. Another single by Oberkfell put two runners on, but Dale Murphy grounded out to end the frame. Clark singled in the bottom of the inning, but that was all for the Giants.
The runs, and the mayhem, ensued in the fourth. Bob Brenly was playing third base for the Giants. This was not his usual position, although he had 51 previous appearances there in his career. In addition to his usual position of catcher, he had played first base and occasionally in the outfield. He would be the first to admit that he was not good at third base,4 and his error numbers support him: Of his 16 errors in 1986, 10 were made at third base despite only 45 appearances there. Brenly found out 10 minutes before game time that the Giants' usual third baseman, Chris Brown, "had come down with something" and would be unable to play. He borrowed a fielder's glove from Brad Wellman, a utility infielder. (He never returned it.)5
Brenly's first bobble was on a grounder by Horner that bounced off his glove. A Ken Griffey Sr. single and Rafael Ramírez's sacrifice put runners on second and third. Ozzie Virgil was intentionally walked to load the bases.
Hubbard grounded to third. First, Brenly couldn't corral the ball; then when he did, he threw it past the catcher, allowing two runs to score. Puleo6 singled to drive in two more runs.
LaCoss got Omar Moreno to fly out for the second out of the inning. The third out proved elusive, however: Oberkfell singled and Murphy reached on Brenly's fourth error of the inning to again load the bases. (This time, he actually kicked the ball.)
The Giants escaped further damage when Horner, batting for the second time in the inning, flied out.
Brenly said that after the fourth error, "At that point, if I could have, I would have crawled under third base."7 Atlanta was leading 4-0 on four unearned runs. Brenly had tied the record for the number of errors in an inning.8
Brenly returned to the dugout and told his teammates "I owe you four."9 Afterward he went down in the tunnel, ready to use a bat to pummel the bat rack or the shopping cart the players used to vent their frustrations. But he took a deep breath instead and headed back to the field.10
After an uneventful bottom of the fourth and top of the fifth, Brenly was first up in the bottom of the fifth. The crowd's boos turned to cheers when he homered to put the Giants on the board.11 Bob Melvin followed with another home run, cutting the Atlanta lead in half. After Puleo gave up a single to LaCoss and a double to Clark, manager Chuck Tanner pulled him in favor of Jeff Dedmon. The Giants managed to load the bases but weren't able to score more.
Both LaCoss and Dedmon worked 1-2-3 sixth innings.
LaCoss got two fly outs to open the seventh. He should have been out of the inning when Griffey grounded to second, but Robby Thompson's error allowed Griffey to reach safely. That was followed by a Ramírez homer for two more unearned Atlanta runs. After plunking Virgil, LaCoss wrapped up his afternoon with a groundout by Hubbard. He allowed six runs, all unearned, lowering his ERA to 3.57 but leaving him on the hook for a loss. At one point, Giants manager Roger Craig even tried telling LaCoss to throw the ball harder so the hitters would stop pulling the ball toward Brenly.12
The Giants started their comeback in the seventh. Dedmon got two outs; then the third batter, Clark, reached on an error, this time by shortstop Ramírez. Thompson walked. That set up Aldrete's run-scoring single, ending Dedmon's outing. Gene Garber, the Braves' next pitcher, had no better luck, allowing a run-scoring double to Maldonado and walking Chili Davis. That brought Brenly back to the plate, where his single scored two to tie the game, 6-6.13 Pinch-hitter Rick Lancellotti struck out to finally end the inning.
Much to Brenly's relief, his manager moved him back to catching for the eighth inning. "Thank you," Brenly remembers thinking.14 Scott Garrelts relieved LaCoss, working a 1-2-3 inning for the Giants.
Paul Assenmacher took over the pitching for the Braves in the bottom of the eighth. He allowed singles to Clark and Thompson, but struck out three to prevent any scoring. Horner drew a one-out walk in the top of the ninth and moved to second on Griffey's single, but Garrelts got a strikeout and a fly out to strand the runners and hold the tie.
Assenmacher continued pitching in the bottom of the ninth.15 Maldonado grounded out to first. Davis flied out to center. Brenly worked the count full, then hit a slider over the left-field fence to win the game for the Giants, 7-6.16 His redemption was complete: His four RBIs equaled the four he'd allowed in the fourth inning. "I should get Comeback Player of the Year for just one game," Brenly said afterward. "I went from the outhouse to the penthouse in one afternoon."
The happiest person in the park (other than Brenly) was Brenly's wife. "She was the one who would have to ride home with me. It's a long drive back to Foster City if you go 0-for-5 and make four errors."17
Exactly 33 years after that game, Brenly was broadcasting a Reds-Diamondbacks game. The video staff pulled up the video of that inning so his fellow broadcaster Steve Berthiaume could tease him about it. Brenly was prepared: He had found the glove in his garage and brought it in for the broadcast.
Sources
baseball-reference.com/boxes/SFN/SFN198609140.shtml
retrosheet.org/boxesetc/1986/B09140SFN1986.htm
youtube.com/watch?v=vxVFzBcnrBU video of fourth inning
Notes
1 This was the first time in 1986 that the Giants' Sunday attendance had dipped below 10,000.
2 Glen Schwarz, "Brenly Stars in 'As the Baseball Turns,'" San Francisco Examiner, September 15, 1986: F1.
3 Puleo had no record because he had spent most of 1986 at Triple-A Richmond (14-7, 3.49 ERA). This was his first major-league appearance in 1986, although he had pitched in the majors in 1981-1984.
4 "I never claimed to be a great third baseman, and today I proved it." "Brenly Boots, Then Belts," Ukiah (California) Daily Journal, September 15, 1986: 9.
5 Brenly showed the glove during his broadcast of the Diamondbacks-Reds game on September 14, 2019. It still bears the words "Wellington #36" (the previous owner's nickname and number). Giants pitcher Mike Krukow signed the glove after the game, telling Brenly that no one else would ever want to use it.
6 Career-to-date batting average .114.
7 Bob Padecky, "To Err Four Times Is Human," Sacramento Bee, September 15, 1986: D6.
8 Newspaper coverage of Brenly's four-error inning identified four players with prior four-error innings: Lewis Whistler (shortstop, New York Giants, June 19, 1891),  James Burke (third baseman, Milwaukee Brewers, May 27, 1901); Ray Chapman (shortstop, Cleveland Indians, June 20, 1914), and Leonard Merullo (shortstop, Chicago Cubs, September 13, 1942).
Further research reveals that only two of the four players – Whistler and Merullo – were actually charged with four errors in an inning. A review of newspaper coverage determined that Whistler had five errors in the identified game, and four were in one inning. "Lost Again," Brooklyn Daily Eagle, June 20, 1891: 2. Burke had only three errors in the listed game. (Additionally, coverage of Brenly's four-error game mistakenly had Burke's game in August 1901, rather than May.) "Philadelphia 8, Milwaukee 3," St. Joseph Gazette, May 28, 1901: 10.
Chapman was charged with four errors in the listed game, but only three were in one inning. "Peckinpaugh's long clout routs Naps," New York Sun, June 21, 1914: 2. Merullo's four-error inning was well-documented.
In addition, newspaper coverage from 1986 overlooked a four-error inning by Bill "Shorty" Fuller of the Washington Nationals on August 17, 1888. New York Times, August 18, 1888: 3.
9 Padecky.
10 Schwarz.
11 Padecky.
12 Padecky.
13 Although all the runs were unearned, one run was charged to Garber's individual record in accordance with Section 10.18 (i) of the scoring rules. Therefore, the box score shows three earned runs charged to the Braves, but individually two to Puleo, one to Garber and the walk-off homer to Assenmacher.
14 Padecky.
15 It was not unusual for him to pitch multiple innings: On average he faced 4.7 batters per game in 1986.
16 Padecky.
17 Padecky, Schwarz.
Additional Stats
San Francisco Giants 7
Atlanta Braves 6
---
Candlestick Park
San Francisco, CA
Box Score + PBP:
Corrections? Additions?
If you can help us improve this game story, contact us.
Tags
https://sabr.org/sites/default/files/Brenly-Bob-1986.jpg
600
800
admin
/wp-content/uploads/2020/02/sabr_logo.png
admin
2020-05-05 15:58:04
2022-05-26 07:10:05
September 14, 1986: Giants' Bob Brenly goes from outhouse to the penthouse with 4 errors, 2 home runs