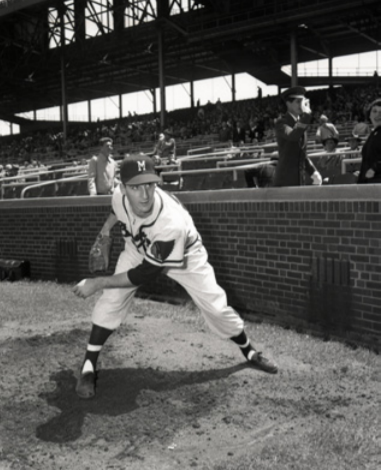 September 16, 1960: Warren Spahn no-hits Phillies, wins 20th game of season
---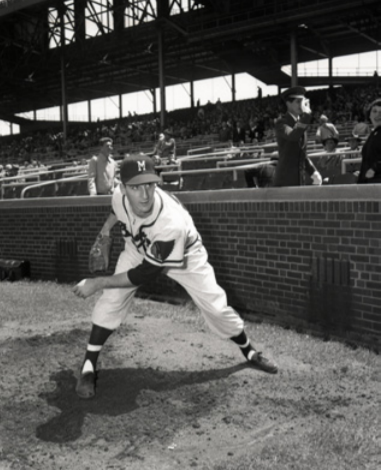 "It's just a crazy game," said 39-year-old Warren Spahn. "How many years? Sixteen years I've been pitching and now I get a no-hitter."1 Spahn had come close before, twice tossing one-hit shutouts, but in his 506th big-league start, the seemingly ageless southpaw accomplished yet another first by holding the Philadelphia Phillies hitless while striking out 15. It was "a super performance even for one established as a star among stars," wrote Lloyd Larson of the Milwaukee Sentinel.2
As the Milwaukee Braves headed to County Stadium to play the first contest of a three-game series against Phillies on Friday evening, September 16, their pennant hopes were slim-to-none. First-year skipper Chuck Dressen's club had been playing lackluster ball, victorious in only seven of its last 13 games, and occupied third place (80-61), 6½ games behind the front-running Pittsburgh Pirates and a half-game behind the St. Louis Cardinals. Philadelphia was in accustomed territory, in last place with a record of 52-89, a whopping 34½ games off the pace. The Phillies had won only five of their previous 18 games for 34-year-old manager Gene Mauch, who had guided the team since the third game of the season.
The pitching matchup featured youth versus experience. Philadelphia's John Buzhardt, a 23-year-old right-hander making just his 39th career start over parts of three seasons, was 4-15 despite a respectable ERA of 4.01. Spahn, on the other hand, had already logged in excess of 4,000 innings and boasted a record of 286-181 in his career, and entered the game with 19 wins against nine defeats. En route to leading or tying for the league lead in wins for the fourth of five consecutive seasons and eighth time in his career, Spahn was a paragon of consistency, but had battled sore knees the last few years. In a glowing tribute, the Sentinel's Larson suggested that the reason for Spahn's success was his "competitive spirit, fierce desire to excel, willingness to work at the job of being a star and to make the necessary sacrifices the work demands, and pride in abundance."3
Despite a warm late-summer evening with temperatures in the 60s, the game drew the smallest crowd of the season (6,117) at County Stadium. Milwaukee had led the NL in attendance from 1953 to 1958, but perhaps fans sensed that the Braves' magical four-year run (1956-1959), during which they had captured two pennants, and nearly captured two others, was over.
After Spahn began the game by retiring the first three batters he faced, the first four Braves batters reached base against Buzhardt, yet Milwaukee failed to score. Leadoff hitter Bill Bruton walked but was caught stealing. Del Crandall and Eddie Mathews followed with singles and Hank Aaron walked to load the bases before Al Dark hit into a 6-4-3 double play.
Spahn had led the NL in strikeouts for four consecutive seasons (1949-1952), but never had a reputation as a hard-throwing strikeout artist. But when the crafty veteran whiffed the side in the second inning, Philadelphia beat writer Allen Lewis took notice. "It was obvious as early as the second inning that he was in rare form," he wrote.4 Spahn, too, suspected something special. "I knew it was there and wanted to win it," he said after the game. "I knew it in the second inning. I usually give up a hit about that time. I had good stuff. I was just throwing the ball."5 Spahn was on a roll; he began the third inning by recording his fifth straight punchout. In the next inning he showed he could still field by scooping up Johnny Callison's leadoff bunt down the third-base line and throwing a bullet to first baseman Joe Adcock that beat the runner "by less than a step," according to Lewis.6 Spahn retired the first 11 batters before issuing a walk to Ken Walters on a high 3-and-2 pitch.
The Braves struck first when Aaron led off the fourth with a single and scored on Dark's triple over center fielder Tony Gonzalez's head. Adcock hit a long fly to right field to drive in Dark, an ex-Phillie, to make the score 2-0. In the bottom of the frame, Spahn sandwiched his seventh and eighth strikeouts around a five-pitch walk to Cal Neeman, the Phils' last baserunner of the game.
Milwaukee appeared on the verge of breaking the game open in the fifth. After Spahn and Bruton led off with singles, Mathews lined a one-out single to right field to drive in Spahn and make it 3-0 but Aaron hit into a 6-4-3 double play to end the rally. The Braves tallied their final run in the seventh on Crandall's single to center field, which drove in Bruton, who had singled and stolen second base.
Spahn cruised through the sixth through ninth innings, striking out seven of the 11 batters he faced. Only light-hitting (.205) second baseman and former Brave Bobby Malkmus stood between Spahn and his elusive no-hitter. Malkmus "smashed [the first] pitch on a one-hop toward the mound," wrote Allen Lewis of the Philadelphia Inquirer.7 Spahn raised his mitt reflexively to field the ball which glanced off his glove toward second base. Shortstop Johnny Logan, the unsung vocal team leader, charged toward the ball, fielded it with his bare hand, and threw hurriedly on the run to first baseman Adcock. "I thought I had a hot potato," said Logan. "I had to get rid of it — and knew the throw was off. Joe had to stretch so far I thought he was going to burst."8 With his large, 6-foot-4 frame, Adcock made what Red Thisted of the Milwaukee Sentinel described as a "great stop" of a wide throw and recorded the out "with his toe just touching the bag."9 In an anxious moment for the Braves and their fans, first-base umpire Vinnie Smith initially hesitated before calling Malkmus out emphatically.
Spahn retired Malkmus on his 108th pitch (73 strikes) to complete his no-hitter in 2 hours and 2 minutes. "The fastball was hopping out there," he told reporters. "The other pitches were okay, but it was the fastball that did it."10 His 15 strikeouts were the most he ever recorded in a nine-inning game and the 18th and final time he fanned 10 or more in a game. (His career high was 18 in a 15-inning complete-game loss on June 14, 1952.) With his no-hitter and 51st career shutout, Spahn reached the 20-win plateau for the 11th time (in 13 seasons), trailing only Cy Young (15), Christy Mathewson (13), and Walter Johnson (12). Buzhardt pitched a complete game, yielding 10 hits but only one for extra bases, and dropped to 4-16.
One of the first people to make it to the dressing room to congratulate Spahn was his son, Greg. "That was great, dad," said the 11-year-old.11 Thereafter the good-natured hurler held court and joked with his teammates and reporters. "Heck, I couldn't let old Lew get away with a no-hitter, so I had to go out there and get one, too," said Spahn.12 Just four weeks earlier, on August 18, Spahn's roommate, Lew Burdette, had tossed the first and only no-hitter of his career by blanking the Phillies, also at County Stadium. The Braves were just the second team in big-league history to hold the same team hitless twice in one season; the first was the St. Louis Browns, whose hurlers Bob Groom and Ernie Koob turned the trick against the Chicago White Sox on consecutive days in 1917.
Spahn trailed only Early Wynn of the Chicago White Sox as the oldest starting pitcher in the big leagues in 1960, but his career was far from over. The following spring he tossed his second and final no-hitter, on April 28 against the San Francisco Giants at County Stadium. From 1961 to 1963, Spahn notched 62 victories, and tied Mathewson with his 13th season of at least 20 victories. He retired after the 1965 season with 363 victories, the most ever for a left-hander.
This article appears in "From the Braves to the Brewers: Great Games and Exciting History at Milwaukee's County Stadium" (SABR, 2016), edited by Gregory H. Wolf. To read more stories from this book at the SABR Games Project, click here.
Sources
In addition to the sources listed in the notes, the author consulted:
Baseball-Reference.com
Retrosheet.org
SABR.org
Notes
1 United Press International, "Spahn Knew He Had a No-Hitter in the 2nd Inning," Philadelphia Inquirer, September 17, 1960: 17.
2 Lloyd Larson, "Warren Spahn Stand Outs Like Beacon Light in Post-War Era," Milwaukee Sentinel, September 18, 1960: 25.
3 Ibid.
4 Allen Lewis, "Spahn Hurls No-Hitter in Braves' 4-0 Win," Philadelphia Inquirer, September 17, 1960: 17.
5 UPI, "Spahn Knew He Had a No-Hitter in the 2nd Inning."
6 Lewis.
7 Ibid.
8 Dave O'Hara, Associated Press, "Spahn's Fast 'Un — He Still Has It," High Point (North Carolina) Enterprise, September 17, 1960: 9.
9 Red Thisted, "Spahn Gets 20th on No-Hitter," Milwaukee Sentinel, September 17, 1960: 5.
10 O'Hara.
11 UPI, "Spahn Knew He Had a No-Hitter in the 2nd Inning."
12 O'Hara.
Additional Stats
Milwaukee Braves 4
Philadelphia Phillies 0
---
County Stadium
Milwaukee, WI
Box Score + PBP:
Corrections? Additions?
If you can help us improve this game story, contact us.
Tags
https://sabr.org/sites/default/files/SpahnWarren.png
600
800
admin
/wp-content/uploads/2020/02/sabr_logo.png
admin
2018-03-29 16:09:58
2020-04-17 10:24:51
September 16, 1960: Warren Spahn no-hits Phillies, wins 20th game of season