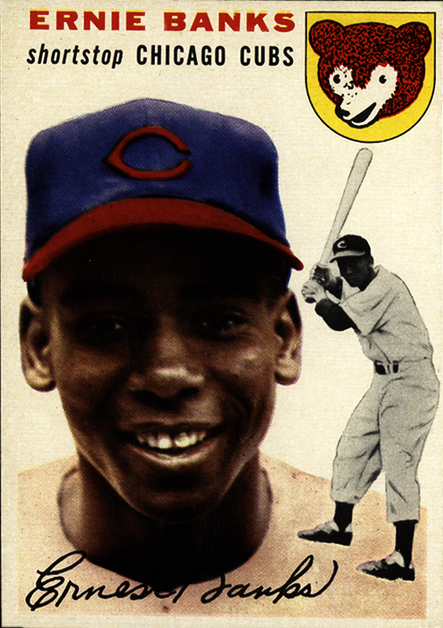 September 2, 1957: Braves' Aaron, Cubs' Banks shine in Labor Day shootout at Wrigley
---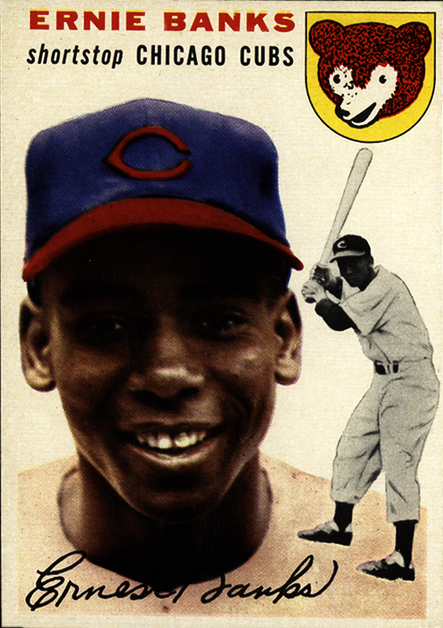 The Braves' move from Boston to Milwaukee in 1953, the major-leagues' first franchise relocation in 50 years, installed a rival just 90 miles north of Wrigley Field. The timing was terrible for the Cubs; their new neighbor ascended to dominance in the National League while the Cubs were stranded near the cellar. By 1957, the Braves' lowest finish since their move was third place, while the Cubs' best showing was sixth.1
When the teams met at Wrigley Field for a Labor Day doubleheader on September 2, 1957, Fred Haney's Braves (79-49) were perched atop the National League while Bob Scheffing's Cubs (49-77) were struggling to stay out of last place. A more competitive matchup pitted Henry Aaron against Ernie Banks in the NL home-run race. Both players had entered the league around the same time and become their franchise's first African-American stars. Both were known for their understated demeanors and explosive bats. Aaron had created some distance between the two in the season's home-run race so far, leading 38 to 30 (with Brooklyn's Duke Snider at 34), but Banks was within reach.
The doubleheader drew a holiday crowd of over 34,000, the largest in the majors that day and the biggest at Wrigley Field in weeks.2 Lew Burdette (14-7) took the mound for the Braves in Game One, while the Cubs sent out Bob Rush (4-13). The Braves bolted out of the starting blocks. On the second pitch of the game, Red Schoendienst smacked a double, then scored when Frank Torre reached base on a throwing error.3 Two batters in, it was 1-0.
After Aaron walked, Wes Covington singled to score Torre. That brought up Bob Hazle. Summoned from Triple-A Wichita in late July after an injury to Bill Bruton, the rookie outfielder inexplicably unleashed 34 hits for a .507 batting average after one month, earning the nickname Hurricane Hazle. Author Howard Bryant called it the "greatest five-week show in the history of baseball,"4 and Hazle kept it going at Wrigley Field with a double that brought home Aaron. Next up was Félix Mantilla, Aaron's longtime roommate and the godfather of his daughter.5 Mantilla singled and Covington scored.
The game "became a debacle in the opening inning," wrote the Chicago Tribune.6 After four runs and just one out, Rush was done for the day. In came Bob Anderson, who gave up a two-run single to Del Crandall. The score was 6-0 after half an inning.
The Cubs got one back in the first on a solo home run by Bob Speake. But in the top of the second, Eddie Mathews drove a ball into the ivy for an RBI triple and came home on Covington's sacrifice fly to make it 8-1.7
Still, the Cubs, as the Tribune put it, "kept up their fruitless chase."8 Dale Long led off the bottom of the second with a base hit. Banks came up and belted the ball over the left-field wall to make it 8-3.
But things disintegrated for the Cubs with two outs in the top of the third. Schoendienst singled, Torre was hit by a pitch, and Mathews walked to load the bases for Aaron. This was Aaron's dream scenario – it was why he batted cleanup, why he preferred strategic singles over swinging for the fences, and why he would ultimately finish as baseball's all-time RBI leader. Aaron shot a single into center field, bringing in two, to give the Braves double digits in runs in less than three innings. Covington followed with a three-run homer, and the Braves led by a football score of 13-3.
The Cubs were getting shelled, but they kept pounding away with their bats. In the bottom of the third, Walt "Moose" Moryn, Banks, and Cal Neeman hit RBI singles, bouncing Burdette. The bad news for Burdette was that he allowed six runs and failed to finish the third inning. The good news was that his team had furnished the comfiest of cushions: a seven-run lead. Ernie Johnson came on in relief and gave up a double to Jerry Kindall that brought in Banks. After three innings it was Braves 13, Cubs 7. By the standards of this game, it qualified as a close margin.
In the fourth inning the Braves set the table once again for Aaron, with the top three hitters in the lineup reaching base with two outs. Aaron delivered again, knocking a base hit to right field, scoring two more to make it 15-7 Braves.
Each side endured their first scoreless half inning. Then Banks came to bat in the bottom of the fifth and blasted another home run, a solo shot to the left-field seats.
In Aaron's next at-bat, only two runners were aboard this time. Aaron clobbered a double to score them both for his fifth and sixth RBIs of the game.9 Covington immediately tied the mark by batting in Aaron to reach six RBIs himself. After six innings, the score was 18-8.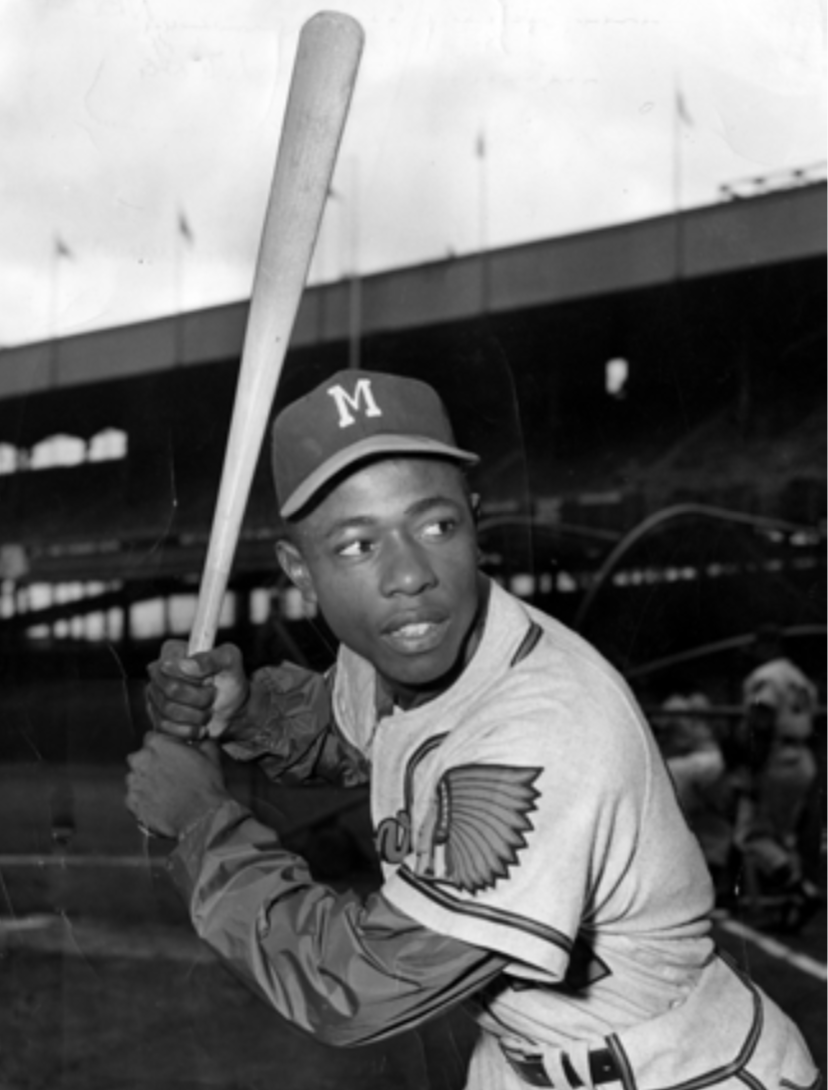 After stabilizing things on the mound for the Braves, Johnson added to the runs pouring in on offense. When Mantilla led off the seventh with a single and advanced on a wild pitch, Johnson came up and lashed a single to drive in Mantilla. The Braves had tied a Milwaukee-era team record with their 19th run of the game. They broke it the next inning, when Aaron reached on an error and came home on a double by the red-hot Hazle, who bashed his fourth hit and third double of the day. Hazle scored on a single by Crandall, and the Braves led 21-8.
The Cubs had one last offensive gasp left: an RBI double in the bottom of the eighth by Bobby Adams and an RBI single by Chuck Tanner. Banks came up with two on and two out, but grounded out to Mathews at third. The Cubs had reached double digits too – their most prodigious output in over two months – and yet trailed by a gaping margin, 21-10.
The Braves placed one last exclamation point on the game in the top of the ninth. Torre led off with his fourth hit, a triple off new Cubs hurler Elmer Singleton. Mathews followed by launching a home run to make it 23-10.
Singleton set down the next three Braves in order, as did Johnson with the Cubs. The shootout was over.
The Braves had erupted for 23 runs, 26 hits (also a Milwaukee record), and 43 total bases.10 Every Brave in the lineup – plus the reliever, Johnson – had at least two hits, and six players had at least three. Torre reached base seven straight times and tied a modern major-league record by scoring six runs.11
The Braves finished Labor Day with a far quieter three-hit shutout by Bob Trowbridge. The doubleheader sweep, paired with two losses by second-place St. Louis, expanded the Braves' pennant lead to 8½ games.
Aaron's RBI barrage announced that after a tepid August, his bat was back. Down the September stretch, Bryant wrote, Aaron "took hold of the pennant" and "wrestled it to the ground."12
While Braves vs. Cubs was no contest, the home-run race between Aaron and Banks tightened up. Banks's two long balls on Labor Day gave him 32 for the season, inching him closer to Aaron's 38. Banks would finish the season just one back of Aaron's 44. The following year, Banks would lap the field with 47 home runs and pluck the NL MVP crown from Aaron, the first of an unprecedented two straight MVPs for Mr. Cub.
This article appears in "Wrigley Field: The Friendly Confines at Clark and Addison" (SABR, 2019), edited by Gregory H. Wolf. To read more stories from this book online, click here.
Sources
In addition to the sources cited in the Notes, the author also used Baseball Reference.com and Retrosheet.org.
https://www.baseball-reference.com/boxes/CHN/CHN195709021.shtml
http://www.retrosheet.org/boxesetc/1957/B09021CHN1957.htm
Notes
1 Cubs vice president David Holland would soon outline a sobering five-point rebuilding plan: All the Cubs needed was a second baseman, a third baseman, a center fielder, a catcher, and a left-handed pitcher. See James Enright, "Holland Posts 5-Point List of Cubs' Needs," The Sporting News, September 11, 1957: 47.
2 "Braves Take 2; Lead 8½ Games," Boston Globe, September 3, 1957: 15.
3 Irving Vaughan, "Braves Whip Cubs, 23-10, 4-0," Chicago Tribune, September 3, 1957: 58.
4 Howard Bryant, The Last Hero: A Life of Henry Aaron (New York: Anchor Books, 2010), 199.
5 Hank Aaron and Lonnie Wheeler, I Had a Hammer: The Hank Aaron Story (New York: HarperCollins, 1991), 124.
6 Vaughan, "Braves Whip Cubs."
7 Ibid.
8 Ibid.
9 Ibid.
10 Bob Wolf, "Braves Clear Path to Pennant With Bats Instead of Pitching," The Sporting News, September 11, 1957: 9.
11 Keith Sutton, "185 Runs Scored on Labor Day Only Six Shy of Majors' Mark," The Sporting News, September 11, 1957: 31.
12 Bryant, 202.
Additional Stats
Milwaukee Braves 23
Chicago Cubs 10
---
Wrigley Field
Chicago, IL
Box Score + PBP:
Corrections? Additions?
If you can help us improve this game story, contact us.
Tags
https://sabr.org/sites/default/files/Banks-Ernie-1954-Topps.png
600
800
admin
/wp-content/uploads/2020/02/sabr_logo.png
admin
2019-12-03 13:36:38
2020-04-17 10:22:23
September 2, 1957: Braves' Aaron, Cubs' Banks shine in Labor Day shootout at Wrigley