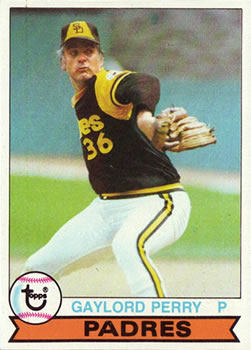 September 21, 1978: Padres' Gaylord Perry wins 20th game en route to second Cy Young Award
---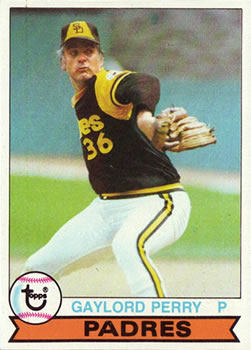 San Diego Padres staff ace Gaylord Perry was the National League's most dominant pitcher during September 1978. Taking the hill for a Thursday night matchup against NL West Division rival San Francisco, Perry was seeking his 20th win in a season for the fifth time in his career, and was only 20 strikeouts shy of 3,000 for his career.1 At that time, only Walter Johnson (3,508) and Bob Gibson (3,057) were members of the exclusive club. Perry was close to joining another noteworthy two-person club, as only Carl Mays and Pete Alexander had won 20 games for three different ballclubs.
The veteran right-hander was 4-0 in his four September starts, pitching at least six innings and allowing two runs or less in each outing, including two complete games. Through 30 innings pitched in September, Perry had struck out 19 batters, walked four, and allowed 19 hits) one home run). Since the mid-July All-Star Game, played in San Diego but without Perry on the National League team, the right-hander was 10-2 with a 2.65 ERA over 108⅔ innings. He had been traded from the Texas Rangers to San Diego before the season for left-handed reliever Dave Tomlin and $125,000. Before the trade, rumors had circulated that Perry would be transferred to the bullpen, though he led the Rangers' staff with 238 innings pitched in 1977. Perry said he wasn't interested in bullpen innings: "I told (Rangers owner Brad Corbett) I preferred to be a starting pitcher. I didn't rule out going to the bullpen. I told him if it came to that, I'd go."2
In San Diego Perry was expected to serve as a veteran clubhouse presence, complementing 1976 Cy Young Award winner Randy Jones, All-Star reliever Rollie Fingers, and promising starting pitchers Bob Shirley, Bob Owchinko, and Eric Rasmussen. The Padres anticipated another superstar season from outfielder Dave Winfield, a rebound year from catcher Gene Tenace, and spectacular defense from rookie shortstop Ozzie Smith, with the opportunity to reach .500 for the first time in franchise history.3 Heading into the Thursday evening matchup with San Francisco, San Diego was approaching the franchise milestone with a 79-74 record and eight games remaining.
The visiting Giants were struggling to complete the season above .500. After they finished April with a 10-10 record, an eight-game winning streak during May vaulted them to first place in the NL West Division. They remained in first through July then slipped in August. On September 21 the Giants were directly ahead of San Diego in the NL West, 8½ games behind division-leading Los Angeles. The offense was led by outfielder Jack Clark and second baseman Bill Madlock, with Vida Blue and Bob Knepper anchoring the pitching staff.
John Montefusco started for San Francisco. The Giants' right-hander was pitching in his fourth full season in the majors. Montefusco was the NL Rookie of the Year in 1975 and was now rebounding after a serious ankle injury in 1977 that hampered his effectiveness. The Count (a nickname received while he pitched in the minors at El Paso,4) threw a sinker, changeup, and forkball, relying less on his fastball after his injury.5 Entering the contest, Montefusco was 11-7 with a 3.86 ERA over 226⅓ innings. He had faced San Diego twice already in 1978, in the season opener against Perry when he threw 5⅓ shutout innings but got a no-decision,6 and on July 4, when he allowed a first-inning grand slam to Winfield and took the loss.7
Perry initially struggled during his bid to win number 20. San Francisco leadoff hitter Madlock singled to center field. Terry Whitfield hit a potential double-play ball; Madlock was forced out at second but Whitfield was safe when first baseman Broderick Perkins dropped the relay. Clark doubled to left field, advancing Whitfield to third base. Jim Dwyer walked to load the bases. However, Perry got Larry Herndon to bounce into a fielder's choice groundout to short with a vicious side-arm curveball.8
Montefusco, who "felt dizzy and nauseous" and vomited before the game, still took the mound for the Giants in the bottom half.9 Gene Richards led off by singling to center then advancing to second on an error by Herndon. Smith hit a line drive straight at Madlock, who threw to Roger Metzger and doubled off Richards. Perkins flied out and the inning ended without fanfare.
The game remained scoreless until the bottom of the third inning. With one out, Fernando Gonzalez singled to left field. Perry sacrificed Gonzalez to second. Richards' infield single moved Gonzalez to third. Smith hit another infield single to the right side that scored Gonzalez. Perkins flied out and the Padres led 1-0.
San Diego threatened again in the fourth. Jerry Turner singled to center field and stole second. Tenace walked. Rookie Barry Evans singled to left and Turner rounded third, heading for home. Whitfield nailed Turner at the plate. Gonzalez struck out, stranding Tenace at second.
Perry and Montefusco carried their pitchers' duel into the middle innings. Perry kept San Francisco off the basepaths, and Montefusco limited San Diego to a lone runner in the fifth and two runners in the sixth. In the top of the seventh, Perry struck out his fifth batter and the next two hitters flied out; Perry had now retired the last 10 Giants in succession.
In the Padres' seventh, Gonzalez led off with a single to center field. Perry laid down his second successful sacrifice, advancing pinch-runner Bill Almon to second. Gary Lavelle relieved Montefusco. Richards laced his fourth single of the game into center field, plating Almon with San Diego's second run. Smith singled, Perkins grounded out, and Winfield was intentionally walked. With two outs and the bases loaded, Turner hit a bloop single, scoring Richards and Smith and advancing Winfield to third base.10 Tenace extended the inning by singling Winfield home. San Diego's four-run rally, driven by five singles, increased its lead to 5-0.
Rollie Fingers relieved Perry in the eighth inning. The Giants fared no better against the All-Star reliever, as Metzger grounded out, Hill struck out, and Madlock popped to shortstop. Rookie Ed Plank replaced Lavelle in the San Diego half. Plank allowed a lone baserunner with two outs, Jim Wilhelm, who singled and stole second but was stranded on a groundout.
San Francisco's bats awakened in the ninth inning. Whitfield led off with an infield single and went to third when Clark doubled to left. For the first time since the first inning, the Giants had two baserunners. They scored when Darrell Evans grounded out to first, allowing Whitfield to come across with the Giants' only run. A strikeout and groundout ended the game and the Padres won 5-1.
Perry reached 20 wins for the fifth time. He pitched seven scoreless innings, allowing only four hits, striking out five, and walking one, while lowering his ERA from 2.90 to 2.81. San Diego banged out 14 hits, all singles, led by Richards' 4-for-4 night. Turner went 2-for-4 and drove in two key runs. Clark doubled twice for San Francisco, the game's only extra-base hits, but the Giants went 0-for-6 with runners in scoring position. After the game, an excited Perry commented, "It shows you baseball can still be exciting. We've got a chance to get into third and maybe excitement like this can help out the last few games."11 Giants manager Joe Altobelli commented, "It's quite a feat when you have 10 pitchers on your club and the only guy on your staff that can win 20 games is someone 40 years old."12
Perry continued pitching effectively in his last two starts. In September and October, he dominated opponents with a six-game winning streak and a microscopic 1.32 ERA, and winning the September NL Pitcher-of-the-Month honor. He won his 21st game in his next start, when he allowed the Giants one run in 7⅔ innings. He recorded career strikeout number 3,000 in his last start, when he pitched 10 innings and recorded 10 strikeouts but got a no-decision.13 Regarding his September success, Perry commented, "I've always pitched my best in September. It would mean a lot to me to win the Cy Young again. I love the pressure."14
After finishing the season with a 21-6 record and a 2.73 ERA in 260⅔ innings, the veteran hurler indeed won the Cy Young Award, winning in a landslide with 22 of 24 first-place votes.15 He was the only player to appear on all 24 ballots. Perry became the first pitcher to win the Cy Young Award in both the American and National Leagues, and in 1978 became the oldest winner of the award winner.16 His .778 winning percentage in 1978 was especially noteworthy because the Padres finished fourth in the NL West with an 84-78 record. "Gaylord doesn't have a negative bone in his body," Padres manager Roger Craig said after the Cy Young announcement.17
Sources
Besides the sources cited in the Notes, the author consulted Baseball-Almanac.com, Baseball-Reference.com, Retrosheet.org, and the following:
James, Bill. The New Bill James Historical Abstract (New York: The Free Press, 2001).
Thorn, John, and Pete Palmer, et al. Total Baseball: The Official Encyclopedia of Major League Baseball (New York: Viking Press, 2004).
https://www.baseball-reference.com/boxes/SDN/SDN197809210.shtml
https://www.retrosheet.org/boxesetc/1978/B09210SDN1978.htm
Notes
1 Dave Distel, "Padres' Father Time," Los Angeles Times, September 21, 1978: 25.
2 Randy Galloway, "Gaylord and Rangers Go Separate Ways," The Sporting News, January 28, 1978: 59.
3 Dave Distel, "Padres' Bottom-Line Goal: A .500 Season," Los Angeles Times, April 6, 1978: 40.
4 Bob Hurte, "John Montefusco," SABR BioProject. sabr.org/bioproj/person/5e3343be. Accessed January 4, 2020.
5 Bill James and Rob Neyer, The Neyer/James Guide to Pitchers: An Historical Compendium of Pitching, Pitchers, and Pitches (New York: Fireside Books, 2004), 312.
6 Dave Distel, "Another Opener, Another Throw for Padres' Perry," April 7, 1978: 44.
7 Stephanie Salter, "Giants Huddle After Loss, Decide Panic No Solution," July 5, 1978: 52.
8 Dave Distel, "Padres' Perry, 40, Wins No. 20," Los Angeles Times, September 22, 1978: 33.
9 Glenn Schwarz, "Sweet Feat for Gaylord," San Francisco Examiner, September 22, 1978: 54.
10 Associated Press, "Perry's Bid for Cy Young Award Strengthened by Victory No. 20," Escondido (California) Times-Advocate, September 22, 1978: 45.
11 Distel, "Another Opener, Another Throw for Padres' Perry."
12 Associated Press, 45.
13 Tom Larwin, "Gaylord Perry Gets 3,000th Career Strikeout and Ozzie Smith Performs His First Pregame Backflip," in Tom Larwin and Bill Nowlin, eds. San Diego Padres: The First Half Century (Phoenix: Society for American Baseball Research, 2019), 267-270.
14 Phil Collier, "Padre Perry Had More Than a Prayer," The Sporting News, October 7, 1978: 34.
15 Mike Granberry, "Admirably, Perry Takes His 2nd Cy Young," Los Angeles Times, October 25, 1978: 25.
16 Roger Clemens, pitching for the Astros, became the oldest when he won the award in 1904 at the age of 42.
17 Matt Mitchell, "Perry's Positive Attitude Key to Success, Says Craig," Los Angeles Times, October 25, 1978: 25.
Additional Stats
San Diego Padres 5
San Francisco Giants 1
---
San Diego Stadium
San Diego, CA
Box Score + PBP:
Corrections? Additions?
If you can help us improve this game story, contact us.
Tags
https://sabr.org/sites/default/files/PerryGaylord-SDP.jpg
600
800
admin
/wp-content/uploads/2020/02/sabr_logo.png
admin
2020-02-18 15:21:43
2020-04-17 10:22:18
September 21, 1978: Padres' Gaylord Perry wins 20th game en route to second Cy Young Award