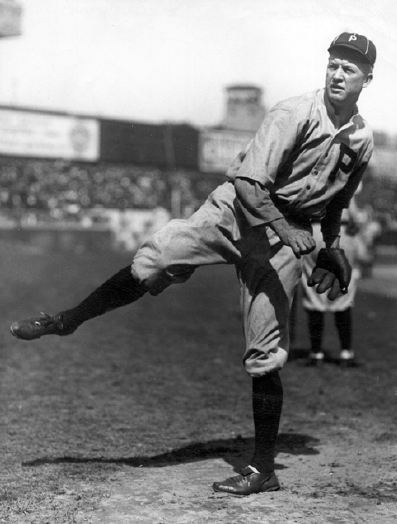 September 7, 1911: Rookie Pete Alexander pitches one-hitter, tops Cy Young
---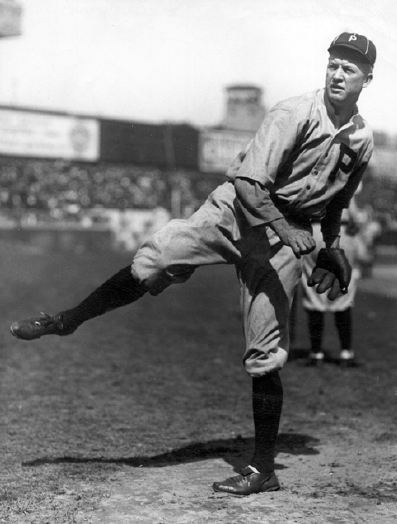 On a cold September 7, 1911, a gathering of 5,523 Boston National League fans witnessed a pitching duel between two future Hall of Famers.1 Phillies rookie Grover Cleveland ("Pete") Alexander allowed just one hit and beat 44-year old Cy Young, 1-0. A Boston Post headline caught the moment perfectly: "Old Cy Twirls Great Game, but Alexander Does Better."2
It was providence that these great players shared an afternoon on the same pitcher's mound. It is almost as if a circa-2010s simulated game took on flesh. The pairing of Alexander and Young is remarkable because they cannot properly be characterized as baseball contemporaries. The 1911 season was the first for Alexander and the last for Young. Their time together in the National League overlapped by less than two months.
Alexander started his professional career in the Class-D Illinois-Missouri League with Galesburg, Illinois, in 1909, but was unable to finish the season when a baserunning collision caused him to develop double vision.3 In 1910 he pitched exceptionally for Syracuse of the New York State League, finishing 29-11.4 Nevertheless, Alexander was an afterthought for the 1911 Phillies.5 He was not impressive in spring training, and made the final roster only because catcher Pat Moran made a persuasive argument to keep him with the team.6
Alexander validated Moran's baseball acumen by dominating the National League. He finished the 1911 season 28-13 with a 2.57 ERA and 227 strikeouts. He led the league in wins, innings, shutouts, and complete games. No rookie pitcher since then has won as many games; no rookie recorded as many strikeouts until 1955.
Alexander carried a 22-12 record to the mound in Boston on September 7, although he had lost a game in relief and two consecutive starts since shutting out Pittsburgh 3-0 on August 22. He was in the midst of perhaps the greatest rookie season of any pitcher in history.7
Young was in his 22nd season. When he pitched in his first major-league game on August 6, 1890, the distance from the pitching rubber to home plate was 55 feet, 6 inches, and Alexander was three years old.
Young had been pitching in the American League since its founding in 1901, first with Boston and then Cleveland. In mid-August of 1911 Young was released by Cleveland after compiling a 3-4 record as a spot starter.8 Upon his release, there was speculation that his career was over, but Young brushed away the idea of retirement. Sporting Life quoted him as saying, "I am not through and there is plenty of good pitching in me yet."9 When Young was quickly signed by the Boston Rustlers, the publication endorsed the signing as "a good deal" since Young would be a big drawing card and he "is not all in by a longshot."10 For the first time since 1900, Young was a National Leaguer, and an encounter with Alexander was now a possibility.
Young made his first appearance for Boston on August 22, on what the Rustlers called "Cy Young Day."11 In a pregame ceremony, Young was welcomed with applause and flowers, and a team photo was taken.12 Inauspiciously, Cincinnati roughed him up for eight runs in just three innings before being relieved.13 He avoided a loss when his new teammates rallied to tie the game at 9-9 before losing 11-9.14 While Young's pitching was a disappointment, the crowd was not. Attendance was nearly double that of the previous day.15
By September 7, Young sported a 3-0 record for last-place Boston. After his disastrous debut, his next three starts had been complete-game victories, over St. Louis, 5-4; Pittsburgh, 6-0; and Brooklyn, 2-1. Old Cy was pitching well, just as he had promised.
Philadelphia won the first game of the September 7 doubleheader, 13-5, despite Boston's collecting 19 hits to the Phillies' 15. The teams combined to leave 24 runners on base, 15 of them by Boston.16
The second game of the doubleheader was entirely different. It featured "the finest pitching stunt of the season."17 Through the first three innings, Young allowed only a walk to Hans Lobert and a single by Fred Beck.18 Neither made it to second base.19 Alexander, meanwhile, had retired all nine batters he faced.20
The Phillies nearly broke through in the fourth. With one out, Sherry Magee singled. Beck popped to first baseman Hank Gowdy for the second out, and Magee was unable to advance.21 Fred Luderus doubled, sending Magee to third. Jimmy "Runt" Walsh drove a liner to right field, but Doc Miller "made a beautiful catch and prevented two runs."22 In Boston's half of the inning, Alexander recorded his 10th, 11th, and 12th consecutive outs.23
After disappointing the Phillies with his glove in the fourth, Miller broke their hearts with his bat in the fifth. With one out, he got the only Boston hit "on a bounding rap between Alexander and [third baseman] Lobert."24 Both the Boston Globe and the Philadelphia Inquirer called it a "bounder which remained in the air too long."25 According to the Globe, it was Alexander who failed to convert it to an out.26 Alexander apparently ranged toward third base to field the high-bounding ball, but Miller, a left-handed batter with enough speed to steal 32 bases that season, beat his throw to first.27
The Boston Post thought Miller might have been out, "had Alexander allowed Lobert to handle the ball which was rightfully his."28 After Miller's hit, "Alexander plainly showed his disappointment to Lobert and others of his team."29
Miller was forced at second by Ed McDonald, who in turn was forced out by Gowdy, and the inning was over. There would be no further Boston baserunners. Alexander faced just 28 batters, striking out six. He retired the first 13 batters he faced, and the last 14 after Miller's single. Boston's only well-hit ball was Scotty Ingerton's low liner in the sixth inning which was turned into an out by center fielder Dode Paskert's "swell catch."30 The other fielding chances were easy.31
The Phillies scored the game's only run after two outs in the eighth inning. Young had retired both Alexander and Otto Knabe on fly balls before trouble began. Paskert singled to left, then stole second, "cleverly swinging around Al] Bridwell."32 Paskert scored easily on Lobert's single between the third baseman and shortstop.33 Lobert stole second too, but was thrown out attempting to steal third base, and the inning was over.34
Emotions were pushed to the limit in this tight game. A Boston player was ejected in each half of the eighth inning. Center fielder Mike Donlin was ejected over the "safe" call on Paskert's steal, and in the bottom of the inning Gowdy was ejected by umpire Bill Klem for protesting a called third strike.35
Neither team scored in the ninth. Philadelphia's eighth inning run was enough to win the game, which was played in less than an hour and a half.36
All newspaper accounts agreed that Young had pitched well enough to win. He gave up just six hits, one walk, and a single run. But as the Globe writer noted, "[T]he younger fellow" was better.37
Young won only one more game that season, shutting out Pittsburgh 1-0 on September 22, and he finished with a 4-5 record for Boston. Although Young lost his last three decisions, his 3.71 earned run average in 11 starts was much lower than the team's overall 5.08 ERA. He was signed to pitch for Boston again in 1912, but due to arm problems, he never did.38 His career was over.
Alexander continued pitching well as the season wound down. He extended the string of scoreless innings he started in this game to 41, the longest of his career, and he won five of his final six decisions. In a career that extended to 1930, he pitched four more one-hitters, but never a major league no-hitter.39 He accumulated 373 wins, including 90 shutouts, in his career. Although no one at this game could have known it, Alexander eventually equaled Young's renown, and both men are enshrined in the Baseball Hall of Fame.
Sources
In addition to the sources cited in the Notes, the author referenced the Baseball-Reference.com and Retrosheet.org websites for player and pitching data and the box scores for this game:
https://www.baseball-reference.com/boxes/BSN/BSN191109072.shtml
https://www.retrosheet.org/boxesetc/1911/B09072BSN1911.htm
Notes
1 Paul H. Shannon, "Old Cy Twirls Great Game, but Alexander Does Better," Boston Post, September 8, 1911: 12. The story was accompanied by a cartoon depicting a shivering fan saying, "B-R-R-R! This is a great game if only played in the summertime –." The cartoonist commented: "A few stoves would have been welcomed in the bleachers."
2 Shannon.
3 Jan Finkel, "Pete Alexander," SABR BioProject,t sabr.org/bioproj/person/79e6a2a7.
4 Finkel.
5 Finkel.
6 Finkel.
7 Finkel.
8 He pitched just 46⅓ innings for Cleveland and appeared in only seven games, all starts.
9 "Is Young Done?" Sporting Life, August 26, 1911: 3.
10 Sporting Life.
11 "Base Ball Today" advertisement, Boston Globe, August 22, 1911: 4
12 T.H. Murnane, "'Cy' Young Batted Out, but Smith Soon Follows." Boston Globe, August 23, 1911: 7.
13 Murnane.
14 Murnane.
15 Murnane. Attendance on Cy Young Day was 8,091, compared with 4,104 for the previous day's Cincinnati game.
16 Shannon.
17 Shannon.
18 Melville E. Webb Jr., "Phillies Win Two Games." Boston Globe, September 8, 1911: 7.
19 Webb.
20 Webb
21 Webb.
22 Webb.
23 Webb.
24 Webb
25 Webb; "Phils Grab Two from Tail-End Rustlers," Philadelphia Inquirer, September 8, 1911: 10.
26 Webb.
27 Miller led the National League with 192 hits that season.
28 Shannon.
29 "Alexander Nearly in Hall of Fame," Boston Post, September 8, 1911: 12.
30 Webb.
31 Webb.
32 Webb.
33 Webb.
34 Webb.
35 Webb.
36 Depending on the source, it was played in either an hour and 25 minutes (Boston Globe) or two minutes longer (Baseball Reference.com).
37 Webb.
38 Bill Nowlin and David Southwick, "Cy Young," SABR BioProject, sabr.org/bioproj/person/dae2fb8a.
39 Alexander pitched a no-hitter on July 22, 1909, for Galesburg in his first minor-league season. Finkel.
Additional Stats
Philadelphia Phillies 1
Boston Rustlers 0
Game 2, DH
---
South End Grounds
Boston, MA
Box Score + PBP:
Corrections? Additions?
If you can help us improve this game story, contact us.
Tags
https://sabr.org/sites/default/files/AlexanderPete-1915.png
600
800
admin
/wp-content/uploads/2020/02/sabr_logo.png
admin
2020-02-18 14:13:43
2020-04-17 10:22:18
September 7, 1911: Rookie Pete Alexander pitches one-hitter, tops Cy Young