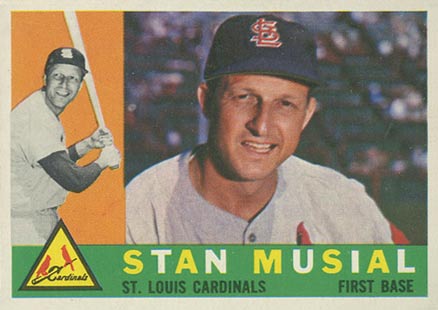 September 8, 1963: Stan Musial bids farewell to Forbes Field in Pittsburgh
---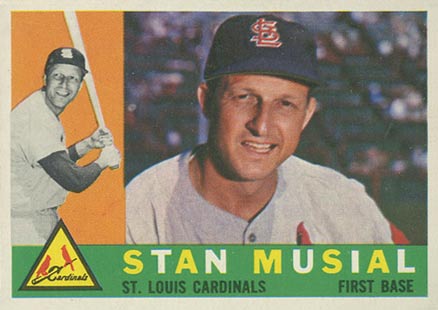 Stan Musial's first and last appearances in Forbes Field spanned just short of 22 years and 3,002 major-league games. The iconic ballpark in Pittsburgh's Oakland section had been a fixture in the National League since 1909. Musial was born 11 years later in Donora, Pennsylvania, 20-plus miles down the Monongahela River from Pittsburgh.1 He'd played his seventh major-league game — and first-ever road game — in Forbes Field as a 20-year-old rookie on September 23, 1941.
That day he'd gone hitless in the first game of a doubleheader as Ken Heintzelman shut out the Cardinals with a six-hitter. But the rookie who would later become known simply as The Man to baseball fans, still hitting .462 for the 1941 season despite the first-game whitewash, came back with a vengeance in the second game. He clipped veteran Pirates right-hander Rip Sewell with a line-drive two-run homer to right field in the top of the fifth inning that padded St. Louis's lead to 6-0 on the way to Max Lanier's 9-0 tit-for-tat shutout.2 Musial's three hits bumped his career batting average to a neat .500.
By September 8, 1963, Musial had played in nearly a full season-and-a-half worth (211) more games at Forbes Field — in every National League season from his 1941 debut except 1945, when he was in military service. He had added 17 more home runs3 at Forbes over those years, the last one on May 11 that year off Vernon Law. The smooth-swinging lefty hitter with the unique feet together, peek-a-boo batting stance had been named to the National League All-Star team for 20 consecutive seasons, including 1963, but was now in his last circuit around the league. He was 42 years old and although he finished his career as a .331 hitter, he hadn't been above .300 in 1963 since Opening Day. He was at an uncharacteristic .244 as the Cardinals wrapped up a four-game trip to Pittsburgh. It would be Musial's last game at Forbes Field.
He was honored in pregame ceremonies, "standing near home plate with his mother during the many presentations and accolades read about his career. The crowd gave him a standing ovation." Musial received a proclamation and plaque from Pittsburgh Mayor Joseph Barr, and accepting the honors said, "I almost became a Pirate in 1938 missing by this much (holding his thumb and forefinger a couple of inches apart).4 I have enjoyed playing here before these fans. They are the greatest. I want to thank you from the bottom of my heart."5
The Sunday afternoon game drew 14,866 fans as the Pirates stood eighth and 17 games out in the 10-team 1963 National League. The Cardinals were second, 4½ games behind the Los Angeles Dodgers.6 St. Louis manager Johnny Keane sent out 27-year-old right-hander Ernie Broglio, 14-8 with a 3.17 ERA, against Pittsburgh manager Danny Murtaugh's choice, righty Bob Friend (16-13, 2.11), pitching in his 13th season with the Pirates.7
Musial hadn't played any first base since the 1960 season and was now a corner outfielder — primarily left field — where he had played as a rookie. Keane slotted him fifth in the Cardinals batting order. He'd started the first game of the series but only pinch-hit in the other two and was 0-for-3 with a walk entering the series finale.
The Pirates still had most of the components of the team that shocked the Yankees to win the 1960 World Series, but one key was missing. Shortstop Dick Groat was now a Cardinal, traded just the prior offseason and having a standout year with St. Louis.8
Friend navigated the top of the first inning perfectly. Broglio was also able to keep the Pirates at bay, but yielded a two-out triple to Jerry Lynch, then walked Bill Virdon. That brought up Roberto Clemente, a threat any time he batted, but Broglio retired him on a groundball to first baseman Bill White.
Friend struck out Musial for the second out in the top of the second. George Altman reached on an error by first baseman Willie Stargell,9 but Tim McCarver flied out to Clemente to put away the Cardinals. In the Pirates' half, Stargell singled with one out but was out at second on Bob Bailey's fielder's choice before Friend rolled back to Broglio.
Friend quickly lost his no-hitter and any chance at a shutout as the third inning opened. Groat's replacement, Dal Maxvill, singled to lead off and Broglio sacrificed him to second. The sacrifice proved to be surplusage when the St. Louis leadoff hitter, Julian Javier, drilled a home run for a 2-0 St. Louis lead. Curt Flood followed with a double and advanced to third base on White's long fly to center field. Ken Boyer came through in the two-out situation with a run-scoring single. Musial, next up, wasn't able to keep the Cardinals rally going; he grounded out to second base. But the Cardinals now led, 3-0.
Pittsburgh broke through to make it 3-1 in the bottom of the fourth. With two outs, pudgy catcher Smoky Burgess doubled. Stargell followed with a single and Burgess, now 36 years old and nicknamed "Shake, Rattle, and Roll" by quirky Pirates broadcaster Bob Prince,10 managed to churn his way safely home, beating a throw. Stargell had advanced to second base on the throw, but Bailey grounded to third, stranding Stargell.
Both Friend and Broglio avoided further scoring through the top of the sixth, when Musial flied to left for the second St. Louis out. When Pittsburgh came to bat in the bottom half, the honoree's day was done — Keane subbed rookie Gary Kolb in left field. Kolb was there as the heart of the Pittsburgh order generated some offense. Lynch flied out, but Virdon singled. Clemente followed with another single, but Virdon blundered on the bases and was out trying to return to second. Burgess, who "could wake up at 3 A.M. on Christmas morning with two inches of snow on the ground, throw him a curveball, and he'd hit a line drive,"11 came through with his second double. Clemente scored from first — and had Virdon been on second, the score would have been tied. But with Virdon prematurely back in the dugout, Burgess's timely hitting and Clemente's dash still left Pittsburgh a run short at 3-2.
And that's the way it ended. Friend yielded to a pinch-hitter in the seventh and was replaced by Don Schwall. Schwall faced seven batters over two innings and held the Cardinals scoreless on one hit. Keane replaced Broglio with Bobby Shantz, pitching in his 15th major-league season, for the eighth. Schantz gave up singles to Virdon and the pesky Burgess but held Pittsburgh scoreless. Bailey nipped Schantz for a leadoff single in the ninth. When pinch-hitter Gene Alley sacrificed him to second to put the tying run in scoring position, Keane went to his bullpen for second-year swingman Ron Taylor, starting to come into his own as a late-inning stopper. Taylor retired Bill Mazeroski and Dick Schofield to end the threat and the game. Broglio got the win; Friend took the hard-luck loss. Taylor got what would be later recorded as a save, his ninth of the season, although few people other than sportswriter Jerome Holtzman were counting.12
As the Cardinals returned to St. Louis for an extended homestand, Musial started 16 more games through the end of the season. He finished strong, hitting .340 in 49 plate appearances with a double and the final two home runs of his career — a two-run shot in the first inning against Glen Hobbie of the Cubs at Busch Stadium on September 10, and a solo blast in the seventh inning against Johnny Podres of the Dodgers, also at Busch, on September 16.13
As Musial played his last game at Forbes Field in early September, Pittsburgh sportswriters were looking ahead to a banquet to be held that October in St. Louis to honor him and raise funds for a proposed Musial statute at Busch Stadium.14 It took a while, but by Sunday, August 4, 1968, the project was complete and the statue was dedicated after that day's Cubs-Cardinals game in a ceremony "at the intersection of Broad and Walnut, just outside Busch Memorial Stadium."15
Sources
In addition to the sources cited in the Notes, I used the Baseball-Reference.com and Retrosheet.org websites for team, season, and player pages and logs and the box scores and play-by-plays for this game:
baseball-reference.com/boxes/PIT/PIT196309080.shtml
retrosheet.org/boxesetc/1963/B09080PIT1963.htm
Notes
1 The Monongahela River originates in West Virginia and flows north through Donora and into Pittsburgh, where it meets the southwest-flowing Allegheny River to form the Ohio River. The junction of the three rivers was the derivation of the name for Three Rivers Stadium, the combination baseball-football facility located on the north shore of the Allegheny River. It replaced Forbes Field in 1970 and brought professional sports into downtown Pittsburgh from the Oakland section. Three Rivers Stadium was replaced in 2001 by the Pirates' PNC Park and Heinz Field, home of the Pittsburgh Steelers of the NFL. The new facilities are on the same general riverfront site as Three Rivers Stadium.
2 Reminiscing 22 years later, Musial recalled that a friend of his from Donora, Steven Posey, was sitting in the right-field stands that day and caught the home-run ball. "Two days later [Thursday, September 25, 1941] my Donora friends held a day for me at Forbes Field and gave me luggage and money. They even called off school in Donora that afternoon." Lester J. Biederman, "Musial … A Legend in Our Time," Pittsburgh Press, September 8, 1963: 71. Although the article doesn't reference a date or details, it mentions that Musial, who grew up close to Pittsburgh, saw his first big-league game at Forbes Field.
3 Stan Musial player page, Baseball-Reference.com, Finders and Advanced Stats, Home Run Log/Parks, accessed May 23, 2020, baseball-reference.com/players/event_hr.fcgi?id=musiast01&t=b.
4 With regard to Musial's initial disenchantment with the St. Louis organization and his potentially playing for Pittsburgh, see Jan Finkel, "Stan Musial," SABR Baseball Biography Project, Paragraph 8, sabr.org, accessed May 23, 2020.
5 "Stan Musial Honored Before Last Game Here," Pittsburgh Post-Gazette, September 9, 1963: 32, 33.
6 The Cardinals got as close as one game behind Los Angeles, on September 15, but lost eight of nine games from September 16 through September 27. They still won 93 games and finished second in the 1963 NL pennant race, but were six games back of the Dodgers.
7 Broglio finished the season 18-8, 2.99. He had won 21 games as a second-year man in 1960, and his continuing success through 1963 may have been part of the Chicago Cubs' motivation when, on June 15, 1964, they acquired Broglio in a six-player trade with the Cardinals. One of the Chicago players moving to St. Louis was Lou Brock. The trade became part of Cubs' infamy as "Brock for Broglio." Broglio won 77 major league games — only seven for the Cubs — but Brock is in the Hall of Fame.
8 Groat, hitting a league-leading .328, started the first game on Friday and, as the second batter in the top of the first inning, was hit by Pirates pitcher Don Cardwell, one of the players involved in Groat's trade the prior offseason. The 0-and-2 pitch hit Groat on the lower left side of his chest, produced a contusion, and necessitated x-rays, which proved negative for a fracture. Jack Hernon, "Groat Hit with Pitched Ball; X-Rays Negative," Pittsburgh Post-Gazette, September 7, 1963: 14. Groat didn't appear in the other three games in Pittsburgh. He was back in the starting lineup on September 10 when the Cardinals returned home, and started every game the rest of the season. He ended the season at .319 and finished second to Sandy Koufax in the 1963 National League MVP vote.
9 Stargell, primarily an outfielder, played only 16 games at first base for the 1963 Pirates. Donn Clendenon was the everyday first baseman.
10 "Gunnerisms: Famous Sayings by Pirates' broadcaster Bob Prince," accessed May 24, 2020, home.mindspring.com/~gearhard/pigunner.html; Prince was dubbed "The Gunner" by his broadcast booth partner Jim "Possum" Woods.
11 Andy Sturgill, "Smoky Burgess," SABR Baseball Biography Project, sabr.org, citing Joe Garagiola in Rick Cushing, 1960 Pirates, Day by Day (Pittsburgh: Dorrance Publishing, 2010), 46; accessed May 24, 2020.
12 Holtzman, a Chicago writer and 1989 winner of the J.G. Taylor Spink Award, created a formula for saves in the early 1960s. Major League Baseball did not recognize saves as an official statistical category until the 1969 season. See: m.mlb.com/glossary/standard-stats/save.
13 The September 16 home run was one of only three hits the Cardinals managed against Podres and Ron Perranoski. It produced the only St. Louis run in a 3-1 loss.
14 Biederman, "Musial … A Legend in Our Time."
15 "The Man's Day," photo and caption, St. Louis Post-Dispatch, August 5, 1968: 31.
Additional Stats
St. Louis Cardinals 3
Pittsburgh Pirates 2
---
Forbes Field
Pittsburgh, PA
Box Score + PBP:
Corrections? Additions?
If you can help us improve this game story, contact us.
Tags
https://sabr.org/sites/default/files/images/MusialStan-1960Topps.jpg
600
800
sabr
/wp-content/uploads/2020/02/sabr_logo.png
sabr
2020-07-28 21:03:22
2020-07-31 06:05:45
September 8, 1963: Stan Musial bids farewell to Forbes Field in Pittsburgh