San Diego Padres Near No-Hitters
This article was written by Steven Glassman
This article was published in The National Pastime: Pacific Ghosts (San Diego, 2019)
---
In 7,976 regular-season games through the end of the 2018 season, the San Diego Padres had never thrown a no-hitter.1 Five times, the Padres have taken no-hit bids into the ninth inning. Here are summaries of those games, with the date, pitcher(s), opponent, and location.
July 21, 1970
Clay Kirby and Jack Baldschun
8 innings vs. New York Mets, San Diego Stadium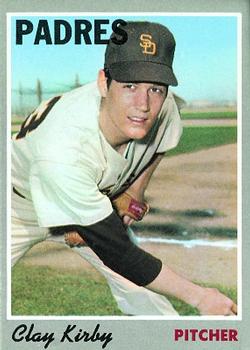 Kirby entered the contest with a 5.03 earned-run average, third-worst in the National League.2 He'd pitched twice against the Mets that season (April 21 at Shea Stadium and May 2 in San Diego), throwing a total of 13 innings, allowing six runs on 10 hits.
Kirby allowed his only run in the first inning. Tommy Agee led off with a walk and stole second. One out later, Ken Singleton also walked. Agee and Singleton pulled off a double steal with Art Shamsky at bat, and Agee scored on Shamsky's groundout to second baseman Ron Slocum. Kirby retired the Mets in order from the second through fourth innings, retiring 12 straight hitters before Joe Foy walked with one out in the fifth. He also walked Adrian Garrett with two outs in the seventh. Kirby allowed a leadoff walk in the eighth to Joe Foy, who stole second but was out at home on a Jim McAndrew fielder's choice to Nate Colbert.
This game would be remembered for Padres manager Preston Gomez's decision to pinch-hit for Kirby with two out in the eighth and the Mets still leading 1–0. Kirby was in the on-deck circle while Bob Barton was at bat against McAndrew. Gomez called Kirby back to the dugout and replaced him with Cito Gaston, who was usually a starter but had sat out with a strained leg muscle.3 "The Mets bench just gasped in disbelief," Tom Seaver said. "I personally would have let him hit. If the pennant race was involved, no. But in this situation, yes."4 His decision was met with boos and the reaction got worse when Gaston, pinch-hitting for the first time all year, struck out swinging.
Gomez replaced Kirby with Baldschun to start the ninth. Bud Harrelson lined Baldschun's fourth pitch to left for the Mets' first hit.5 The game was briefly interrupted when a fan went into the Padres dugout and was removed by police. Singleton sacrificed Harrelson to second. Shamsky was intentionally walked and was pinch-run for by Mike Jorgensen. Cleon Jones's single to right loaded the bases. Baldschun struck out Garrett but Foy's two-out single to left scored Harrelson and Jorgensen to make it 3–0.
Gomez's decision to remove Kirby was met with mixed postgame reactions from both organizations and around baseball. Padres President Buzzie Bavasi wanted Kirby to stay in the game. He said: "I want to win more than anybody and I don't second-guess him. But it's once in a lifetime for the kid."6 Gomez stood by his decision. "It would have been the easy way for me to let the kid go up and hit," Gomez said. "I don't play for the fans. I play to win. In fact, if Ed Spiezio had led off the eighth with a hit, I would have bunted him over to second and then pinch-hit for the pitcher. I did the same thing in Spokane by taking Phil Ortega out after seven innings and we eventually won the game."7 In The Sporting News, Paul Cour wrote that "at first, Kirby was visibly disturbed at being denied the chance to make the record book, but, by the time he met the press, he was calm and gracious."8
"I was a little surprised," Kirby said, "but he's the manager and he has to make a decision. I'm only 22 and I'll have plenty of time to pitch a no-hitter."9 Kirby added: "Everyone wants to pitch a no-hitter and I was so close."10 Mets broadcaster Ralph Kiner—once a general manager of the Pacific Coast League Padres—and New York Yankees manager Ralph Houk also agreed with Gomez. Jerome Holtzman wrote in The Sporting News that Gomez "revealed that he received a letter from Al Lopez, the former White Sox pilot. Lopez congratulated Gomez on his decision to lift Clay Kirby, even though Kirby had a no-hitter going. Al wrote: 'What you did shows courage and besides, it was the best thing to do.'"11 According to Cour, "Within seconds of Gomez's decision, the Padres and newspaper switchboards were swamped with calls. Most of the callers were yelling for Gomez's scalp."
"I would never second-guess myself," Gomez said. "And I can always go home after a game and sleep, figuring I did what I thought was right."12
July 18, 1972
Steve Arlin
8⅔ innings vs. Philadelphia Phillies, San Diego Stadium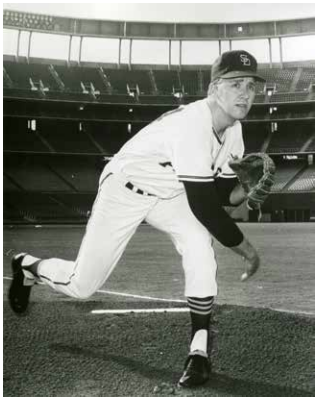 Arlin was facing the team that drafted him 13th overall in the June 1966 secondary phase of the Amateur Free Agent Draft. However, the Phillies left him unprotected and the Padres drafted him 57th in the 1968 National League Expansion Draft. Entering this game, he'd started against the Phillies four times, posting a 2.15 ERA in 29⅓ innings and holding his former organization to a .187 batting average.
He got run support in the first inning from a two-out RBI double to left by Colbert off of Bill Champion. That scored Jerry Morales, who had walked. The Padres struck again in the fifth with Colbert's two-run home run and in the seventh when they scored twice more in a rally highlighted by Morales's triple and Gaston's double.
In the first eight innings. Arlin allowed walks to Tom Hutton (two out in the first), Willie Montanez (none out in the fifth), and Larry Bowa (two out in the sixth).13 Doyle nearly broke up the no-hit bid in the sixth with two out, but, as the Philadelphia Inquirer's Bruce Keidan described it, "Padre second baseman Derrel Thomas absconded with it. Thomas raced to his right, dived and somehow came up with the sharply hit grounder. Then still lying on his back, he threw the ball to Colbert in time to nip Doyle at first base for the third out of the sixth inning." In the ninth, Deron Johnson, pinch-hitting for reliever Wayne Twitchell, lined out to third baseman Dave Roberts. After Bowa made the second out, "Doyle chopped a 1-2 pitch into the grass and raced to first as the ball bounced into left field. Arlin then lost his shutout by balking Doyle to second and giving up his second and last hit, a single to right by Tommy Hutton."14 Arlin finished the game, retiring Greg Luzinski on a fly out to Johnny Jeter.15
Padres' first-year San Diego manager Don Zimmer took responsibility for Doyle breaking up Arlin's no-hit bid in the ninth. "I messed it up," he said. "Doyle's primarily a pull hitter, and I didn't want him just topping a ball and beating out a swinging bunt. Roberts was playing shallow on Doyle. He wanted to move back after Arlin got two strike[s] on him. I made Roberts stay in close. If I had let him move back, he would have fielded the ball." Roberts's reaction: "I'm sick, I'm just sick."16 Phil Collier wrote in The Sporting News that "when Arlin returned to the clubhouse after telling of his two-hitter on a postgame radio show, Zimmer approached him and handed him a razor blade. 'Here,' the manager said, pointing to his throat. 'Just make it quick.'"17
September 5, 1997 
Andy Ashby
8+ innings vs. Atlanta Braves, Qualcomm Stadium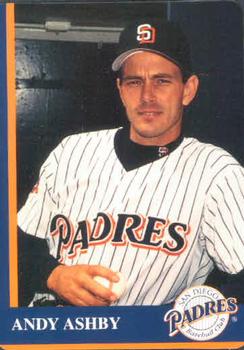 Ashby had faced the Braves on April 26 at Atlanta-Fulton County Stadium, allowing five hits and one run in eight innings in a no-decision. This day he allowed runners to reach base in the first (Jeff Blauser on Ken Caminiti's error with one out), second (Ryan Klesko lead-off walk), and sixth (walks to Tom Glavine with one out and Blauser with two). Ashby received defensive help in the fourth from first baseman Archi Cianfrocco on a Chipper Jones groundball and helped himself on a Fred McGriff groundball to end the inning. He also got some defensive support from shortstop Craig Shipley in the fifth when "he speared a one-hop, top-spin smash struck by Javy Lopez and from his knees, threw him out for the final out in the fifth," wrote Tom Krasovic in the San Diego Union-Tribune. "That's when I started thinking" no-hitter, said manager Bruce Bochy.18
Ashby received his offensive support on a two-out Caminiti single off Glavine that scored Steve Finley in the first. Caminiti hit his 22nd home run of the season to right with one out in the third. Carlos Hernandez hit his third home run of the season with one out in the fourth. The Padres broke the game open in the seventh, scoring three and knocking Glavine out of the game.
Kenny Lofton led off the ninth for the Braves. "I'd already been a victim of a no-hitter," the Atlanta center-fielder said. "I didn't really want to do that again." Noting that Ashby was "painting the corners," Lofton said, "It was one of those nights where it all falls into place," adding, "I thought this was going to be the second time I was no-hit—Jim Abbott and Andy Ashby." Ashby's first pitch was a called strike and Lofton fouled off the next two. He then took three straight breaking balls outside for a full count. "All I was trying to do was make contact," Lofton said. Ashby's next pitch was a changeup and Lofton hit it toward Gwynn in right. "When I hit it, I knew it was going to be tailing away from Tony Gwynn," said Lofton. "But they had made great catches of balls hit like that all night." Lofton said he thought the ball might be caught at first, but then he realized Gwynn had no chance.
"I had to fight him," Lofton said. "No one wants to be among the last outs of a no-hitter. I had been fighting him all game. He was painting the corners and throwing those good sliders for strikes." Blauser flied out to Finley and Chipper Jones struck out swinging. McGriff's 21st home run of the season to right-center broke the shutout. "I don't know what I hit," said McGriff. "I was just trying to concentrate. That was the best I've felt hitting in a long time."19 Klesko grounded out to Shipley to end the game. Wally Joyner, who made the game-ending putout, gave Ashby the game ball.
The Braves extolled Ashby's performance after the game. Braves hitters and manager Bobby Cox talked about his command, first-pitch strikes, breaking pitches, and pace on the mound.20 They also mentioned the Padres' fielding.
September 22, 2006
Chris Young
8⅔ innings vs. Pittsburgh Pirates, Petco Park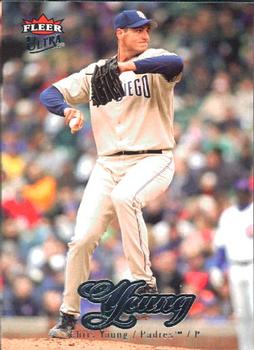 Young was making his next-to-last start of the season in his first year with the Padres.21 He'd pitched well in his previous start against the Pirates on June 4 in Pittsburgh, holding them hitless for 5⅓ innings before allowing a Jose Hernandez single to left. He also allowed a one-out Jason Bay triple to center in the seventh. Altogether, Young allowed two hits and a walk in eight innings and got credit for the 1–0 victory.
On September 22, Young picked up where he left off against the Pirates. He retired the first 17 hitters before allowing a two-out walk to pinch-hitter Rajai Davis in the sixth. Davis was caught stealing second when he slid past the bag.22 According to the San Diego Union-Tribune's Jay Posner, "The best play was made in the first inning. Jack Wilson hit a long fly ball to left field that he thought was a sure double, but Ben Johnson caught it just as he slammed into the fence. Johnson later made a routine catch on Freddy Sanchez's fly ball to the warning track. Also, second baseman Josh Barfield caught a line drive by Xavier Nady in the second and right fielder Brian Giles snagged two line drives, one by Wilson in the seventh and the other by Ryan Doumit in the ninth."23
The Padres scored their first run off of Tom Gorzelanny in the first inning on a one-out Mike Cameron sacrifice fly to center that scored Barfield. Adrian Gonzalez's 24th home run of the season scored Cameron with two out in the third inning. Todd Walker added on to the lead with his ninth home run of the season with one out in the sixth off of relief pitcher Brian Rogers.24 The Padres finished off their scoring with another two-out rally in the seventh. Mike Piazza tripled to center off of Rogers. Gonzalez greeted Juan Perez with a single to left that scored Piazza. Johnson followed with the Padres' second triple of the inning (to center), which scored Gonzalez.
Young entered the ninth inning with 82 pitches thrown and scheduled to face the Pirates' bottom third of the order: Doumit, Bautista, and a pinch-hitter for Jonah Bayliss. Doumit lined out to Giles for the first out. Bautista walked on six pitches. Former Padre Joe Randa pinch-hit for Bayliss and took three straight balls, then took a fastball down the middle for a called strike.25 North County Times writer Brian Hiro wrote that Randa "worked the count to 3-1 before ripping an 89-mph fastball, Young's 94th pitch."26
"As a pinch-hitter you just try to have a good at-bat and try to hit the ball hard," said Randa, who did just that, slamming Young's fastball an estimated 421 feet onto the walkway above the fence in center field.27 Young struck out Chris Duffy looking and walked Wilson. Bochy removed him after 107 pitches and 8⅔ innings pitched.28 The Union-Tribune's Bill Center wrote, "As Bochy took the ball, he said 'great game.' Young responded by saying 'thank you.' As he walked toward the Padres dugout, he tipped his cap to the reported 40,077-strong crowd who gave him a thunderous ovation. 'My ears are still ringing,' Young said 20 minutes later. 'When I tipped my cap, I had chills.'"29 Cla Meredith struck out Sanchez swinging to end the game.
July 9, 2011
Aaron Harang, Josh Spence, Chad Qualls, Mike Adams, and Luke Gregerson
8⅔ innings vs. Los Angeles Dodgers, Dodger Stadium30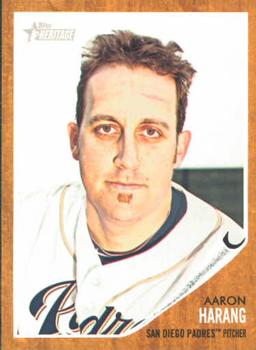 Harang had won his previous start against the Dodgers, allowing two runs and three hits in six innings in a 7–2 victory at Petco Park. He was making his first start since June 9, having suffered a stress fracture to the third metatarsal bone in his right foot.31 Harang allowed consecutive two-out walks to Andre Ethier and Matt Kemp before James Loney popped out to Jason Bartlett to end the first inning. He allowed another walk to Tony Gywnn Jr. with one out in the third. Gwynn was caught stealing by Rob Johnson with Rafael Furcal at bat. Harang did not allow another baserunner to reach for the remainder of his six innings. He walked three. He was removed after 95 pitches by manager Bud Black and was replaced by left-handed reliever Spence. "We were joking in the dugout," Harang said of Black. "He said, 'I've never had to do this' so I said 'Well, don't do it.' He grinned, and I knew why he did it."32 Harang noted that Black was looking out for his health. "I think if it was a different situation and I got through seven, it's probably going to be different," he said33 Spence struck out left-handed hitter Ethier to start the seventh and was replaced by the right-hander Qualls. Kemp reached on a Bartlett error and Loney was intentionally walked. Qualls retired Juan Uribe on a popout to Chase Headley and got Dioner Navarro to ground out to him to end the seventh.
Adams was the Padres' fourth pitcher. He walked Jamey Carroll to lead off the eighth and Trent Oeltjen reached on Headley's error on a sacrifice bunt attempt. Adams got out of the inning on a Gwynn bunt popout to Johnson, a Furcal fly out to Chris Denorfia, and an Ethier groundout to Orlando Hudson.
Harang's mound opponent, Rubby De La Rosa, limited the Padres to one hit and four walks in six innings. Dodger relievers Matt Guerrier, Mike MacDougal, and Blake Hawksworth did not allow any Padre baserunners for the remainder of the game.
Gregerson started the ninth, the fifth Padres pitcher in a scoreless tie. He was scheduled to face the middle of the Dodgers order: Kemp, Loney, and Uribe. Gregerson struck out Kemp swinging and got Loney to ground out to Rizzo unassisted to start the inning. He got ahead of Uribe in the count, 1–2, on sliders. The Union-Tribune's Center wrote that "Gregerson admitted hanging a slider to Uribe, who rocketed a liner over left fielder Denorfia's head. 'I was a full stride from it,' said Denorfia."34 After Uribe's double, Gregerson fell behind Navarro on three straight sliders before throwing a four-seam fastball for a called strike. Center wrote that Gregerson's next pitch to Navarro "was right where he wanted it, a slider low and away. But the Dodgers catcher poked it to right, the ball dropping in front of [Will] Venable's desperate charge, for a walk-off single." Gregerson responded about a possible combined no-hitter: "Who cares? It doesn't matter at that point," he said. "I don't think anyone in the bullpen knew there was a no-hitter going."35 He added: "It's only fun if the starter goes nine innings and throws a no-hitter and your guys score some runs."36
STEVEN M. GLASSMAN's article on the Padres' near no-hitters is his fifth SABR convention article. He previously wrote "Philadelphia's Other Hall of Famers" (SABR 43), "The Game That Was Not—Philadelphia Phillies at Chicago Cubs" (August 8, 1988, SABR 45), "Walking it Off " (Marlins Postseason Walk-Offs, SABR 46), and "A Hall of Fame Cup of Coffee in New York" (SABR 47).
Sources
Box scores courtesy of Baseball Reference, Retrosheet and MLB.com.
Notes

1 The New York Mets went 8,019 regular-season games before their first no-hotter, by Johan Santana on June 1, 2012. The Philadelphia Phillies went from May 3, 1906, to June 20, 1964, between no-hitters (8,936 regular-season games). The Cleveland Indians hold the American League mark between no-hitters (6,003). Their last no-hitter was Len Barker's perfect game versus the Toronto Blue Jays on May 15, 1981. The Detroit Tigers went from July 5, 1912, to May 14, 1952, between no-hitters (5,561). It is not known which team holds the AL record for games without a no-hitter from the start of its franchise. https://www.nonohitters.com/.
2 Montreal Expo Bill Stoneman (5.33) and San Francisco Giant Juan Marichal (5.30) had a worse ERA than Kirby entering that day. https://www.retrosheet.org/boxesetc/1970/DL07201970.htm.
3 Joe Durso, "Mets Beat Padres 3-0, Despite Being Held Hitless by Kirby for 8 Innings," New York Times, July 22, 1970.
4 Durso, "8 inning No-Hitter Irks Fans on Coast," New York Times, July 23, 1970.
5 Durso, "Mets Beat Padres 3-0."
6 Durso.
7 Durso, "8 inning No-Hitter Irks Fans on Coast."
8 Paul Coor, "Clay Cool in Heat of No-Hit Fuss," The Sporting News, August 8, 1970.
9 Durso, "Mets Beat Padres 3-0."
10 Coor, "Clay Cool in Heat of No-Hit Fuss."
11 Jerome Holtzman, "Jerome Holtzman," The Sporting News, September 5, 1970.
12 Paul Cour, "Second-Guessers Pouring It on Poor Preston," The Sporting News, August 8, 1970.
13 Arlin entered the game leading the NL with 77 walks He was tied with California Angels pitcher Nolan Ryan for the major-league lead. https://www.retrosheet.org/boxesetc/1972/DL07171972.htm.
14 Bruce Keidan, "Doyle Ruins Arlin's No-Hitter in 9th," The Philadelphia Inquirer, July 19, 1972: 25.
15 Between June 18 and July 18, 1972, Arlin allowed two or fewer hits five times in eight starts. He allowed two hits in a complete-game win at Pittsburgh June 18; one in a complete-game win vs. San Francisco June 24; one in a 10-inning no-decision at New York July 6; two in a complete-game loss vs. New York July 14; and two in a complete-game win vs. Philadelphia July 18.
16 Sam Goldpaper, "Personalities: Pilot's Beau Geste," New York Times, July 20, 1972.
17 Phil Collier, "Low-Hit Gems Are Arlin's Specialty," The Sporting News, August 5, 1972.
18 Tom Krasovic, "A near n000-000-000 (no) hitter for Ashby," San Diego Union-Tribune, September 6, 1997.
19 Bill Center, "The Fateful Ninth: Braves Lofton didn't want to be no-hit victim again," San Diego Union-Tribune, September 6, 1997.
20 "Working an excellent curveball that he kept low and on the corner all game, Ashby threw first-pitch strikes to 23 of the 32 batters he faced." Thomas Stinson, "Ashby pitches near no-hitter," Atlanta Journal and Atlanta Constitution, September 7, 1997.
21 Young also entered the game with the third-lowest batting average allowed in the NL and fourth in MLB (.217). His .297 on-base percentage allowed was fourth in the NL and seventh in MLB, according to Fagraphs.
22 Bill Center, "It's a One-Hit Wonder," San Diego Union-Tribune, September 23, 2006.
23 Jay Posner, "In a pinch, Randa jolts Young from dream game," San Diego Union-Tribune, September 23, 2006.
24 This was Walker's 107th and last career home run.
25 Dejan Kovacevic, "One-Hit Wonder," Pittsburgh Post-Gazette, September 23, 2006.
26 Brian Hiro. "Young flirts, keeps team in first," North County Times (Escondido, CA), September 23, 2006.
27 Posner, "In a pinch." It was also Randa's first and only career pinch-hit home run.
28 This was Young's longest outing of the 2006 season. He previously threw eight innings in consecutive starts against Colorado (May 30) and Pittsburgh (June 4).
29 Center, "It's a One-Hit Wonder."
30 There were nine combined no-hitters before the 2011 season. The most recent one at the time was on June 11, 2003, by Houston Astros pitchers Roy Oswalt, Peter Munro, Kirk Saarloos, Brad Lidge, Octavio Dotel, and Billy Wagner against the New York Yankees in Yankee Stadium.
31 Bill Center, "Near No-Hitter Goes Nowhere," San Diego Union-Tribune, July 10, 2011.
32 Jill Painter. "L.A. Goes From Zero to Won," Daily News of Los Angeles, July 10, 2011.
33 Jim Alexander, "No-hit until ninth, LA pulls it out," Press-Enterprise (Riverside, CA), July 10, 2011.
34 Center, "Near No-Hitter Goes Nowhere."
35 Painter, L.A. Goes From Zero to Won."
36 Center, "Near No-Hitter Goes Nowhere."
https://sabr.org/wp-content/uploads/2020/03/research-collection4_350x300.jpg
300
350
admin
/wp-content/uploads/2020/02/sabr_logo.png
admin
2019-08-07 11:45:05
2021-04-09 19:55:29
San Diego Padres Near No-Hitters