SABR Diamond Report: May 2014
Editor's note: The Diamond Report is a series of updates, written by SABR President Vince Gennaro and Executive Director Marc Appleman, to keep SABR members better informed about the Society's direction and progress. The Diamond Report archives are collected at SABR.org/diamondreport. To learn more about becoming a SABR member, visit SABR.org/join.
May 15, 2014
By Marc Appleman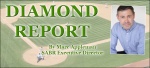 I am pleased to report that the SABR youth initiative — which began a couple of years ago — has made considerable progress and is showing exciting results.
SABR continues to attract younger members to the organization. Since January 2012, approximately 25 percent of our new members have been under-30 memberships.
The awareness of SABR among younger members — through SABR.org, the SABR Analytics Conference, programs at high schools and colleges, and new external relationships — has grown considerably.
At the 2014 SABR Analytics Conference, 20 schools sent teams and 93 of the 440 attendees were students who competed in the Diamond Dollars Case Competition. Another 50 attendees were students or attendees under the age of 30.
Many SABR chapters are reporting that they have more young members, that the young members are getting more involved, and that some of them are holding officer positions.
SABR has instituted an affiliate SABR club membership program for college classes and clubs, high school classes and clubs, and elementary and middle school classes and clubs. These are electronic memberships which enable students and professors to take advantage of SABR's research opportunities, publications and the special content on SABR.org.
Thanks to SABR Director Leslie Heaphy, SABR has successfully reached out to college educators to get involved and to get their classes involved with SABR. The letter to educators states that SABR can give you a variety of chances to get your work and your students work published through its website and e-book program. There are a number of conferences which could be of interest and membership provides discounted rates. There are opportunities to submit proposals for presentations and a competition for students for scholarships and more. SABR publishes peer-reviewed journals, provides access to other researchers and to resources such as The Sporting News archives and SABR's own lending library. Local chapter meetings all over the country can give students a good beginning chance to present their work and to get connected with other baseball researchers and statisticians.
For the past two years, the Yoseloff Scholarship has enabled students to attend the National Convention and the SABR Analytics Conference. The scholarship winners are selected based on their essays, which are judged by a SABR committee.
At each of the last three National Conventions, the Under-30 mixer has been a very successful way for younger members to meet.
As part of our youth initiative, SABR Director Emily Hawks is spearheading an effort whereby we have reached out to younger members to write biographies of players from the 1980s and 1990s as part of the SABR BioProject. The message was that this was a great opportunity to do research, write and get published while working with SABR editors and mentors. High school or college students can also use the BioProject as an opportunity to write a research paper on a player and use their SABR bio as a published clip.
SABR has been working with Sports Illustrated for Kids — a 12-year-old SABR blogger, Max Mannis, attended SABR 43 in Philadelphia and the past two SABR Analytics Conferences and has written blog posts about the conferences for SIkids.com.
SABR continues to attract top interns to the SABR office throughout the school year and the summer. This past semester, we instituted an internship program in New York through NYU and a number of high schools.
A SABR club was formed at a New York City high school this year and I recently had the opportunity to talk to the students during one of their math classes. This group of students recently held a draft for a new SABR Fantasy Game which was developed by two college students. The students playing the game are planning to compare the results of the SABR Fantasy Game — which features different and more sophisticated statistics — with traditional fantasy games.
We are still in the early stages of this important initiative and look to forward to building upon what has been a very good start.
Marc Appleman has been SABR's Executive Director since 2010. His broad-based media career began as a baseball writer at the Los Angeles Times, San Diego Edition, and he has also worked as a Senior Coordinating Editor at ESPN, Director of Programming at AOL Sports and Managing Editor at FoxSports.com. He can be reached at execdir@sabr.org.
---
Originally published: May 15, 2014. Last Updated: May 15, 2014.
https://sabr.org/wp-content/uploads/2020/03/research-collection4_350x300.jpg
300
350
jpomrenke
/wp-content/uploads/2020/02/sabr_logo.png
jpomrenke
2014-05-15 14:54:49
2014-05-15 14:54:49
SABR Diamond Report: May 2014