This Week in SABR: August 22, 2014

Welcome to "This Week in SABR!" Here's what we've been up to as of August 22, 2014:
---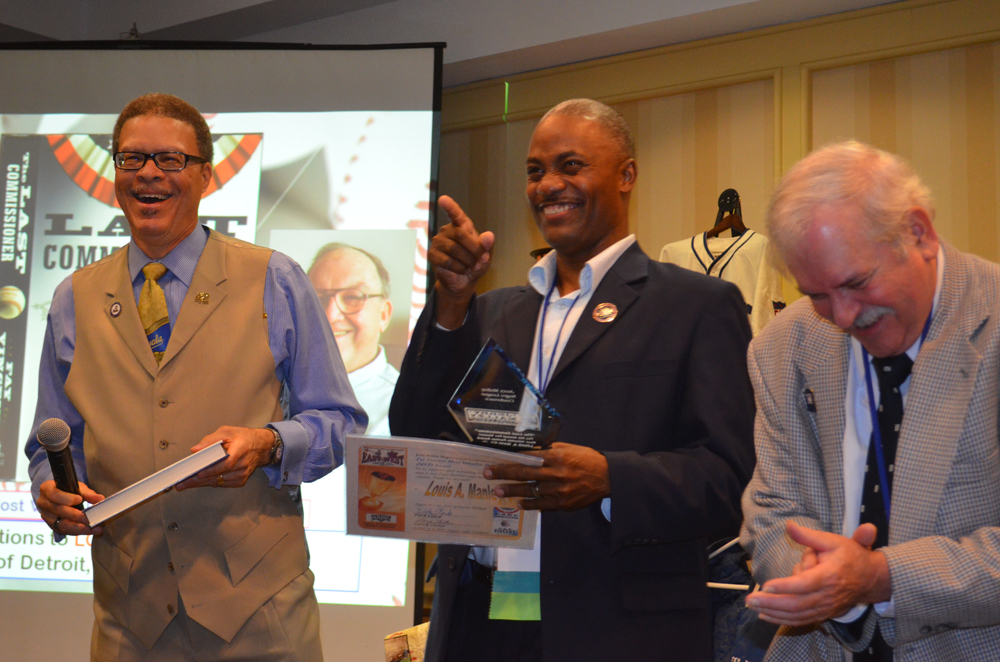 The 17th annual Jerry Malloy Negro League Conference was held August 14-16, 2014, at the Marriott Courtyard Downtown (333 E. Jefferson Avenue) in Detroit, Michigan. The conference was open to all baseball, history and sports fans of all ages.
View photos from the 2014 Malloy Conference at SABR.org/malloy.
Click here to download the conference information packet (PDF). The conference theme was "Turkey Stearnes and Black Baseball in Michigan":
Black baseball has a long history in Michigan, especially centered in the Motor City. Among the original entrants to the Negro National League in 1920 was Tenny Blount's Detroit Stars, managed by Pete Hill and anchored by Big Bill Gatewood on the mound. The Detroit Wolves and Motor City Giants also played in Mack Park and Hamtramck stadium. In addition to the well-known Turkey Stearnes, other star players included catcher Bruce Petway, the speedy Jimmie Lyons and the powerful Edgar Wesley.
The 17th annual Jerry Malloy Negro League Conference celebrated this rich baseball history with two days of research presentations and player/author panels, special presentations about local parks, including a historical marker dedication ceremony at Hamtramck Stadium, as well as a Tigers game against the Seattle Mariners.
Special guests included Mrs. Nettie Stearnes, the widow of Turkey Stearnes, her daughters, Rosilyn and Joyce, and their family. Former Negro League players in attendance included Walt Owens (1953-55); Ron "Schoolboy" Teasley (1945, '48); Ernie "Cokey" Nimmons (1952); Pedro Sierra (1954-58); and Mrs. Minnie Forbes (Detroit Stars owner).
The conference featured an Authors' Panel with Lisa Doris Alexander, Adrian Burgos Jr., Joel Nathan Rosen, Roberta J. Newman, and Donald Spivey. Presentations were made by Missy Booker, James Brunson III, Gary Gillette, Karl Lindholm, Lawrence Rushing, George Skornickel, Donald Spivey, Bryan Steverson, and Lizz Wilkinson.
Awards were presented to Louis A. Manley Jr. (Fay Vincent Most Valuable Partner (MVP) Award), Missy Reyes Tyer and Lisa Doris Alexander (John Coates Next Generation Award), Lucky Smith and Bryan Steverson (Tweeb Webb Lifetime Achievement Award), Joel Nathan Rosen and Roberta J. Newman (Robert Peterson Recognition Award). The trivia contest was won by Rod Nelson of Detroit, Michigan.
For more information on the annual Jerry Malloy Negro League Conference, visit SABR.org/malloy.
---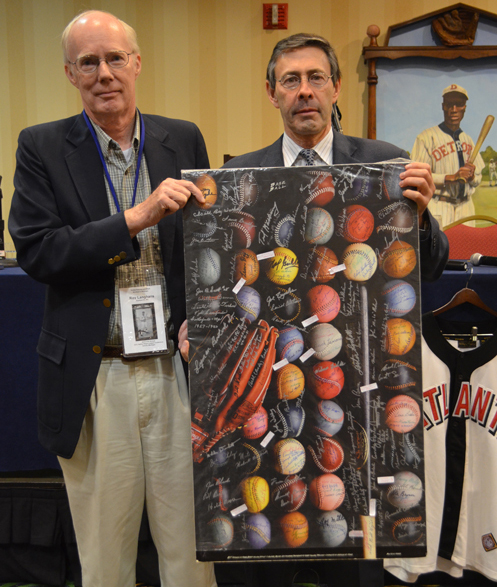 SABR member Ray Langhans, a member of the Bob Davids Chapter and Negro Leagues Research Committee, made a very generous donation to the SABR office when he purchased a special poster featuring more than 100 autographs from baseball stars at the Jerry Malloy Negro League Conference last weekend in Detroit.
The poster, which will be framed and displayed at the SABR office in Phoenix, was donated to the Jerry Malloy Negro League Conference auction by SABR member Wayne Stivers of the Emil Rothe Chapter and the Negro Leagues Research Committee.
SABR Executive Director Marc Appleman accepted the donation from Langhans on behalf of the SABR office.
For more information on the annual Jerry Malloy Negro League Conference, visit SABR.org/malloy.
---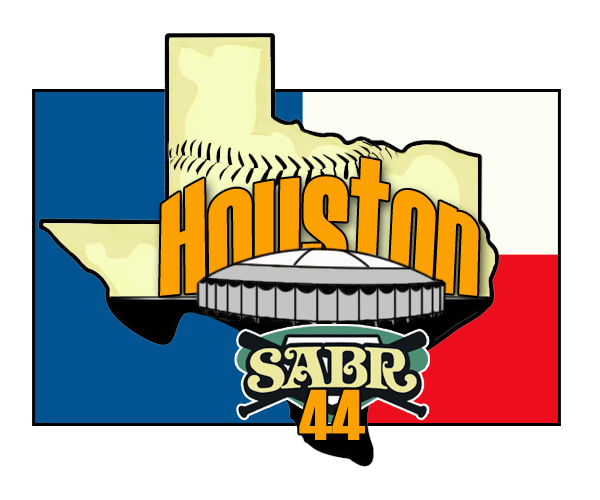 Couldn't make it to Houston for SABR 44? Listen to select research presentations from our 44th annual convention online at SABR.org/convention!
SABR 44 was held July 30-August 3 at the Royal Sonesta Houston, in the heart of the Galleria, just minutes from downtown and Minute Maid Park.
Audio has been posted online for select SABR 44 research presentations. To listen, click on a link below:
/convention/sabr44-presentations
For complete coverage of SABR 44 — including video and audio from the featured panels, photos, and stories — visit SABR.org/convention.
---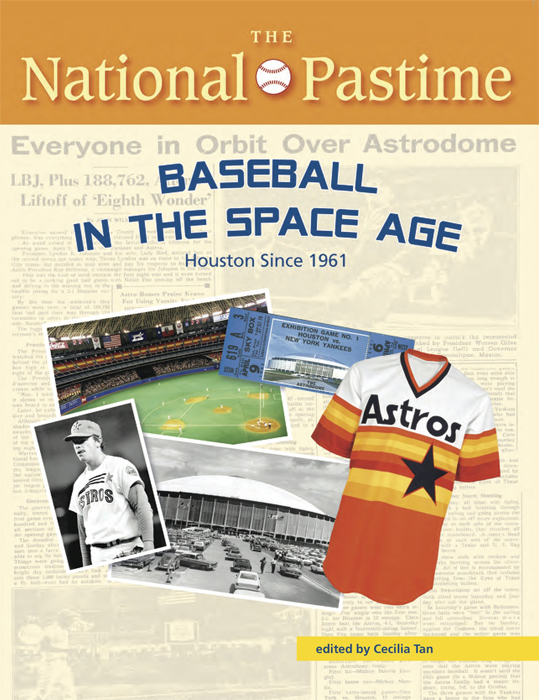 Since 2009, The National Pastime has served as SABR's convention-focused publication. Published annually, this research journal provides in-depth articles focused on the respective geographic region where the national convention is taking place in a given year. All SABR members receive a free e-book copy of The National Pastime as part of their membership benefits, while attendees of the national convention also receive a souvenir print edition in their goody bags.
SABR members can now read all articles from the 2014 convention journal, The National Pastime: Baseball in the Space Age, online by clicking on the link below:
/research/2014-national-pastime
Or click here to download your free e-book copy of the 2014 TNP:
/research/download-2014-tnp-e-book
Having trouble downloading our e-books? To view PDF files on your computer, click here to download the free Adobe Reader software. Having trouble downloading e-books to your Kindle, Nook, Sony Reader or iPad? Click here for additional help.
This issue of The National Pastime is dedicated to baseball in Houston since 1961. For the past several years, each annual issue of TNP has centered on the geographic area of SABR's summer convention site. Since the convention moves around, that has given us great range: Philadelphia, Minnesota, Southern California have hosted recent conventions and corresponding issues of TNP have been produced. But this is the first one that will have a time-limited component as well as a geographic one. Why? SABR's Houston chapter is releasing a book for the convention, too: Houston Baseball: The Early Years, 1861–1961. (Visit HoustonBaseball.org to order your copy of that book.)
Houston Baseball is a gorgeous hardcover book and was given to each attendee of the convention. With the first hundred years of Houston baseball covered so thoroughly in that publication, it made sense to focus The National Pastime for this summer on the space age and the arrival of Major League Baseball in the region. So here we have a special issue centered almost entirely on the Houston Astros (née Colt .45s) and their two influential and iconic homes, short-lived Colt Stadium and the Astrodome.
The Houston MLB franchise has been around only slightly longer than I have, but the Colts/Astros have amassed more than their share of history in the five-plus decades since their launch. Friends in Texas always tell me that "everything is bigger in Texas," and that certainly applies to the role of the Astrodome in pop culture, and to the outsize personality of team owner Roy Hofheinz, who was one part P.T. Barnum, two parts George Steinbrenner, and all Texan.
If you weren't able to attend the convention in Houston, please enjoy reading this issue of The National Pastime as your virtual trip to "Space City" in the Lone Star State. Seventeen SABR members will be your tour guides. Happy reading!
To learn more about contributing to a future SABR publication, click here.
— Cecilia M. Tan, editor
---
SABR's Board of Directors approved the formation of a new regional chapter earlier this month.
The newly formed Las Vegas Chapter will serve SABR members in the state of Nevada. The chapter will hold its initial meeting from 10 a.m.-1 p.m. on Saturday, September 20 at the home of Rick Swift, 2244 Armacost Drive in Henderson, Nevada. Come out for a meet-and-greet with other SABR members in the Las Vegas area, and help us elect chapter leadership and plan activities for the year. For more information, contact Rick Swift.
SABR's 67 regional chapters cover 36 U.S. states, Puerto Rico and Washington, D.C.; plus international chapters in Canada (Quebec, Ontario and British Columbia), Japan, Italy, Latin America, South Korea, and the United Kingdom. For a list of all SABR chapters, visit SABR.org/chapters. A calendar of upcoming SABR meetings can be found at SABR.org/events.
Announcements:

To sign up for chapter email announcements and receive instant notification of upcoming SABR events in your area, click here to select from the list of chapters, then click "Join Group" () at the top of the chapter page. All SABR members are eligible to sign up for announcements from any chapter.
Find your regional chapter: Does your area have a regional chapter of its own? If not, it's easy to organize a new chapter — all you need is an interested group of SABR members. Click here for details.
---
The Society for American Baseball Research is seeking Fall 2014 interns to work in our office in Phoenix, Arizona.
An internship with SABR will involve responsibilities across a variety of disciplines, possibly including:
Working on-site at a local SABR conference, such as the SABR Arizona Fall League Conference
Working with our Membership Director or Director of Operations on organizational duties, membership renewal drives, customer service
Working with our Web Editor to help publish and/or produce content for our website at SABR.org
Interested candidates should be able to demonstrate basic office-related computer skills. HTML knowledge is a plus.
A working knowledge of baseball — and an awareness of the game's general history and basic statistics — is required.
The internship is an educational opportunity that may count toward college credit, covering 15-20 hours per week (flexible schedule), at the SABR office in Phoenix, Arizona. The internship will be for a fixed period of time and is designed to provide the intern with skills and training that may be applicable to working in a nonprofit research environment or in other research-based organizations. No housing assistance will be provided.
Please send a resume and cover letter in PDF form to mappleman@sabr.org or jpomrenke@sabr.org by 5:00 p.m. MST Friday, September 5, 2014.
---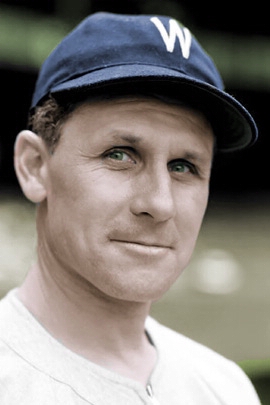 Five new biographies were posted as part of the SABR Baseball Biography Project, which brings us to a total of 2,872 published biographies. Here are the new bios:
All new biographies can be found here: /bioproj/recent
You can find the SABR BioProject at SABR.org/BioProject.
Bios on more than just ballplayers: The ambitious goal of the SABR Baseball Biography Project is to publish a full-life biography of every major league player in history. But SABR members write about a lot more than just ballplayers. In addition, we have pages for Ballparks, Broadcasters, Executives, Managers, Scouts, Spouses, Umpires and a lot more on the BioProject website. You can browse all of these categories at /bioproj/browse. So if you've ever thought, "Hey, that person (or ballpark) should get the full BioProject treatment" — write the story and we'll publish it!
Get involved! If you'd like to help contribute to the SABR BioProject, visit our BioProject Resources page or read the FAQs section to get started. We're also looking to expand the BioProject to include all "encyclopedic" articles on baseball-related subjects from past SABR publications or committee newsletters. If you come across an article you think should be included in the SABR "baseball repository" at the BioProject, send a copy or link to markarmour04@gmail.com or jpomrenke@sabr.org.
---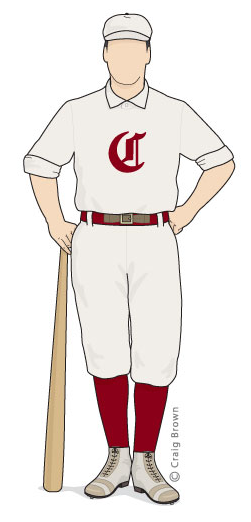 Much of what we know about the history of baseball uniforms we owe to Marc Okkonen. A public relations consultant, freelance artist and writer professionally, Okkonen exhaustively cataloged major league uniforms for his groundbreaking book, Baseball Uniforms of the 20th Century: The Official Major League Baseball Guide, and the Baseball Hall of Fame's companion website, Dressed to the Nines.
But his research begins with the formation of the American League in 1901. That leaves a large void in early baseball history when it comes to the history of uniforms.
SABR member Craig Brown of Decatur, Georgia, an active member of the Magnolia Chapter, recently launched a new website called Threads of Our Game that displays original uniform designs for a variety of professional and college teams in the 19th century. Brown's research covers the years 1856 through 1900, and he is on the lookout for a more complete visual record of baseball's earliest years.
"The site is designed for baseball historians to submit their local knowledge and expertise," Brown said. "I am looking for the SABR community to send in corrections or any new information about old uniforms. There's a lot of great research already completed and published, and I am hoping Threads can gather in all that is uni-related."
Brown's website was featured last month in a post by SABR member Paul Lukas at Uni-Watch.com:
Here's a sampling of worthwhile tidbits:

The earliest teams all wore long pants, because knickers didn't come along until the 1868 Reds.
Other milestones singled out on the site include the first team name to appear on a jersey, the first city name to appear on a jersey, and the first team with separate home and road unis.
The party line has long been that the first team to wear vests was the 1940 Cubs, but it looks like that honor actually belonged to the 1867 New York Mutuals. (And as an aside, that same team had a really interesting uniform three years later.)
What have we here — a Brooklyn team with untucked jerseys!
And here's another Brooklyn team, this one with argyle socks.
One more from Brooklyn: a team with what appears to have been a bolo hat!
Attention U. of Maryland fans (or anyone else who likes the Maryland state flag): You'll dig the chest emblem worn by the 1872 Lord Baltimore team.
As you've probably noticed by now, most of these teams wore some combination of point collars, chest pockets, chest bibs, neckties, and other unlikely-seeming accessories. Things were very, very different back then.

I could go on, but you're better off exploring the site on your own.
To learn more or help contribute, visit threadsofourgame.com or contact Craig Brown.
---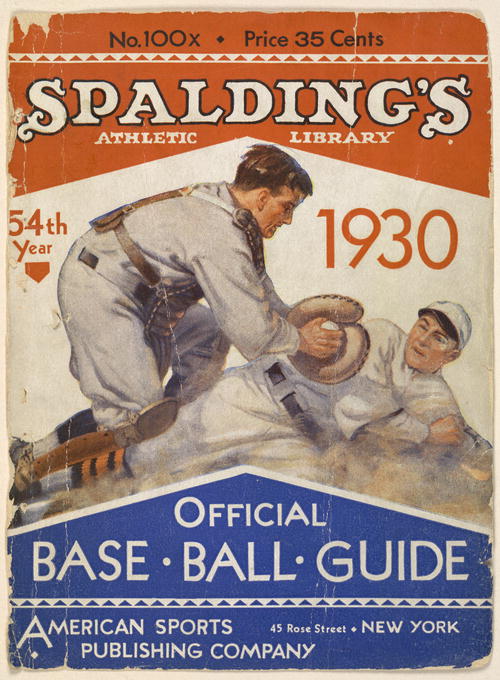 The newest addition to the SABR Research Resources list is SABR member Sean Lahman's compilation of online baseball guides dating back to 1860:
http://www.seanlahman.com/2014/08/index-of-online-baseball-guides
As Sean explains, "Although statistical based newspaper and magazine articles had appeared before, the first known baseball guide made its appearance in 1860: the Beadle Base Ball Guide. In the 150 years that have followed, these annual baseball guides have been one of the most important primary sources for baseball researchers. What makes the guides valuable is that they compile an entire season's worth of information into a single volume; standings, rosters, playing statistics, etc. For many seasons, these guides are the only significant record of minor leagues, amateur and semi-pro leagues, and other baseball organizations. They are an invaluable resource for researchers.
"Many of the early guides have been digitized and made available online. The Library of Congress, the Smithsonian Library and the Internet Archive are among the institutions that have posted collections of baseball guides."
Sean has also included a list of published guides for which no digital versions exist online. If you have information on them or guides that do not appear here, please email him so he can update this listing.
For a comprehensive list of Research Resources available at SABR.org, click here.
---
September 1, 2014, is the deadline to submit a 300- to 500-word Research Presentation proposal of 20-25 minutes for the NYC 19th Century Baseball Interdisciplinary Symposium, scheduled for Saturday, November 15, 2014, at John Jay College in Manhattan.
We are accepting abstracts from SABR members on topics of 19th-century baseball in NYC and its greater environs. Please include a title and your complete contact information (identities will be removed for blind selection). Those who submit abstracts will be provided with individual notice of the jurors results regarding their entry by September 15.
To submit a proposal on a topic of Greater NYC Pre-Professional Era baseball (1840s-1870), please e-mail your abstract to John Zinn: jzinn84@comcast.net.
To submit a proposal on a topic of Greater NYC Professional Era baseball (1871-1900), please e-mail your abstract to Peter Mancuso: peterplus4@earthlink.net.
Although Research Presentation Proposals are reserved for SABR members only, SABR members may register up to three non-SABR guests for the all-day interdisciplinary symposium. See registration details in the summer 2014 issue of the Nineteenth Century Committee's newsletter (PDF).
For additional information on the Symposium please, contact Peter Mancuso.
---
The SABR office has just been informed that the Paper of Record service is back online, as of Friday afternoon. The outage was caused by a problem with Paper of Record's security certificate, but they have now resolved the issue.
All SABR members can access The Sporting News archives by logging in to the SABR website using your e-mail address and password at SABR.org/paperofrecord.
Our apologies for the inconvenience.
— Jacob Pomrenke
---
Historic Dodgertown will host the 53rd annual Los Angeles Dodgers Adult Baseball Camp on November 9-15, 2014, in Vero Beach, Florida.
The Los Angeles Dodgers and Historic Dodgertown, led by President/CEO Peter O'Malley, a longtime SABR member, have teamed up for this year's camp with Dodger legends such as Eric Karros, Steve Sax, Mickey Hatcher, Steve Yeager, Ron Cey and Rick Monday scheduled to serve as instructors and interact with campers to improve skills, impart their baseball knowledge, compete in a game, and share stories about their baseball careers.
Visit historicdodgertown.com/adult-baseball-camp/ or call toll-free (844) 670-2735 for more information and to make reservations.
---
In Memoriam
George W. Hilton, 89, of Columbia, Maryland, died of a heart ailment on August 4, 2014, at an assisted-living facility in Columbia. He joined SABR as Member No. 40 on September 15, 1971, just over a month after the organization's first meeting in Cooperstown, and remained active up until the last year of his life. He was an early contributor to the Baseball Research Journal, writing articles on Bill Thomas, the winningest pitcher in minor league history, and the 1946 Evangeline League scandal (1982), his beloved Comiskey Park (1975), and Bobo Holloman (1974). He also attended many regional meetings of the Allan Roth Chapter in Los Angeles before he retired in 1992 as a professor of economics and transportation regulation at UCLA. He was the author of 15 books, mainly on transportation, including the seminal history of the Maryland & Pennsylvania Railroad (the "Ma and Pa") and a book on the 1915 Eastland disaster in his hometown of Chicago. Born on January 18, 1925, he grew up on the South Side as an avid White Sox fan and later authored an annotated collection of Ring Lardner's baseball writings. For many years, his car's license plate was "Sox '06." He graduated summa cum laude in 1946 from Dartmouth College. At the University of Chicago, he received a master's degree in 1950 and a doctorate in 1956, both in economics. His first marriage, to the former Phyllis Bartlett, ended in divorce. His second wife, the former Constance Slater, died in 2005 after 22 years of marriage. Survivors include two stepsons, Eric Gabler of Silver Spring, Maryland, and Grant Gabler of Littlestown, Pennsylvania; and four stepdaughters, Amy Stefhon of Columbia, Carol Kelly of Westfield, New Jersey, Karen Smith-Adams of San Diego, and Ebony L. Smith of Colorado.
Maj. John Hooper, 93, of Baytown, Texas, died on June 29, 2014, after a long battle with Parkinson's disease. A SABR member since 1984 and active for many years in the Larry Dierker Chapter, he was the son of Hall of Famer Harry Hooper. His research regarding his father's career, which he presented to a Hall of Fame Veterans Committee, was instrumental in getting Harry Hooper elected to the Hall of Fame in 1971. John built a strong case that his father was the best leadoff hitter and best defensive outfielder of his time. Born on June 28, 1921, in Santa Cruz, California, to Harry and Esther Hooper, John played three seasons of minor league baseball from 1946-48 in the New York Yankees organization. On August 6, 1948, he married Connie Smith in Beaumont, Texas. He enlisted in the U.S. Marine Corps in 1942, completing Officers' Candidate School in 1944. As a Lieutenant, he landed at Sasebo, Japan, as part of the occupying force after the Nagasaki bombing ended World War II. During the Korean Conflict, he was stationed at Mare Island, Hawaii, with the first Air and Naval Gunfire Liaison Company, A.N.G.L.I.C.O. He received a Bachelor of Science in Physics/Chemistry from St. Mary's College of California and University of California at Berkeley. He worked with Sun Oil Company as a petroleum engineer in Beaumont and retired in 1985. He is survived by his wife, Connie Hooper, of Baytown; daughters, Kathleen Julicher and husband, Mark, of Bulverde, Texas; Susan Norton and husband, Colby, of Plano, Texas; and Patti Allen of Danville, California; sons John Hooper Jr. and wife, Barbara, of Helotes, Texas; and Richard Hooper and wife, Marianne, of Ruston, Louisiana; 15 grandchildren and 28 great-grandchildren. He was preceded in death by his parents, Harry and Esther Hooper, and his brother, Harry Hooper Jr. and sister, Marie Strain. A funeral Mass was held July 3 at St. John, the Evangelist in Baytown, Texas, and interment with full military honors at Forest Lawn Memorial Park in Beaumont. In lieu of flowers, the family requests memorials be made to the Houston Area Parkinson Society, 2700 S. W. Freeway, St. 296, Houston, TX 77098.
---
We've heard your feedback: Some of you have said you look forward to "This Week in SABR" every Friday, but sometimes there are just too many compelling articles and announcements to read every week. We're not complaining — hey, keep up the great work! — but we know the feeling. So in an effort to make the length of this newsletter more manageable to read, we'll summarize some of the repeating/recurring announcements in a special "In Case You Missed It (ICYMI)" section of "This Week in SABR".
Here are some major headlines from recent weeks that we don't want you to miss:
All previous editions of This Week in SABR can be found here: /content/this-week-in-sabr-archives.
---
We'd like to welcome all of our new SABR members who have joined this week. You can find all Members-Only resources at members.sabr.org and the New Member Handbook can be downloaded here.
Please give these new members a warm welcome and help them make the most of their membership by giving them the opportunity to get involved in their local chapter or a research committee.
| Name | Hometown | | | Name | Hometown |
| --- | --- | --- | --- | --- | --- |
| Joe Abisaid | Dekalb, IL | | | Matthew Lloyd | Los Angeles, CA |
| Edwin Arnold | Tuscaloosa, AL | | | Martin McGrath | Islip Terrace, NY |
| Matthew Arvin | Hermitage, TN | | | Justin McGuire | Tega Cay, SC |
| Randall Cork | Honolulu, HI | | | John Murray | Syracuse, NY |
| John DiMarco | Massapequa, NY | | | James Swale | Warrenville, IL |
| Doug Heron | Riverside, CA | | | Ronn Tarter | Cary, NC |
| Erik Hoff | Eagan, MN | | | Ankur Verma | Grosse Pointe Shores, MI |
| David Irvin | East Meredith, NY | | | | |
---
There were no new SABR research committee newsletters published this week.
Find all SABR research committee newsletters at SABR.org/research.
---
Here are the new regional chapter updates for this week:
Visit SABR.org/chapters for more information on SABR regional chapters.
---
Here is a list of upcoming SABR events:
All SABR meetings and events are open to the public. Feel free to bring a baseball-loving friend … and make many new ones! Check out the SABR Events Calendar at SABR.org/events.
---
Here are some recent articles published by and about SABR members:
Read these articles and more at SABR.org/latest.
---
This Week in SABR is compiled by Jacob Pomrenke. If you would like us to include an upcoming event, article or any other information in "This Week in SABR," e-mail jpomrenke@sabr.org.
Are you receiving our e-mails? "This Week in SABR" goes out by e-mail to all members on Friday afternoons. If they're not showing up, try adding "sabr.notes@sabr.org" to your contact list to ensure they show up in your inbox (and not the spam folder.)
---
Originally published: August 22, 2014. Last Updated: April 3, 2020.
https://h2j7w4j4.stackpathcdn.com/wp-content/uploads/2020/03/research-collection4_350x300.jpg
300
350
jpomrenke
/wp-content/uploads/2020/02/sabr_logo.png
jpomrenke
2014-08-22 13:00:00
2020-04-03 14:39:16
This Week in SABR: August 22, 2014