This Week in SABR: August 29, 2014

Welcome to "This Week in SABR!" Here's what we've been up to as of August 29, 2014:
---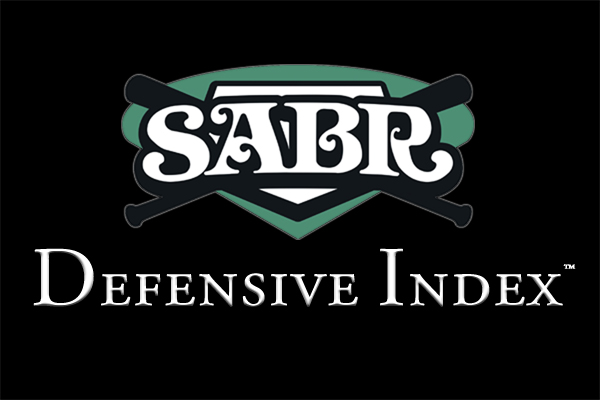 Oakland's Josh Donaldson has taken over the lead from Kansas City's Alex Gordon in the American League SABR Defensive Index™ rankings through games of August 17, 2014, while Atlanta's Jason Heyward retains a healthy lead among all National League players in the updated SDI rankings.
The SABR Defensive Index is used to help select the winners of the Rawlings Gold Glove Award® and Rawlings Platinum Glove Award™, presented by SABR.
The SABR Defensive Index draws on and aggregates two types of existing defensive metrics: those derived from batted ball location-based data and those collected from play-by-play accounts. The three metrics representing batted ball data include Defensive Runs Saved from Baseball Info Solutions, Ultimate Zone Rating developed by noted sabermetrician Mitchel Lichtman, and Runs Effectively Defended based on STATS Zone Rating and built by SABR Defensive Committee member Chris Dial. The two metrics included in the SDI originating from play-by-play data are Defensive Regression Analysis, created by committee member Michael Humphreys, and Total Zone Rating.
The SABR Defensive Index accounts for 30 total "votes" — or approximately 25 percent of the Rawlings Gold Glove Award selection process — that was added to the votes from the managers and coaches.
Heyward's SDI of 23.6 through August 17 is the best in the game among all qualified defenders. The top five NL players as ranked by SDI, after Heyward, are: New York center fielder Juan Lagares (16.0), Cincinnati shortstop Zack Cosart (13.5), Colorado third baseman Nolan Arenado (10.9), and Cincinnati rookie center fielder Billy Hamilton (9.9).
Donaldson's SDI of 17.4 tops Kansas City left fielder Gordon (16.4) for the top spot in the AL. Rounding out the top five in the AL are: Seattle third baseman Kyle Seager (16.1), Boston center fielder Jackie Bradley Jr. (12.0), and Kansas City center fielder Jarrod Dyson (10.8).
The SDI results were released Monday, August 25 by the Society for American Baseball Research.
Updated SDI results will be released periodically throughout the rest of the 2014 season at SABR.org. The SDI is compiled by the SABR Defensive Committee, which includes SABR President Vince Gennaro, Sean Forman of Baseball-Reference.com, Ben Jedlovec of Baseball Info Solutions, SABR Director F.X. Flinn, author and defensive metrics expert Chris Dial, and author Michael Humphreys.
---
There have been a number of inquiries made to the Society for American Baseball Research about the possibility of student groups/classes joining SABR. After much discussion, the SABR Board voted to approve Student Group Affiliate Memberships.
A Student Group Affiliate Membership will provide students with access to many of the electronic benefits that SABR members enjoy, including "This Week in SABR," e-book editions of the Baseball Research Journal and The National Pastime, free SABR e-books, and access to the members-only section of SABR.org. This membership will not include any printed publications or voting rights.
In order to make the Student Group Affiliate Membership affordable for groups to join, here are the options we offer:
College/University groups/classes: For an annual fee of $250, a group of up to 25 students can receive a one-year electronic SABR affiliate membership.
High School/Middle School groups/classes: For an annual fee of $100, a group of up to 20 students can receive a one-year electronic SABR affiliate membership.
Any educational class or student group at the middle school, high school or college/university level is eligible for a SABR affiliate membership, as long as a faculty member, teacher, or advisor is an active SABR member (or registers to join.) The teacher/advisor will be listed as the group contact on the SABR website.
The teacher/advisor will be asked to collect the money, names and e-mail addresses for all students wishing to join, and submit those to the SABR office at one time. In addition, the advisor/instructor must be an active SABR member or sign up for a regular SABR membership; annual dues are $65, with discounts available for adults under the age of 30 or over 65.
To sign up for a Student Group Affiliate Membership, or if you have any questions about how it might work for your group or class, please contact SABR Director Dr. Leslie Heaphy at Lheaphy@kent.edu or (330) 244-3304.
---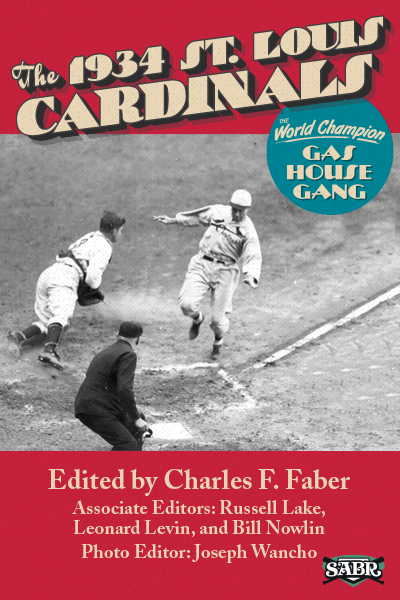 Add a championship baseball book to your collection from the SABR Digital Library:
The 1934 St. Louis Cardinals:
The World Champion Gas House Gang
Edited by Charles F. Faber
$6.99 e-book, $19.95 paperback
ISBN (e-book): 978-1-933599-57-1
ISBN (paperback): 978-1-933599-73-1
280 pages
The 1934 St. Louis Cardinals were one of the most colorful crews ever to play the National Pastime. Sportswriters delighted in assigning nicknames to the players, based on their real or imagined qualities. What a cast of characters it was! None was more picturesque than Pepper Martin, the "Wild Horse of the Osage," who ran the bases with reckless abandon, led his team­mates in off­ the­field hi­jinks, and organized a hillbilly band called the Mississippi Mudcats. He was quite a baseball player, the star of the 1931 World Series and a significant contributor to the 1934 championship.
The harmonica player for the Mudcats was the irrepressible Dizzy Dean. Full of braggadocio, Dean delivered on his boasts by winning 30 games in 1934, the last National League hurler to achieve that feat. Dizzy and his brother Paul accounted for all of the Cardinal victories in the 1934 World Series. Some writers tried to pin the moniker Daffy on Paul, but that name didn't fit the younger and much quieter brother.
The club's hitters were led by the New Jersey strong boy, Joe "Ducky" Medwick, who hated the nickname, preferring to be called "Muscles." Presiding over this aggregation was the "Fordham Flash," Frankie Frisch. Rounding out the club were worthies bearing such nicknames as Ripper, "Leo the Lip," Spud, Kiddo, Pop, Dazzy, Ol' Stubblebeard, Wild Bill, Buster, Chick, Red, and Tex. Some of these were aging stars, past their prime, and others were youngsters, on their way up. Together they comprised a championship ball club.
"The Gas House Gang was the greatest baseball club I ever saw. They thought they could beat any ballclub and they just about could too. When they got on that ballfield, they played baseball, and they played it to the hilt too. When they slid, they slid hard. There was no good fellowship between them and the opposition. They were just good, tough ballplayers." — Cardinals infielder Burgess Whitehead on "When It Was A Game," HBO Sports, 1991
With contributions by Mark Armour, Eric Aron, Thomas Ayers, Lawrence Baldassaro, Parker J. Bena, Alan Cohen, Greg Erion, Charles F. Faber, Paul Geisler, Joseph Girard, Nancy Snell Griffith, Don Harrison, Dwayne Isgrig, Jimmy Keenan, Norm King, Jeffrey Marlett, Andy McCue, Jack Morris, Bill Nowlin, J.G. Preston, C. Paul Rogers III, Matthew Silverman, Fred Stein, Andy Sturgill, Clayton J. Trutor, Cort Vitty, Joseph Wancho, Charlie Weatherly, Bob Webster, and Gregory H. Wolf.
SABR members, get this e-book for FREE!
Having trouble downloading our e-books? To view PDF files on your computer, click here to download the free Adobe Reader software. Having trouble downloading e-books to your Kindle, Nook, Sony Reader or iPad? Click here for additional help.
---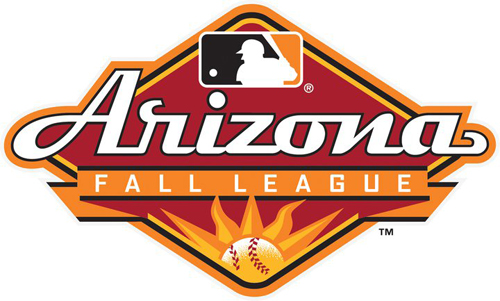 Registration is now open for the sixth annual SABR Arizona Fall League Conference, which will be held October 30-November 1, 2014, in Scottsdale, Arizona.
Host hotel: Holiday Inn Express & Suites, Old Town Scottsdale, 3131 N. Scottsdale Rd., Scottsdale, AZ 85251. Visit www.hiescottsdalehotel.com and use the Group Code "SABR" or call (480) 675-7665 and mention the "SABR AFL Conference" to get a special conference room rate of $99/night (plus tax). Reservations must be booked by September 29, 2014, to get the SABR group rate.
The conference will feature three AFL games at three different ballparks, including new Cubs Park in Mesa. We'll also have dinner at Don and Charlie's in Scottsdale, home to one of the great sports memorabilia collections you will ever see. We'll also have a special evening with members of the Arizona Major League Alumni.
On Saturday morning, attendees will join members of SABR's Flame Delhi (Arizona) Chapter for their regional fall meeting. Saturday night is always a highlight of the conference as the top prospects from every organization participate in the AFL Fall Stars game at Salt River Fields at Talking Stick. All of this, including transportation, is included in one low registration price.
The full conference schedule will be available soon at SABR.org/AFL.
The Arizona Fall League (mlbfallball.com) is baseball's premier player development league. In the first five years of the conference, attendees were treated to sneak peeks at Mike Trout, Bryce Harper, Buster Posey, Starlin Castro, Stephen Strasburg, Nolan Arenado, and Billy Hamilton before they hit the big leagues.
Learn more about Arizona baseball history by downloading Mining Towns to Major Leagues: A History of Arizona Baseball, SABR's 1999 convention journal that was recently republished as an e-book at the Flame Delhi Chapter's website, SABRAZ.org.
All baseball fans are welcome to attend, so join us in October for the SABR Arizona Fall League Conference!
---
The Society for American Baseball Research is seeking Fall 2014 interns to work in our office in Phoenix, Arizona.
An internship with SABR will involve responsibilities across a variety of disciplines, possibly including:
Working on-site at a local SABR conference, such as the SABR Arizona Fall League Conference
Working with our Membership Director or Director of Operations on organizational duties, membership renewal drives, customer service
Working with our Web Editor to help publish and/or produce content for our website at SABR.org
Interested candidates should be able to demonstrate basic office-related computer skills. HTML knowledge is a plus.
A working knowledge of baseball — and an awareness of the game's general history and basic statistics — is required.
The internship is an educational opportunity that may count toward college credit, covering 15-20 hours per week (flexible schedule), at the SABR office in Phoenix, Arizona. The internship will be for a fixed period of time and is designed to provide the intern with skills and training that may be applicable to working in a nonprofit research environment or in other research-based organizations. No housing assistance will be provided.
Please send a resume and cover letter in PDF form to mappleman@sabr.org or jpomrenke@sabr.org by 5:00 p.m. MST Friday, September 5, 2014.
---
September 1, 2014, is the deadline to submit a 300- to 500-word Research Presentation proposal of 20-25 minutes for the NYC 19th Century Baseball Interdisciplinary Symposium, scheduled for Saturday, November 15, 2014, at John Jay College in Manhattan.
We are accepting abstracts from SABR members on topics of 19th-century baseball in NYC and its greater environs. Please include a title and your complete contact information (identities will be removed for blind selection). Those who submit abstracts will be provided with individual notice of the jurors results regarding their entry by September 15.
To submit a proposal on a topic of Greater NYC Pre-Professional Era baseball (1840s-1870), please e-mail your abstract to John Zinn: jzinn84@comcast.net.
To submit a proposal on a topic of Greater NYC Professional Era baseball (1871-1900), please e-mail your abstract to Peter Mancuso: peterplus4@earthlink.net.
Although Research Presentation Proposals are reserved for SABR members only, SABR members may register up to three non-SABR guests for the all-day interdisciplinary symposium. See registration details in the summer 2014 issue of the Nineteenth Century Committee's newsletter (PDF).
For additional information on the Symposium please, contact Peter Mancuso.
---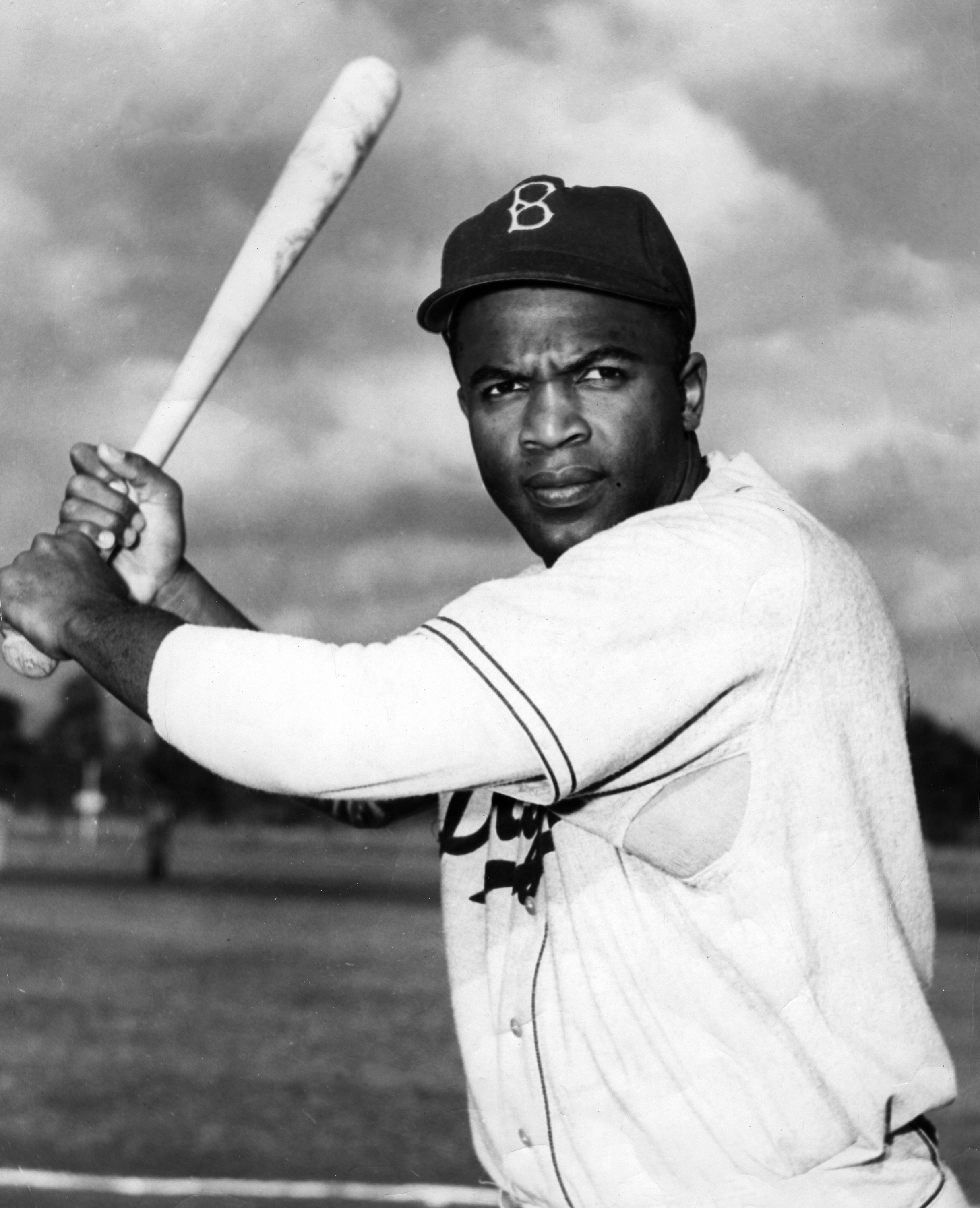 Seven new game stories were posted this week as part of the SABR Games Project. Here are the new game stories:
The SABR Baseball Games Project was launched in January 2014 to research and write articles on major-league and Negro League regular, postseason, and All-Star Games. These game accounts will complement Retrosheet and Baseball-Reference box scores as well as BioProject essays on the players involved.
The articles are not intended to be mere play-by-play summaries, nor should they be first-person narratives. Rather the goal is to put each game in historical context — whether that history is of a particular player, team, season, or something even broader.
Visit the new Games Project website at SABR.org/gamesproject.
"Fifty Greatest Games at the Corner of Michigan and Trumbull": We are pleased to announce the launch of a new SABR book project. This will be similar to previous SABR team books, but with a twist. This new book will be called "The Fifty Greatest Games at the Corner of Michigan and Trumbull." It will incorporate articles written for the SABR Games Project. Scott Ferkovich is the senior editor of this project. From Bennett Park's first game in 1896, to the final game at Tiger Stadium in 1999, this book promises to be a wonderful read, and a great addition to the SABR library. We are seeking serious, dedicated SABR members interested in contributing game biographies for this book. Writers will need to be able to complete their work on a deadline. Also, having access to old Detroit newspaper game accounts is strongly recommended. Serious inquiries should e-mail Scott at scottferk@gmail.com.
Get involved: Writing for the Games Project is an easy way to get involved as a SABR member. Find out how by reading the Games Project FAQs section or checking out the Authors' Guidelines.
Questions: Contact Greg Erion for more information about the Games Project, James Forr to request an assignment, or Chip Greene to submit your draft article.
---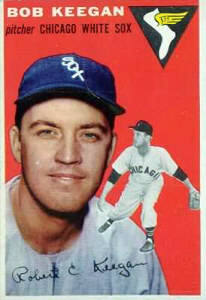 Five new biographies were posted as part of the SABR Baseball Biography Project, which brings us to a total of 2,877 published biographies. Here are the new bios:
All new biographies can be found here: http://sabr.org/bioproj/recent
You can find the SABR BioProject at SABR.org/BioProject.
Bios on more than just ballplayers: The ambitious goal of the SABR Baseball Biography Project is to publish a full-life biography of every major league player in history. But SABR members write about a lot more than just ballplayers. In addition, we have pages for Ballparks, Broadcasters, Executives, Managers, Scouts, Spouses, Umpires and a lot more on the BioProject website. You can browse all of these categories at http://sabr.org/bioproj/browse. So if you've ever thought, "Hey, that person (or ballpark) should get the full BioProject treatment" — write the story and we'll publish it!
Get involved! If you'd like to help contribute to the SABR BioProject, visit our BioProject Resources page or read the FAQs section to get started. We're also looking to expand the BioProject to include all "encyclopedic" articles on baseball-related subjects from past SABR publications or committee newsletters. If you come across an article you think should be included in the SABR "baseball repository" at the BioProject, send a copy or link to markarmour04@gmail.com or jpomrenke@sabr.org.
---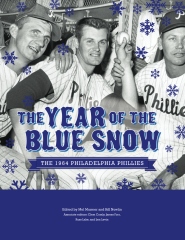 In 1964, the Philadelphia Phillies were having a spectacular season in which everything was going right. They held a 6 1/2 game lead on September 20, with just 12 games to play. But the Cincinnati Reds and St. Louis Cardinals never gave up, and when the Phillies lost 10 consecutive games, it became a horrific collapse for Phillies fanatics.
But what a season for Phillies fans. Jim Bunning threw the first NL perfect game in 84 years. The hero of the 1964 All-Star Game was Johnny Callison, who hit the third walk-off home run in the history of the All-Star Game. The team also boasted the electrifying NL Rookie of the Year, slugging third baseman Richie Allen (later called Dick Allen).
Their stories and many more are included in The Year of the Blue Snow: The 1964 Philadelphia Phillies, published by the SABR Digital Library in 2013.
The SABR BioProject biographies that appeared in that book can now be read online at:
http://sabr.org/category/completed-book-projects/1964-philadelphia-phillies
You can find other team pages from our completed book projects — 25 and counting! — by going to SABR.org/BioProject and clicking the Browse button (http://sabr.org/bioproj/browse).
---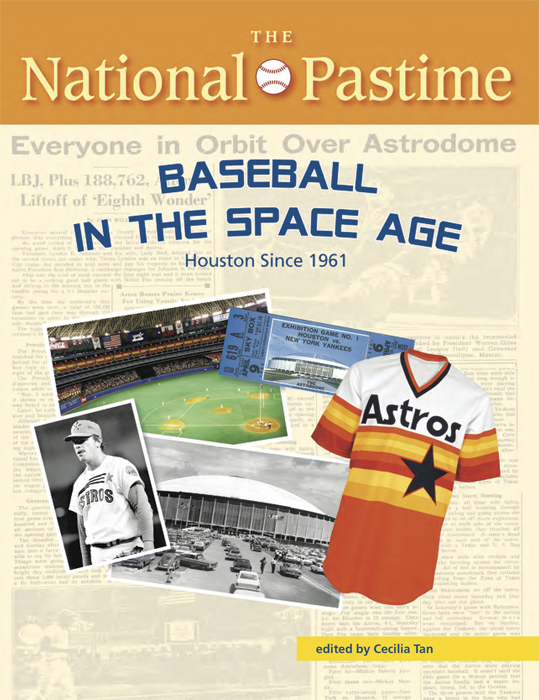 Since 2009, The National Pastime has served as SABR's convention-focused publication. Published annually, this research journal provides in-depth articles focused on the respective geographic region where the national convention is taking place in a given year. All SABR members receive a free e-book copy of The National Pastime as part of their membership benefits, while attendees of the national convention also receive a souvenir print edition in their goody bags.
SABR members can now read all articles from the 2014 convention journal, The National Pastime: Baseball in the Space Age, online by clicking on the link below:
http://sabr.org/research/2014-national-pastime
Or click here to download your free e-book copy of the 2014 TNP:
http://sabr.org/research/download-2014-tnp-e-book
Having trouble downloading our e-books? To view PDF files on your computer, click here to download the free Adobe Reader software. Having trouble downloading e-books to your Kindle, Nook, Sony Reader or iPad? Click here for additional help.
This issue of The National Pastime is dedicated to baseball in Houston since 1961. For the past several years, each annual issue of TNP has centered on the geographic area of SABR's summer convention site. Since the convention moves around, that has given us great range: Philadelphia, Minnesota, Southern California have hosted recent conventions and corresponding issues of TNP have been produced. But this is the first one that will have a time-limited component as well as a geographic one. Why? SABR's Houston chapter is releasing a book for the convention, too: Houston Baseball: The Early Years, 1861–1961. (Visit HoustonBaseball.org to order your copy of that book.)
Houston Baseball is a gorgeous hardcover book and was given to each attendee of the convention. With the first hundred years of Houston baseball covered so thoroughly in that publication, it made sense to focus The National Pastime for this summer on the space age and the arrival of Major League Baseball in the region. So here we have a special issue centered almost entirely on the Houston Astros (née Colt .45s) and their two influential and iconic homes, short-lived Colt Stadium and the Astrodome.
The Houston MLB franchise has been around only slightly longer than I have, but the Colts/Astros have amassed more than their share of history in the five-plus decades since their launch. Friends in Texas always tell me that "everything is bigger in Texas," and that certainly applies to the role of the Astrodome in pop culture, and to the outsize personality of team owner Roy Hofheinz, who was one part P.T. Barnum, two parts George Steinbrenner, and all Texan.
If you weren't able to attend the convention in Houston, please enjoy reading this issue of The National Pastime as your virtual trip to "Space City" in the Lone Star State. Seventeen SABR members will be your tour guides. Happy reading!
To learn more about contributing to a future SABR publication, click here.
— Cecilia M. Tan, editor
---
Brandon Finnegan and Preston Morrison of Texas Christian University have been selected for the 22nd annual Howard Green Metroplex Collegiate Player of the Year Award, presented by the DFW Ernie Banks-Bobby Bragan Chapter of the Society for American Baseball Research. It is just the third time, and first since 2010, that two players have shared the award.
Texas Wesleyan's Jake Howeth, the school's leader in virtually every category on offense, was selected for the third annual 2014 Carroll Beringer SABR Metroplex Collegiate Small College Division Player of the Year.
The honorees celebrate the memories of the late SABR Metroplex chapter original president Green, who was a legend in Texas professional and college baseball circles for more than six decades and also served in several elected capacities in Tarrant County; and Fort Worth Cats standout and longtime SABR member Beringer, who pitched in professional baseball for 14 years, was 1959 Texas League Player of the Year with the Fort Worth Cats and served as a coach for the Los Angeles Dodgers (1961-72) and Philadelphia Phillies (1973-78).
Finnegan and Morrison join Jon Browder and Pat Hannon (2000) and Michael Choice and Matt Purke (2010) as the only co-recipients of the SABR Green Award, as it was a single honor for all Metroplex divisions from 1993-2011. All three will be presented their awards at upcoming campus events by SABR Chapter President Paul Rogers and awards committee members.
Click here to learn more:
http://sabr.org/latest/finnegan-morrison-named-2014-collegiate-baseball-players-year-sabr-dallas-fort-worth-chapter
For more information, please contact Bo Carter at bcarter@footballfoundation.com or (214) 418-6132.
---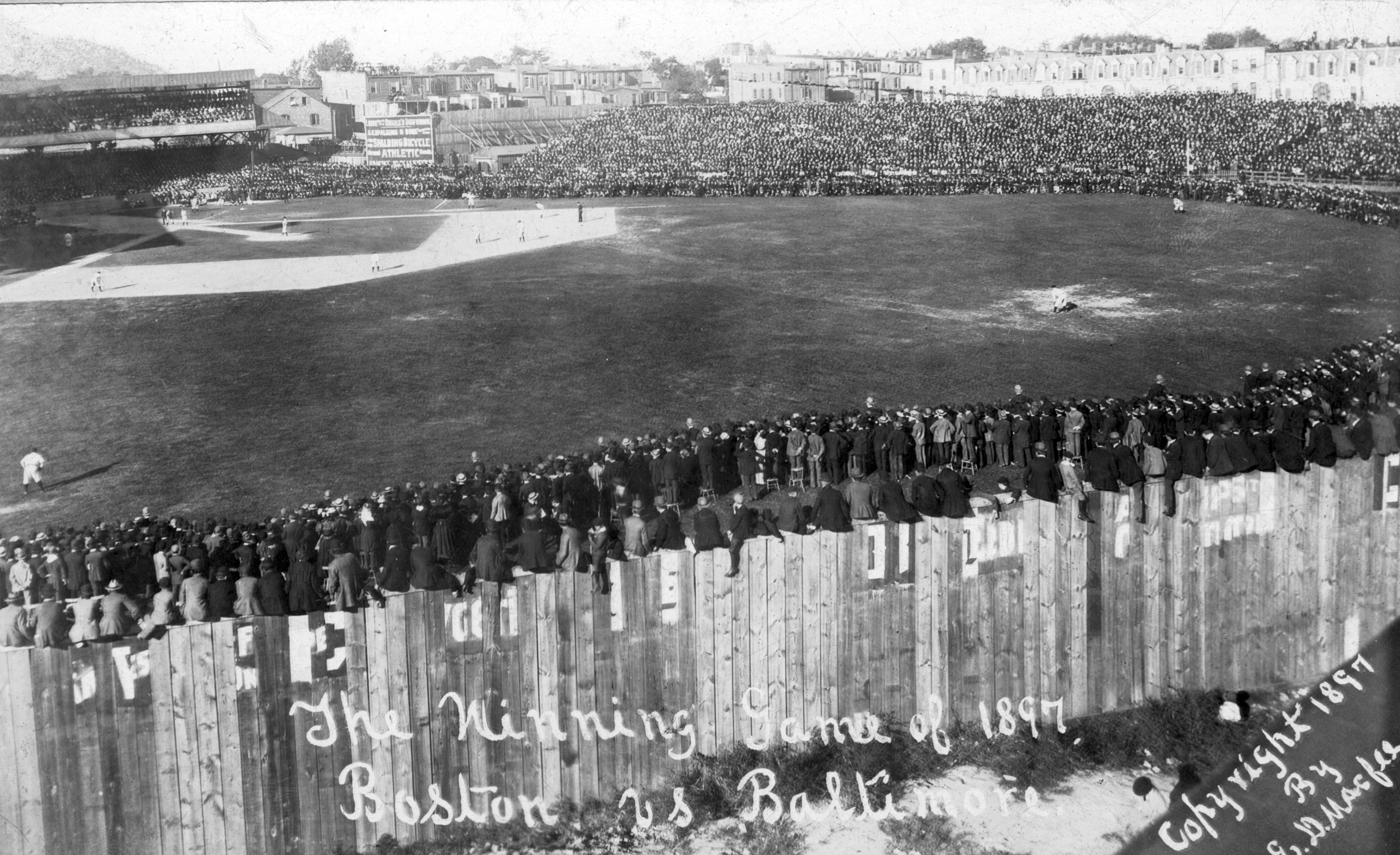 SABR member Liam Fennessy, a rising sophomore and Sport Management Major at the University of Delaware, has begun a project to honor Baltimore-area sites that hold historical baseball significance.
Fennessy worked this summer as a digital marketing intern for Ripken Baseball and the Aberdeen Ironbirds. Assigned to write a story on Baltimore's baseball history for the Ironbirds' game-day program, he was struck by just how much history there was to be learned.
"As I did research, I discovered a wealth of baseball information that, as a diehard baseball and history fan, I had never known about," Fennessy said. "What shocked me as I continued to work on this story was to find that all of these sites in Baltimore that once held historic ballparks were not honored with plaques or memorials."
Fennessy has launched a project to correct these omissions. He posted a message on SABR-L and is reaching out to other baseball fans in an effort to recognize these forgotten sites. They include: Bugle Field (Black Sox and Elite Giants), Maryland Baseball Park (Black Sox), American League Park (Minor League Baltimore Orioles), Terrapin Park (Federal League Baltimore Terrapins), and others.
His goal is to erect plaques at these sites, and to have a park erected at Camden Yards that honors all of the historic Baltimore ballparks.
Fennessy, who recently joined SABR, would welcome any assistance or advice.as he reaches out to other groups to support this effort. Contact him at (443) 417-3611 or e-mail lfenn@udel.edu or lfennessy@ripkenbaseball.com.
---
In Memoriam
Peter C. Handrinos, 42, of Norwalk, Connecticut, died on August 21, 2014, with his family by his side. He joined SABR in 2006 and was the author of five baseball books, including The Truth about Ruth and More: Behind Yankees Myths, Legends, and Lore; Errors and Fouls: Inside Baseball's Ninety-Nine Most Popular Myths; and The Best New York Sports Arguments. Peter graduated from Norwalk High School in 1990, where he was voted Most Likely to Succeed. He graduated magna cum laude from Yale University, earned his Masters in Philosophy from Cambridge University in England and his law degree from the University of Virginia. Peter served on the Board of Trustees for the Norwalk Public Library. He was an avid player in the North Stamford Wiffle Ball League. He facilitated negotiations for the longstanding dispute between the Norwalk Inn and the Norwalk Historical Society regarding the Grumman St. John House. His participation in the University of Pittsburgh's clinical trial for rare oligoastrocytoma brain tumors will guide future medical research. He was a devoted son and brother. Peter is survived by his parents Chris and Vasiliki (Betty) Handrinos; his sister Lisa (Vangie) Handrinos; his sister and brother-in-law Maria and Matt DeVito and his nieces Sophia and Isabella DeVito, all of Norwalk; nine aunts and uncles, 19 cousins, five God siblings, and beloved friends. A funeral was held on August 26 at St. George Church with a Christian burial at Riverside Cemetery. In lieu of flowers, donations can be made to St. George Greek Orthodox Church.
---
We've heard your feedback: Some of you have said you look forward to "This Week in SABR" every Friday, but sometimes there are just too many compelling articles and announcements to read every week. We're not complaining — hey, keep up the great work! — but we know the feeling. So in an effort to make the length of this newsletter more manageable to read, we'll summarize some of the repeating/recurring announcements in a special "In Case You Missed It (ICYMI)" section of "This Week in SABR".
Here are some major headlines from recent weeks that we don't want you to miss:
All previous editions of This Week in SABR can be found here: http://sabr.org/content/this-week-in-sabr-archives.
---
We'd like to welcome all of our new SABR members who have joined this week. You can find all Members-Only resources at members.sabr.org and the New Member Handbook can be downloaded here.
Please give these new members a warm welcome and help them make the most of their membership by giving them the opportunity to get involved in their local chapter or a research committee.
| Name | Hometown | | | Name | Hometown |
| --- | --- | --- | --- | --- | --- |
| Charles Ballingall | Pomona, CA | | | Jordan Melick | Houston, TX |
| David Barnum | Lake Bluff, IL | | | Hartwell Mizell | McRae, GA |
| Frank Bigelow | St. Paul, MN | | | Joseph O'Brien | Huntingdon Valley, PA |
| Joseph Cohen | Randolph, NJ | | | Andrew Peragine | New York, NY |
| Donald Doxsie | Davenport, IA | | | Nathaniel Shaver | Las Cruces, NM |
| Adrian Fung | Toronto, ON | | | Bruce Slutsky | Flushing, NY |
| Dan Glasser | Pittsburgh, PA | | | Lars Stenstedt | Alameda, CA |
| Andrew Haynes | Fresno, CA | | | John Sullivan | Methuen, MA |
| Martin Hoerchner | Orpington, ENG | | | Chaz Weaver | Stuarts Draft, VA |
| Gary Keeter | Vacaville, CA | | | Roger Wildey | Chelsea, MI |
| Ryan Kramer | Salisbury, MD | | | Steven Winship | Wheaton, IL |
| Ken Meifert | Cooperstown, NY | | | | |
---
Here are the new SABR research committee newsletters published this week:
Find all SABR research committee newsletters at SABR.org/research.
---
Here are the new regional chapter updates for this week:
Visit SABR.org/chapters for more information on SABR regional chapters.
---
Here is a list of upcoming SABR events:
All SABR meetings and events are open to the public. Feel free to bring a baseball-loving friend … and make many new ones! Check out the SABR Events Calendar at SABR.org/events.
---
Here are some recent articles published by and about SABR members:
Read these articles and more at SABR.org/latest.
---
This Week in SABR is compiled by Jacob Pomrenke. If you would like us to include an upcoming event, article or any other information in "This Week in SABR," e-mail jpomrenke@sabr.org.
Are you receiving our e-mails? "This Week in SABR" goes out by e-mail to all members on Friday afternoons. If they're not showing up, try adding "sabr.notes@sabr.org" to your contact list to ensure they show up in your inbox (and not the spam folder.)
---
Originally published: August 29, 2014. Last Updated: April 3, 2020.
https://sabr.org/wp-content/uploads/2020/03/research-collection4_350x300.jpg
300
350
jpomrenke
/wp-content/uploads/2020/02/sabr_logo.png
jpomrenke
2014-08-29 13:00:00
2020-04-03 14:39:16
This Week in SABR: August 29, 2014