This Week in SABR: December 5, 2014

Welcome to "This Week in SABR!" Here's what we've been up to as of December 5, 2014:
---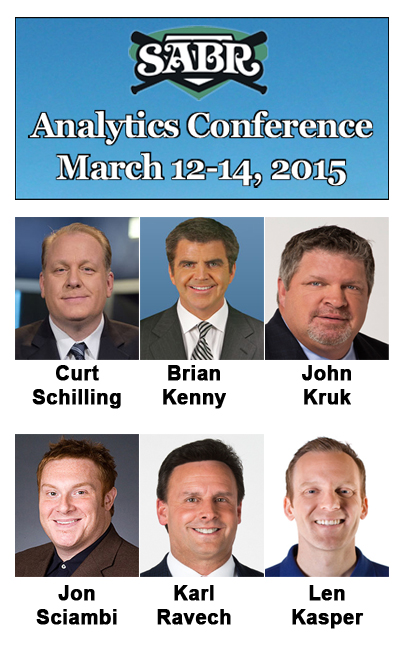 We're excited to announce some of the speakers, panelists and moderators for the 2015 SABR Analytics Conference, March 12-14 at the Hyatt Regency Phoenix in Phoenix, Arizona. Stay tuned as more featured speakers will be announced soon!
Curt Schilling, ESPN analyst and former major league pitcher
Brian Kenny, MLB Network host
John Kruk, ESPN analyst and former major league first baseman
Jon "Boog" Sciambi, ESPN announcer
Karl Ravech, host of ESPN's "Baseball Tonight"
Len Kasper, Chicago Cubs broadcaster
Buster Olney, ESPN.com senior writer and author
Eduardo Perez, ESPN analyst and former major league first baseman
Steve Berthiaume, Arizona Diamondbacks broadcaster
Joe Block, Milwaukee Brewers broadcaster
Jim Callis, MLBPipeline.com senior writer
Jonathan Mayo, MLB.com senior writer
Visit SABR.org/analytics/speakers for full biographies of our featured speakers at 2015 SABR Analytics.
SABR has a long and storied history with baseball statistical analysis, evidenced by the link between our name and sabermetrics. While SABR is a multi-faceted organization involved in virtually every aspect of baseball, we have taken a major step to re-connect with our beginnings by producing and hosting the fourth annual:
SABR Analytics Conference
March 12-14, 2015
Hyatt Regency Phoenix
Phoenix, Arizona
Once again, we're bringing together the top minds of the baseball analytic community under one roof to discuss, debate and share insightful ways to analyze and examine the great game of baseball.
The schedule will consist of a combination of Guest Speakers, Panels and Research Presentations — plus the unique Diamond Dollars Case Competition, in which undergraduate, graduate, and law school students from across the country analyze and present a real baseball operations decision.
Conference registration is available now at the SABR Store. Click here to register. The conference is open to all baseball fans. The early registration rate is $395 for SABR members and $495 for nonmembers, or $350 for currently enrolled high school or college students (includes one-year membership to SABR).
The 2015 SABR Analytics Conference will be held Thursday, March 12 through Saturday, March 14 at the Hyatt Regency Phoenix, 122 N. 2nd St., Phoenix, AZ 85004. Click here to book your hotel room at the special SABR group rate of $174/night (plus tax) for double occupancy. Or call (602) 252-1234 and mention that you're with the SABR Analytics Conference.
Check back soon at SABR.org/analytics as we announce more featured speakers, panels and presentations!
For complete coverage of the 2014 SABR Analytics Conference, visit SABR.org/analytics/2014.
Related links:
---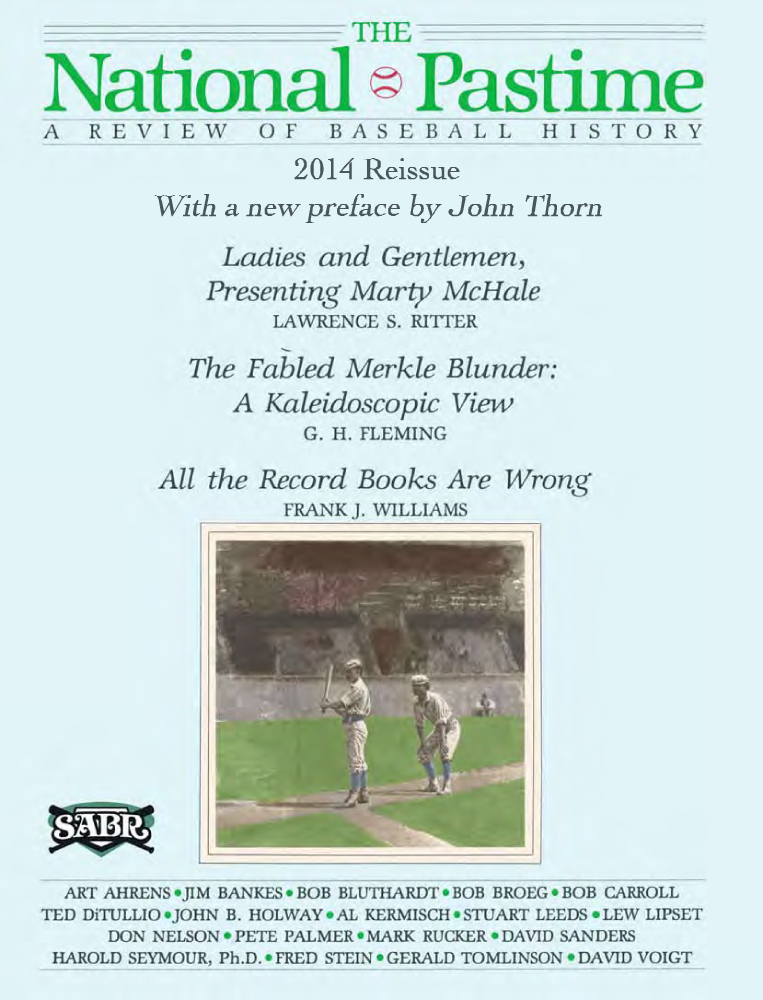 Add a landmark baseball journal to your collection with the newest entry from the SABR Digital Library:
The National Pastime: Premiere Issue (Replica Edition)
Edited by John Thorn
ISBN (paperback): 978-1-933599-80-9
ISBN (ebook): 978-1-933599-81-6
92 pages, 8.5″ x 11″

Back in 1982, the Society for American Baseball Research was still young, barely a decade past its founding, and had grown to some 1,600 members. One of their number, a "defrocked English Lit guy poking around in journalism," suggested to the Board of Directors that SABR, and the world, might benefit from a publication along the lines of American Heritage, only about baseball. Before long that member, John Thorn, found himself at the helm of the newly christened periodical, The National Pastime: A Review of Baseball History.
The very first issue included names we think of today as luminaries in the field of baseball history and analysis: Harold Seymour, Lawrence S. Ritter, Pete Palmer, David Voigt, Bob Broeg, and more. Over the years the significance of that flagship issue has only grown, while the inventory has dwindled. SABR is pleased to present a replica edition here, with the addition of a new preface by John Thorn, now the official historian of Major League Baseball, an honor that reflects his incomparable contributions to baseball history.
SABR members, get this e-book for FREE!
For more information or to download past publications from the SABR Digital Library, visit SABR.org/ebooks.
Having trouble downloading our e-books? To view PDF files on your computer, click here to download the free Adobe Reader software. Having trouble downloading e-books to your Kindle, Nook, Sony Reader or iPad? Click here for additional help.
---
SABR will have a booth at the 113th annual Baseball Winter Meetings, December 7-11, 2014, at the Hilton San Diego Bayfront in San Diego, California. Stop by and say hello!
Are you a SABR member who is planning to attend the Winter Meetings? Let us know at jpomrenke@sabr.org.
For more information on the Winter Meetings, visit http://www.milb.com/milb/events/wintermeetings.jsp
*****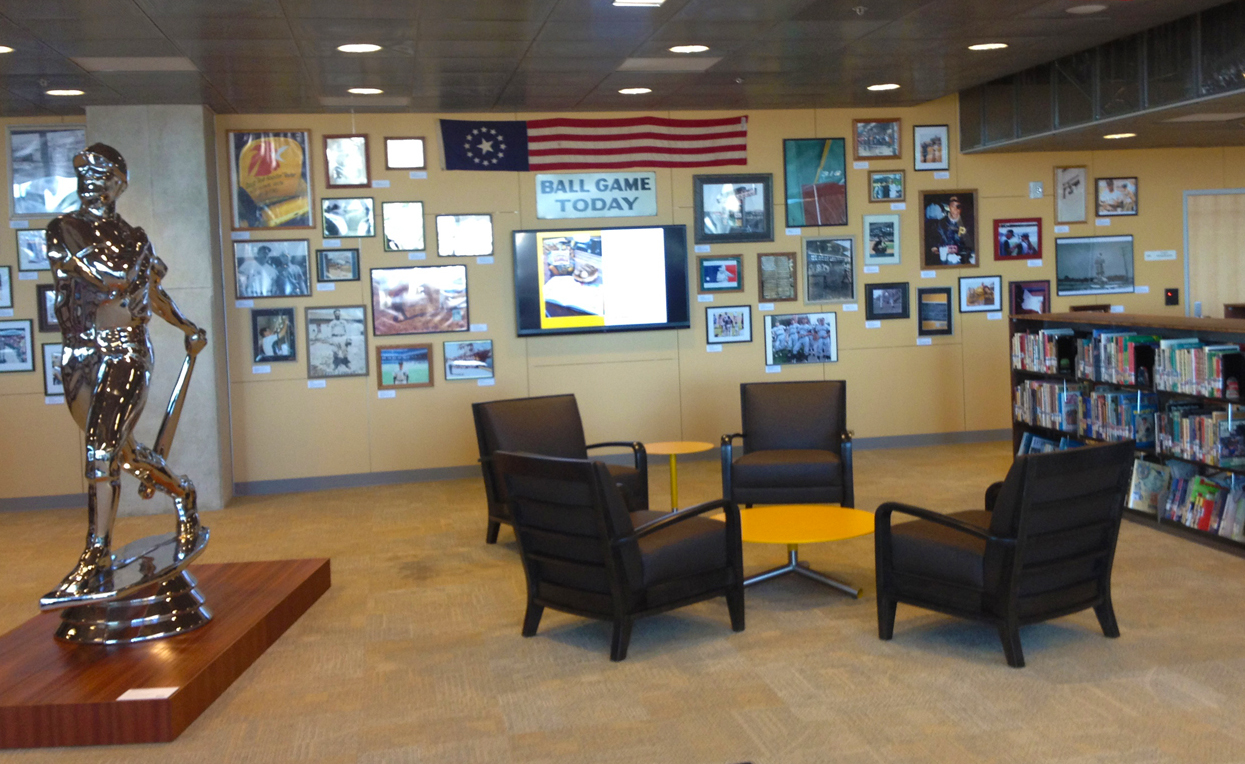 While you're in town, make sure to stop by the San Diego Central Library's spectacular Sullivan Family Baseball Research Center, home of the SABR Collection, which opened in September 2013.
The Baseball Research Center initially opened in 2001 with an initial collection of books and microfilm donated by SABR's Ted Williams Chapter. In the years since, it has grown to more than 3,000 publications, books, and journals, and 300 microfilm reels, all available to the public at San Diego's downtown library.
Today, baseball fans and researchers can also view thousands of books on baseball history from its early origins in the 1700s to the present day, biographies, instruction manuals, encyclopedias, Spanish-language titles and San Diego Padres scrapbooks. The SABR collection also includes microfilm reels that are only available in one other location, the National Baseball Hall of Fame Library in Cooperstown, including 19th-century baseball scrapbooks, American Association and Union Association records, Black Sox Scandal archives, player questionnaires and minor league contract cards.
For more information on the Sullivan Family Baseball Research Center, click here.

---
For those of you whose SABR memberships expire on December 31 — you can check your current membership status here — it's almost time for you to renew! We're excited about the upcoming year ahead of us and we hope you'll take advantage of all the great membership benefits offered to SABR members in 2015. Here's a short list:
http://sabr.org/member-benefits
You can renew your membership for 1 year or 3 years online at the SABR Store; by phone at (602) 343-6450; or by mailing this downloadable PDF form and your payment to the SABR office at 4455 E. Camelback Road, Ste. D-140, Phoenix, AZ 85018.
Dues are the same as they have been in recent years: for this, you get two editions of the Baseball Research Journal, the expanded e-book edition of The National Pastime; 8-10 free e-books published by the SABR Digital Library; "This Week in SABR" every Friday; access to research resources such as Paper of Record (with complete archives of The Sporting News); discounts to all SABR conferences such as the National Convention (Chicago 2015), the SABR Analytics Conference, the Jerry Malloy Negro League Conference, and the Frederick Ivor-Campbell 19th Century Conference; discounts to MLB.TV; and much, much more.
We believe SABR has something for everyone, from the active researcher to someone passionate about baseball. We hope you'll invite your friends, colleagues and family members to join at http://store.sabr.org.
---
In my 31 years as a member of the Society for American Baseball Research, I have seen SABR evolve greatly as an organization, offering unparalleled opportunities and benefits for members and commanding respect throughout the baseball community. And I have seen that first-hand: In 1983, I attended my first SABR Convention in my hometown of Milwaukee, where I was thrilled to meet some of the organization's founders. This past year, I attended both the 2014 Analytics Conference and the 44th annual convention in Houston — and I'm equally thrilled for SABR's future after getting to know the staff and volunteer leadership now in place.
To continue to grow as an organization, and to seize the great opportunities now within reach, SABR is in need of charitable gifts. Many members have already become donors, and you can join them right now by making your gift online at SABR.org/donate.
SABR is a 501(c)3 organization, which means your donation is tax deductible in the U.S. to the fullest extent of the law.
While the incentives are attractive, the real benefit is the satisfaction received from contributing to the continuing knowledge and appreciation of our national pastime.
Please join me in supporting SABR and send your donation by check to SABR Donor Program, 4455 E. Camelback Road, Ste. D-140, Phoenix, AZ 85018 — or by visiting SABR.org and pressing the convenient DONATE button at the top of the page. By doing so you help SABR fulfill its mission and increase the impact of our baseball analysis and historical study.
Many companies offer matching gift programs to encourage employees to contribute to charitable organizations. Please check with your company to see if it offers a matching gift program that will match your gift or volunteer hours to the Society for American Baseball Research. If you have questions regarding your gift, e-mail me at pbolda@sabr.org.
— Phillip Bolda, Chair, SABR Fundraising and Development Committee
---
With generous funding from The Anthony A. Yoseloff Foundation, Inc., SABR will award up to four scholarships to high school and college students who wish to attend the 2015 SABR Analytics Conference on March 12-14, 2015, in Phoenix, Arizona. This scholarship will pay for registration, air transportation and lodging up to a total value of $1,250.
The objective of this scholarship fund is to encourage student engagement with baseball analytics, and to engender an active interest in baseball research and SABR. The Yoseloff scholarship is to assist young researchers who want to attend SABR's Analytics Conference and to introduce them to fellow SABR members and professionals within the baseball community. Through this fund, SABR hopes to inspire future baseball research, expose students to high-quality research and build the research capability of interested students.
Click here for more information on submission guidelines and eligibility requirements.
All applications must be postmarked or e-mailed to Jeff Schatzki at jschatzki@sabr.org no later than December 31, 2014.
---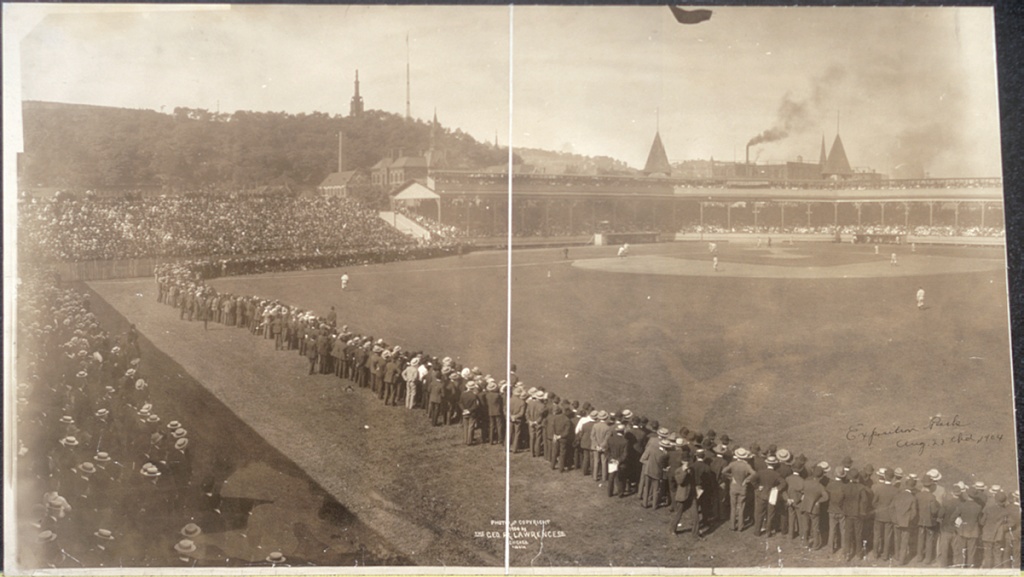 One new game story was posted this week as part of the SABR Games Project. Here is the new game story:
The SABR Baseball Games Project was launched in January 2014 to research and write articles on major-league and Negro League regular, postseason, and All-Star Games. These game accounts will complement Retrosheet and Baseball-Reference box scores as well as BioProject essays on the players involved.
The articles are not intended to be mere play-by-play summaries, nor should they be first-person narratives. Rather the goal is to put each game in historical context — whether that history is of a particular player, team, season, or something even broader.
Visit the new Games Project website at SABR.org/gamesproject.
---
Please note: Only ONE entry per nomination will be considered (do not submit multiple nominations for the same award). For more information on SABR Awards, click here.
---
MLB.com, the official web site of Major League Baseball, is seeking stats stringers to cover these clubs in 2015 and beyond:
Anaheim/Los Angeles
Atlanta
Chicago (both teams)
Cleveland
Detroit
Miami
Oakland/San Francisco
Seattle
St. Louis
Stats stringers are responsible for digitally scoring games from the MLB ballparks, which provides the data used in the live content applications on MLB.com, including At-Bat, Gameday and MLB.TV, real-time highlights and text alerts, and by our business partners. This is a perfect part-time job for a responsible, computer-savvy person who happens to be a big baseball fan.
Those interested in applying should send a resume and cover later to stats@website.mlb.com. Only those who reply to this e-mail address will be considered, and due to volume, we may be unable to respond to all applicants.
For more information on qualifications and responsibilities, click here.
---
We are saddened to note the death of longtime SABR member Richard (Dick) Bresciani, 76, of Wellesley, Massachusetts. The Boston Red Sox vice-president who had served the club since 1972 died Saturday, November 29, 2014, of complications from leukemia. His devoted wife of 40 years, Joanne Bresciani, informed the club. He joined SABR in 1985 and was active in the Boston Chapter for many years. He was well-known for his generosity in helping members' research projects and books over the years.
Known universally as "Bresh," the native of Hopedale, Massachusetts was a member of the Red Sox Hall of Fame, the University of Massachusetts Athletic Hall of Fame, and the Cape Cod Baseball League Hall of Fame. In 1997, he received Major League Baseball's highest honor in Public Relations, the Robert O. Fishel Award.
"Bresh was like a father to some members of our Front Office, an attentive uncle to many, and the institutional memory to all," said Red Sox President/CEO Larry Lucchino. "He loved the Red Sox with a passion and zeal that reflected Boston and New England. He was a walking, talking encyclopedia of anecdotes and stories that cannot be replaced. The Red Sox family has lost a beloved and loyal member, and we offer our deepest sympathies to his beloved Joanne."
Bresh joined the Red Sox in 1972 as Assistant Public Relations Director, was promoted to Publicity Director in 1978 and Public Relations Director in 1984. He was promoted to Vice President of Public Relations in 1987 and Vice President of Public Affairs in 1996. He became Vice President of Publications and Archives in 2003 and Club Historian in 2009.
He launched the careers of many baseball executives, including Baseball Hall of Fame President Jeff Idelson; current Red Sox officials Pam Kenn, Debbie Matson, Sarah Narracci, and Ron Burton; Jim Samia of ESPN; Matt Roebuck of the Miami Marlins; and former Chicago Cubs PR head Sharon Pannozzo.
For more, click here: http://sabr.org/latest/memoriam-dick-bresciani
Related links:
---
We've heard your feedback: Some of you have said you look forward to "This Week in SABR" every Friday, but sometimes there are just too many compelling articles and announcements to read every week. We're not complaining — hey, keep up the great work! — but we know the feeling. So in an effort to make the length of this newsletter more manageable to read, we'll summarize some of the repeating/recurring announcements in a special "In Case You Missed It (ICYMI)" section of "This Week in SABR".
Here are some major headlines from recent weeks that we don't want you to miss:
All previous editions of This Week in SABR can be found here: http://sabr.org/content/this-week-in-sabr-archives.
---
We'd like to welcome all of our new SABR members who have joined this week. You can find all Members-Only resources at members.sabr.org and the New Member Handbook can be downloaded here.
Please give these new members a warm welcome and help them make the most of their membership by giving them the opportunity to get involved in their local chapter or a research committee.
| Name | Hometown | | | Name | Hometown |
| --- | --- | --- | --- | --- | --- |
| Josh Adams | Wilmette, IL | | | Cody Gregory | Waverly, NE |
| Peter Barrows | S. Yarmouth, MA | | | Jue Mizota | Tokyo, JP |
| Joe Block | Milwaukee, WI | | | Will Morrison | Bay Village, OH |
| Etienne Caissy | Montreal, QC | | | Jack Muir | South Easton, MA |
| Douglas Chapman | Somerset, MA | | | Chad Osborne | Marion, VA |
| Frank Collins | Stevens, PA | | | Benoit Ripert | Montreal, QC |
| Dennis Cross | Lexington, VA | | | Paul Rivard | Toronto, ON |
| Mark Decker | Hudson, IA | | | Greg Robinson | Strathroy, ON |
| John Eisenberg | Baltimore, MD | | | Shawn Seaks | Gig Harbor, WA |
| Edward Fischer | Toledo, OH | | | Chuck Underwood | Scotts, MI |
| Lon Garber | Thornton, CO | | | Alexander Weeks | Ancaster, OH |
| Elizabeth Gennari | Collingswood, NJ | | | | |
---
Here are the new SABR research committee newsletters published this week:
Find all SABR research committee newsletters at SABR.org/research.
---
Here are the new regional chapter updates published this week:
Visit SABR.org/chapters for more information on SABR regional chapters.
---
Here is a list of upcoming SABR events:
All SABR meetings and events are open to the public. Feel free to bring a baseball-loving friend … and make many new ones! Check out the SABR Events Calendar at SABR.org/events.
---
Here are some recent articles published by and about SABR members:
Read these articles and more at SABR.org/latest.
---
This Week in SABR is compiled by Jacob Pomrenke. If you would like us to include an upcoming event, article or any other information in "This Week in SABR," e-mail jpomrenke@sabr.org.
Are you receiving our e-mails? "This Week in SABR" goes out by e-mail to all members on Friday afternoons. If they're not showing up, try adding "sabr.notes@sabr.org" to your contact list to ensure they show up in your inbox (and not the spam folder.)
---
Originally published: December 5, 2014. Last Updated: April 3, 2020.
https://sabr.org/wp-content/uploads/2020/03/research-collection4_350x300.jpg
300
350
jpomrenke
/wp-content/uploads/2020/02/sabr_logo.png
jpomrenke
2014-12-05 13:00:36
2020-04-03 14:39:16
This Week in SABR: December 5, 2014