This Week in SABR: February 13, 2015

Welcome to "This Week in SABR!" Here's what we've been up to as of February 13, 2015:
---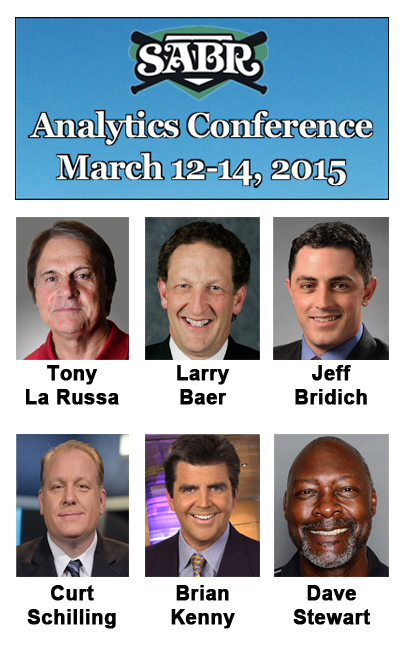 The full schedule is now available for the fourth annual SABR Analytics Conference, which will be held March 12-14, 2015, at the Hyatt Regency Phoenix in downtown Phoenix, Arizona. Click the link below to view the schedule:
The SABR Analytics Conference will consist of a combination of Guest Speakers, Panels and Research Presentations — plus the unique Diamond Dollars Case Competition, in which undergraduate, graduate, and law school students from across the country analyze and present a real baseball operations decision.
The SABR Analytics Conference is open to all baseball fans. Once again, we're bringing together the top minds of the baseball analytic community under one roof at the SABR Analytics Conference to discuss, debate and share insightful ways to analyze and examine the great game of baseball.
SABR's long history in this area of baseball research, coupled with our mission of advancing the understanding and knowledge of baseball, makes us the perfect choice to coordinate and host this ground-breaking event. We hope you'll join us in Phoenix on March 12-14 for the fourth annual SABR Analytics Conference.
Visit SABR.org/analytics for more information or to register.
---
We're just under a month away from the fourth annual SABR Analytics Conference, which will be held March 12-14, 2015, at the Hyatt Regency Phoenix in downtown Phoenix, Arizona.
Please note that the early registration rate of $395 for SABR members and $495 for non-members will be available until 4:59 p.m. EST on Tuesday, February 17. After February 17, the rate will go up to $595 for SABR members and $695 for non-members. Click here to register today at the SABR Store. The conference is open to all baseball fans.
Hotel block deadline approaching! Click here to book your hotel room at the Hyatt Regency Phoenix at the special SABR group rate of $174/night (plus tax) for double occupancy. Or call (602) 252-1234 and mention that you're with the SABR Analytics Conference. Complimentary wireless Internet is available in all rooms booked under the SABR block. The cutoff date to book your room is 4:59 p.m. EST on Tuesday, February 17. The SABR group rate is only available for the nights of March 11 to March 14, 2015, based on availability.
---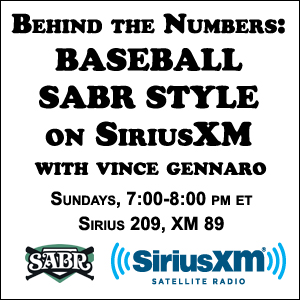 Behind the Numbers: Baseball SABR Style on SiriusXM, a new radio show hosted by SABR President Vince Gennaro focused on examining and interpreting the statistical analysis that plays a critical role in baseball today, will make its debut at 7 p.m. ET this Sunday, February 15.
The show will air weekly throughout the year on MLB Network Radio, available to subscribers nationwide on XM channel 89, Sirius channel 209, and on the SiriusXM Internet Radio App. (The show will also be available afterward in the "on-demand" section of the app.)
This week's inaugural show will explore the much-talked-about topic of the pace of play and length of games in baseball today. Why does baseball get criticized for games that are shorter than NFL games and college football games? How much of the issue is the rise in strikeouts and decline in "action" on the field? We'll also get Gennaro's take on the "big three" starting pitcher signings this offseason — Max Scherzer, Jon Lester, and James Shields — and hear about the lineup for the upcoming SABR Analytics Conference next month in Phoenix.
For more information about the show, click here.
---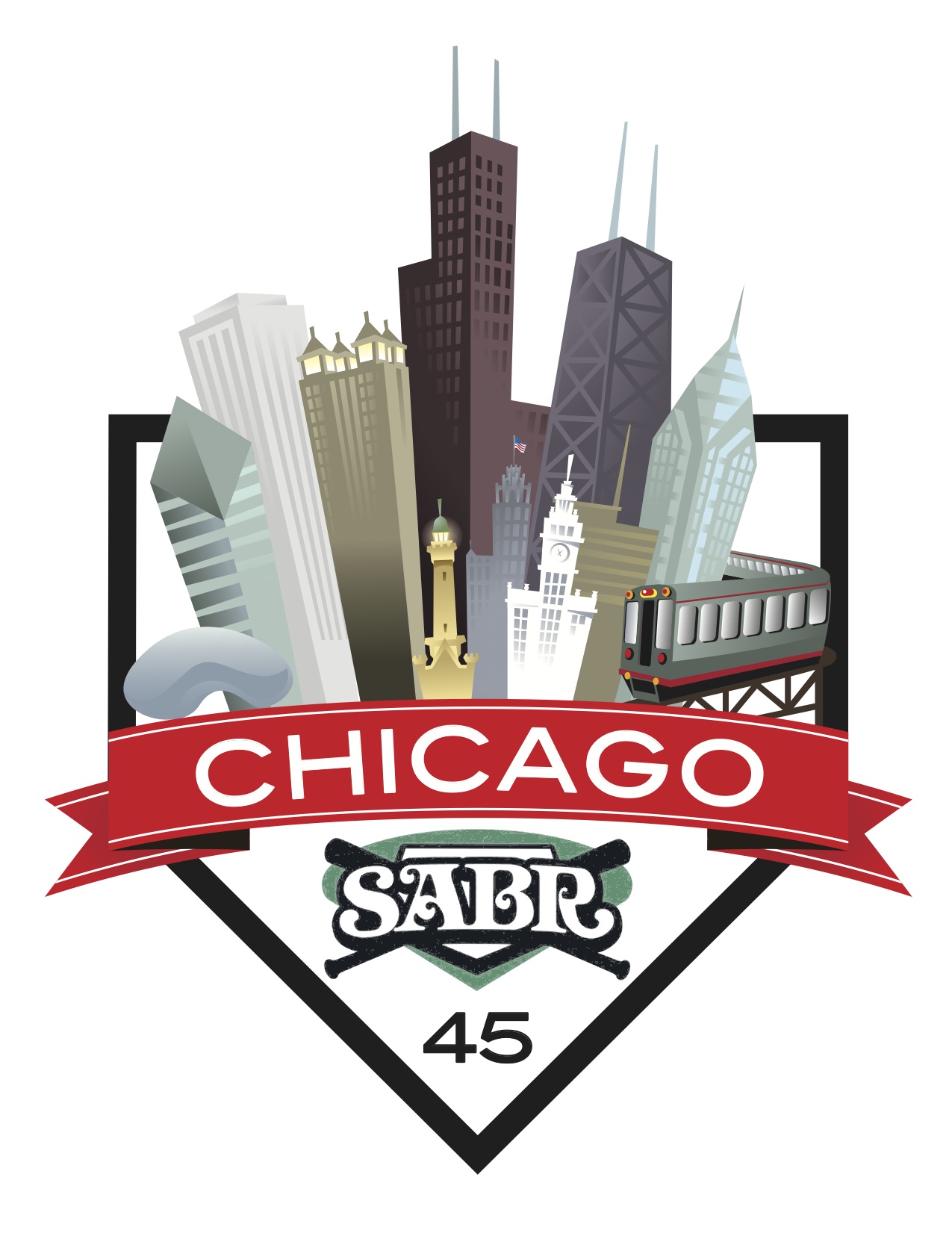 SABR invites all members to present their research findings to their colleagues attending SABR 45, the 2015 annual convention in Chicago.
Oral presentations are expected to last 20 minutes, followed by a five minute question-and-answer period. Posters will be presented, with the author on-hand to discuss the work, during a poster session of 90 or so minutes, and will probably remain on display throughout the convention.
Through on-site judging, the most highly-regarded presentations will receive the Doug Pappas Award for best oral presentation and the USA Today Sports Weekly Award for best poster presentation.
SABR 45 will be held June 24-28, 2015, at the Palmer House Hilton in Chicago.
Click here for complete details on submission requirements.
Please note: If your abstract is accepted and you intend to make a research presentation, you must register to attend the SABR 45 convention. Registration details are available at SABR.org/convention.
---
We're pleased to welcome San Francisco Giants VP/Assistant General Manager John Barr, Los Angeles Angels of Anaheim broadcaster Victor Rojas, and business of baseball expert Dan Migala, founding partner of Property Consulting Group, as featured speakers at the fourth annual SABR Analytics Conference will be held March 12-14, 2015, at the Hyatt Regency Phoenix in downtown Phoenix, Arizona.
John and Victor will join an All-Star lineup of featured speakers, including: Larry Baer, President and CEO of the San Francisco Giants; Tony La Russa, Chief Baseball Officer, Arizona Diamondbacks; Dave Stewart, Senior VP/General Manager, Arizona Diamondbacks; Jeff Bridich, Senior VP/General Manager, Colorado Rockies; Brian Kenny, MLB Network host; Curt Schilling, ESPN analyst and former major league pitcher; John Kruk, ESPN analyst and former major league first baseman; Laurel Prieb, Vice President of Western Operations, Major League Baseball; Ken Rosenthal, MLB Network/FoxSports.com; Zack Rosenthal, Assistant General Manager/Baseball Operations, Colorado Rockies; T.J. Barra, Manager of Baseball Research and Development, New York Mets; Jim Callis, MLBPipeline.com senior writer; John Thorn, MLB Official Historian; Vince Gennaro, SABR President; Dick Cramer and Pete Palmer, sabermetrics pioneers; and many, many more.
Visit SABR.org/analytics/speakers for full biographies of our featured speakers. (Please note: All speakers are subject to change based on availability.)
---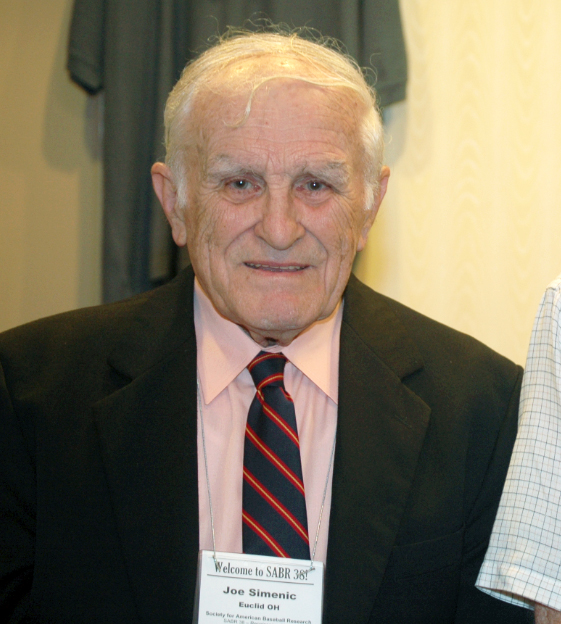 Joe Simenic, 91, one of SABR's founding members and an expert on biographical research and Cleveland Indians history, passed away on Saturday, February 7 at the Mount Carmel Hospital in Columbus, Ohio.
A longtime secretary to the publisher at first the Cleveland News and then the Plain Dealer, Simenic — along with 15 other researchers led by SABR founder L. Robert "Bob" Davids — attended the Society's first organizational meeting on August 10, 1971, at the National Baseball Hall of Fame Library in Cooperstown, New York.
Simenic was "one of the true giants in baseball research," Peter Morris wrote in his SABR Baseball Biography Project essay on Simenic.
"If you spend much time at the Hall of Fame perusing the files of obscure players, it will not be long before you find a note written by Joe Simenic," Morris wrote. "In particular, if you think you've found a promising new lead on one of the approximately 250 mystery major leaguers whose death information is unknown, it will not be long before you discover that Joe Simenic has been there before you. For more than four decades, Joe was at the forefront of biographical research for major league ballplayers."
Before co-founding SABR, Simenic spent more than two decades working with National Baseball Hall of Fame Historian Lee Allen in researching and obtaining player questionnaires. He served as SABR vice president in 1973 and Biographical Research Committee chairman in 1983-84. In 1985 SABR established the Bob Davids Award to honor members "whose contributions to SABR and baseball reflect the ingenuity, integrity, and self-sacrifice of the founder and past president of SABR, L. Robert 'Bob' Davids." Fittingly, Joe Simenic was the second recipient of the award in 1986. He was co-author of The Cleveland Indians Encyclopedia and contributed to SABR's 1997 publication All-Star Baseball in Cleveland.
Joe was predeceased by his beloved wife, Katie, in 1988. He is survived by his two sons and three grandchildren. A viewing was held on Wednesday, February 11 at Brickman Bros. Funeral Home in Willoughby, Ohio, and a funeral Mass was held on Thursday, February 12 at Saints Robert and William Parish in Euclid, Ohio.
To read the full obituary, click here.
---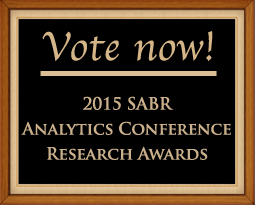 Here's your chance to vote for the 2015 SABR Analytics Conference Research Award winners.
The SABR Analytics Conference Research Awards will recognize baseball researchers who have completed the best work of original analysis or commentary during the preceding calendar year. Nominations were solicited by representatives from SABR, Baseball Prospectus, FanGraphs, The Hardball Times, and Beyond the Box Score.
To read any of the finalists or cast your vote, click here:
http://sabr.org/latest/vote-now-2015-sabr-analytics-conference-research-award-winners
Voting will be open through 11:59 p.m. MST on Monday, February 16, 2015.

---
SABR is once again teaming up with the Baseball Industry Network for the 2015 SABR Analytics Conference Welcome/Networking Reception, which will feature food, drinks and great opportunities to network with baseball professionals and other attendees from the conference.
The reception will be held from 7:30-10:00 p.m. on Thursday, March 12, 2015, at the Hyatt Regency Phoenix, 122 N. 2nd St., Phoenix, AZ 85004.
Admission to the welcome reception is included in your 2015 SABR Analytics Conference registration. A special welcome will be given before the reception by Laurel Prieb, Major League Baseball's Vice President of Western Operations.
Members of the Baseball Industry Network can attend the reception separately for $30. For more information or to sign up, click here.
---
For those of you whose memberships expired recently, there's still a little time left to renew and be a part of the SABR community again in 2015. If you've already renewed, we thank you for your support and look forward to another exciting year ahead.
Renew now to receive the Spring 2015 edition of the Baseball Research Journal, plus discounts on registration to the 2015 SABR Analytics Conference and SABR 45 in Chicago, and a lot more! Please note: We MUST receive your dues by February 28, 2015, in order for you to receive the upcoming BRJ.
Here's how to renew: You can renew your membership for 1 year or 3 years online at the SABR Store; by phone at (602) 343-6450; or by mailing this downloadable PDF form and your payment to the SABR office at 4455 E. Camelback Road, Ste. D-140, Phoenix, AZ 85018.
Dues are the same as they have been in recent years: for this, you get two editions of the Baseball Research Journal, the expanded e-book edition of The National Pastime; 8-10 free e-books published by the SABR Digital Library; "This Week in SABR" every Friday; access to research resources such as Paper of Record (with complete archives of The Sporting News); discounts to all SABR conferences such as the National Convention (Chicago 2015), the SABR Analytics Conference, the Jerry Malloy Negro League Conference, and the Frederick Ivor-Campbell 19th Century Conference; discounts to MLB.TV; and much, much more.
We believe SABR has something for everyone, from the active researcher to someone passionate about baseball. We hope you'll invite your friends, colleagues and family members to join at store.sabr.org.
---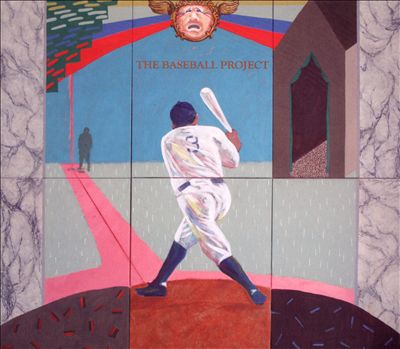 We hope you'll join us for what promises to be a spectacular SABR 45 convention, June 24-28, 2015, at the Palmer House Hilton in Chicago, Illinois.
Hotel and conference registration for the 2015 convention is now available. Click here for complete information on SABR 45 registration rates, all-inclusive packages, and optional sessions. Or click here to register for SABR 45. More details on guest speakers, panelists, and presenters will be announced soon.
Please note: The SABR 45 all-inclusive package includes 1 full conference registration; 1 ticket to the Cubs game on Thursday, June 25; 1 round-trip ticket on the CTA Red Line train; and 1 ticket to the Awards Luncheon on Friday, June 26. It does NOT include any other optional events such as the Downtown Baseball Walking Tour on Wednesday, June 24, The Baseball Project concert on Thursday, June 25, or the Historical Ballpark Sites Bus Tour on Sunday, June 28. Those tickets must be purchased separately.
All SABR 45 attendees will also receive a souvenir print edition of The National Pastime, our annual convention journal, focusing on baseball teams, players and events in the Chicago area. All SABR members, whether you attend the convention or not, will receive the expanded e-book edition of The National Pastime in their inboxes later this summer. Click here to register for SABR 45.
For more information on SABR 45, visit SABR.org/convention.
---
The SABR Nominating Committee seeks nominations for candidates for the Spring 2015 elections. All candidates for the Board of Directors must have been members of the Society for at least the preceding four years to be eligible for election. Deadline for nominations is February 28, 2015. Nominees must prepare a Candidate Statement Form following guidelines that will be available from any Nominating Committee member.
The Candidate Statement Form must be received by the Nominating Committee chair no later than March 15, 2015.
The offices to be filled:
President (2-year term; currently Vince Gennaro)
Secretary (3-year term; currently Todd Lebowitz)
Director (3-year term; currently Ty Waterman)
The Nominating Committee also seeks your input. Members are asked to submit office-specific questions for each of the offices open in this election. We also seek input on general questions for every nominee. Candidates will answer selected questions on the Candidate Statement Form. Regional Chapter leaders and Research Committee Chairs are especially encouraged to pass on this request to their respective members to better address member needs.
Self-nominations are welcome. If you would like to nominate yourself or another candidate or suggest a question for the candidates, contact a member of the Nominating Committee: chair R.J. Lesch (rjlofiowa@gmail.com), Rick Schabowski (rickiu76@aol.com), or Barry Deutsch (barryid@pobox.com).
---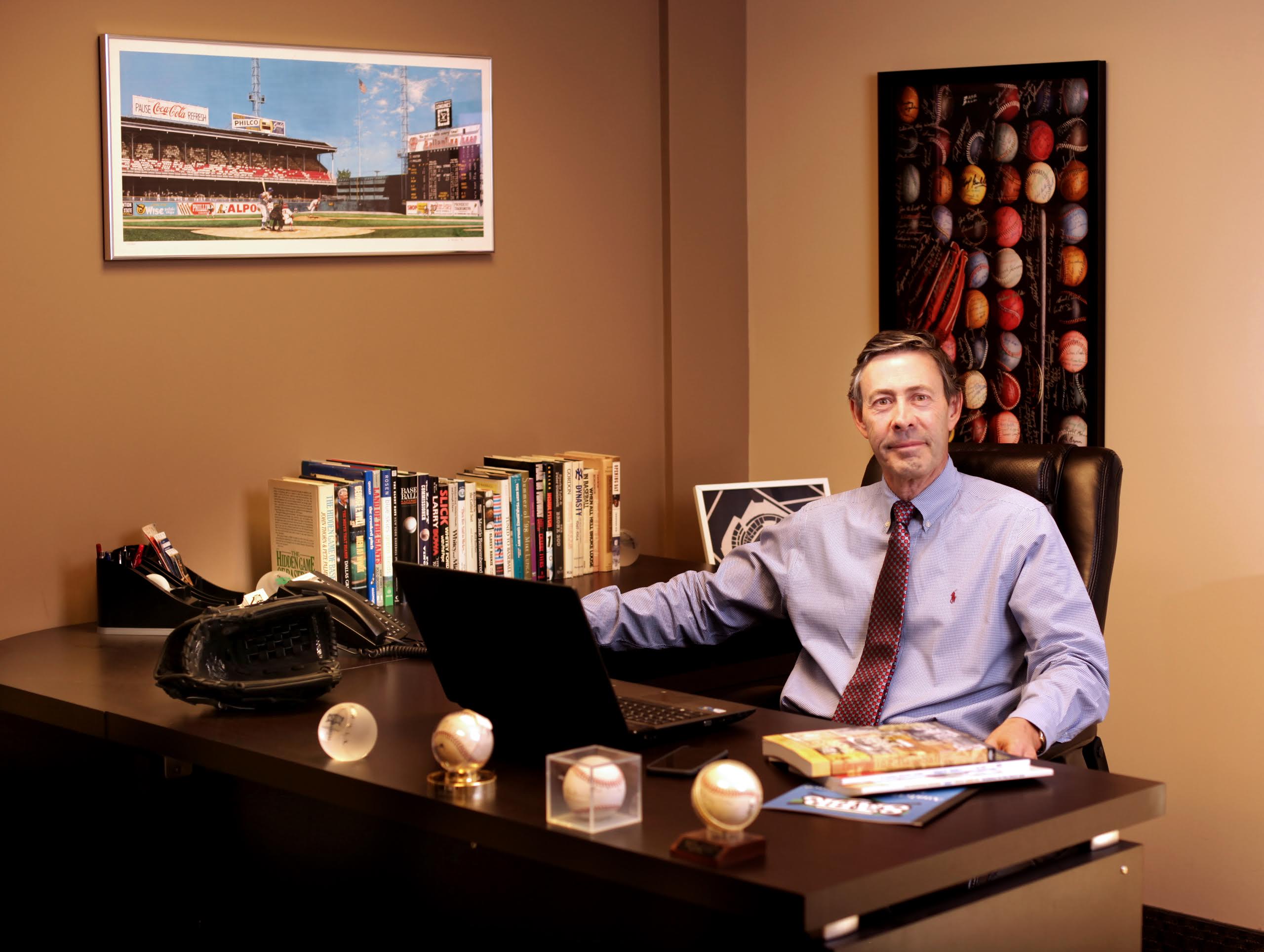 SABR Executive Director Marc Appleman is featured in this week's SportsBusiness Journal, discussing the state of the organization and the advancing role of analytics in baseball:
"Making baseball a more modern, forward-looking sport has been a priority for years throughout the industry, and one of the more tangible signs of that shift has been the evolution of the Society for American Baseball Research. Formed in 1971, SABR for years existed as a small community of researchers, all but ignored by the mainstream. But the 2010 arrival of Marc Appleman as executive director sparked new growth for the group. Now with more than 6,000 members, SABR operates a large analytics conference each March. It also publishes e-books and a weekly newsletter along with its lauded series of print research anthologies. Appleman, a former journalist and digital media executive with WWE, ESPN, AOL and SI for Kids, among others, discussed the transformation of SABR."
Click here to read the full article: http://www.sportsbusinessdaily.com/Journal/Issues/2015/02/09/People-and-Pop-Culture/Plugged-In.aspx

---
The contributions of Dorothy Seymour Mills to our understanding of baseball history can hardly be overstated, as her work with her husband Dr. Harold Seymour on the 1971 book Baseball: The Golden Age laid the foundation for the endeavors which our Deadball Era Research Committee undertakes today.
Two other books, Baseball: The Early Years (1960) and Baseball: The People's Game (1990), cemented the Seymours' reputations as preeminent baseball researchers. Together, these three volumes established baseball as an endeavor worthy of scholarly attention. As John Thorn noted in his Henry Chadwick Award profile of the Seymours in the Summer 2010 Baseball Research Journal, "No one may call himself a student of baseball history without having read these indispensable works."
As is now widely known, Dorothy's contributions to all three books remained unrecognized until after Harold's death because Harold Seymour took credit for the research, organization, and writing with which Dorothy was involved. In a 2011 article at CNN.com, SABR member Steve Gietschier offered that Seymour went beyond just taking her work: "He stole her personhood." Dorothy was, Gietschier said, "the invisible hand that shaped the three volumes." Interested readers can find reflections on her relationship with her husband and comments about her baseball writings in the 2004 autobiography, A Woman's Work: Writing Baseball History with Harold Seymour.
Dorothy is a fixture at the annual SABR Convention, and she returns to Arizona each year to present the Dr. Harold and Dorothy Seymour Medal, which "honors the best book of baseball history or biography published during the preceding year." Dorothy consented to provide written responses by e-mail for publication in the Deadball Era Committee newsletter, The Inside Game, and we are pleased to reprint the interview at SABR.org.
Click here to read the full interview: http://sabr.org/latest/dorothy-seymour-mills-reflections-life-baseball-research
— John McMurray
---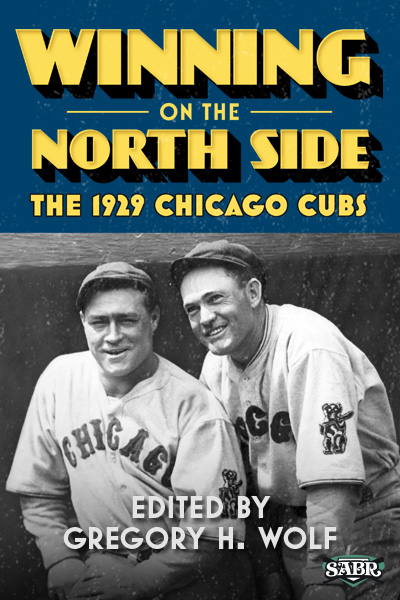 As we get ready for SABR 45 this summer in Chicago, add a Windy City baseball book to your collection from the SABR Digital Library:
Winning on the North Side: The 1929 Chicago Cubs
Edited by Gregory H. Wolf
$9.99 e-book, $19.95 paperback
ISBN (e-book): 978-1-933599-88-5
ISBN (paperback): 978-1-933599-89-2
314 pages
"The best team I ever played on was McCarthy's twenty-niners. It was strictly power all the way. No tricky baseball." — Cubs first baseman Charlie Grimm
SABR's newest e-book celebrates the 1929 Chicago Cubs, one of the most exciting teams in baseball history. Bashing their way to the pennant by crushing their opponents in a high-scoring era, skipper Joe McCarthy's North Siders were an offensive juggernaut, leading the majors with 982 runs scored. Future Hall of Famers Hack Wilson, '29 NL MVP Rogers Hornsby, and Kiki Cuyler, along with Riggs Stephenson formed one of the most potent quartets in baseball history, collectively scoring 493 runs and knocking in 520. As awe-inspiring as the Cubs offense was, their pitching was almost as good. Charlie Root, Guy Bush, and Pat Malone anchored a staff that finished second in team ERA and led the league in shutouts.
The Cubs' magical season came to an ignominious conclusion when they faced Connie Mack's Philadelphia Athletics in the World Series. Long before the "lovable loser" moniker was attached to the Cubs, Chicago's crushing defeat in five games helped craft the narrative of fateful losses.
The Society for American Baseball Research (SABR) invites you to read the life and baseball stories of all the roster players and the coaching staff and relive an important part of baseball history. Also included are biographies of club owner William Wrigley, visionary executive Bill Veeck Sr., and Margaret Donahue, the first female executive in baseball history. A summary of the regular season and World Series, as well as essays on the 1929 Athletics, Wrigley Field, Catalina Island, and fate of the Cubs after 1929 round out this volume. With contributions from 26 members of the SABR BioProject, this book is a riveting account of one of the most memorable teams in Chicago sports history.
Contributors include: Bob Buege, George Castle, Greg Erion, Scott Ferkovich, Dan Fields, David Fletcher, Ernie Fuhr, Joseph Gerard, Chip Greene, Nancy Snell Griffith, Zachary Michael Jack, William H. Johnson, Norm King, Russ Lake, Len Levin, Gary Livacari, John McMurray, Paul Mittermeyer, Jack Morris, Peter Morris, Bill Nowlin, James L. Ray, Paul Rogers, Tom Schott, Fred Taylor, and Gregory H. Wolf.
SABR members, get this e-book for FREE!
SABR members will get discounted rates for all Digital Library publications, including many for free. To download our past publications, visit SABR.org/ebooks.
Having trouble downloading our e-books? To view PDF files on your computer, click here to download the free Adobe Reader software. Having trouble downloading e-books to your Kindle, Nook, Sony Reader or iPad? Click here for additional help.
---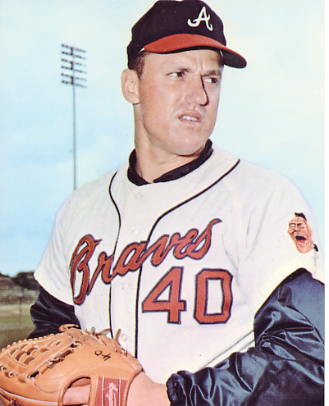 Four new game stories were posted this week as part of the SABR Games Project. Here are the new game stories:
The SABR Baseball Games Project was launched in January 2014 to research and write articles on major-league and Negro League regular, postseason, and All-Star Games. These game accounts will complement Retrosheet and Baseball-Reference box scores as well as BioProject essays on the players involved.
The articles are not intended to be mere play-by-play summaries, nor should they be first-person narratives. Rather the goal is to put each game in historical context — whether that history is of a particular player, team, season, or something even broader.
Visit the new Games Project website at SABR.org/gamesproject.
---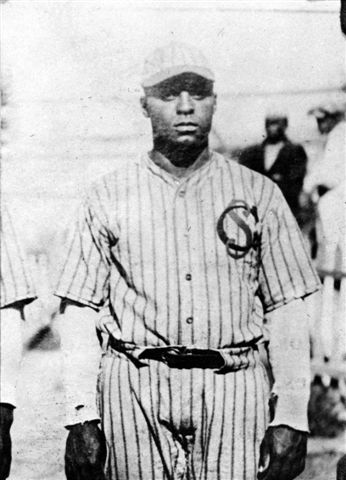 We're pleased to pass along this update from SABR member Gary Ashwill at Seamheads.com on February 12:
New to the Seamheads Negro Leagues Database: the 1931 eastern black teams. Once again, there was no league on the east coast. As in the case of 1930, we are at this time including only games between these independent eastern clubs, so the Homestead Grays and the Cuban House of David, who played western NNL teams extensively, aren't fully represented yet. The NNL's Cleveland Cubs also toured the east coast, so most of the teams here have at least a few games against top black teams that aren't yet counted.

The '31 Grays are commonly cited as one of the great teams in Negro league history. To a core that included Oscar Charleston (.319/.379/.513), Joe Williams (3-1. 1.80), George Scales (.308/.368/.548), and the 19-year-old Josh Gibson (.287/.353/.548), owner/manager Cum Posey added Jud Wilson from the Baltimore Black Sox and lights-out leftander Willie Foster from the Chicago American Giants, along with catcher/pitcher Double Duty Radcliffe from the Detroit Stars. Wilson tore up eastern pitching to the tune of a .422 average in 23 games, while Foster went 4-2 with a 2.89 ERA.

In games purely between the eastern teams, however, the Grays finished behind the Hilldale Club, who went 30-11 (although the Grays did beat the Hilldales 4 games to 3 in head-to-head matchups). In 1930 Hilldale, with longtime owner Ed Bolden deposed, had hemorrhaged players and collapsed, managing only 7 wins against black professional teams. This year a new owner, Johnny Drew, lured Judy Johnson back from his job captaining the 1930 Grays to rescue the team. As his first order of business, he retained Biz Mackey and installed him at his best position, catcher.

Mackey rewarded him with a .373/.448/.536 performance. Johnson also brought back old favorites Martín Dihigo (.306/.414/.519), Porter Charleston (6-1, 2.86), and Chaney White (.290), and signed Rap Dixon from the Black Sox (.234, 5 triples) and Walter Cannady (.314/.399/.446) and slick-fielding basketball star Bill Yancey (.276) from the defunct Lincoln Giants. Hilldale might have done even better if submarine ace Webster McDonald (4-0, 0.97) hadn't spent most of the summer playing for a white independent team in Little Falls, Minnesota.
Read the full update here: http://seamheads.com/2015/02/11/negro-leagues-db-update-1931-eastern-negro-leagues/
To view the award-winning Seamheads Negro Leagues Database, visit Seamheads.com/NegroLgs/index.php
---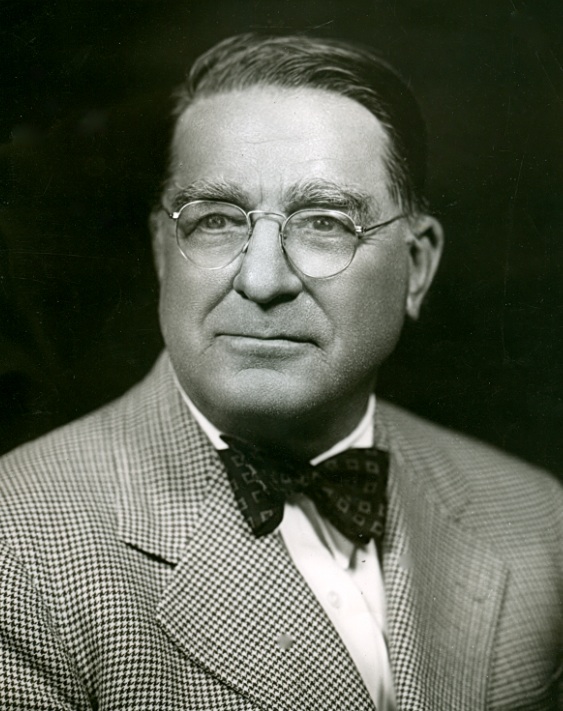 SABR members Mark Armour and Dan Levitt, authors of the upcoming In Pursuit of Pennants: Baseball Operations from Deadball to Moneyball (University of Nebraska Press), have completed their countdown of the best 25 general managers in baseball history:
Armour and Levitt write, "Because of the disparity in resources and opportunities available among the various front offices over the years, and the evolving nature of the job itself, evaluating general managers is largely a subjective exercise. … Comparing their performances is not easy. How should we apportion credit (or blame) for teams that have the stamp of previous GMs? Gene Michael collected most of the players Brian Cashman built around—how much credit should he receive for the New York Yankees success after he was no longer in charge?"
Read the introduction to their series here, along with all posted entries: https://pursuitofpennants.wordpress.com/2015/01/09/intro-the-best-25-gms-in-baseball-history/
Related links:

---
Minutes from the Board of Directors conference call on January 14, 2015, have now been posted on the SABR website.
You can view all past minutes of SABR Board meetings by going to the page below:
http://sabr.org/content/sabr-board-minutes
Or you can go to the Members' Info page and click on "Org. files", then "Board Minutes" to view the minutes.
---
McFarland-SABR Baseball Research Award, due 2/15/2015: The McFarland-SABR Baseball Research Award honors the authors of the best articles on baseball history or biography completed or published during the preceding calendar year. To submit a nomination for the 2015 awards, please contact Len Levin at lenlevin5@hotmail.com. LAST CALL!
Ron Gabriel Award, due 3/1/2015: The Ron Gabriel Award annually honors the author(s) of the best research, published or unpublished, on the subject of the Brooklyn Dodgers completed during the preceding calendar year. Eligible works include but are not limited to magazine and journal articles, previously unpublished chapters or articles in anthologies or other books with multiple authors, unpublished research papers, written versions of oral presentations, books, databases and websites. To submit a nomination for the 2015 awards, please contact Craig Murden at hncsports@optonline.net.
Please note: Only ONE entry per nomination will be considered (do not submit multiple nominations for the same award). For more information on SABR Awards, click here.
---
We've heard your feedback: Some of you have said you look forward to "This Week in SABR" every Friday, but sometimes there are just too many compelling articles and announcements to read every week. We're not complaining — hey, keep up the great work! — but we know the feeling. So in an effort to make the length of this newsletter more manageable to read, we'll summarize some of the repeating/recurring announcements in a special "In Case You Missed It (ICYMI)" section of "This Week in SABR".
Here are some major headlines from recent weeks that we don't want you to miss:
All previous editions of This Week in SABR can be found here: http://sabr.org/content/this-week-in-sabr-archives.
---
We'd like to welcome all of our new SABR members who have joined this week. You can find all Members-Only resources at members.sabr.org and the New Member Handbook can be downloaded here.
Please give these new members a warm welcome and help them make the most of their membership by giving them the opportunity to get involved in their local chapter or a research committee.
You can find contact information for any SABR member in the online membership directory (SABR.org/directory).
| Name | Hometown | | | Name | Hometown |
| --- | --- | --- | --- | --- | --- |
| Rick Bradley | Tallmadge, OH | | | Jim Peters | Chicago, IL |
| Timothy Charlton | Torrance, CA | | | Joe Pipkin | Towson, MD |
| John Haffner | Zionsville, IN | | | Bobbye Pratt | Arlington, VA |
| Michael Heath | Cambridge, MA | | | William Rogers | Fredericksburg, VA |
| Christian Henning | Troy, MI | | | Anthony Saccavino | Apex, NC |
| Ryanne Hillhouse | Burbank, CA | | | Steven Shackelford | Huber Heights, OH |
| Kevin Hogg | Cranbrook, BC | | | Joshua Smith | Franklin, MA |
| Mark Honer | Shawnee, KS | | | John Smith | Nashville, TN |
| Gregory Larson | Norfolk, VA | | | Mike Snyder | Baltimore, MD |
| Mary Manning | New Hope, MN | | | Gary Stone | Centerport, NY |
| Bill Marino | Galion, OH | | | Chris Strickland | Smyrna, GA |
| Theodore McDonough | Stillwater, MN | | | Richard Subrizio | Framingham, MA |
| Jordan Moeller | Davie, FL | | | Paul Sullivan | S. Pasadena, CA |
| Paul Mount | Kingwood, TX | | | Richard Temple | Escondido, CA |
| Keri Myers | Takoma Park | | | Brady Umfleet | Watsonville, CA |
| Thomas Nardacci | Troy, NY | | | Blair Williams | New Richmond, WI |
| Lars Panquin | Los Angeles, CA | | | Kevin Winstanley | Eatontown, NJ |
---
There were no new SABR research committee newsletters published this week.
Find all SABR research committee newsletters at SABR.org/research.
---
There were no new regional chapter updates published this week.
Visit SABR.org/chapters for more information on SABR regional chapters.
---
Here is a list of upcoming SABR events:
All SABR meetings and events are open to the public. Feel free to bring a baseball-loving friend … and make many new ones! Check out the SABR Events Calendar at SABR.org/events.
---
Here are some recent articles published by and about SABR members:
Read these articles and more at SABR.org/latest.
---
This Week in SABR is compiled by Jacob Pomrenke. If you would like us to include an upcoming event, article or any other information in "This Week in SABR," e-mail jpomrenke@sabr.org.
Have trouble reading this e-mail? Click here to view this week's newsletter on the web.
Are you receiving our e-mails? "This Week in SABR" goes out by e-mail to all members on Friday afternoons. If they're not showing up, try adding "sabr.notes@sabr.org" to your contact list to ensure they show up in your inbox (and not the spam folder.)
---
Originally published: February 13, 2015. Last Updated: April 3, 2020.
https://sabr.org/wp-content/uploads/2020/03/research-collection4_350x300.jpg
300
350
jpomrenke
/wp-content/uploads/2020/02/sabr_logo.png
jpomrenke
2015-02-13 15:00:00
2020-04-03 14:39:15
This Week in SABR: February 13, 2015