This Week in SABR: January 30, 2015

Welcome to "This Week in SABR!" Here's what we've been up to as of January 30, 2015:
---
Early registration is still available for the fourth annual SABR Analytics Conference, March 12-14, 2015, at the Hyatt Regency Phoenix in downtown Phoenix, Arizona. Click here to register today at the SABR Store. The conference is open to all baseball fans.
We have an All-Star lineup of featured speakers, including: Larry Baer, President and CEO of the San Francisco Giants; Tony La Russa, Chief Baseball Officer, Arizona Diamondbacks; Dave Stewart, Senior VP/General Manager, Arizona Diamondbacks; Jeff Bridich, Senior VP/General Manager, Colorado Rockies; Brian Kenny, MLB Network host; Curt Schilling, ESPN analyst and former major league pitcher; John Kruk, ESPN analyst and former major league first baseman; Laurel Prieb, Vice President of Western Operations, Major League Baseball; Ken Rosenthal, MLB Network/FoxSports.com; Zack Rosenthal, Assistant General Manager/Baseball Operations, Colorado Rockies; T.J. Barra, Manager of Baseball Research and Development, New York Mets; Jim Callis, MLBPipeline.com senior writer; John Thorn, MLB Official Historian; Vince Gennaro, SABR President; Dick Cramer and Pete Palmer, sabermetrics pioneers; and many, many more. Visit SABR.org/analytics/speakers for full biographies of our featured speakers. (Please note: All speakers are subject to change based on availability.)
SABR has a long and storied history with baseball statistical analysis, evidenced by the link between our name and sabermetrics. While SABR is a multi-faceted organization involved in virtually every aspect of baseball, we have taken a major step to re-connect with our beginnings by producing and hosting the fourth annual:
SABR Analytics Conference
March 12-14, 2015
Hyatt Regency Phoenix
Phoenix, Arizona
Once again, we're bringing together the top minds of the baseball analytic community under one roof to discuss, debate and share insightful ways to analyze and examine the great game of baseball.
The schedule will consist of a combination of Guest Speakers, Panels and Research Presentations — plus the unique Diamond Dollars Case Competition, in which undergraduate, graduate, and law school students from across the country analyze and present a real baseball operations decision.
Conference registration is available now at the SABR Store. Click here to register. The conference is open to all baseball fans. The early registration rate is $395 for SABR members and $495 for nonmembers, or $350 for currently enrolled high school or college students (includes one-year membership to SABR).
The 2015 SABR Analytics Conference will be held Thursday, March 12 through Saturday, March 14 at the Hyatt Regency Phoenix, 122 N. 2nd St., Phoenix, AZ 85004. Click here to book your hotel room at the special SABR group rate of $174/night (plus tax) for double occupancy. Or call (602) 252-1234 and mention that you're with the SABR Analytics Conference.
Check back soon at SABR.org/analytics as we announce more featured speakers, panels and presentations!
For complete coverage of last year's SABR Analytics Conference, visit SABR.org/analytics/2014.
---
We're pleased to announce the research presentations that will be delivered at the fourth annual SABR Analytics Conference, March 12-14, 2015.
By popular demand, we have more research presentations (13) on the schedule than ever before in 2015. The full conference schedule, along with presentation abstracts and presenter bios, will be available soon at SABR.org/analytics.
Greg Ackerman, Syracuse University, "Why Does a Team Outperform its Run Differential?"
Vince Gennaro, SABR, "What's Different About Postseason Baseball?"
Graham Goldbeck, Sportvision, "Making a Pitch for Better Command"
Ben Jedlovec, Baseball Info Solutions, "Trajectory-Based Hitting and Pitching Statistics"
Allison R. Levin, Social Network Advisors for Professional Sports, "Sabermetrics in Practice: Examining Fan Voting for MLB All-Stars over Three Eras"
Stephen Loftus, Virginia Tech, "BXwOBA: A Bayesian Approach to Expected wOBA"
Anne C. Marx Scheuerell, Loras College; Brad Smith and David B. Marx, University of Nebraska, "Evaluating Offense Productivity in College Baseball"
Dan Meyer, Colby College, "Geographic Bias and the Amateur Draft"
Rodney J. Paul, Jeremy Losak, and Justin Mattingly, Syracuse University, "The Impact of Length of Game on Major League Baseball Attendance Demand"
Martin Rioux, IDEALIS Inc., "Using PITCHf/x or Statcast Data to Benchmark Hitter Performance Through Data Envelopment Analysis"
Scott A. Van Lenten and Frank J. Infurna, Arizona State University, "Performance Enhancing Dads? Paternity and Bereavement Leave in Major League Baseball"
Harold M. Wasserman, Florida International University, "An Empirical Analysis of the Infield Fly Rule"
Jason Wilson and Jarvis Greiner, Biola University, "A 2014 MLB Case Study in Quantitative Pitch Mapping Using QOP (Quality of Pitch) and GI (Greiner Index) with PITCHf/x data"
For more information on the 2015 SABR Analytics Conference, or to register, visit SABR.org/analytics.
---
Mover & Shaker: Walter O'Malley, the Dodgers, and Baseball's Westward Expansion, written by past SABR President Andy McCue and published by the University of Nebraska Press, is the winner of the 2015 Dr. Harold and Dorothy Seymour Medal, which honors the best book of baseball history or biography published during the preceding calendar year.
McCue, a former business journalist and professor who resides in Riverside, California, will receive his award at the banquet of the 22nd annual NINE Spring Training Conference on Saturday, March 14, 2015, at the DoubleTree by Hilton Hotel in Tempe, Arizona (formerly the Fiesta Inn and Resort.)
The banquet includes the Seymour Medal ceremony with Dorothy Seymour Mills, dinner, and the NINE keynote address by SABR member Terry Cannon, founder and Executive Director of the Baseball Reliquary, a California-based nonprofit dedicated to fostering an appreciation of American art and culture through the prism of baseball history. To register for the NINE conference, visit nineregistration.com.
The Seymour Medal Selection Committee of Morris Eckhouse (chair), Bob Hoie, and Michael Haupert released the following statement:
The winner of the 2015 Seymour Medal is Mover & Shaker: Walter O'Malley, the Dodgers, and Baseball's Westward Expansion by Andy McCue, published by University of Nebraska Press. McCue covers all the important elements in the life of the legendary and controversial baseball executive from his birth in the Bronx, New York, in 1903 to his death at the Mayo Clinic in Rochester, Minnesota, in 1979.

The biography presents a balanced account of O'Malley's life and career, most notably the issues and events leading to O'Malley's move of the Dodgers from Brooklyn to Los Angeles, bringing Major League Baseball to the West Coast, and the building of Dodger Stadium. Thoroughly researched, the book is comprehensive in tracing O'Malley's rise to President and Principal Owner of the Dodgers and one of the most influential men in baseball and all sports.

McCue's book, the result of years of research, benefits from a wide-ranging number of resources. It is sure to be the primary reference regarding O'Malley.
To learn more about the Seymour Medal-winning book, click here.
McCue was a recipient of the Bob Davids Award, SABR's highest honor, in 2007. He served on SABR's Board of Directors from 2002 to 2011, including the last three years as President.
The other finalists for the 2015 Seymour Medal were:
Baseball on Trial: The Origin of Baseball's Antitrust Exemption, by Nathaniel Grow (University of Illinois Press)
The Chalmers Race: Ty Cobb, Napoleon Lajoie, and the Controversial 1910 Batting Title That Became a National Obsession, by Rick Huhn (University of Nebraska Press)
Johnny Evers: A Baseball Life, by Dennis Snelling (McFarland & Co.)
To see a list of previous Seymour Medal winners, click here.
---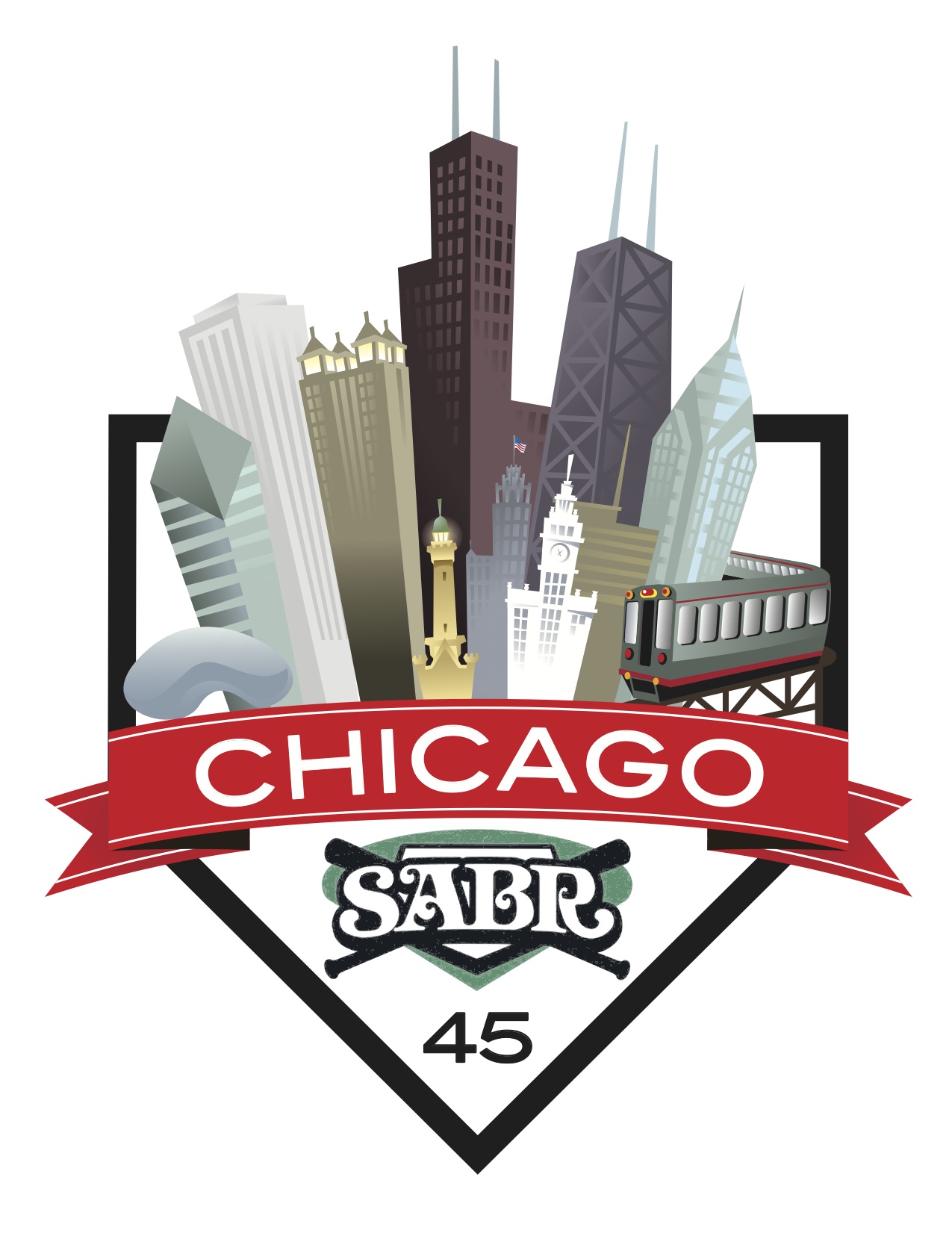 We hope you'll join us for what promises to be a spectacular SABR 45 convention, June 24-28, 2015, at the Palmer House Hilton in Chicago, Illinois.
Hotel and conference registration for the 2015 convention is now available. Click here for complete information on SABR 45 registration rates, all-inclusive packages, and optional sessions. Or click here to register for SABR 45. More details on guest speakers, panelists, and presenters will be announced soon.
Please note: The SABR 45 all-inclusive package includes 1 full conference registration; 1 ticket to the Cubs game on Thursday, June 25; 1 round-trip ticket on the CTA Red Line train; and 1 ticket to the Awards Luncheon on Friday, June 26. It does NOT include any other optional events such as the Downtown Baseball Walking Tour on Wednesday, June 24, The Baseball Project concert on Thursday, June 25, or the Historical Ballpark Sites Bus Tour on Sunday, June 28. Those tickets must be purchased separately.
All SABR 45 attendees will also receive a souvenir print edition of The National Pastime, our annual convention journal, focusing on baseball teams, players and events in the Chicago area. All SABR members, whether you attend the convention or not, will receive the expanded e-book edition of The National Pastime in their inboxes later this summer. Click here to register for SABR 45.
For more information on SABR 45, visit SABR.org/convention.
---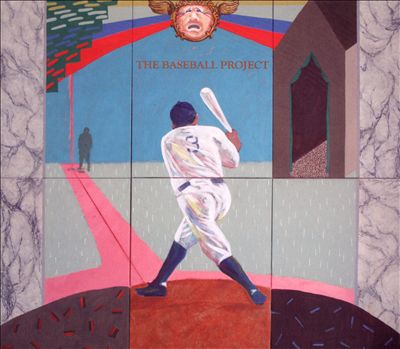 Attendees at the SABR 45 convention this summer in Chicago will have a special opportunity to see The Baseball Project in concert on Thursday, June 25, 2015, in the Grand Ballroom at the Palmer House Hilton.
Advance presale tickets for The Baseball Project at SABR 45 are available for an early-bird price of $25 members/$40 non-members when you register for the SABR convention online at SABR.org/convention before May 15, 2015. Tickets will be $40 online after May 15 or until the concert venue reaches capacity.
Formed in 2007 by Scott McCaughey (Young Fresh Fellows, The Minus 5, R.E.M.) and Steve Wynn (The Dream Syndicate, Steve Wynn and the Miracle 3, Gutterball), The Baseball Project began as a way for a couple of fans to pay musical tribute to our national pastime. But The Baseball Project has since blossomed into a full-fledged, much-loved band in its own right, one which includes drummer Linda Pitmon (Steve Wynn and the Miracle 3, Zuzu's Petals), and Peter Buck and Mike Mills, founding members of R.E.M., one of the best-selling alternative rock bands of all time.
Their mutual love of baseball inspired them to record their first album, Volume 1: Frozen Ropes and Dying Quails, in 2008. It includes baseball-themed songs such as "Gratitude (For Curt Flood)," "The Yankee Flipper," and "The Death of Big Ed Delahanty." They followed up with Volume 2: High and Inside in 2011, which features the San Francisco Giants World Series-themed hit "Panda and the Freak" along with "Tony (Boston's Chosen Son)" and "The Straw that Stirs the Drink." Their third album, 3rd, was released in 2014.
To learn more about The Baseball Project, visit their website at thebaseballproject.net or their YouTube channel at youtube.com/thebaseballproject.
Details and registration for SABR 45 are now available at SABR.org/convention.
---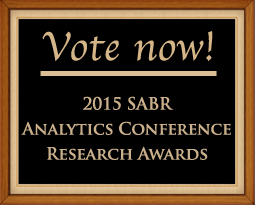 Here's your chance to vote for the 2015 SABR Analytics Conference Research Award winners.
The SABR Analytics Conference Research Awards will recognize baseball researchers who have completed the best work of original analysis or commentary during the preceding calendar year. Nominations were solicited by representatives from SABR, Baseball Prospectus, FanGraphs, The Hardball Times, and Beyond the Box Score.
To read any of the finalists or cast your vote, click here:
http://sabr.org/latest/vote-now-2015-sabr-analytics-conference-research-award-winners
Contemporary Baseball Analysis
Contemporary Baseball Commentary
Historical Analysis/Commentary
Voting will be open through 11:59 p.m. MST on Monday, February 16, 2015. To learn more, click here: http://sabr.org/latest/vote-now-2015-sabr-analytics-conference-research-award-winners
---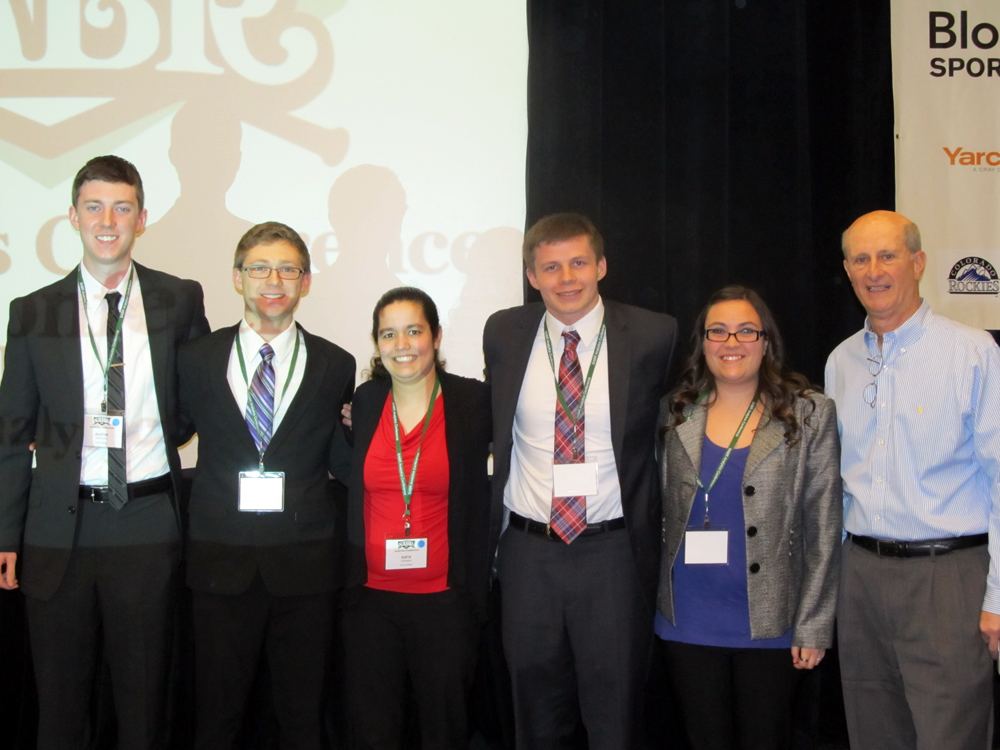 Everyone wants the opportunity to showcase their talents to the right people. That's exactly what the Diamond Dollars Case Competition is all about.
At the fourth annual SABR Analytics Conference — March 12-14, 2015, at the Hyatt Regency Phoenix in Phoenix, Arizona — graduate students from Business Schools, Sports Management programs, and other graduate and undergraduate programs across the country compete against each other by preparing an analysis and presentation of a real baseball operations decision — the type of decision a team's GM and his staff is faced with over the course of a season.
Four- to five-person teams of students are asked to evaluate proposed player transactions, apply statistical analysis of player performance and assess the financial impact of the team's proposed moves.
The case will be authored and led by SABR President, Vince Gennaro, a consultant to MLB teams, author of Diamond Dollars: The Economics of Winning in Baseball, a regular contributor to MLB Network's "Clubhouse Confidential" — someone who's been in the front office helping teams analyze key baseball operations decisions.
For information on signing up for the Diamond Dollars Case Competition, click here.
To learn more about last year's winners, visit SABR.org/analytics/case/2014.
---
For those of you whose memberships expired recently, there's still a little time left to renew and be a part of the SABR community again in 2015. If you've already renewed, we thank you for your support and look forward to another exciting year ahead.
Renew now to receive the Spring 2015 edition of the Baseball Research Journal, plus discounts on registration to the 2015 SABR Analytics Conference and SABR 45 in Chicago, and a lot more! Please note: We MUST receive your dues by February 28, 2015, in order for you to receive the upcoming BRJ.
Here's how to renew: You can renew your membership for 1 year or 3 years online at the SABR Store; by phone at (602) 343-6450; or by mailing this downloadable PDF form and your payment to the SABR office at 4455 E. Camelback Road, Ste. D-140, Phoenix, AZ 85018.
Dues are the same as they have been in recent years: for this, you get two editions of the Baseball Research Journal, the expanded e-book edition of The National Pastime; 8-10 free e-books published by the SABR Digital Library; "This Week in SABR" every Friday; access to research resources such as Paper of Record (with complete archives of The Sporting News); discounts to all SABR conferences such as the National Convention (Chicago 2015), the SABR Analytics Conference, the Jerry Malloy Negro League Conference, and the Frederick Ivor-Campbell 19th Century Conference; discounts to MLB.TV; and much, much more.
We believe SABR has something for everyone, from the active researcher to someone passionate about baseball. We hope you'll invite your friends, colleagues and family members to join at store.sabr.org.
---
The SABR Nominating Committee seeks nominations for candidates for the Spring 2015 elections. All candidates for the Board of Directors must have been members of the Society for at least the preceding four years to be eligible for election. Deadline for nominations is February 28, 2015. Nominees must prepare a Candidate Statement Form following guidelines that will be available from any Nominating Committee member.
The Candidate Statement Form must be received by the Nominating Committee chair no later than March 15, 2015.
The offices to be filled:
President (2-year term; currently Vince Gennaro)
Secretary (3-year term; currently Todd Lebowitz)
Director (3-year term; currently Ty Waterman)
The Nominating Committee also seeks your input. Members are asked to submit office-specific questions for each of the offices open in this election. We also seek input on general questions for every nominee. Candidates will answer selected questions on the Candidate Statement Form. Regional Chapter leaders and Research Committee Chairs are especially encouraged to pass on this request to their respective members to better address member needs.
Self-nominations are welcome. If you would like to nominate yourself or another candidate or suggest a question for the candidates, contact a member of the Nominating Committee: chair R.J. Lesch (rjlofiowa@gmail.com), Rick Schabowski (rickiu76@aol.com), or Barry Deutsch (barryid@pobox.com).
---
On Saturday, January 24, hundreds of SABR members and friends gathered at 32 Hot Stove events around the U.S. and Canada to talk baseball, share their research, and discuss the upcoming season on the sixth annual SABR Day.
SABR Day is our annual Hot Stove gathering to celebrate the beginning of a new baseball season. It's always held on the weekend between the NFL championship games and the Super Bowl. On that day, SABR's regional chapters organize baseball events around the globe, and you're all invited to attend.
Find more recaps and photos from all SABR Day 2015 meetings at SABR.org/sabrday.
SABR Day isn't over yet! Some chapters are holding their SABR Day meetings this weekend or next weekend, due to venue or schedule availability. The Bob Davids Chapter in Washington, D.C., has a tremendous event scheduled for tomorrow, Saturday, January 31, with Washington Nationals executive Adam Cromie, Michael Hand of MiLB Enterprises, David W. Smith of Retrosheet, Bowie BaySox manager Gary Kendall, and more. Also meeting on January 31 are the SABR chapters in Los Angeles, Detroit, Orlando, Toledo, and Columbus. On Saturday, February 7, the Magnolia/Georgia Chapter will hold its annual winter meeting, along with the SABR chapters in Cleveland and Rochester. Find complete details at SABR.org/sabrday. Hope to see you there!
---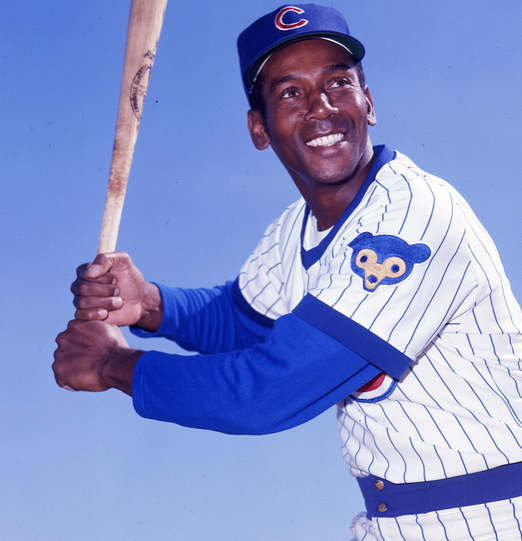 Tomorrow, January 31, would have been Ernie Banks's 84th birthday. The beloved "Mr. Cub" died last Friday of a heart attack, and the baseball world mourned a Hall of Fame player and a Hall of Fame person.
Banks, who played 19 seasons with the Chicago Cubs, still holds virtually every major career and season record for the team. Some of his chief statistical accomplishments were 512 career home runs (22nd all-time in Major League Baseball), a .274 all-time batting average, 2,583 hits, 1,636 RBIs, and countless individual honors.
He was a 14-time All-Star selection, a two-time National League Most Valuable Player, two-time NL home run champion in 1958 and 1960, twice NL RBI champ, Gold Glove winner in 1960, the Lou Gehrig Memorial Award for service to baseball in 1967, a Hall of Fame inductee on his first ballot listing in 1977, and had his No. 14 retired and honored with a flag and statue at Wrigley Field.
Banks remained in baseball after retiring as a player (he liked to say he beat Frank Robinson as MLB's first African-American manager by two years), and for the rest of his life served as a great ambassador for the Cubs and the Hall of Fame.
One year ago, SABR's Dallas-Fort Worth chapter renamed itself in honor of two native sons, Banks and Bobby Bragan. Banks graduated from Dallas's Booker T. Washington High School in 1950.
As some SABR chapters celebrate a second weekend of SABR Day festivities tomorrow on Banks's birthday ("Let's play two!"), we pay tribute to one of baseball's greatest stars.
Related links:
---
Earlier this week, voting closed for the preliminary election of SABR's Overlooked 19th Century Base Ball Legend for 2015. In the preliminary election, Nineteenth Century committee members narrowed 25 candidates down to 10 finalists. The final election will be open to all SABR members later this spring.
With 15 minutes to spare before the deadline, the final ballot came in and forced a three-way tie for eighth place, so this year we will carry 11 finalists.
Here are the finalists, along with their preliminary election voting totals:
Jack Glasscock (103 votes)
Bob Caruthers (93)
Tony Mullane (92)
Jim Creighton (82)
Bobby Mathews (82)
Paul Hines (79)
Al Reach (76)
Dummy Hoy (75)
Charlie Bennett (68)
Jimmy Ryan (68)
George Van Haltren (68)
All finalists from last year (except for Doc Adams, who won the honor) will return, while two candidates (Bennett and Ryan) will make their first appearances as finalists.
To see the complete list of voting results, click here or visit the project's Facebook page.
The expanded bios for all 11 finalists will be released at the end of March. Voting in the final election will run from May 11-25 and will be open to all SABR members. This year's winner will be announced at the Nineteenth Century Committee's annual meeting at SABR 45 in Chicago. Registration is now open for the SABR convention at SABR.org/convention.
— Adam Darowski
---
Three new game stories were posted this week as part of the SABR Games Project. Here are the new game stories:
The SABR Baseball Games Project was launched in January 2014 to research and write articles on major-league and Negro League regular, postseason, and All-Star Games. These game accounts will complement Retrosheet and Baseball-Reference box scores as well as BioProject essays on the players involved.
The articles are not intended to be mere play-by-play summaries, nor should they be first-person narratives. Rather the goal is to put each game in historical context — whether that history is of a particular player, team, season, or something even broader.
Visit the new Games Project website at SABR.org/gamesproject.
---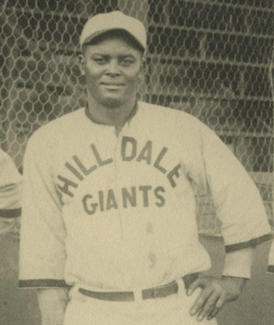 We're pleased to pass along this update from SABR member Gary Ashwill at Seamheads.com:
We've added games between the 1930 eastern Negro league teams to the Seamheads Negro Leagues Database. It was an astonishing year in black baseball history, a year that saw the first Negro league games played at night, the first Negro league games played in Yankee Stadium, and the sudden emergence of one of the greatest talents in baseball history.

There was no eastern league in 1930, the American Negro League having disbanded after a single season—but the major eastern teams continued to play each other, leaving a decent number of games to compile. Ed Bolden, co-founder of the old Eastern Colored League, had lost control of the Hilldale Club to team official (and scorekeeper) Lloyd Thompson, and many of the team's best players fled. Biz Mackey (.444/.496/.704) was the biggest star who stayed, although he was pressed into service at shortstop instead of his best position, catcher. The talent just wasn't there for Hilldale, which won only 7 games against east coast black professionals while losing 28.

Another longtime owner, Alejandro Pompez of the eastern Cuban Stars, dropped out of baseball entirely in 1930. His business partner, the somewhat notorious promoter Nat Strong, worked with veteran shortstop and Cubans captain Pelayo Chacón to bring a Cuban team to the New York area. This one was called the Stars of Cuba (recalling the name of a 1910 team), and it was mostly noteworthy for bringing Martín Dihigo back to the Cuban fold (he had spent the previous two seasons with the Homestead Grays and Hilldale).
Read the full update here: http://seamheads.com/2015/01/25/negro-leagues-db-update-1930-eastern-negro-leagues/
To view the award-winning Seamheads Negro Leagues Database, visit Seamheads.com/NegroLgs/index.php

---
SABR member Cory Schwartz, Vice President of Stats for MLB.com and a Henry Chadwick Award winner, is seeking your help on a special research project about Major League Baseball's postseason awards.
Schwartz is building a database with complete voting breakdowns for all major Baseball Writers Association of American postseason awards since each was first introduced. A listing of point totals and first-place votes can be found in Baseball-Reference.com's Awards section, but accurate information remains incomplete for the second- through 10th-place voting totals for many past awards.
You can find the list of missing seasons here: http://sabr.org/latest/seeking-research-help-mlb-award-voting-breakdowns
If you can help fill in the gaps, or know of any sources for a complete 1-through-10 voting breakdown of these awards, please contact Cory Schwartz at mlbamstats@gmail.com.
---
From SABR members Mark Armour and Dan Levitt, authors of the upcoming In Pursuit of Pennants: Baseball Operations from Deadball to Moneyball (University of Nebraska Press), continue their countdown of the best 25 general managers in baseball history:
Armour and Levitt write, "Because of the disparity in resources and opportunities available among the various front offices over the years, and the evolving nature of the job itself, evaluating general managers is largely a subjective exercise. … Comparing their performances is not easy. How should we apportion credit (or blame) for teams that have the stamp of previous GMs? Gene Michael collected most of the players Brian Cashman built around—how much credit should he receive for the New York Yankees success after he was no longer in charge?"
Read the introduction to their series here, along with all posted entries: https://pursuitofpennants.wordpress.com/2015/01/09/intro-the-best-25-gms-in-baseball-history/
---
SABR Baseball Research Award, due 1/31/2015: The SABR Baseball Research Award (formerly the Sporting News-SABR Baseball Research Award) honors those whose outstanding research projects completed during the preceding calendar year have significantly expanded our knowledge or understanding of baseball. To submit a nomination for the 2015 awards, please contact Bill Felber at bfelber@att.net.
McFarland-SABR Baseball Research Award, due 2/15/2015: The McFarland-SABR Baseball Research Award honors the authors of the best articles on baseball history or biography completed or published during the preceding calendar year. To submit a nomination for the 2015 awards, please contact Len Levin at lenlevin5@hotmail.com.
Ron Gabriel Award, due 3/1/2015: The Ron Gabriel Award annually honors the author(s) of the best research, published or unpublished, on the subject of the Brooklyn Dodgers completed during the preceding calendar year. Eligible works include but are not limited to magazine and journal articles, previously unpublished chapters or articles in anthologies or other books with multiple authors, unpublished research papers, written versions of oral presentations, books, databases and websites. To submit a nomination for the 2015 awards, please contact Craig Murden at hncsports@optonline.net.
Please note: Only ONE entry per nomination will be considered (do not submit multiple nominations for the same award). For more information on SABR Awards, click here.

---
In Memoriam: Ron Smiley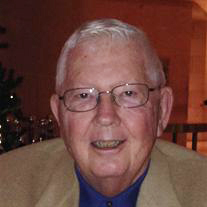 We are saddened to note the passing of SABR member Ron Smiley, 79, of Dallas, Texas, an active member of the Scouts Research Committee and the Ernie Banks-Bobby Bragan DFW Chapter. He died on January 26, 2015, at a hospital in Richardson, Texas, after a courageous battle with a sudden, brief illness.
Born in Old Forge, Pennsylvania, on November 14, 1935, Ron was a resident of Dallas for the last 38 years of his life. After graduating in 1953 from Mount Penn High School in Reading, Pennsylvania, Ron was signed as a shortstop by the legendary St. Louis Cardinals scout Pop Kelchner — years later, Ron went on to co-author Kelchner's biography for SABR — and played briefly in the minor leagues. He subsequently joined the U.S. Army and served honorably in Alaska. Shortly before his discharge in 1964, Ron followed in his father's footsteps and joined International Business Machines Corporation in its Dallas office. While there, he attended Texas Christian University in Fort Worth and met his future wife, Glenda. He retired from IBM in 2000 after a distinguished 37-year career.
In retirement, Ron, a devoted Texas Rangers fan, got involved with SABR and launched a campaign for the Baseball Hall of Fame to induct baseball scouts, the outstanding individuals whom he believed were responsible for finding and identifying baseball stars throughout the history of the sport.
Ron was preceded in death by his parents, Warren and Lenore Smiley, and his beloved wife, Glenda. He is survived by his daughter and son-in-law, Robin and Bradley Ward of Plano, Texas, numerous friends, and by his cat, Fred. The memorial service will be held at 12:00 p.m. on Saturday, January 31 at Preston Hollow Presbyterian Church in Dallas. In lieu of flowers, donations can be made to Preston Hollow Presbyterian Church or Operation Kindness (3201 Earhart Drive, Carrollton, TX 75006-5025).
---
We've heard your feedback: Some of you have said you look forward to "This Week in SABR" every Friday, but sometimes there are just too many compelling articles and announcements to read every week. We're not complaining — hey, keep up the great work! — but we know the feeling. So in an effort to make the length of this newsletter more manageable to read, we'll summarize some of the repeating/recurring announcements in a special "In Case You Missed It (ICYMI)" section of "This Week in SABR".
Here are some major headlines from recent weeks that we don't want you to miss:
All previous editions of This Week in SABR can be found here: http://sabr.org/content/this-week-in-sabr-archives.
---
We'd like to welcome all of our new SABR members who have joined this week. You can find all Members-Only resources at members.sabr.org and the New Member Handbook can be downloaded here.
Please give these new members a warm welcome and help them make the most of their membership by giving them the opportunity to get involved in their local chapter or a research committee.
You can find contact information for any SABR member in the online membership directory (SABR.org/directory).
| Name | Hometown | | | Name | Hometown |
| --- | --- | --- | --- | --- | --- |
| Jason Abel | Falls Church, VA | | | Joseph Lehane | Houston, TX |
| Jerry Barrish | Seattle, WA | | | Jonathan Luman | Linthicum, MD |
| Mike Casiano | Baltimore, MD | | | Gregory Moore | Houston, TX |
| James Cast | Moseley, VA | | | Sean O'Rourke | Irvine, CA |
| Jeff Contreras | Woodland, CA | | | Jonathan Owen | Denver, CO |
| Gregory Cooper | Toronto, ON | | | Chris Patrick | Fishers, IN |
| Kent Floros | Wheaton, IL | | | Rodger Plack | Ballwin, MO |
| Calypso Fugit | San Francisco, CA | | | Paul Shaffer | Burleson, TX |
| Noah Gross | Auburn Twp, OH | | | Jeff Silverstein | Scotch Plains, NJ |
| Bryan Hartman | Durham, NC | | | Tom Skiles | Alexandria, VA |
| Konrad Herling | Greenbelt, MD | | | Rick Strickland | St. Louis, MO |
| David Hingston | Chelmsford, MA | | | Joyce Thompson | Auburn Hills, MI |
| Nicolas Hu | Dahlonega, GA | | | Richard Walsh | Thomaston, ME |
| Casey Humphrey | Clayton, MO | | | Bryan Wilks | Germantown, TN |
| Tom Krawczyk | Scottsdale, AZ | | | Jeff Willits | Akron, OH |
In addition, please welcome our new Student Group Affiliate Members from Vassar College (adviser: William Hoynes) in Poughkeepsie, NY:
| Name | | | Name |
| --- | --- | --- | --- |
| Lea Brown | | | Jonathan Safir |
| Kelsey Cox | | | Kelly Wilkinson |
| Connor Cucalon | | | Daniel Willens |
| Jason Garfinkel | | | Steven Williams |
| Nicholas Johnson | | | Robert Winkelmann |
| Niccolo Porcello | | | Cory Wuenschell |
| Rachel Puchkoff | | | |
Educators, click here to learn more about signing up your group/class for a SABR Student Group Affiliate Membership.
---
Here are the new SABR research committee newsletters published this week:
Find all SABR research committee newsletters at SABR.org/research.
---
Here are the new regional chapter updates published this week:
Halsey Hall Chapter February 2015 newsletter (Minneapolis, MN)
Bob Davids Chapter launches new website: The Washington, D.C.-based Bob Davids Chapter has launched a new website this week at SABRDavids.org. Special thanks to Jim Sweetman for the site development. The Bob Davids Chapter's SABR Day meeting/annual meeting is taking place from 9:30 a.m.-4:30 p.m. tomorrow, Saturday, January 31, at the Holiday Inn Rosslyn at Key Bridge in Arlington, Virginia. Tickets are available at the door (all baseball fans are welcome) and admission includes a lunch buffet. Expected speakers include Washington Nationals executive Adam Cromie, Michael Hand of MiLB Enterprises, David W. Smith of Retrosheet, Bowie BaySox manager Gary Kendall, and more. Click here for complete details.
Visit SABR.org/chapters for more information on SABR regional chapters.
---
Here is a list of upcoming SABR events:
All SABR meetings and events are open to the public. Feel free to bring a baseball-loving friend … and make many new ones! Check out the SABR Events Calendar at SABR.org/events.
---
Here are some recent articles published by and about SABR members:
Read these articles and more at SABR.org/latest.
---
This Week in SABR is compiled by Jacob Pomrenke. If you would like us to include an upcoming event, article or any other information in "This Week in SABR," e-mail jpomrenke@sabr.org.
Have trouble reading this e-mail? Click here to view this week's newsletter on the web.
Are you receiving our e-mails? "This Week in SABR" goes out by e-mail to all members on Friday afternoons. If they're not showing up, try adding "sabr.notes@sabr.org" to your contact list to ensure they show up in your inbox (and not the spam folder.)
---
Originally published: January 30, 2015. Last Updated: April 3, 2020.
https://sabr.org/wp-content/uploads/2020/03/research-collection4_350x300.jpg
300
350
jpomrenke
/wp-content/uploads/2020/02/sabr_logo.png
jpomrenke
2015-01-30 15:00:00
2020-04-03 14:39:15
This Week in SABR: January 30, 2015