This Week in SABR: March 4, 2016

Welcome to "This Week in SABR!" Click here to view this week's newsletter on the web. Here's what we've been up to as of March 4, 2016:
---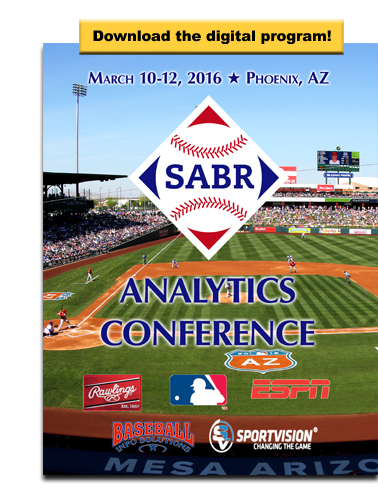 We're just a week away from the fifth annual SABR Analytics Conference, March 10-12 at the Hyatt Regency Phoenix, and we've got an All-Star lineup of speakers, panelists and presenters on the schedule this year.
Complete coverage of the SABR Analytics Conference, including a full schedule and panel descriptions, can be found at SABR.org/analytics. We'll be posting stories, photos, and multimedia clips online next week. You can also follow along live on Twitter by searching for the hashtag #SABRanalytics during the conference.
Once again, we're bringing together the top minds of the baseball analytic community under one roof to discuss, debate and share insightful ways to analyze and examine the great game of baseball. Representatives from more than 25 Major League Baseball front offices — including all 15 Cactus League teams — are expected to attend this year's SABR Analytics Conference.
The SABR Analytics Conference will consist of a combination of Guest Speakers, Panels, and Research Presentations — plus the unique Diamond Dollars Case Competition, in which undergraduate, graduate, and law school students from across the country analyze and present a real baseball operations decision.
Find more information on the 2016 SABR Analytics Conference below:
Visit SABR.org/analytics for more information or to register.
---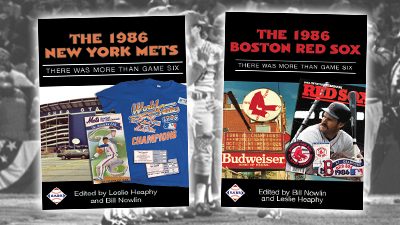 It's a double feature! Add two new baseball books to your collection with the latest releases from the SABR Digital Library:
The 1986 New York Mets: There Was More Than Game Six
Edited by Leslie Heaphy and Bill Nowlin
ISBN (paperback): 978-1-943816-13-2, $19.95
ISBN (ebook): 978-1-943816-12-5, $9.99
8.5″ x 11″, 360 pages
The 1986 Boston Red Sox: There Was More Than Game Six
Edited by Bill Nowlin and Leslie Heaphy
ISBN (paperback): 978-1-943816-13-2, $19.95
ISBN (ebook): 978-1-943816-12-5, $9.99
8.5″ x 11″, 415 pages
This two-book companion series focuses on the rivals that met in the 1986 World Series, the Boston Red Sox and the New York Mets, including biographies of every player, coach, broadcaster, and other important figures in baseball's top organizations that year.
This book on the 1986 season re-tells the story of that year's classic World Series. After four games, each team had won two away games and neither had won at home. Then the Red Sox won Game Five at Fenway, and were one game away from winning their first World Championship in 86 years. It came to the point they were one pitch away from baseball Nirvana. And then …
Just about everyone knows what happened, but there are takes on it here you might not have read elsewhere. Mostly, this is the story of each of the players, coaches, managers, and broadcasters, their lives in baseball, and the way the 1986 season fit into their lives.
As with many of the books published by SABR, this was a true collaborative effort. There are 74 different SABR members who contributed to making these two books on the Mets and Red Sox a reality. It took us two books to tell the story as well as we wanted. Get your copy of each book for the full story!
SABR members, get these e-books for FREE!
Having trouble downloading our e-books? To view PDF files on your computer, click here to download the free Adobe Reader software. Having trouble downloading e-books to your Kindle, Nook, Sony Reader or iPad? Click here for additional help.
SABR members will get discounted rates for all Digital Library publications, including e-books for free. To download any past publications, visit SABR.org/ebooks.
---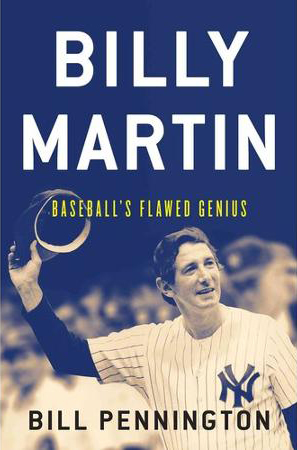 2016 Seymour Medal winner Bill Pennington, a veteran reporter who covered the New York Yankees during Billy Martin's final years as manager, will receive his award at the banquet of the 23rd annual NINE Spring Training Conference on Saturday, March 12 at the DoubleTree by Hilton Hotel in Tempe, Arizona (formerly the Fiesta Inn and Resort.)
The banquet includes the Seymour Medal ceremony with Dorothy Seymour Mills, dinner, and the NINE keynote address by SABR member Rob Edelman, the author of Great Baseball Films and Baseball on the Web who teaches film history at the University at Albany.
To register for the NINE conference, visit nineregistration.com.
Pennington won the Seymour Medal — which honors the best book of baseball history or biography published during the preceding calendar year — for Billy Martin: Baseball's Flawed Genius, published by Houghton Mifflin Harcourt.
The Seymour Medal, named in honor of Dr. Harold Seymour and Mrs. Dorothy (Seymour) Mills, was first awarded by SABR in 1996. To be considered for the medal, a work must be the product of original research or analysis. The winning book shall significantly advance our knowledge of baseball and shall be characterized by understanding, factual accuracy, profound insight and distinguished writing.
To see a list of previous Seymour Medal winners, click here.
---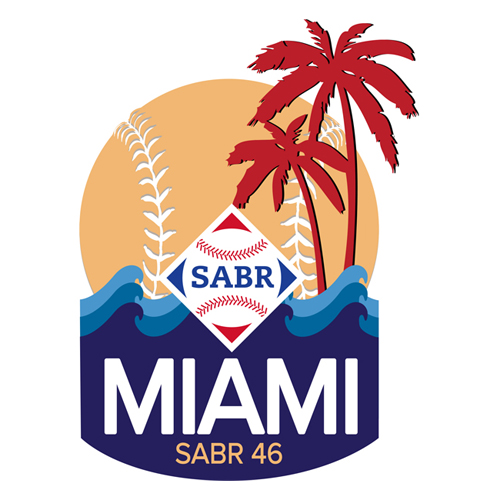 We hope you'll join us for what promises to be a spectacular SABR 46 convention, July 27-31, 2016, at the Hyatt Regency Miami in downtown Miami, Florida.
All SABR 46 attendees will also receive a souvenir print edition of The National Pastime, our annual convention journal, focusing on baseball teams, players and events in the Miami area. All SABR members, whether you attend the convention or not, will receive the expanded e-book edition of The National Pastime in their inboxes later this summer. Click here to register for SABR 46.
---

SABR invites all members to present their research findings to their colleagues attending SABR 46, the 2016 annual convention on July 27-31 in Miami, Florida.
Oral presentations are expected to last 20 minutes, followed by a five minute question-and-answer period. Posters will be presented, with the author on-hand to discuss the work, during a poster session of 90 or so minutes, and will probably remain on display throughout the convention. Through on-site judging, the most highly-regarded presentations will receive the Doug Pappas Award for best oral presentation and the USA Today Sports Weekly Award for best poster presentation.
The submission deadline for SABR 46 abstracts is midnight PST, Sunday, MARCH 13, 2016. Click here for complete details and criteria.
Submit abstracts to sabr2016-presentations@comcast.net, the research presentations address for SABR 46. You may also use the alternate address sabr46-presentations@comcast.net.
Please note: If your abstract is accepted and you intend to make a research presentation, you must register to attend the SABR 46 convention. Registration and hotel information for SABR 46 is now available at SABR.org/convention.
---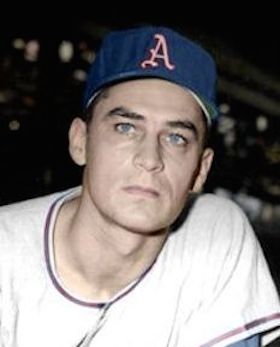 Seven new biographies were posted this week as part of the SABR Baseball Biography Project, which brings us to a total of 3,616 published biographies. Here are the new bios:
All new biographies can be found here: http://sabr.org/bioproj/recent
---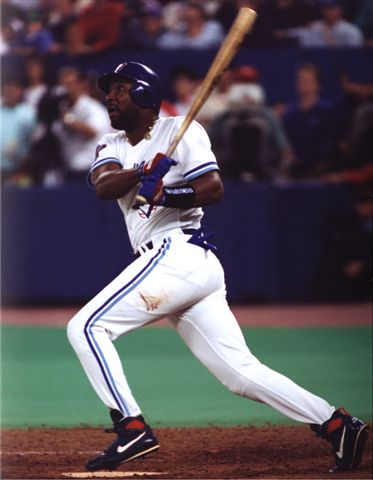 One new game story was posted this week as part of the SABR Games Project. Here is the new game story:
All new Games Project stories can be found here: http://sabr.org/gamesproject/recent
---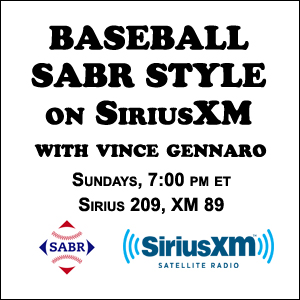 Behind the Numbers: Baseball SABR Style on SiriusXM, a radio show hosted by SABR President Vince Gennaro, will air this weekend at its regular time, 7:00-8:00 p.m. ET on Sundays, on MLB Network Radio.
Now, you can watch video highlights of Behind the Numbers: Baseball SABR Style on SiriusXM on MLB.com and you can also listen to all recent episodes on-demand on the SiriusXM Internet Radio App.
Behind the Numbers: Baseball SABR Style on SiriusXM focuses on examining and interpreting the statistical analysis that plays a critical role in baseball today. It airs weekly throughout the year on MLB Network Radio, available to subscribers nationwide on XM channel 89, Sirius channel 209, and on the SiriusXM Internet Radio App.
For more information, click here.
---
We've heard your feedback: Some of you have said you look forward to "This Week in SABR" every Friday, but sometimes there are just too many compelling articles and announcements to read every week. We're not complaining — hey, keep up the great work! — but we know the feeling. So in an effort to make the length of this newsletter more manageable to read, we'll summarize some of the repeating/recurring announcements in a special "In Case You Missed It (ICYMI)" section of "This Week in SABR".
Here are some major headlines from recent weeks that we don't want you to miss:
All previous editions of This Week in SABR can be found here: http://sabr.org/content/this-week-in-sabr-archives.
---
We'd like to welcome all of our new SABR members who have joined this week. You can find all Members-Only resources at members.sabr.org and the Membership Handbook can be downloaded here.
Please give these new members a warm welcome and help them make the most of their membership by giving them the opportunity to get involved in their local chapter or a research committee.
You can find contact information for any SABR member in the online membership directory (SABR.org/directory).
| Name | Hometown | | | Name | Hometown |
| --- | --- | --- | --- | --- | --- |
| Alejandro Aldama | Havana, CUB | | | Matthew Koenig | Homer Glen, IL |
| Sean Aronson | Tempe, AZ | | | Frederick Leinheiser | York, PA |
| Gary Babich | St. Petersburg, FL | | | Jack Levine | Tallahassee, FL |
| Robert Baginski | Irving, TX | | | Justin Mckinney | Ottawa, ON |
| Joe Brinkman | Chiefland, FL | | | George Nolte | Laurel, MD |
| Alex Cantor | Amherst, MA | | | Camilo Quintas | Houston, TX |
| Craig Castille | Orlando, FL | | | Steve Scales | Fishers, IN |
| Michael Darcy | Briarcliff Manor, NY | | | Robert Stephens | Charlottesville, VA |
| Robert Eatman | Shreveport, LA | | | Weston Ulbrich | North Haven, CT |
| Charlie Hanlon | N. Tonawanda, NY | | | Damian Vacin | Schofield Barracks, HI |
| Edward Kasputis | Rocky River, OH | | | Ty Winchester | Indianapolis, IN |
| Marc Kirsch | Philadelphia, PA | | | | |
---
Here are the new SABR research committee updates this week:
Find all SABR research committee newsletters at SABR.org/research.
---
Here are the new regional chapter updates this week:
Visit SABR.org/chapters for more information on SABR regional chapters.
---
Here is a list of upcoming SABR events:
All SABR meetings and events are open to the public. Feel free to bring a baseball-loving friend … and make many new ones! Check out the SABR Events Calendar at SABR.org/events.
---
Here are some recent articles published by and about SABR members:
Read these articles and more at SABR.org/latest.
---
This Week in SABR is compiled by Jacob Pomrenke. If you would like us to include an upcoming event, article or any other information in "This Week in SABR," e-mail jpomrenke@sabr.org.
Have trouble reading this e-mail? Click here to view this week's newsletter on the web.
Are you receiving our e-mails? "This Week in SABR" goes out by e-mail to all members on Friday afternoons. If they're not showing up, try adding "sabr.notes@sabr.org" to your contact list to ensure they show up in your inbox (and not the spam folder.)
---
Originally published: March 4, 2016. Last Updated: April 3, 2020.
https://sabr.org/wp-content/uploads/2020/03/research-collection4_350x300.jpg
300
350
admin
/wp-content/uploads/2020/02/sabr_logo.png
admin
2016-03-04 15:00:00
2020-04-03 14:39:13
This Week in SABR: March 4, 2016