This Week in SABR: November 7, 2014

Welcome to "This Week in SABR!" Here's what we've been up to as of November 7, 2014:
---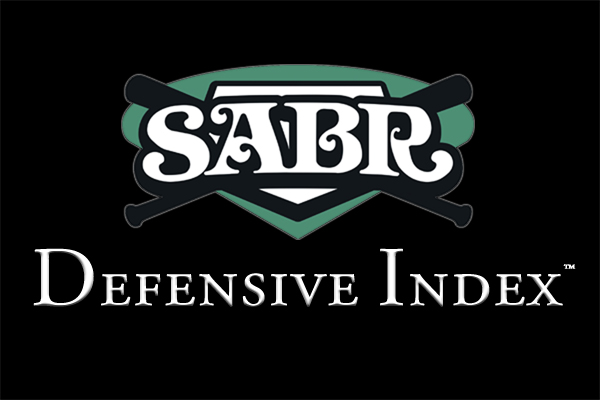 For the second consecutive season, the SABR Defensive Index™ was used to help select the winners of the Rawlings Gold Glove Award and Rawlings Platinum Glove Award™, presented by SABR. The SABR Defensive Index accounts for 30 total "votes" — or approximately 25 percent of the Rawlings Gold Glove Award selection process — which are added to the votes from the managers and coaches.
The 2014 Gold Glove winners were announced in a primetime TV special on ESPN's "Baseball Tonight" on Tuesday, November 4. Click here to view the winners of the 2014 Rawlings Gold Glove Awards.
The final SABR Defensive Index rankings for the 2014 season were also released this week. Click here to view the final 2014 SDI rankings, as compiled by the SABR Defensive Committee, which includes SABR President Vince Gennaro, Sean Forman of Baseball-Reference.com, Ben Jedlovec of Baseball Info Solutions, SABR Director F.X. Flinn, author and defensive metrics expert Chris Dial, and author Michael Humphreys.
Voting for the Rawlings Platinum Glove Award, presented by SABR, was conducted online at Rawlings.com this week and the winner will be announced tonight at the Rawlings Gold Glove Award Ceremony in New York.
The SABR Defensive Index draws on and aggregates two types of existing defensive metrics: those derived from batted ball location-based data and those collected from play-by-play accounts. The three metrics representing batted ball data include Defensive Runs Saved from Baseball Info Solutions, Ultimate Zone Rating developed by noted sabermetrician Mitchel Lichtman, and Runs Effectively Defended based on STATS Zone Rating and built by SABR Defensive Committee member Chris Dial. The two metrics included in the SDI originating from play-by-play data are Defensive Regression Analysis, created by committee member Michael Humphreys, and Total Zone Rating.
Learn more about the SABR Defensive Index and its role in the Rawlings Gold Glove Award process at SABR.org/SDI.
---

Major League Baseball's A-listers will take home 2014 GIBBY trophies — the ultimate honors of the industry's awards season — based on votes by media, front-office personnel, MLB alumni, fans at MLB.com, and the Society for American Baseball Research.
SABR members will again help get to decide who had the best performances of the 2014 baseball season in the 13th annual MLB.com Greatness in Baseball Yearly Awards.
This year's GIBBY Awards feature nominees in 23 categories. Individual honors will go to the MLB MVP, in addition to the year's best starting pitcher, hitter, closer, setup man, rookie, breakout hitter, breakout pitcher, bounceback player, defensive player, manager, executive, and postseason performer.
GIBBY trophies also will be awarded for the year's top play, outfield throw, storyline, hitting performance, pitching performance, oddity, walk-off, Cut4 topic, regular-season moment and postseason moment, with video available via MLB.com's Must C highlight reels.
All 30 clubs are represented among the award candidates. In fact, every team has multiple nominees in 2014 — a testament to the parity of talent around the game.
The deadline to cast your SABR vote is 11:59 p.m. PST on Friday, November 21. You can still cast a fan vote without logging in through the end of the public voting period on MLB.com.
SABR members have the opportunity to play a key role in selecting the winners of the GIBBYs. The votes from SABR members will be equal to each of the other four categories.
SABR members (20%)
MLB.com fans (20%)
Front office personnel (20%)
Retired players (20%)
Media (20%)
The winners will be announced at a reception at the annual Baseball Winter Meetings on December 6, 2014, in San Diego, California.
---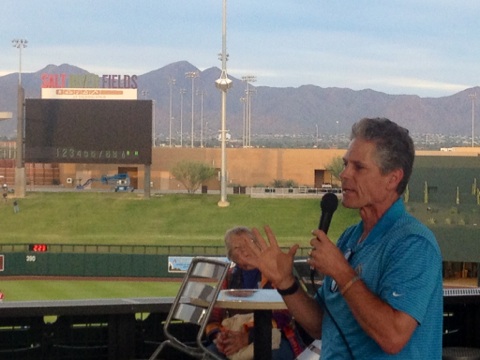 The sixth annual SABR Arizona Fall League Conference was held October 30-November 1. The conference featured four AFL games showcasing baseball's top prospects, a special dinner with members of the Arizona Major League Alumni at Don and Charlie's in Scottsdale, and a private tour of new Cubs Park in Mesa. The final game on Saturday night was the Fall Stars Game at Salt River Fields at Talking Stick.
Click here to check out a photo gallery from the 2014 SABR Arizona Fall League Conference.
On Thursday, October 30, conference attendees took in a game between the Mesa Solar Sox and Scottsdale Scorpions at Cubs Park in Mesa following a special tour of the Cactus League's newest facility led by Justin Piper, the Cubs' spring training General Manager of Business Operations. Yankees outfield prospect Aaron Judge hit two home runs and threw out a runner at home plate during the Scorpions' 7-5 win.
On Thursday evening, Miami Marlins coach and former major-leaguer Brett Butler spoke to the SABR group before a game between the Salt River Rafters and Surprise Saguaros at Salt River Fields at Talking Stick. Butler, who spent nine years as a coach and minor-league manager in the Arizona Diamondbacks organization before joining Mike Redmond's staff in Miami in 2014, spoke about his love for teaching the game and what keeps him motivated now that his playing career is over. "I love instructing," he said. "I love making a difference in young men's lives. The strategy of managing is great — I loved that part of the game even as a player — but seeing the light bulb go off in their heads and watching them grow and become better, that gives me great joy."
On Friday, October 31, AFL Conference guests attended another game at Salt River Fields between the Scorpions and Rafters, followed by a special dinner with members of the Arizona Major League Alumni at the legendary baseball hangout Don and Charlie's in Scottsdale. Former players who spoke included AZMLA president Lou Klimchock, along with Leon Brown, Mark Littell, Ron Davis, Dave Hilton, Bobby Knoop, and Jack Heidemann. Our guests also included Joan McGrath, retired senior administrator of the Arizona Fall League and 2013 recipient of the Rawlings Woman Executive of the Year award.
On Saturday, November 1, SABR's Flame Delhi Chapter held its fall meeting, with presentations by MLB.com writer Barry M. Bloom on his friend Tony Gwynn and his recent trip to the World Series; Bernie Pleskoff with a scouting report for the current crop of AFL prospects; chapter president Rodney Johnson on his trip to Australia with the Arizona Diamondbacks; Chuck Johnson on one-time Dodgers prospect Bill Seinsoth whose early changed the course of the franchise's history; and Gene Sunnen on his favorite pastime, heckling.
The conference concluded with the nationally televised Fall Stars Game on Saturday evening at Salt River Fields. Another Yankees prospect, first baseman Greg Bird, launched a towering home run to the third tier of the batter's eye in center field and took MVP honors in the all-star game.
For more information, visit SABR.org/AFL.
---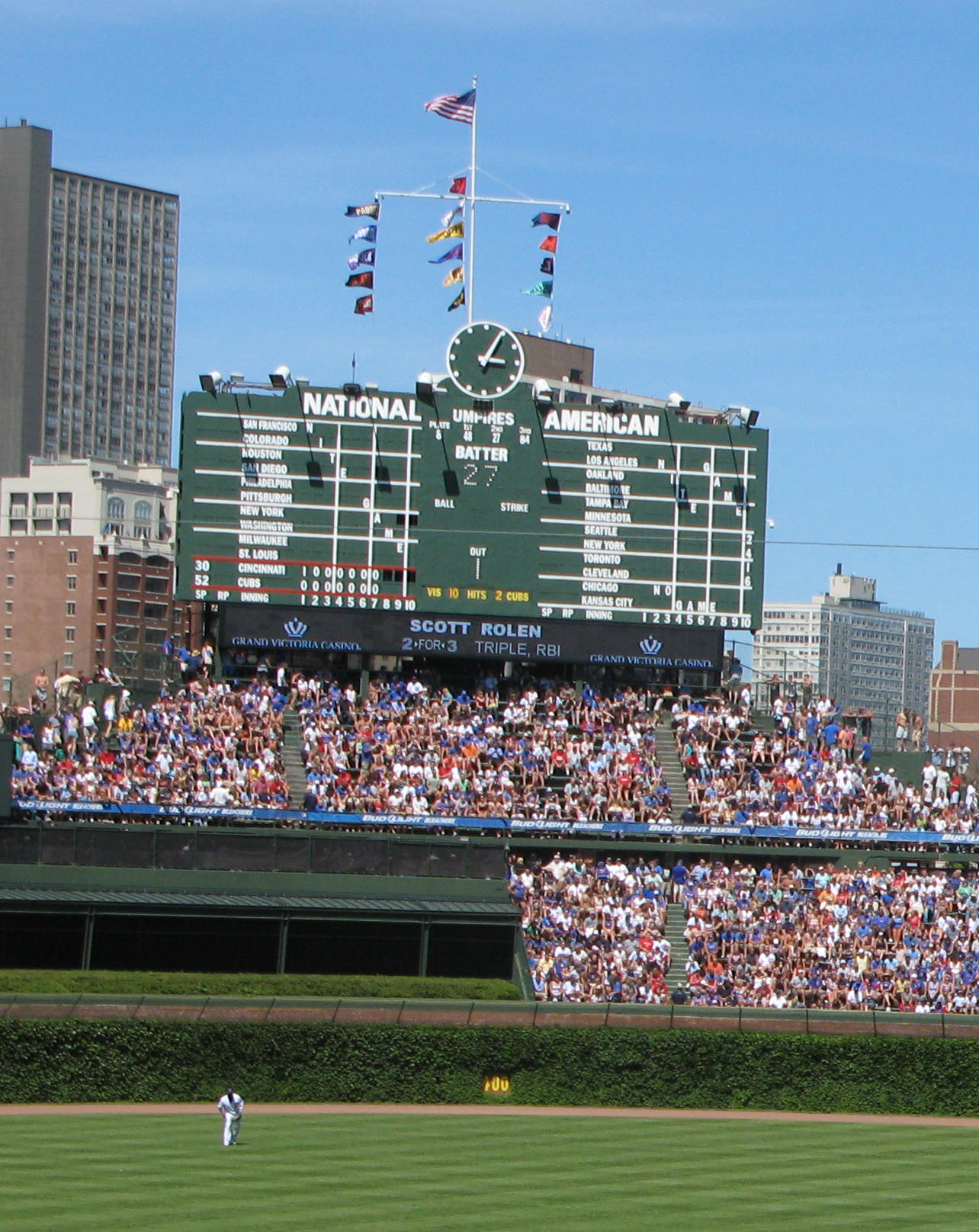 The 45th annual SABR national convention will take place June 24-28, 2015, at the Palmer House Hilton in Chicago, Illinois.
To coincide with the annual convention, the summer 2015 issue of The National Pastime will focus on Chicago-area baseball. Chicago, home to two of the oldest major league teams, has a long association with baseball.
The National Pastime is not limited only to the study of the major leagues; we're open to topics including college baseball, fan studies, women's baseball, Little League, semipro ball, and more. Articles may be historical, biographical, or analytical, but please avoid personal narrative.
Please also note that concurrent with the convention, SABR is releasing two Digital Library e-books — one on the 1919 White Sox and one on the 1929 Cubs. Therefore, we discourage submissions on those teams, although articles on other periods of Cubs and Sox history are certainly welcomed.
This issue of The National Pastime will be edited by longtime Chicago-based SABR member Stuart Shea. Stu will be taking queries and abstracts until November 15, 2014, and will make assignments no later than December 1. First drafts of articles will be due by February 1, 2014, and rewrites (if needed) will be due by March 1.
To query, send an e-mail to stushea@gmail.com with the subject line "TNP Query" and a key word or two on your subject. (For example: "TNP Query: Economics of Wrigley Rooftops.")
Please note that the TNP will have both a print edition (given out to SABR 45 convention attendees) and an expanded e-book version that will be sent to all SABR members. Some, but not all, of the articles will be selected to appear in the print edition, while more will appear in the electronic edition.
---
Both baseball and non-baseball historians of the 19th century will present a day-long NYC 19th Century Baseball Interdisciplinary Symposium from 9:00 a.m.-5:00 p.m. on Saturday, November 15, 2014, at John Jay College of Criminal Justice (524 W. 59th Street in New York). This interdisciplinary symposium, co-hosted by SABR's Nineteenth Century and Origins Committees, is intended to illuminate New York City's indelible contributions to the origins, growth, spread, and institutionalization of the game as we know it today, and how, in turn New York baseball of the era, impacted the lives of 19th-century New Yorkers and Americans beyond.
To help derive a greater understanding of what is known and what is not known about 19th-century baseball in and around New York City, SABR's Nineteenth Century and Origins Committees have established the inaugural NYC 19th Century Baseball Interdisciplinary Symposium on Saturday, November 15, 2014, to bring together a rare assembly of both leading baseball historians and experts on 19th-century New York City and 19th-century life.
The all-day program of panel discussions and research presentations will cover the last six decades of the 19th century, which will be divided between baseball's Pre-Professional Era (1840s-1870) in the morning and its Professional Era (1871-1900) in the afternoon. The $95.00 registration fee ($45.00 for students with currently valid College IDs) will include a comprehensive packet of symposium handout materials, a continental breakfast service, and a full hot buffet luncheon with a keynote address by NYC historian, author, and curator, Steven H. Jaffe (see below).
There will also be an optional post-symposium gathering immediately following the day's program at a nearby restaurant (food and beverage are individual pay).
The interdisciplinary program will feature baseball historians, authors and researchers, including: Major League Baseball Official Historian John Thorn; William Ryczek; Tom Gilbert; George Thompson; Robert Bailey; David Dyte; William Lamb; David Nemec; Donald Jensen; Ralph Carhart; and David Krell, among others.
An exclusive "interview" by Gary O'Maxfield of NYC baseball pioneer Daniel Lucius "Doc" Adams (1814-1899) will be provided by his great-granddaughter and "Doc" Adams historian, Marjorie Adams.
Three dedicated and highly regarded non-baseball historians, whose devotion to their respective studies go well beyond the letters following their names, will be joining this program as guest faculty. They are:
Keynote Speaker Dr. Steven H. Jaffe, historian, author and curator, currently the guest curator of the exhibition "Activist New York" at the Museum of the City of New York and author of New York at War: Four Centuries of Combat, Fear, and Intrigue in Gotham (Basic Books, 2012) and Who Were the Founding Fathers? Two Hundred Years of Reinventing American History (Henry Holt, 1996).
Dr. Ann Fabian, who will present on "Gambling in 19th Century America". Dr. Fabian is Distinguished Professor of History and American Studies at Rutgers University, New Brunswick, New Jersey. She is the author of Card Sharps, Dream Books & Bucket Shops: Gambling in Nineteenth-Century America (Cornell University Press, 1991; paperback, Routledge, 1999).
Dr. David Hochfelder will present on "How the Telegraph Helped Make Baseball the National Pastime". Dr. Hochfelder is Associate Professor of History at University of Albany and author of The Telegraph in America: A History (Baltimore and London: John Hopkins University Press, 2012).
The symposium is open to both SABR members and to the general public. See the Registration Form for fees and payment information. To download the application for your passport to 19th-century New York City and a front-row seat to baseball being played there, please click here to download the registration form and information packet (PDF). Registration will continue until November 7, 2014. For questions, please contact Peter Mancuso or John Zinn.
---
SABR has a long and storied history with baseball statistical analysis, evidenced by the link between our name and sabermetrics. While SABR is a multi-faceted organization involved in virtually every aspect of baseball, we have taken a major step to re-connect with our beginnings by producing and hosting the fourth annual:
SABR Analytics Conference
March 12-14, 2015
Hyatt Regency Phoenix
Phoenix, Arizona
Once again, we're bringing together the top minds of the baseball analytic community under one roof to discuss, debate and share insightful ways to analyze and examine the great game of baseball.
The schedule will consist of a combination of Guest Speakers, Panels and Research Presentations — plus the unique Diamond Dollars Case Competition, in which undergraduate, graduate, and law school students from across the country analyze and present a real baseball operations decision.
Conference registration is available now at the SABR Store. Click here to register. The conference is open to all baseball fans. The early registration rate is $395 for SABR members and $495 for nonmembers, or $350 for currently enrolled high school or college students (includes one-year membership to SABR).
The 2015 SABR Analytics Conference will be held Thursday, March 12 through Saturday, March 14 at the Hyatt Regency Phoenix, 122 N. 2nd St., Phoenix, AZ 85004. Click here to book your hotel room at the special SABR group rate of $174/night (plus tax) for double occupancy. Or call (602) 252-1234 and mention that you're with the SABR Analytics Conference.
Check back soon as we announce some of our featured speakers, panels and presentations!
SABR's long history in this area of baseball research, coupled with our mission of advancing the understanding and knowledge of baseball, makes us the perfect choice to coordinate and host this ground-breaking event.
For complete details and information, visit SABR.org/analytics.
The third annual SABR Analytics Conference was held March 13-15, 2014, in Phoenix, Arizona. Check out highlights at SABR.org/analytics/2014.
Related links:
---
With generous funding from The Anthony A. Yoseloff Foundation, Inc., SABR will award up to four scholarships to high school and college students who wish to attend the 2015 SABR Analytics Conference on March 12-14, 2015, in Phoenix, Arizona. This scholarship will pay for registration, air transportation and lodging up to a total value of $1,250.
The objective of this scholarship fund is to encourage student engagement with baseball analytics, and to engender an active interest in baseball research and SABR. The Yoseloff scholarship is to assist young researchers who want to attend SABR's Analytics Conference and to introduce them to fellow SABR members and professionals within the baseball community. Through this fund, SABR hopes to inspire future baseball research, expose students to high-quality research and build the research capability of interested students.
Click here for more information on submission guidelines and eligibility requirements.
All applications must be postmarked or e-mailed to Jeff Schatzki at jschatzki@sabr.org no later than December 31, 2014.
---
One new game story was posted this week as part of the SABR Games Project. Here is the new game story:
The SABR Baseball Games Project was launched in January 2014 to research and write articles on major-league and Negro League regular, postseason, and All-Star Games. These game accounts will complement Retrosheet and Baseball-Reference box scores as well as BioProject essays on the players involved.
The articles are not intended to be mere play-by-play summaries, nor should they be first-person narratives. Rather the goal is to put each game in historical context — whether that history is of a particular player, team, season, or something even broader.
Visit the new Games Project website at SABR.org/gamesproject.
---
For those of you whose SABR memberships expire on December 31 — you can check your current membership status here — it's almost time for you to renew! We're excited about the upcoming year ahead of us and we hope you'll take advantage of all the great membership benefits offered to SABR members in 2015. Here's a short list:
http://sabr.org/member-benefits
You can renew your membership for 1 year or 3 years online at the SABR Store; by phone at (602) 343-6450; or by mailing this downloadable PDF form and your payment to the SABR office at 4455 E. Camelback Road, Ste. D-140, Phoenix, AZ 85018.
Dues are the same as they have been in recent years: for this, you get two editions of the Baseball Research Journal, the expanded e-book edition of The National Pastime; 8-10 free e-books published by the SABR Digital Library; "This Week in SABR" every Friday; access to research resources such as Paper of Record (with complete archives of The Sporting News); discounts to all SABR conferences such as the National Convention (Chicago 2015), the SABR Analytics Conference, the Jerry Malloy Negro League Conference, and the Frederick Ivor-Campbell 19th Century Conference; discounts to MLB.TV; and much, much more.
We believe SABR has something for everyone, from the active researcher to someone passionate about baseball. We hope you'll invite your friends, colleagues and family members to join at http://store.sabr.org.
Add a family member for $15: Any SABR member can add a family member in the same household for $15 per year; they will receive all electronic member benefits and access to the website, but no printed publications. To add a new family member, please contact Membership Director Deb Jayne. Note: In order to renew your existing family membership, you must log in to the SABR website under the family member's username/e-mail address, not your own.
---
In my 31 years as a member of the Society for American Baseball Research, I have seen SABR evolve greatly as an organization, offering unparalleled opportunities and benefits for members and commanding respect throughout the baseball community. And I have seen that first-hand: In 1983, I attended my first SABR Convention in my hometown of Milwaukee, where I was thrilled to meet some of the organization's founders. This past year, I attended both the 2014 Analytics Conference and the 44th annual convention in Houston — and I'm equally thrilled for SABR's future after getting to know the staff and volunteer leadership now in place.
To continue to grow as an organization, and to seize the great opportunities now within reach, SABR is in need of charitable gifts. Many members have already become donors, and you can join them right now by making your gift online at SABR.org/donate.
SABR is a 501(c)3 organization, which means your donation is tax deductible in the U.S. to the fullest extent of the law.
While the incentives are attractive, the real benefit is the satisfaction received from contributing to the continuing knowledge and appreciation of our national pastime.
Please join me in supporting SABR and send your donation by check to SABR Donor Program, 4455 E. Camelback Road, Ste. D-140, Phoenix, AZ 85018 — or by visiting SABR.org and pressing the convenient DONATE button at the top of the page. By doing so you help SABR fulfill its mission and increase the impact of our baseball analysis and historical study.
Many companies offer matching gift programs to encourage employees to contribute to charitable organizations. Please check with your company to see if it offers a matching gift program that will match your gift or volunteer hours to the Society for American Baseball Research. If you have questions regarding your gift, e-mail me at pbolda@sabr.org.
— Phillip Bolda, Chair, SABR Fundraising and Development Committee
---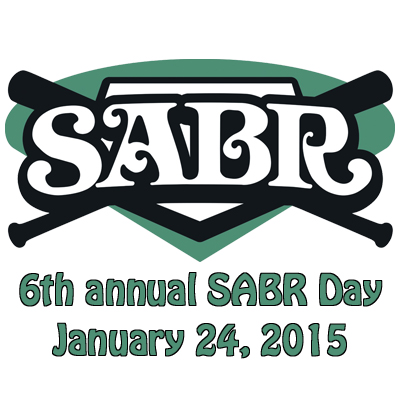 Just a reminder to all that the sixth annual SABR Day will be held Saturday, January 24, 2015. We're starting to compile details now on 2015 SABR Day chapter meetings around the country. We'll post them as soon as we get them at SABR.org/sabrday.
Regional SABR meetings are open to all baseball fans and are usually free to attend, so bring a friend! Guest speakers often include current and former baseball players, managers, umpires, executives, scouts, writers and authors.
Check back soon at SABR.org/sabrday for more information on a SABR Day meeting close to you.
For a complete recap of 2014 SABR Day activities, visit SABR.org/sabrday.
---
We're pleased to pass along this update from SABR member Gary Ashwill at Seamheads.com:
The newest addition to the award-winning Seamheads Negro Leagues Database, the 1926 Eastern Colored League (the Negro National League and World Series will arrive later), showcases the Atlantic City Bacharach Giants' breakthrough season. After three years of playing .500 ball in the ECL, Dick Lundy (.355) and company rode the arms of Claude Grier (12-7, 3.21) and Rats Henderson (12-7, 2.58) to an upset pennant victory over defending three-time champs Hilldale.

Once again, the league remained fairly stable, with one exception. Only the Wilmington Potomacs were dropped from the 1925 lineup. They were replaced by the Newark Stars, a team that only lasted 11 league games themselves (winning one) before giving up. The Stars' main distinction was that they provided Sol White, Hall of Fame manager, player, and writer, with his final job in organized baseball, as a special assistant to manager Andy Harris.

The Brooklyn Royal Giants, playing very few games in their ostensible home park (Dexter Field), once again provided cannon fodder for the rest of the league. Unfortunately for the rest of the league, the Royal Giants failed to schedule very many league games, preferring to spend much of the summer barnstorming in upstate New York. Outfielder Charlie "Chino" Smith (.375/.444/.521) and lefthander Willis "Pud" Flournoy (5-2, 2.45) nevertheless provided a few bright spots for the Royals.

Pete Hill, who had led the Baltimore Black Sox to a second place finish in 1925, left at the end of that season. Although the Black Sox replaced his leadership with the steady hand of first baseman Ben Taylor, the team collapsed in 1926. They did start the season with a murderer's row of Jud Wilson (.363/.476/.541), Heavy Johnson (.350/.418/.540), and John Beckwith (.333/.394/.611 for the Black Sox), but Beckwith clashed with management and got himself traded to the Harrisburg Giants. Meanwhile, everybody else on the team forgot to hit—no fewer than three regulars hit less than .200.
Read the full update here: http://seamheads.com/2014/11/04/negro-leagues-db-update-1926-eastern-colored-league/
To view the award-winning Seamheads Negro Leagues Database, visit http://www.seamheads.com/NegroLgs/index.php
---
Periodically, we offer tips in This Week in SABR to help you get the most out of your SABR membership and all the resources and benefits available to you as a member. You can find more information by logging in to the Members-Only page at members.sabr.org using your e-mail address and password.
The online SABR Membership Directory is one of the most important resources we make available to members. It can help you find friends you met at the National Convention or a regional chapter meeting, or it can help you track down a subject-matter expert who can answer a baseball research question or point you in the right direction for more information. SABR members are a friendly bunch who love to talk baseball, but you have to know where to look sometimes.
For your convenience, the online SABR membership directory can be found at SABR.org/directory. Most of you will probably access it by clicking the "Directory" button on the Members-Only page at members.sabr.org, but links to the Directory can also be found throughout the SABR website (including in the bottom footer of every page.)
The SABR Directory includes contact information for all of our 6,000+ active members, and it's searchable by name, location, chapter, committee, or research interests/expertise. Lapsed members and non-active members are not included in the Directory, so if you can't find someone who you think used to be a SABR member that could be the reason why.
Here are some quick tips on using the SABR Directory so you can easily find who you're searching for:
Use last names only: If you are just trying to look up a phone number or e-mail address for a single member, by far the easiest way to find that person is to enter in their last name in the Name field. First names do work, too, but if you're searching for "Joe Jackson" and he has registered under the name "Joseph Jackson", the Directory is going to look for someone with the name "Joe", not "Jos—". So just search for "Jackson" instead and then scroll down to the J's to find him. (For the record, Shoeless Joe has never been a SABR member … but you will find the Shoeless Joe Jackson Museum and Baseball Library.)

To cross-reference a search:

Say you are looking for anyone in the Baseball Records Committee who lives in California or is a member of a California-based chapter. In the Location field, select "United States" then "California". In the Groups field, check the box for the "Baseball Records Committee". Scroll down to the bottom and select the green Continue button. That will give you a list of people who are in both groups. Note: Checking two or more boxes in the Groups field will not work. You must use two separate fields. So you might also try the Location field for "California" and the Research Interests/Expertise field for "baseball records" or "statistics" to get a similar result.)

To search for Research Interests/Expertise:

Type in any team name ("Red Sox"), year ("1968") or topic ("Negro Leagues") in the Research Interests and Expertise field, then select the green Continue button. An important function of the SABR Directory is that members can find others who share their interests or who are knowledgeable about a particular subject. SABR members are often a great resource, and someone can usually point you in the right direction to help your research. We encourage all of you to add your own research interests or subjects of expertise to your profile by clicking on the "Profile" button at members.sabr.org.
Enter in only what you know for sure: If you are not sure of a name or spelling, just enter in what you know. For instance, if you are looking for Mike Smith but aren't sure if his first name is registered under Mike or Michael, just type in "Smith" under the "Name" field and scroll down to the M's. The Directory can only search for what you enter — but it's also going to search for exactly what you enter. In most cases, typing in only a person's last name should pull up the result you're looking for.
Oh, and here's one more tip: In order to make yourself easier to find in the Directory, we encourage you to edit your own profile to reflect the name that you are commonly called. So if your name is "Stephen" but everyone knows you (and more important: will search for you) as "Steve", please consider listing yourself that way instead. You can edit your profile at any time by going to http://profile.sabr.org/members/edit.asp or clicking the "Profile" button on the Members-Only page and then selecting one of the "Edit" buttons.
To learn more about Members-Only resources, visit members.sabr.org.
---
In Memoriam
Former major-league pitcher and longtime Lajoie-Start Southern New England Chapter member Lou Lucier died on October 18 in Millbury, Massachusetts, at the age of 96. Lou, who attended several of our meetings with his late wife, Marcella (also a SABR member), pitched for the Red Sox in 1943-44 and the Phillies in 1944-45. He also pitched for a number of years in the Blackstone Valley League, a high-powered circuit whose teams were sponsored by textile mills in the corridor along the Blackstone River in Massachusetts. After he left baseball, he spent many years working in those mills. He was the oldest living Red Sox player for a considerable period of time, and a genuinely nice guy. — Len Levin
---
We've heard your feedback: Some of you have said you look forward to "This Week in SABR" every Friday, but sometimes there are just too many compelling articles and announcements to read every week. We're not complaining — hey, keep up the great work! — but we know the feeling. So in an effort to make the length of this newsletter more manageable to read, we'll summarize some of the repeating/recurring announcements in a special "In Case You Missed It (ICYMI)" section of "This Week in SABR".
Here are some major headlines from recent weeks that we don't want you to miss:
All previous editions of This Week in SABR can be found here: http://sabr.org/content/this-week-in-sabr-archives.
---
We'd like to welcome all of our new SABR members who have joined this week. You can find all Members-Only resources at members.sabr.org and the New Member Handbook can be downloaded here.
Please give these new members a warm welcome and help them make the most of their membership by giving them the opportunity to get involved in their local chapter or a research committee.
| Name | Hometown | | | Name | Hometown |
| --- | --- | --- | --- | --- | --- |
| Bill Babcock | Indianapolis, IN | | | John Graber | Wauwatosa, WI |
| Nick Cagliuso | Rockville Centre, NY | | | Patrick Meusel | San Francisco, CA |
| Jefferson Case | Boston, MA | | | Rodney Paul | St. Augustine, FL |
| Jeff Craun | Burlingame, CA | | | Arnie Siegel | New York, NY |
| David Dudley | Chapmansboro, TN | | | David Supple | Scottsdale, AZ |
| Steve Dunn | Des Moines, IA | | | Daniel Woodhead III | San Francisco, CA |
| John Fedinatz | New York, NY | | | | |
---
Here are the new SABR research committee newsletters published this week:
Find all SABR research committee newsletters at SABR.org/research.
---
Here are the new regional chapter updates published this week:
Visit SABR.org/chapters for more information on SABR regional chapters.
---
Here is a list of upcoming SABR events:
All SABR meetings and events are open to the public. Feel free to bring a baseball-loving friend … and make many new ones! Check out the SABR Events Calendar at SABR.org/events.
---
Here are some recent articles published by and about SABR members:
Read these articles and more at SABR.org/latest.
---
This Week in SABR is compiled by Jacob Pomrenke. If you would like us to include an upcoming event, article or any other information in "This Week in SABR," e-mail jpomrenke@sabr.org.
Are you receiving our e-mails? "This Week in SABR" goes out by e-mail to all members on Friday afternoons. If they're not showing up, try adding "sabr.notes@sabr.org" to your contact list to ensure they show up in your inbox (and not the spam folder.)
---
Originally published: November 7, 2014. Last Updated: April 3, 2020.
https://sabr.org/wp-content/uploads/2020/03/research-collection4_350x300.jpg
300
350
jpomrenke
/wp-content/uploads/2020/02/sabr_logo.png
jpomrenke
2014-11-07 14:00:36
2020-04-03 14:39:16
This Week in SABR: November 7, 2014