This Week in SABR: October 9, 2015
Welcome to "This Week in SABR!" Click here to view this week's newsletter on the web. Here's what we've been up to as of October 9, 2015:
---
For those of you whose SABR memberships expire by December 31 — you can check your current membership status here — it's almost time for you to renew! We're excited about the upcoming year ahead of us and we hope you'll take advantage of all the great membership benefits offered to SABR members in 2016. Here's a short list:
You can renew your membership for 1 year or 3 years online at the SABR Store; by phone at (602) 496-1460; or by mailing this downloadable PDF form and your payment to the office at: SABR, Cronkite School at ASU, 555 N. Central Ave. #416, Phoenix, AZ 85004.
Dues are the same as they have been in recent years: for this, you get two editions of the Baseball Research Journal, the expanded e-book edition of The National Pastime; 8-10 free e-books published by the SABR Digital Library; "This Week in SABR" every Friday; access to research resources such as Paper of Record (with complete archives of The Sporting News); discounts to all SABR conferences such as the National Convention (Miami 2016), the SABR Analytics Conference, the Jerry Malloy Negro League Conference, and the Frederick Ivor-Campbell 19th Century Conference; discounts to MLB.TV; and much, much more.
We believe SABR has something for everyone, from the active researcher to someone passionate about baseball. We hope you'll invite your friends, colleagues and family members to join at store.sabr.org.
Add a family member for $15: Any SABR member can add a family member in the same household for $15 per year; they will receive all electronic member benefits and access to the website, but no printed publications. To add a new family member, please contact Membership Director Deb Jayne. Note: In order to renew your existing family membership, you must log in to the SABR website under the family member's username/e-mail address, not your own.
---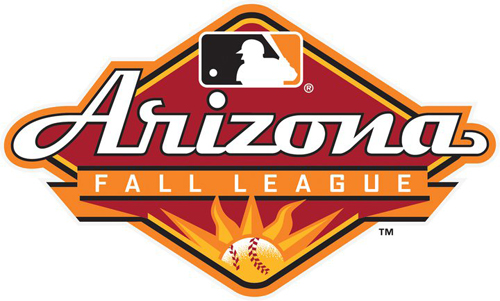 We're less than a month away from the seventh annual SABR Arizona Fall League Experience — a new name, but same great experience — on November 5-7, 2015, in Scottsdale, Arizona. We hope you'll join us!
Schedule: The full conference schedule is now available at SABR.org/AFL.
Host hotel: Holiday Inn Express & Suites, Old Town Scottsdale, 3131 N. Scottsdale Rd., Scottsdale, AZ 85251. Visit www.hiescottsdalehotel.com to book your room online or call the hotel at (480) 675-7665. Please note: The special SABR group rate is no longer available.
The event will feature four AFL games showcasing baseball's top prospects, including games at Scottsdale Stadium and Camelback Ranch, our first trip to Glendale. We'll also have dinner at Don and Charlie's in Scottsdale, home to one of the great sports memorabilia collections you will ever see, and a ballpark dinner at Salt River Fields at Talking Stick with a special guest speaker.
On Saturday, November 7, attendees will join members of SABR's Flame Delhi Chapter for their regional fall meeting, with research presentations and guest speakers. The conference will conclude with the nationally televised Fall Stars Game on Saturday evening at Salt River Fields at Talking Stick.
The Arizona Fall League (mlbfallball.com) is baseball's premier player development league. In the first six years of the conference, attendees were treated to sneak peeks at Mike Trout, Bryce Harper, Buster Posey, Starlin Castro, Stephen Strasburg, Nolan Arenado, and Billy Hamilton before they hit the big leagues.
Learn more about Arizona baseball history by downloading Mining Towns to Major Leagues: A History of Arizona Baseball, SABR's 1999 convention journal that was recently republished as an e-book at the Flame Delhi Chapter's website, SABRAZ.org.
All baseball fans are welcome to attend, so join us in November for the SABR Arizona Fall League Experience!
---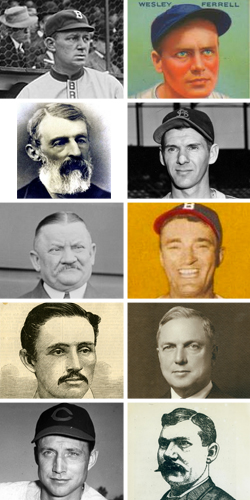 Six former big league players, three executives and one of the game's earliest organizers comprise the Baseball Hall of Fame's 10-name Pre-Integration Era ballot to be reviewed and voted upon at the 2015 Baseball Winter Meetings in Nashville.
Doc Adams, Sam Breadon, Bill Dahlen, Wes Ferrell, Garry Herrmann, Marty Marion, Frank McCormick, Harry Stovey, Chris von der Ahe and Bucky Walters are the candidates for Pre-Integration Era Committee consideration for Hall of Fame election for the Class of 2016.
Click on the links above to read SABR bios for the candidates, when available.
Doc Adams was voted as SABR's Overlooked 19th Century Base Ball Legend for 2014; Bill Dahlen was selected as the Overlooked Legend in 2012 and Harry Stovey in 2011. SABR's Overlooked Legend in 2010, Deacon White, was elected to the Hall of Fame in 2013 by the Pre-Integration Era Committee.
The Pre-Integration Era ballot was determined this fall by the Historical Overview Committee, comprised of 11 veteran historians, including SABR members Bob Elliott (Toronto Sun); Steve Hirdt (Elias Sports Bureau); Bill Madden (formerly New York Daily News); and Tracy Ringolsby (MLB.com). The 16-member Hall of Fame Board-appointed electorate charged with the review of the Pre-Integration Era ballot will be announced later this fall.
---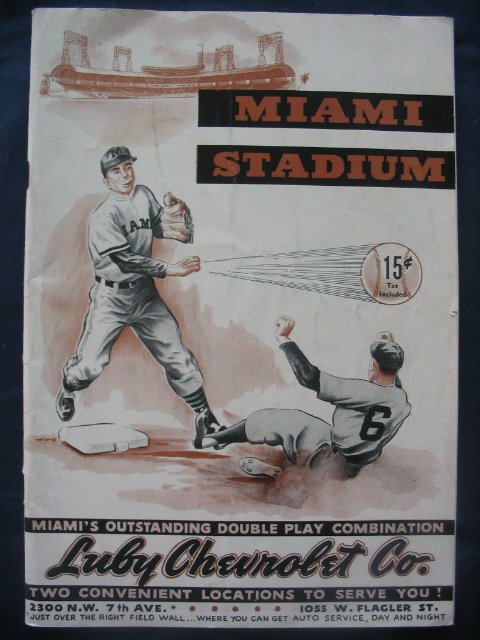 The 46th annual SABR national convention will take place July 27-31, 2016, in Miami, Florida.
To coincide with the convention, the summer 2016 issue of The National Pastime will focus on Florida and particularly Miami-area baseball. Florida has had a long relationship with Major League Baseball as the home of the Grapefruit League spring training, as well as various minor leagues, college baseball powerhouses, and two current major-league expansion franchises.
There's plenty to explore and, ideally, we'd like a mix of topics that could encompass everything from fan studies to Little League. Research articles may be historical, biographical, or analytical, but please avoid personal narrative.
This issue of The National Pastime will be edited by publications director Cecilia Tan. She will be taking queries and abstracts until November 15, 2015, and will make assignments no later than December 1. First drafts of articles will be due no later than March 1, 2016, and rewrites (if needed) will be due by April 15.
Queries should be one to two paragraphs with a detailed encapsulation of the article idea, as well as a description of why you are interested in it or qualified to research it. Be specific about the sources you plan to use and what amount of your research is original. Please include an estimate of the article's length, as well. Typical articles tend to run 2,000 to 5,000 words — the size of a midterm paper, not a Master's thesis. The absolute upper limit on papers for the TNP is around 6,500 words.
To query, send an e-mail to ctan@sabr.org with the subject line "TNP Query" and a key word or two on your subject. (For example: "TNP Query: Jeffrey Loria in Historical Perspective.") Some suggested topics could be:
Florida Marlins World Series teams of 1997 and 2003
University of Miami baseball
The influence of Cuban and Latin-American baseball
Notable players from South Florida, including Alex Rodriguez, Steve Carlton, Andre Dawson
Grapefruit League spring training
Florida State League, Florida International League, minor-league Miami Marlins, etc.
The short-lived Senior Professional Baseball Association
Remember that every article must include proper citation of sources and present a clear thesis, and to be published in a SABR journal, your SABR membership must be current.
Click here to learn more about SABR's Publications Guidelines.
Note also that the TNP will have both a print edition (given out to SABR 46 convention attendees) and an expanded e-book version that will be sent to all SABR members. Some, but not all, of the articles will be selected to appear in the print edition, while more will appear in the electronic edition.
---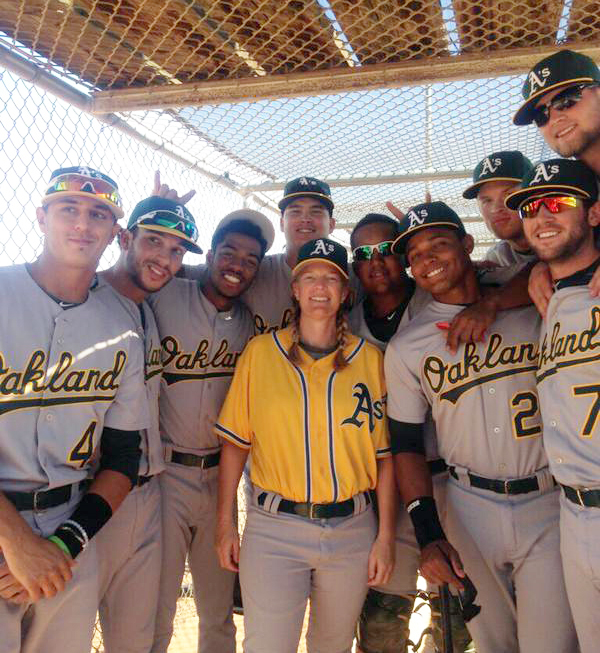 On Monday, SABR member Justine Siegal became the first female coach employed by a major-league team. The Oakland A's have hired her to be a guest instructor for their Instructional League club this month in Arizona:
"It's a dream come true," Siegal recently told Susan Slusser of the San Francisco Chronicle. "The A's are a first-class organization and it will be an honor to wear their uniform."

Siegal, who became the first woman to coach men professionally in 2009 when she was the first-base coach for the independent league Brockton Rox, will work with A's minor-leaguers from Oct. 4 through Oct. 17.

"We feel like Justine has a lot to offer and that (the Instructional League) is a great place to get her feet wet," A's assistant general manager David Forst said. "She'll be doing a little bit of everything."

According to Forst, Siegal will work with infielders, hit fungos and throw batting practice, among other duties. Plus, Siegal, 40, has a Ph.D. in sport and exercise psychology. Forst said that director of player development Keith Lieppman and director of minor-league operations Ted Polakowski are looking forward to having Siegal lead classroom presentations about the mental side of the game.
Read the full article here: http://www.sfchronicle.com/athletics/article/Oakland-A-s-hire-woman-coach-Justine-Siegal-to-6538183.php?t=eedf0b91e6&cmpid=fb-premium
---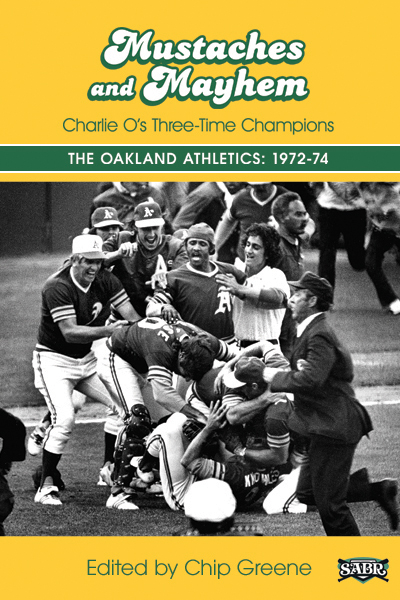 Add a dynastic new book from the SABR Digital Library to your baseball collection:
Mustaches and Mayhem:
Charlie O's Three-Time Champions
The Oakland Athletics: 1972-74
Edited by Chip Greene
Associate Editors: Greg Erion, Len Levin, and Bill Nowlin
ISBN (paperback): 978-1-943816-07-1, $29.95
ISBN (ebook): 978-1-943816-06-4, $9.99
540 pages
In modern baseball history, only one team not named the New York Yankees has ever won three consecutive World Series. That team was the Oakland Athletics, who captured major league baseball's crown each year from 1972 through 1974.
Led by such superstars as future Hall of Famers Reggie Jackson, Catfish Hunter and Rollie Fingers, in the final years before free agency and the movement of players from one team to another forever changed the game, the Athletics were a largely homegrown aggregate of players who joined the organization when the team called Kansas City its home, developed as teammates in the minor leagues, and came of age together in Oakland.
But it was the way in which they did it that immortalized those teams. For if the story of the Oakland Athletics' championships is that of one of baseball's greatest teams, it's also the story of enigmatic owner Charles O. Finley and how those players succeeded in spite of Finley's larger-than-life persona and meddlesome ways. Indeed, before the Yankees' George Steinbrenner, there was Charles Oscar Finley, of the Athletics.
Featuring the contributions of 46 members of the Society for American Baseball Research (SABR), Mustaches and Mayhem: Charlie O's Three-Time Champions shares the stories of each of the roster players on each of the A's championship teams, in addition to the managers, coaches, Finley himself, the team's radio announcer, and even Charlie O, the mule, Finley's legendary mascot. Summaries of each spring training and World Series, too, will complete the tale of one of baseball's most colorful and successful teams.
Contributors include: Alan Cohen, Andy Sturgill, Austin Gisriel, Bill Nowlin, Charlie O'Reilly, Chip Greene, Clayton Trutor, Clifford Corn, Curt Smith, Dale Voiss, Eric Aron, Francisco Rodriguez Lozano, Geoffrey Dunn, Greg Erion, Gregory H. Wolf, J.G. Preston, Jeff English, Jimmy Keenan, Joanne Hulbert, Joe Wancho, John Cizik, John Henshell, John Vorperian, Joseph Gerard, Keith Scherer, Leonte Landino, Loretta Donovan, Marc Z Aaron, Mark Armour, Matt Bohn, Matthew Silverman, Maxwell Kates, Mike Epstein, Neal Poloncarz, Norm King, Paul Hofmann, Richard J. Puerzer, Rick Schabowski, Rory Costello, Royse Parr, Saul Wisnia, Scott Ferkovich, Ted Leavengood, Thomas Ayers, Tim Herlich, Tom Hawthorn, and Wynn Montgomery.
SABR members, get this e-book for FREE!
SABR members will get discounted rates for all Digital Library publications, including many for free. To download all past releases, visit SABR.org/ebooks.
Having trouble downloading our e-books? To view PDF files on your computer, click here to download the free Adobe Reader software. Having trouble downloading e-books to your Kindle, Nook, Sony Reader or iPad? Click here for additional help.
---
All SABR members are invited and encouraged to submit a Research Presentation Proposal Abstract for the 2016 Frederick Ivor-Campbell 19th Century Base Ball Conference.
The eighth annual 19th Century Conference will be held April 15-16, 2016, at the National Baseball Hall of Fame in Cooperstown, New York.
Abstracts of 200-500 words are being accepted through October 31, 2015, for a 20- to 25-minute oral research presentation on any topic about 19th-century baseball. Please include title and contact information. Proposals must be part of an e-mail or in the form of a Word or PDF document sent to Peter Mancuso at peterplus4@earthlink.net.
Details on conference registration will be available at SABR.org/ivor-campbell19c in early 2016.
To view coverage of the 2015 Ivor-Campbell 19th Century conference, click here.
---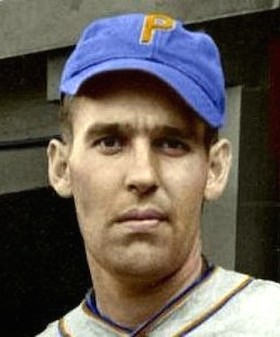 Eight new biographies were posted this week as part of the SABR Baseball Biography Project, which brings us to a total of 3,420 published biographies. Here are the new bios:
All new biographies can be found here: /bioproj/recent
Help us write 2016 Hall of Fame biographies: SABR Director Emily Hawks has launched a new BioProject initiative for biographies of players who are likely to be on the 2016 Hall of Fame ballot later this year, and a few players still need biographers. If you are interested in writing a SABR biography for one of these players, please contact Emily Hawks at emilyhawks@gmail.com: Mark McGwire, Larry Walker, Jeff Kent, Nomar Garciaparra, Jason Kendall, Jim Edmonds.
---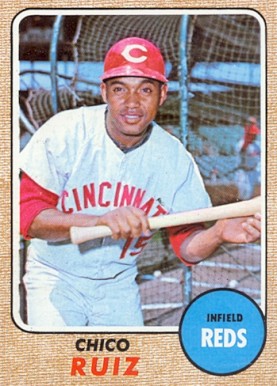 Three new game stories were posted this week as part of the SABR Games Project. Here are the new game stories:
All new Games Project stories can be found here: /gamesproject/recent
---
We've heard your feedback: Some of you have said you look forward to "This Week in SABR" every Friday, but sometimes there are just too many compelling articles and announcements to read every week. We're not complaining — hey, keep up the great work! — but we know the feeling. So in an effort to make the length of this newsletter more manageable to read, we'll summarize some of the repeating/recurring announcements in a special "In Case You Missed It (ICYMI)" section of "This Week in SABR".
Here are some major headlines from recent weeks that we don't want you to miss:
All previous editions of This Week in SABR can be found here: /content/this-week-in-sabr-archives.
---
We'd like to welcome all of our new SABR members who have joined this week. You can find all Members-Only resources at members.sabr.org and the New Member Handbook can be downloaded here.
Please give these new members a warm welcome and help them make the most of their membership by giving them the opportunity to get involved in their local chapter or a research committee.
You can find contact information for any SABR member in the online membership directory (SABR.org/directory).
| Name | Hometown | | | Name | Hometown |
| --- | --- | --- | --- | --- | --- |
| Alan Adams | Lincoln, NH | | | Mike Frye | West Melbourne, FL |
| Matt Berninger | Arlington, VA | | | Robert Goldberg | Springfield, NJ |
| Ryan Buckley | Lawrenceville, NJ | | | Mary Griswold | Redondo Beach, CA |
| William Burke | Chester, MA | | | Kirk Jenkins | Olympia Fields, IL |
| J. Randolph Burnham | Westport, CT | | | Stephen Lee | Moorhead, MN |
| Larry Denlinger | Sun City, AZ | | | Norman Moyer | Colorado Springs, CO |
| Geoffrey Dunham | Sebastopol, CA | | | Manuel Rosales | Fontana, CA |
| Henry Evans | Farmdale, OH | | | Matthew Souders | Newmarket, NH |
---
Here are the new SABR research committee updates this week:
Baseball and the Media: SABR's Baseball and the Media Committee is undertaking the formation of a new database: a comprehensive listing of historical baseball writers. The goal is to catalog the baseball writers for every team as far back as we can possibly manage. This is an important first step toward the creation of the Committee's first publication, in conjunction with the SABR BioProject Committee, featuring the history of major-league baseball writing through the years, as well as biographies of the great baseball writers in big-league history. But first things first: We need your help in putting together the database itself. Thanks to several generous SABR members, we have obtained access to every Baseball Blue Book from 1910 through the mid-2000s, all of which feature lists of baseball writers by city and team through the years. We have digitized these Blue Books into PDF form and we will make these available to any SABR member who is interested in helping us flesh out the database. Click here for complete details.
Find all SABR research committee newsletters at SABR.org/research.
---
Here are the new regional chapter updates this week:
Rocky Mountain Chapter annual banquet: The Rocky Mountain Chapter is pleased to announce that our 18th annual chapter banquet will be held on Saturday, November 14, 2015. It will be staged at a new location, the Super Suites at Coors Field, home of the Colorado Rockies! All baseball fans are welcome to attend. Master of Ceremonies: Jason Hirsh, former MLB pitcher and now with ROOT Sports. Keynote Speaker: Sam Fuld, outfielder with the Oakland Athletics. Featured speaker: Dan Evans, former GM of the Los Angeles Dodgers, now a scout with the Toronto Blue Jays. To register, go to rmsabr.org and click on "Banquet". Registration is $60.00 per person. Click here for more details.
Visit SABR.org/chapters for more information on SABR regional chapters.
---
Here is a list of upcoming SABR events:
All SABR meetings and events are open to the public. Feel free to bring a baseball-loving friend … and make many new ones! Check out the SABR Events Calendar at SABR.org/events.
---
Here are some recent articles published by and about SABR members:
Read these articles and more at SABR.org/latest.
---
This Week in SABR is compiled by Jacob Pomrenke. If you would like us to include an upcoming event, article or any other information in "This Week in SABR," e-mail jpomrenke@sabr.org.
Have trouble reading this e-mail? Click here to view this week's newsletter on the web.
Are you receiving our e-mails? "This Week in SABR" goes out by e-mail to all members on Friday afternoons. If they're not showing up, try adding "sabr.notes@sabr.org" to your contact list to ensure they show up in your inbox (and not the spam folder.)
---
Originally published: October 9, 2015. Last Updated: April 3, 2020.
https://h2j7w4j4.stackpathcdn.com/wp-content/uploads/2020/03/research-collection4_350x300.jpg
300
350
jpomrenke
/wp-content/uploads/2020/02/sabr_logo.png
jpomrenke
2015-10-09 15:00:00
2020-04-03 14:39:14
This Week in SABR: October 9, 2015