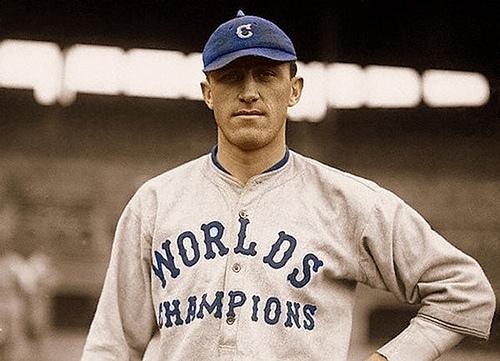 October 12, 1920: Cleveland Indians win their first World Series
---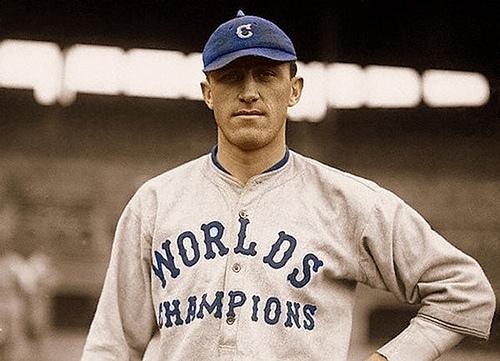 The Brooklyn Robins were on the brink of elimination in the 1920 World Series. They were down four games to two against the Cleveland Indians. Their offense had sputtered the entire Series, scoring a measly eight runs in the first six games. Since the Series had moved to Cleveland three games ago, their bats had gone kaput, managing only two tallies. It was a rude awakening for a club that averaged over four runs a game during the regular season. Yet Brooklyn skipper Wilbert Robinson was still optimistic after his team lost a 1-0 decision in Game Six of the best five-of-nine Series. "Beat? I should say we're not," said Robby. "We haven't been hitting and that's the only trouble. We're going out there tomorrow and smash into those Indians so hard they'll wish they'd never seen a world's series, and when we get back to Brooklyn, Cleveland won't have a chance. I'll pitch either Rube Marquard or Burleigh Grimes and either one of them can stop Cleveland."1
Zack Wheat, the Robins' star outfielder, concurred with Robinson. "We'll hit from now on," said Wheat. "If Coveleski pitches tomorrow we'll drive him out of the box, despite his two victories."2
Whether Robinson really considered Marquard to start Game Seven will never be known. Rube's arrest before Game Four for scalping tickets to a Cleveland police detective was a huge distraction to the Brooklyn club. His subsequent appearance in Common Pleas Court was a painful reminder as well. (Marquard was fined $1.) Although he started Game One of the Series, he was removed from the rotation and moved to the bullpen. In the offseason, Marquard was traded to Cincinnati for Dutch Ruether.
Grimes had pitched two days earlier, in Game Five, but lasted only 3⅓ innings and took the loss after surrendering seven runs. He was given the ball by Robinson in Game Seven to keep Brooklyn's hopes alive. Wheat got his wish, and Cleveland manager Tris Speaker countered with Stan Coveleski.
A new rule banned pitchers from using a foreign substance on the baseball or scuffing it. The1920 season was to be a year of transition so that the spitball pitchers could wean themselves from throwing it. However, the players who relied on the spitball as their "money" pitch lobbied to be able to continue to use the pitch. Seventeen of them, including Grimes and Coveleski, were allowed to employ the spitter until the sun set on their careers. (Grimes was the last legal spitball pitcher. He hurled until he was 41, his last stop being with Pittsburgh in 1934.)
The circus atmosphere had returned to Dunn Field on October 12, 1920. The crowd was thirsty for a world title, and to see it accomplished on their home turf. The biggest crowd of the Series, 27,525, pushed through the turnstiles in hopes of seeing history. It was a very warm, sunny autumn day in Cleveland. Elmer Smith was presented with an automobile and a diamond pin for his heroics in Game Five, when he hit a grand slam in the Indians' 8-1 victory.
The Indians struck first in the fourth inning, when Larry Gardner got a base hit just past Pete Kilduff at second base. Speaker put on the hit and run, and Doc Johnston obliged with a single to right field, moving Gardner to third. Joe Sewell flied out to left field, but Gardner held his place. Tribe catcher Steve O'Neill stepped up to the plate. Grimes and catcher Otto Miller debated about issuing O'Neill a free pass to load the bases. But they decided on pitching to him. Cleveland put on the double steal, and Miller read the play all the way. Instead of firing to second base, he threw back to Grimes to hold Gardner at third. Grimes saw that Johnston was three feet off the bag. He wheeled and threw to Kilduff. But the throw went into center field and Gardner scored the first run easily.
The Indians scratched out another run in the fifth inning. Charlie Jamieson singled to third base, stole second, and scored on Speaker's triple to right field. Meanwhile, Coveleski kept the Robins off the scoreboard. He registered only one strikeout through the first five frames, but he was in command. The Robins' best opportunity to break through came in the third inning. With one away, Grimes singled. Ivy Olson, the former Cleveland Nap, sent one to short that Joe Sewell booted for an error. With runners on first and second, Jack Sheehan sent a grounder toward right that struck Olson. Sheehan was credited with a single, Olson was out, and Grimes was sent back to second base. Tommy Griffith flied out to end the inning.
Brooklyn threatened again in the top of the seventh inning. Ed Konetchy was credited with a single on a ball that Sewell knocked down but couldn't make a play on it. Kilduff likewise sent a grounder in Sewell's direction, but the youngster muffed it. Again the Robins had two men on, but there were two out. Bill Lamar pinch-hit for Miller and grounded out to end the inning.
Cleveland tacked on another run to take a 3-0 lead. Grimes pitched seven innings. He gave up four walks and struck out two. All in all, Grimes pitched well enough to put Brooklyn in a position to win. But Coveleski needed only 90 pitches to win the game, 3-0.
The Cleveland fans swarmed Dunn Field to congratulate their heroes. Brooklyn owner Charlie Ebbets congratulated the Indians at home plate and the celebration began in the "Fifth City."
Coveleski, who had won Games One and Four, was tired but exuberant. "Two days' rest isn't enough for a fellow who uses the spitter as much as I do," said Coveleski. "My arm was dead. It didn't appear to me as if my spitter had the usual snap to it.
"Don't overlook Steve O'Neill when talking about my pitching. It is great to pitch to a fellow like O'Neill. Seldom do I shake my head at his sign, yet I did it once this afternoon when Wheat was up and he hit the hardest drive of the game."3
Wheat was writing a column in the Cleveland Plain Dealer to give readers an opposing view. The star outfielder, who had two of Brooklyn's five hits in Game Seven, put the Series in context. "They beat us and they beat us fairly and squarely," wrote Wheat. "Yesterday's game was a good ball game, as games go, but it was all Coveleski's. He is some pitcher and of the three games he pitched in the series, he worked best yesterday. Grimes worked well, too, but couldn't win against the pitching that iron-armed Pole put up.
Looking back over the series, the work of Coveleski stands out as the feature surmounting any stunt plays such as triple plays or home runs."4
Coveleski was 3-0, 0.67 for the Series. O'Neill and Charlie Jamieson led the team in hitting, each batting.333. Speaker (.320) and Elmer Smith (.308) were right behind them. Wheat (.333) and Olson (.320) starred for Brooklyn.
The next season the Indians broke out new uniforms, with "Worlds Champions" emblazoned across their tops. Unfortunately for the Tribe, that particular style was only fashionable for one year. They slipped to second place in the American League, 4½ games behind New York, in 1921. They would not appear in the fall classic again until 1948.
Robinson was replaced by Max Carey after the 1931 season, and with the change Brooklyn's nickname switched back to Dodgers. Brooklyn returned to the postseason in 1941, against the New York Yankees, who proved to be a formidable opponent, defeating the Dodgers in six of seven World Series in which they faced each other from 1941 through 1956. Brooklyn's one Series victory in that stretch was in 1955.
Sources
In addition to the sources cited in the Notes, the author used the Baseball-Reference.com and Retrosheet.org websites for material pertinent to this article.
Notes
Additional Stats
Cleveland Indians 3
Brooklyn Robins 0
WS, Game 7
---
Dunn Field
Cleveland, OH
Box Score + PBP:
Corrections? Additions?
If you can help us improve this game story, contact us.
Tags
http://sabr.org/sites/default/files/1920-Indians-World-Champs.jpg
600
800
admin
/wp-content/uploads/2020/02/sabr_logo.png
admin
2016-09-12 19:50:13
2020-11-09 13:51:17
October 12, 1920: Cleveland Indians win their first World Series