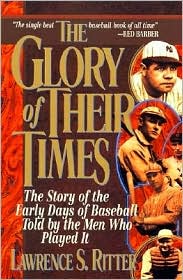 Each year, SABR's Deadball Era Committee presents the Larry Ritter Book Award to recognize the best new baseball book primarily set in the Deadball Era that was published during the previous calendar year. The Ritter Award is presented during the Deadball Committee's meeting at the annual SABR convention.
The award is named in honor of late SABR member Lawrence S. Ritter, author of The Glory of Their Times, the work that revived interest in the Deadball Era and often cited as the greatest baseball book ever written.
To learn more about the origins and history of the Larry Ritter Award, click here.
The task of reviewing this year's nominees is assigned to an awards committee chaired by Doug Skipper, with John McMurray, Mark Dugo, David Fleitz, Craig Lammers, Mark Pattison, and Ben Klein as the other judges. The nominees' list will be pared down to four finalists in early March, with the Larry Ritter Award to be publicly announced the following month.
---
2022 nominations
Submit nominations for the 2022 Larry Ritter Book Award, honoring books published in the 2021 calendar year, to Doug Skipper at theskippers1@hotmail.com by December 31, 2021.
---
2021 finalists
Here is the list of Ritter Award finalists for 2021:
Zack Wheat: The Life of the Brooklyn Dodgers Hall of Famer, by Joe Niese (McFarland & Co.)
A History of Baseball in the Deadball Era: Volume One 1901 to 1905, by Mark Peavey (independently published)
War Fever: Boston, Baseball, and America in the Shadow of the Great War, by Randy Roberts and Johnny Smith (Basic Books)
The winner will be announced in Spring 2021.
---
Larry Ritter Award winners
James T. Farrell and Baseball: Dreams and Realism on Chicago's South Side, by Charles DeMotte (University of Nebraska Press)
Oscar Charleston; The Life and Legend of Baseball's Greatest Forgotten Player, by Jeremy Beer (University of Nebraska Press)
September 1918: War, Plague, and the World Series, by Skip Desjardin (Regnery History)
From the Dugouts to the Trenches: Baseball During the Great War, by Jim Leeke (University of Nebraska Press)
The Selling of the Babe: The Deal That Changed Baseball and Created a Legend, by Glenn Stout (Thomas Dunne Books, St. Martin's Press)
Ty Cobb: A Terrible Beauty, by Charles Leerhsen (Simon & Schuster)
Baseball on Trial: The Origin of Baseball's Antitrust Exemption, by Nathaniel Grow (University of Illinois Press)
The Days of Wee Willie, Old Cy and Baseball War: Scenes from the Dawn of the Deadball Era, 1900-1903, by Chuck Kimberly (McFarland & Co.)
Spitballing: The Baseball Days of Long Bob Ewing, by Mike Lackey (Orange Frazer Press)
The Battle That Forged Modern Baseball: The Federal League Challenge and Its Legacy, by Daniel R. Levitt (Ivan R. Dee)  
Fenway 1912: The Birth of a Ballpark, a Championship Season, and Fenway's Remarkable First Year, by Glenn Stout (Houghton Mifflin Harcourt) 
Native American Son: The Life and Sporting Legend of Jim Thorpe, by Kate Buford (Alfred A. Knopf)
2010
The Federal League of Base Ball Clubs: The History of an Outlaw Major League, 1914-1915, by Robert Peyton Wiggins (McFarland & Co.)
2009
Ballparks of the Deadball Era: A Comprehensive Study of Their Dimension, Configurations and Effects on Batting, 1901-1919, by Ronald M. Selter (McFarland & Co.)
2008
Connie Mack and the Early Years of Baseball, by Norman L. Macht (University of Nebraska Press)
2007
Burying the Black Sox: How Baseball's Cover-Up of the 1919 World Series Fix Almost Succeeded, by Gene Carney (Potomac)
2006
Peach: Ty Cobb in His Time and Ours, by Richard Bak (Sports Media Group)
2005
The American Indian Integration of Baseball, by Jeffrey Powers-Beck (University of Nebraska Press)
2004
The Tour to End All Tours: The Story of Major League Baseball's 1913—1914 World Tour, by James E. Elfers (Bison Books)
2003
Before They Were the Bombers: The New York Yankees' Early Years, 1903—1915, by Jim Reisler (McFarland & Co.)
2002
Hal Chase: The Defiant Life and Turbulent Times of Baseball's Biggest Crook, by Martin Donell Kohout (McFarland & Co.)
https://sabr.org/wp-content/uploads/2020/03/research-collection4_350x300.jpg
300
350
admin
/wp-content/uploads/2020/02/sabr_logo.png
admin
2021-04-07 17:21:10
2021-04-09 01:21:21
Larry Ritter Book Award (Deadball)