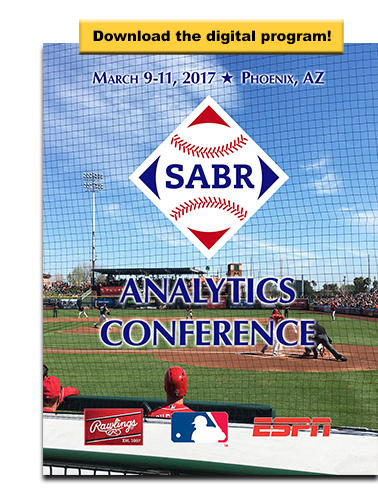 Couldn't make it to Arizona for the sixth annual SABR Analytics Conference? Visit SABR.org/analytics/2017 for full coverage of this exciting event that brings together the top minds in the baseball analytics community in 2017. You'll feel like you're wandering through the Hyatt Regency Phoenix with stories and highlights from the great panel discussions and research presentations on our schedule, photo galleries, and much more.
We hope you'll join us for the seventh annual SABR Analytics Conference, on Friday, March 9 to Sunday, March 11, 2018, at the Hyatt Regency Phoenix.
For more highlights from the 2017 SABR Analytics Conference, click on a link below:
Thursday, March 9

Friday, March 10

Saturday, March 11
About the SABR Analytics Conference

SABR has a long and storied history with baseball statistical analysis, evidenced by the link between our name and sabermetrics. While SABR is a multi-faceted organization involved in virtually every aspect of baseball, we have taken a major step to re-connect with our beginnings by producing and hosting the sixth annual SABR Analytics Conference.
Once again, we've brought together the top minds of the baseball analytic community under one roof to discuss, debate and share insightful ways to analyze and examine the great game of baseball.
The schedule consists of a combination of Guest Speakers, Panels, and Research Presentations — plus the unique Diamond Dollars Case Competition, in which undergraduate, graduate and law school students from across the country analyze and present a real baseball operations decision.
You can download the digital program for the 2017 SABR Analytics Conference by clicking here (PDF).
The 2017 SABR Analytics Conference was held Thursday, March 9 through Saturday, March 11 at the Hyatt Regency Phoenix, 122 N. 2nd St., Phoenix, AZ 85004.
SABR's long history in this area of baseball research, coupled with our mission of advancing the understanding and knowledge of baseball, makes us the perfect choice to coordinate and host this ground-breaking event.