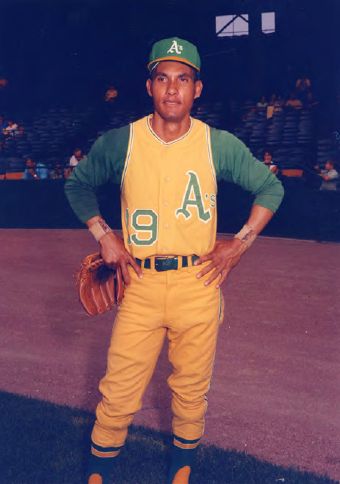 ---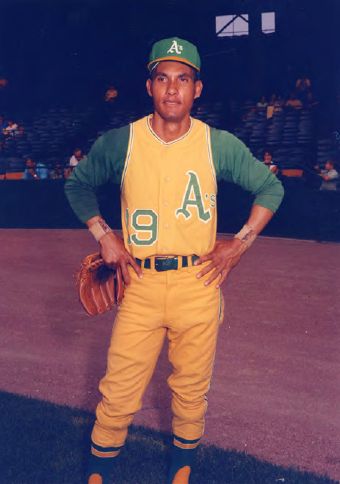 Bert Campaneris had a distinguished 20-year major-league career that included six All-Star selections, six American League stolen-base crowns, and a major role in the Oakland Athletics' three world championships in the 1970s.
Dagoberto Campaneris was born on March 9, 1942, in Pueblo Nuevo, Cuba. His father was a mechanic in a factory. Campaneris had three brothers and four sisters. He attended Jose Tomas School in Pueblo Nuevo.
Campaneris was gifted with incredible speed and quickness, but the only sport he played was baseball. He competed in a Cuban Little League at the age of 11, and later was a catcher for a semipro team. He said he loved baseball so much that he even assisted as a groundskeeper. Reflecting on his childhood, Campaneris said, "I never worked in Cuba. All I did was play baseball. I play, I play, I play, I like to play."1 At the Pan-Am Games in Costa Rica in 1961, he drew the attention of Kansas City Athletics scout Felix Delgado, who persisted in efforts to sign him. Eventually Campaneris signed a contract that called for a $1,000 bonus, payable only if he remained with the A's organization for at least 60 days. Campaneris was one of the last players to leave Cuba for the United States before the Castro revolution made emigration extremely rare.
Campaneris split the 1962 season between Daytona Beach (Florida State League) and Binghamton (New York) of the Class A Eastern League. Campaneris was eager to play at every position, and was ambidextrous. Once with Daytona Beach, he pitched both right-handed and left-handed in a two-inning relief appearance. He faced a switch-hitter during his stint on the mound, and changed over when he faced him.
Campaneris spent two months of the 1963 season on the disabled list with a sore arm but got into 48 games with Lewiston of the Northwest League and Binghamton where he caught, and batted .308 as the leadoff hitter. He spent the offseason playing for the A's team in the Florida Instructional League.
Campaneris began the 1964 season with Double-A Birmingham and batted .325. On July 22, 1964, Campaneris was called up after A's shortstop Wayne Causey injured his elbow. After an overnight plane trip, he arrived in Minneapolis the next day two hours before the start of the A's game against the Twins, and had an unforgettable major-league debut. Playing shortstop and batting second, he sent a pitch by the Twins' Jim Kaat over the left-field fence in his first at-bat. In the seventh inning he hit another home run. He turned in a brilliant defensive play, singled, and stole a base in the A's 11 inning victory. Campaneris became the second major leaguer to hit two home runs in a debut game, after the St. Louis Browns' Bob Nieman, who did it in 1951.
Campaneris finished the season batting .257 for the A's with 10 stolen bases in 67 games, and earned a spot on the Topps Major League Rookie All-Star team. He was in the major leagues to stay, though he spent the offseason playing for the Caguas Criollos in the Puerto Rican League.
In 1965 Campaneris battled his second cousin, Angels outfielder José Cardenal, for the American League stolen-base title. (Cardenal said in an interview that they played baseball together constantly during the youth.2) Campaneris won the stolen-base title with 51, besting Cardenal's second-place total of 37. He batted .270 with 23 doubles, a league-leading 12 triples, and 6 home runs.
Campaneris was honored with a "night" at Kansas City's Municipal Stadium on September 8, 1965. He marked the occasion by playing all nine positions in that night's game against the Angels. He started at shortstop, went to second base for the second inning, then successively played third base, each outfield position, and first base. He pitched the eighth inning, yielding a run, and caught the ninth inning. The 5-foot-10, 160-pound Campaneris injured his shoulder in a collision with Ed Kirkpatrick at home plate in the ninth and had to leave the game. He was out of the lineup for five games. He spent the offseason playing for Caracas in the Venezuelan League.
In 1966 Campaneris teamed with second baseman Dick Green, and their great range gave the A's a very dependable double-play combination. Green remarked, "I had never played with a shortstop who threw the ball that hard."3 Campaneris led the league with 259 shortstop putouts. Again he led the league in stolen bases, pilfering 52 in 62 attempts.
In the A's last season in Kansas City, 1967, Campaneris captured his third consecutive stolen-base title with 55. On August 29 against Cleveland he belted three triples. His batting average for the season slipped to .248.
In 1968, the A's inaugural season in Oakland, Campaneris raised his batting average to .276, aided by a 15-game hitting streak between August 4 and 18 (including a five-hit game on the 9th). He captured his fourth consecutive stolen-base title with a career-high 62 thefts (he was caught stealing 22 times), and led the league with 177 hits and 642 at-bats. On August 29 he repeated his feat against Cleveland, again belting three triples. Of his success at the plate, Campaneris said, "Now, I'm trying to hit to right field. I was swinging too hard trying to hit it too hard."4 He spent the offseason playing for Lara in the Venezuelan League, where he batted .335.
Campaneris had 62 steals in 1969, but his four- year reign as the AL stolen-base leader ended as came to an end in 1969 as Tommy Harper of the Seattle Pilots stole 73. Campaneris missed most of July after he fractured his right index finger while taking a double-play relay throw at second base in a game against Seattle on July 3. The injury kept him out of the lineup until July 25. For the season, Campaneris batted .260, and along with Reggie Jackson, Catfish Hunter, and a host of others led the A's to a contending role in the AL West. Oakland finished with an 88-74 record, nine games behind the division champion Minnesota Twins.
During the season Campaneris married Norma Fay, a Kansas City native. Afterward, the shy player said, "I had no one in the United States. I was so lonely. Now I got somebody to take care of me."5
In 1970 Campaneris batted .279, posting career highs in home runs (22) and RBIs (64). The A's finished second again with an 89-73 record, nine games behind the Twins.
The A's won the American League West title in 1971, by 16 games over the Kansas City Royals. Campaneris experienced a power outage that season, hitting only five round-trippers while batting .251. Two of his homers came in a game in Cleveland on May 12 off Sam McDowell. On September 6 Campaneris was thrown out of a game by home-plate umpire Russ Goetz after burying the plate with dirt while protesting a called third strike. Two days later, after stealing second he broke the base loose from its mooring, chased it five feet, and wrapped his arms around it so he wouldn't be called out. In the American League Championship Series, Oakland was swept by the Baltimore Orioles.
Campaneris had a great season in 1972, leading the league in chances (795), at-bats (625), and stolen bases (52). He finished second to Boston's Luis Aparicio in balloting for the All-Star Game. Even after Aparicio broke a finger and couldn't play, AL manager Earl Weaver selected Texas shortstop Toby Harrah. Harrah was also unable to play because of a sore shoulder, and Weaver then selected Orioles shortstop, Bobby Grich, who played the entire 10 innings in the game, much to Campaneris's chagrin. Three weeks later Campaneris responded to the All-Star snub in a game at Baltimore: After collecting his third stolen base of the game in the fifth inning, he went to third on a throwing error by Orioles catcher Andy Etchebarren, then coaxed Jim Palmer into a run-scoring balk. While heading home, he looked into the Orioles dugout and tipped his hat to Weaver.
On the last day of the season, Campaneris led by two in the stolen-base race, and was going to sit out the season finale. After the A's broadcasters found out that Dave Nelson of the Texas Rangers had stolen three bases in his game, Campaneris entered the A's game in the fourth inning as a pinch-runner. He stole second and third, denying Nelson the title, and also spoiling Nolan Ryan's bid for his first 20-win season. Of Ryan, Campaneris said, "I know I can steal on that guy. He pitches so slow."6 Campaneris was referring to Ryan's deliberate motion, not his velocity.
The A's finished the 1972 season with a 93-62 record, winning their division by 5½ games over the Chicago White Sox, earning them a berth in the ACLS against Detroit. After the A's won Game One, 3-2, fireworks erupted during Game Two. In the bottom of the seventh, Campaneris who was already 3-for -3 with two stolen bases and two runs scored, was hit in the ankle by a pitch from Lerrin LaGrow. Campaneris threw his bat toward LaGrow, who ducked to avoid being hit.
With Detroit manager Billy Martin in the lead, the Tigers went for Campaneris. (Afterward, Martin said of his role in the fracas, "You bet I was after him! There's no place for that kind of gutless stuff in baseball. That's the worst thing I've ever seen in all my years of baseball. I would respect him if he went out to throw a punch, but what he did was the most gutless thing of any man to put on a uniform. It was a disgrace to baseball."7) Three umpires held Martin back, and home-plate umpire Nestor Chylak ejected LaGrow and Campaneris. Explaining his actions, Campaneris said, "My ankle hurt so bad. I knew he was going to throw at me, but people now tell me it's better to go and fight. I don't know. I just lost my temper."8
Oakland's Joe Rudi said he thought LaGrow threw at Campaneris because "Campy had run the Tigers ragged in the first two games, and when (Billy) Martin gets his ears pinned down, he's going to do something about it."9 Teammate Mike Hegan said he thought Martin "wanted to light a fire under his ballclub, and Campy was the guy that they were going after because he was the guy that set the table for us. There's no question that Billy Martin instructed Lerrin LaGrow to throw at Campaneris."10
American League President Joe Cronin suspended Campaneris for the remainder of the ALCS, fined him $500 and left the decision about a possible World Series suspension to Commissioner Bowie Kuhn. Kuhn ruled that Campaneris could play in the World Series, but would be suspended without pay for the first seven games of the 1973 season.
The incident did indeed spark the Tigers; without Campaneris in the A's lineup, they tied the series. But the A's won the fifth and deciding game, 2-1 and went to the franchise's first World Series since 1931, when they were in Philadelphia.
The underdog A's, playing without Reggie Jackson, who had ruptured a hamstring during the Tigers series, captured the world championship, defeating the Cincinnati Reds in an exciting seven-game Series.
The A's led the Series three games to two, but Cincinnati stormed back in Game Six, tying the Series with an 8-1 drubbing of Oakland. When Campaneris came to bat in the eighth inning he told Reds catcher Johnny Bench, "We never lose three in a row!" Bench replied, "You've never faced the Big Red Machine!"11
Campaneris batted only .179 in the World Series, but it was a defensive, pitching-oriented affair in which each team batted .209. Campaneris scored the run in Game Seven that gave the A's the lead for good, coming home on Gene Tenace's double in the top of the sixth inning.
In 1973 Campaneris became the first A's player to be offered a two-year contract by owner Charlie Finley, signing a deal for a reported $65,000 a season. Campaneris sat on the bench the first five games (the seven-game sentence had been reduced on appeal) and watched Dal Maxvill play shortstop. On May 25 the A's returned to Detroit and Campaneris was welcomed back to a loud chorus of boos from the fans who had not forgotten the LaGrow incident. Tigers catcher Bill Freehan took out Campaneris in a play at the plate, and Campaneris suffered a shoulder injury that forced him to miss six games. In the 11 games Campaneris missed as a result of the suspension and injury, the A's record was 2-9. For the season, Campaneris batted .250, had 34 stolen bases, and was selected as the American League's starting shortstop for the All-Star Game.
The A's won the American League West with a 94-68 record and faced the AL East champion Baltimore Orioles in the ALCS. Before the series, Orioles pitcher Jim Palmer commented, "I think the key to beating Oakland is keeping Campaneris off base."12 The Orioles failed miserably in Game Two, as Campaneris reached base three times in five plate appearances, hitting a home run to lead off the game, stealing a pair of bases, and scoring two runs in the A's 6-3 victory. He hit a walkoff home run in the 11th inning of Game Three. The A's wound up winning the series three games to two.
Against the New York Mets in the World Series, Campaneris batted .290, stole three bases, and hit a two-run home run in the third inning of Game Seven which along with Reggie Jackson's two-run homer in the same inning, gave the A's a lead they did not relinquish in a 5-2 victory. Reggie Jackson (.310, 6 RBIs, was named the Series Most Valuable Player. Campaneris (.290, 3 RBIs) was disappointed that he did not get the award, but said, "Reggie is my friend."13
The A's returned to the World Series in 1974, their third straight appearance. Campaneris again represented the American League in the All-Star Game. He batted .290 and stole 34 bases for the season. He missed 15 games between July 29 and August 11 when he suffered a severely sprained left ankle.
After defeating the Orioles three games to one in the ALCS, the Athletics faced the National League champion Los Angeles Dodgers in the World Series, and won the Series in five games. In Game One, a 3-2 victory, Campaneris laid down an excellently executed squeeze bunt on which Ken Holtzman scored. Campaneris batted .353 in the Series, stole a base, and contributed sparkling defense. He was also named to The Sporting News AL All-Star Team for the second consecutive season.
Campaneris received a substantial raise for the 1975 season, reported by various sources at $20,000, $25,000, or $35,000. He batted .265 and stole 24 bases. Despite the loss of Catfish Hunter to free agency, the A's won the AL West division, but were swept by the Red Sox in the ALCS.
The A's entered a difficult period in 1976. The team was aging and many members were passing their prime. And free agency had become a factor in contract negotiations, something Charlie Finley had difficulty dealing with. Campaneris was among the players who sought big raises. Finley offered $90,000, but Campaneris asked for a five-year contract at $120,000 per year, or $135,000 for one year. (According to The Sporting News, Campaneris wound with a salary of $72,000.14) Campaneris batted .256, made 23 errors in 149 games, and stole 54 bases in 66 attempts, including a club-record five in a 12-7 victory over Minnesota on May 24. Despite the loss of Reggie Jackson and Ken Holtzman via trade, the A's posted an 87-74 record and finished in second place in the AL West, just 2½ games behind Kansas City.
A free-agency re-entry draft was held after the season and Campaneris was selected by the maximum of 12 teams. After considering all the offers, he signed a contract worth a reported $750,000 for five years and became a Texas Ranger. Rangers general manager Dan O'Brien said Campaneris "adds two dimensions to our team – speed and defense."15 The signing meant that Toby Harrah would be moved to third base. (Harrah commented, I consider it a pleasure to play next to him in the infield."16) To comments that he was now 35 years old, Campaneris said, "I think I know what I can do and how long I can do it. … I plan on playing seven, eight more years. Who knows, maybe more than that."17 Campaneris had a decent season, batting .254 and stealing 27 bases, and his veteran leadership was a contributing factor in the Rangers' rise from fifth place a year earlier to a second-place finish with a 94-68 record.
Despite his confidence, Campaneris began a downward slide in 1978, batting only .186 and playing in only 98 games. After being benched in early August, he voiced his displeasure: "This is the first bad year that I've had and it's because they've taken me out of games for pinch-hitters, and now I don't play. I'm not going to say anything the rest of this year. I'll do the best I can when I do play, but I'll tell you one thing – I'm not going to go through this again next season."18
Rookie Nelson Norman was named the Rangers starting shortstop for the 1979 season, sending an unhappy Campaneris to the bench. On May 4 the Rangers traded him to the California Angels for infielder Dave Chalk. The Rangers also made the trade to rid themselves of Campaneris's $190,000 annual salary, which ran through the 1981 season. With the Angels, Campaneris split time at shortstop for the next two seasons with Jim Anderson and Freddie Patek, batting .234 with 12 stolen bases in 85 games in 1979. On June 20 he got a measure of revenge by stealing three bases in a 5-4 Angels victory over the Rangers.
Campaneris batted .252 with 10 steals in 1980 and had a good stretch in midseason; in September Angels manger Jim Fregosi praised him, commenting, "Over the last six weeks, Bert Campaneris has been our best player."19 However, Campaneris realized his role when 22-year- old Dickie Thon was called up by noting, "They want a young kid, someone to stay around another two years. Maybe we can be like Baltimore with (Kiko) Garcia and (Mark) Belanger. I can help the kid."20
Campaneris played in 55 games in 1981 for the Angels, 46 of them as a defensive replacement at third base, and batted.256. He had five stolen bases. After the season he was granted free agency.
After an unsuccessful tryout at the Orioles' camp during 1982 spring training, Campaneris played for Veracruz and Poza Rica in the Mexican League, batting .277 in 104 games primarily as a third baseman. He still loved playing, and said, "I'll play as long as my legs and arms allow me."21
On February 24, 1983, the 40-year-old Campaneris signed as a free agent with the New York Yankees, who invited him to spring training in Fort Lauderdale, Florida. The Yankees had to pay
$5,000 to obtain his release from Poza Rica. Happy to be getting another major-league shot, Campaneris said, "All my life I've thought about one day playing for the Yankees. Everybody wants to play for the Yankees. That's why I came here first."22
Campaneris was one of the final players in camp that was cut, and he was sent to Triple-A Columbus, where he batted .333 in 13 games, with seven runs batted in and three stolen bases. When Yankees second baseman Willie Randolph was injured, Campaneris was called up to the Yankees on May 4, and in his first start on May 6, playing second base, he had four hits, stole a base, and took part in four double plays. Campaneris played in 60 games, batting a career-high .322 and was a valuable backup at second and third base for the Yankees.
Released by the Yankees after the season, Campaneris was hired by the Angels as a minor-league bunting and baserunning coach. One of his special projects was working with Angels speedster Gary Pettis. He also had stints as a coach with the Houston Astros and the San Francisco Giants. In 2014 he libed in Scottsdale, Arizona, and was a frequent participant in old-timer's games. He conducted baseball camps and was actively involved in the charity golf tournaments held by the Major League Baseball Players Alumni Association.
The highest praise for Campaneris may have come from his old boss and antagonist, Charlie Finley, who said in 1980, "You can talk about Reggie Jackson, Catfish Hunter, and Sal Bando, all those great players, but it was Campy who made everything go."23
Last revised: April 17, 2023 (zp)
Notes
1 Ron, Bergman, "Quiet Campy Stealing Thunder … and Bases," The Sporting News, June 25,1970
2 Joe McGuff, "Campaneris Thrills Kaycee Fans With Exploits as Bandit," The Sporting News, July 31, 1965.
3 The Sporting News August 26, 1967
4 Ron Bergman, "Kennedy Turns Campy Into the Wild West Gunslinger," The Sporting News, August 17, 1968.
5 "Ouiet Campy."
6 Ron Bergman, "Oakland Fans Welcome Their Hero – Speedy Campy," The Sporting News, October 28, 1972.
7 "Oakland Fans."
8 "Oakland Fans."
9 Bruce Markusen, A Baseball Dynasty (Haworth, New Jersey: St. Johann Press, 2002), 133
10 Markusen.
11 Markusen, 162.
12 Markusen, 234.
13 Dave Anderson, "Bert Campaneris Is Still Hurt," New York Times, February 28, 1974
14 The Sporting News, January 8, 1977.
15 Randy Galloway, "Rangers Land Campaneris With a $750,000 Package," The Sporting News, December 4, 1976.
16 Randy Galloway, "Campy's Arrival Convinces Harrah to Switch to Third," The Sporting News, March 26, 1977.
17 Randy Galloway, "Campy Looks for Fountain of Youth in Texas," The Sporting News, April 16,1977
18 Randy Galloway, "Campy Counting His Bucks on Ranger Bench," The Sporting News, September 9, 1978.
19 Peter Gammons, "A.L. Beat," The Sporting News, September 13, 1980.
20 Dick, Miller, "Angels Will Test Trade Winds, but Not Free-Agent Market,"
21 Class AAA Notes, "Campy Going Strong at 40," The Sporting News, June 14, 1980.
22 Murray Chass, "Campaneris, at 40, Tries to Be a Yankee," New York Times, March 4, 1980.
23 Gammons, Peter, "A.L. Beat" The Sporting News, October 4, 1980.
Full Name
Dagoberto Campaneris Blanco
Born
March 9, 1942 at Pueblo Nuevo, (Cuba)
If you can help us improve this player's biography, contact us.
http://sabr.org/sites/default/files/BertCampaneris.JPG
600
800
admin
/wp-content/uploads/2020/02/sabr_logo.png
admin
2012-01-04 20:42:42
2023-04-17 07:49:01
Bert Campaneris