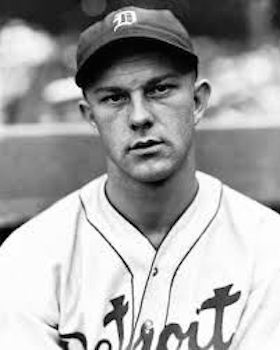 ---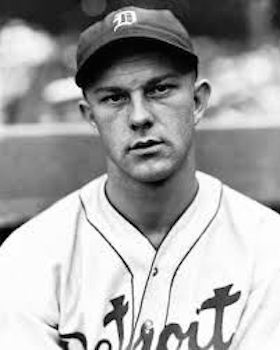 It marked the pinnacle moment in Luke Sewell's managerial career. According to author David Alan Heller in As Good as It Got: The 1944 St. Louis Browns, the club's skipper intended to bench left fielder Chet Laabs during their last series of the 1944 season, only changing his mind at the last minute after watching the right-handed hitter in batting practice. The manager's hunch paid off when Laabs connected for two home runs to lead the Browns to their only AL flag in the club's long history.
Two years earlier Laabs' 27 homers trailed only future Hall of Famers Ted Williams and Mel Ott for the major-league crown. Possessing arms like Popeye and strong, quick wrists that were compared to Lou Gehrig's, Laabs earned rave reviews when he entered the professional ranks: "[He is] worth [his] weight in gold," said Milwaukee Brewers manager Allan Sothoron. "I've seen a lot of young prospects in my time, but none can compare with Laabs."1 Partly of Polish extraction — his maternal grandparents arrived in the United States from Poland in 1881 — Laabs with his prodigious home runs earned the nickname "The Poling Pole."
But when Laabs was not driving tape-measure shots, all too frequently he was striking out. His long batting stride made him susceptible to a high, inside fastball that contributed to a strikeout-to-at-bat ratio nearly twice the major league average. In 1943 Laabs led the AL with 105 strikeouts. This lamentable tendency over his 11-year major-league career resulted in irregular play as Laabs managed only two seasons with more than 393 at-bats — both during the war years of 1942-43.
Chester Peter Laabs was born in Milwaukee on April 30, 1912, the fourth of six children of Herman Julius Laabs and Jennie (Szulczewski) Laabs. His father and paternal grandparents arrived in the United States from Germany in the 1880s when Herman was a young child. The family settled in south Milwaukee near the same haunts that future HOF outfielder Al Simmons would grow up in. In 1910 Herman worked as a molder at the Pelton Steel Casting Company before venturing out on his own as a fabric merchant and tavern owner. He and his wife raised their children within earshot of Borchert Field, home of the Milwaukee Brewers in the American Association.
Laabs attended Boys' Technology and Trade School (a/k/a Boys' Technical High School)2 where, from an early age, he set his sights on a career in baseball. A prep school and American Legion star, in 1927 the 15-year-old joined a semipro club sponsored by the Braman Coal Company.3 Remarkably proficient at nearly every position — a part-time pitcher, in 1932 he set a single-game record with 17 strikeouts — the short, stocky blond became known as "one of the best sandlotters developed on the South Side."4 Used primarily in the infield, Laabs brought a combination of speed, power and average—he rarely hit under .400—that inexplicably attracted little attention from major league scouts. This all changed during a National Catholic tournament held at Chicago's Wrigley Field in 1934. After striking out in several at-bats, Laabs connected with a tremendous drive that drew immediate comparisons to Babe Ruth's Herculean shot in the 1932 World Series. "[T]hose of us who saw [Laabs] hit that long home run are still talking about it," Chicago Cubs infielder Woody English exclaimed a year later.5 The Cubs and Detroit Tigers were among the major-league clubs suddenly interested in Laabs. He returned home instead, and after an All Star selection in the semipro circuit, Milwaukee's "box office magnet"6 signed with the Brewers.
Already possessing a potent, veteran lineup, Brewers manager Allan Sothoron decided that Laabs would develop his skills better under the steady guidance of Fort Wayne (Indiana) Chiefs skipper and former major-league infielder Bruno Betzel. In April 1935 Laabs was optioned to the Class B club, where he spent the season jockeying between second and third base. In his first 54 games in the Three-I League, Laabs scored 54 runs and drove in 63 en route to a dazzling .424 batting average. "He's the greatest kid second baseman I've looked at in many years," Betzel said.7 In July Laabs broke his ankle sliding into third base and the first-place Chiefs went into an immediate six-game tailspin. Though he missed one-third of the season, Laabs still managed to pace the league in home runs (24), slugging percentage (.699), and batting (.384). After he made a cameo appearance with the Brewers at the end of the season, the club found itself inundated with offers for the slugger, including an aggressive pursuit by former Pittsburgh skipper Jewel Ens on the Pirates' behalf. In November Milwaukee owner H.J. "Heinie" Bendinger sold Laabs to the Tigers.
Except for first base and catcher, Laabs was tried at every position during the Tigers' 1936 spring training as the reigning champions considered retaining the youngster in a utility role. Though Laabs captured the attention of player-manager Mickey Cochrane after golfing a drive over the left-field wall in Lakeland, Florida, in exhibition play, two weeks before Opening Day the Tigers reassigned him to Milwaukee. Detecting flaws in Laabs' defense, Cochrane requested that the Brewers move the youngster to the outfield.
In the charming vernacular of the day, Laabs "was some shucks in the American Association"8 during his encore season with the Brewers. Despite a league-record 136 strikeouts, Laabs placed among the leaders with 203 hits, 16 triples, 42 homers, 388 total bases, and a .619 slugging percentage. His home runs were split evenly home and away with one clearing the right-field fence near the Borchert Field scoreboard (one of the longest clouts in the ballpark's 65-year history). The Brewers hosted a Chet Laabs Night to which 14,000 fans showed up and the slugger did not disappoint, adding two more dingers to his growing total. Paired with future All Star first baseman Rudy York in amassing a combined 299 RBIs,9 they led the team to its first league championship in 22 years. They continued to the Little World Series, where they dispatched the International League's Buffalo Bisons in five games.
Having seemingly demonstrated a mastery of the American Association, Laabs still faced the challenge of unseating future Hall of Famers Al Simmons and Goose Goslin in the Tigers' outfield. He failed — or so it appeared. Ticketed for the Toledo Mud Hens in the American Association (Milwaukee was now a Cleveland Indians affiliate), Laabs was retained by the Tigers the day after Simmons was sold to the Washington Senators. On May 5, 1937, Laabs made his major-league debut in Detroit's Navin Field as a pinch-hitter for pitcher Vic Sorrell; he struck out. Five days later he earned another pinch-hit appearance — again unsuccessful — before being released to Toledo. But Laabs was quickly recalled when Goslin started showing wear from his long career. On June 10 he made his first start with a left-field assignment against the Philadelphia Athletics. Laabs posted oh-fers in three consecutive games before connecting for a double against Boston Red Sox righty Bobo Newsom in the second game of a June 12 doubleheader. One week later Laabs collected his first major-league triple and home run while driving in five runs to lead the Tigers to an 8-6 win against the Athletics. On July 10 Laabs had a perfect day at the plate, going 4-for-4 with three runs scored in a 12-11 win over the Indians. The game launched a 21-for-59 run during which he collected 4 homers and 19 RBIs. Laabs was moved to center field, where he remained through August. Inexplicably, he got only one starting assignment during the last month and finished the season with a .240/.308/.434 slash line in 242 at-bats.
In 1938 the Tigers' offseason acquisition of veteran outfielder Dixie Walker, combined with the emergence of rookie center fielder Chet Morgan, made for a crowded outfield in Detroit. Laabs jockeyed between left and center fields and, beginning June 3, he launched a 26-for-73 run that seemingly cemented his role in the lineup. But this productive run was followed by an immediate string of strikeouts that contributed to a far less successful 6-for-47 slump. In July Cochrane assigned Laabs to Toledo with explicit instructions that he learn to hit the curveball. "That guy never will make a big leaguer," the skipper said.10 Though Cochrane's tenure ended a month later, his uncharitable opinion remained. On May 13, 1939, Laabs was traded to the Browns in a 10-player transaction. From Laabs' perspective, the trade was seven months too late. On the last day of the 1938 season, during a record-setting 18 strikeout performance by Bob Feller, Laabs tied a then nine-inning major-league mark by striking out in each of his five at-bats. "I'm just glad I didn't go to the plate six times that day," he cracked years later.11
Unlike the Tigers, in 1939 the perennial second-division Browns did not have the luxury of too many outfielders — Laabs was welcome to St. Louis with open arms. "[He] gives promise of rounding into the star he promised to be," said Sporting News contributor Dick Farrington. "He is a young fellow and has a long future ahead of him."12 An arm injury sustained the day before the May 13 trade sidelined Laabs during his first three weeks in St. Louis but his bat instantly came alive upon his return with six hits in his first 10 at-bats. Though the club lost a franchise-worst 111 games, the long-suffering Browns fans relished the highlights offered by Laabs. On July 28 he connected for a first-inning grand slam against Red Sox righty Elden Auker to lead the Browns to an 11-6 win — halting the club's 10-game losing streak — and finished the last two months of the season with a blistering .328 average in 204 at-bats. Despite not joining the club until the quarter mark of the season, Laabs placed among the team leaders in nearly every offensive category while finishing with a .300/.369/.489 line.
In the spring of 1940 Laabs might have been forgiven for thinking he was reliving 1938 Detroit when a busy offseason produced a host of new faces competing for play in the Browns outfield –especially rookie center fielder Wally Judnich who over two seasons got the most starts. Laabs made the most of his sporadic opportunities by slugging at a brisk .505 pace in 1940 while setting an AL record of 13 total bases in a nine-inning game on July 16, 1941. Over the course of the two years the Browns received a number of queries for the hard-hitting outfielder, including an aggressive pursuit by the Senators offering future HOF catcher Rick Ferrell. "We'd like to get Laabs and use him … in right field," Washington manager Bucky Harris declared in December 1940.13 Though Ferrell eventually joined the Browns in 1941, the club soon reaped the rewards of having retained Laabs' services.
On Opening Day 1942 — Sewell's first full season as the Browns manager — Laabs was inserted into the starting lineup. Connecting for two home runs and eight RBIs over the club's first six games, he led the perennial doormats to a 5-1 start to the season. Laabs' two-run homer on April 19 provided the club's offense in a 2-1 win against the Tigers. A month later he hit a three-run shot off future HOF righty Red Ruffing in a 4-2 win over the New York Yankees. But all of this was mere prelude to the later events that marked Laabs as "the hottest article swinging a bat in the American League."14 Beginning July 11 he collected seven home runs — including two grand slams — and 22 RBIs in eight games to lead the Browns to their longest winning streak in 22 years. "I guess I'm a little smarter," the overnight national celebrity explained. "I've changed up on the [high inside pitches]. I'm squared away more at the plate. My left foot isn't pulled around as far and I'm facing the pitcher more. Besides, I've got something else I never had before –confidence."15 Laabs finished the season with career highs in runs (90), homers (27, trailing only Ted Williams for the AL title), RBIs (99), and total bases (259) to earn some MVP votes. His offensive surge lifted the Browns to their first first-division finish in 13 years and their best winning percentage (.543) since 1922.
But in a game filled with continual adjustments, AL pitchers quickly adapted to Laabs' new batting stance. Despite a career-high 145 hits, his only All-Star Game berth (he established a record seven putouts by a center fielder) and a second straight season garnering MVP consideration, in 1943 Laabs' home-run yield dropped to 17 as he struggled with a .213 average through the second half of the season. He led the league with 105 strikeouts. He was considered "something of a weathervane for the St. Louis team"16 because of the Browns' success when he was hitting, and his tumble coincided with the club's descent back into the second division.
Around the time Laabs was launching his professional career he went ice-skating one winter at Milwaukee's Humboldt Park and met Mathilda "Tilly" Thelen. A Wisconsin native 17 months his senior, Tilly was a trimmer at a hat and glove factory in Milwaukee. On November 7, 1936, the couple married a short distance from Borchert Field at Immaculate Conception Church. The union would produce two children. The young family moved to Detroit when Laabs was promoted to the major leagues and the Motor City became his permanent home.
After the United States entered World War II in December 1941, Laabs spent his winters helping build Jeeps at a Dodge plant in Detroit. As the fighting continued, domestic manpower needs escalated and the draft board compelled Laabs to commit to his defense job full time. In 1944 he "obtained a transfer to a St. Louis pipe plant, where he helped make pipes that were later used in the Oak Ridge, Tennessee, plant where the first atomic bombs were constructed."17 Laabs worked at the plant during the day and joined the Browns at night and on weekends both home and away. (The Browns' arrangement was not an isolated case during World War II; the Indians did the same with catcher Buddy Rosar and infielder Ray Mack.)
Though his irregular play resulted in a homely .140-1-3 line through July 4, Laabs was still capable of putting a jolt into the ball. Midway through the season the Columbia Brewing Company established a $100 Red Cross donation for every home run hit over its Alpen Brau beer advertisement in Sportman's Park's left field. Laabs' July 18 homer was the first, not only clearing the sign (located 365 feet from home plate) but also clearing the back wall an additional 35 feet beyond. This fan delight would pale in comparison to the fireworks he unleashed on the last day of the season.
After the Browns had held the league perch through most of the 1944 season, their dismal 3-12 run through September 2 suddenly turned the AL race into a dead heat; entering the last day they were tied with the Tigers. Needing to sweep a four-game series from the Yankees — something the Browns had not accomplished since 1929 — the team had to also pin its hopes on a Senators' win in Detroit. The Yankees had a 2-0 lead when Laabs came up in the fourth with teammate Mike Kreevich on base. He drove a fastball from rookie right-hander Mel Queen down the left field line just 10 feet inside the foul pole to tie the game. With Kreevich again on base an inning later, Queen threw Laabs a curve that he deposited into the stands in left-center for a 400-foot game-winning blow. Meanwhile, scoreboard watchers relished the news that Senators righty Dutch Leonard had tamed the Tigers. The Browns won their only pennant. (Earlier the St. Louis Cardinals had captured the NL flag to produce the seventh one-city World Series.)
In a decidedly low-scoring Series the Browns proved particularly inept, except for the seven hits collected by first baseman George McQuinn. They were eliminated in six games having managed a mere .183 batting average. Laabs faced his own challenges as well. After going hitless in his first nine at-bats (five strikeouts) he collected a single, double, and triple — the latter a 422-foot drive to Sportman's Park's spacious center field — to finish with a .200 average. Laabs will forever own the distinction of scoring the last run in the short postseason history of the St. Louis Browns. (He also drew a rebuke for not sliding when he was thrown out on a close play at the plate in the sixth inning of Game Six.) He never returned to the postseason.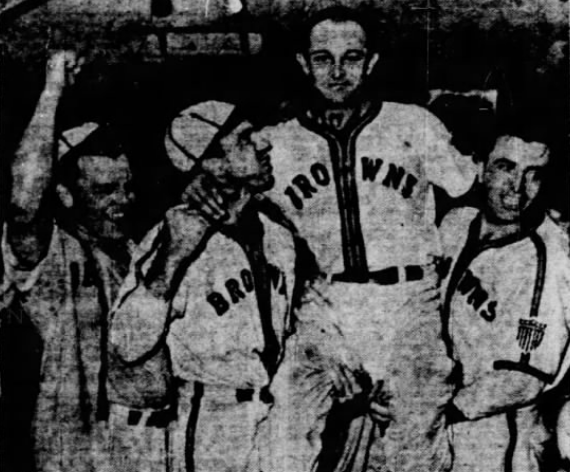 Chet Laabs of the St. Louis Browns is carried off the field by his teammates after hitting two home runs in the Browns' pennant-clinching victory over the Detroit Tigers on October 1, 1944. (St. Louis Star/Newspapers.com)
After the Series Laabs returned to his home in Detroit to resume his job at the Dodge plant. In November reports surfaced of a multiplayer trade in which Laabs would be sent to Cleveland, but nothing came of this. Meanwhile, the young family man had discovered he could make more money with his defense job and in March 1945 Laabs announced he would not report to the Browns' spring training. He eventually joined the club on August 3 as the defense work slowed in the closing days of the war. Used primarily in left field, Laabs posted a meager .239/.352/.358 line in 109 at-bats over 35 appearances.
In 1946 Laabs, despite a team-leading 16 homers and a .492 slugging percentage, often was an afterthought as the Browns moved to an outfield platoon throughout the season. Irregular play once again proved his undoing and Laabs became mired in a 1-for-23 slump through June 4. One of his few highlights came on August 31 in an event that did not show up in the box scores. During a pregame home-run-hitting contest, he wowed the crowd with a 435-foot drive. His reward was even less play in September. It was readily apparent that the club was headed in a different direction and, days before the start of the 1947 season, Laabs was sold to the Philadelphia Athletics.
For more than four years A's manager Connie Mack had been an admirer of Laabs after his team fell victim to the slugger's July 1942 offensive onslaught (five of the seven home runs and 15 of the 22 RBIs during Laabs' surge came at the expense of Mack's pitchers). After a horrid 105-loss season in 1946 in which the Athletics managed just 40 homers, Mack hoped to add some heft to the lineup. But Laabs was used sparingly with most of his appearances coming via pinch-hit opportunities. On June 3 he entered the fifth inning of a game against the Chicago White Sox subbing for pitcher Joe Coleman and flied out. It proved to be Laabs' last appearance in the major leagues when days later he was sold to the Buffalo Bisons for $10,000.
Initially Laabs refused to report, but Buffalo fans were soon happy when he changed his mind. Over a two-week span beginning June 19, the Bisons' new cleanup hitter strung an 11-game hitting streak together with seven homers. The onslaught continued throughout the remainder of the season as Laabs tied with fellow outfielder Anse Moore for the club lead in home runs (22) while placing among the league leaders with a .559 slugging percentage. He opened the next year with six home runs and 14 RBIs in the Bisons' first seven games (including five homers in five days, tying tied a 23-year-old club record). By June 30 Laabs had 24 home runs and was on course to shatter the league record 63 homers set by Joe Hauser in 1930. Inexplicably, over this two-year explosion Laabs got little attention from the major leagues. (The Boston Braves reportedly showed some interest before turning elsewhere.) The International League All Star finished the 1948 season trailing only future Brooklyn Dodgers slugger Duke Snider for the circuit's slugging crown. Even more astounding was the fact that nearly all of Laabs' production — including all 29 homers — came with two months remaining in the campaign. A hand injury in July, later diagnosed as arthritis, prevented him from being able to grip a bat. After placing among the league leaders with a .325 average through much of the season, Laabs returned (arguably too early) with a lackluster 11 hits in his final 61 at-bats.
In January 1949 Laabs was admitted to a Detroit hospital for surgery on his hand. He opened the season with Buffalo before a knee injury to Toronto outfielder Johnny Welaj prompted the Maple Leafs to purchase Laabs from the Bisons. On July 17, in his first return to Buffalo, the 37-year-old slugger tied a league record with a perfect 6-for-6 day. He finished with a .270/.407/.499 line with 22 homers and 75 RBIs. (The 22 home runs were evenly split between Buffalo and Toronto.) Disturbingly, he also led the league with 107 strikeouts, a matter he had seemingly resolved in some of the preceding years.
The Maple Leafs were the Triple-A affiliate of the Philadelphia Phillies and in the spring of 1950 Laabs made an unsuccessful bid to join the parent club as a nonroster invitee. Reassigned to Toronto, he was released in May as the Leafs set a course for a youth movement.18 Laabs' departure came despite his league-leading 30-home-run pace. Returned to his Detroit home, Laabs was quickly lured back by Jersey City after the New York Giants promoted future HOF outfielder Monte Irvin. Laabs opened with a .400-3-8 line in his first eight games with Jersey City and finished among the team leaders in nearly every offensive category. He retired after the club released him the following spring.
Laabs took a job as an advertising manager for a small Detroit weekly before going to work for Spike Lawrence Trophies. An extremely quiet, modest man — wise-cracking teammate Alan Strange nicknamed him "Pussy Cat" for his mild-mannered nature — in June 1958 Laabs was coerced into participating in an Old Timer's Game at Detroit's Briggs Stadium, where he had a wonderful time. Six years later he traveled to St. Louis's Busch Stadium to celebrate the 20th anniversary festivities of the Browns' pennant-winning season. Laabs enjoyed fishing and bowling and was especially doting of children. Besides raising his own son and a daughter he was godfather to the son of Buffalo teammate Clem Hausmann.
On January 26, 1983, Laabs was recuperating from a gallstone operation when he had a heart attack and died three months removed from his 71st birthday. His sudden passing came as a shock to his loved ones as Laabs kept himself in tremendous physical condition.19 He was buried at St. Clement Cemetery in Center Line, Michigan, 15 miles north of downtown Detroit.
Aside from the success attained during the war years, Laabs never realized the projections heaped upon him by coaches and managers like Allan Sothoron. He finished his 11-year major-league career with a .262/.346/.452 line in 3,102 at-bats.
Acknowledgments
The author wishes to thank SABR members Bill Mortell for his valuable research. Further thanks are extended to Len Levin for review and edit of the narrative.
Sources
Besides those cited in the Notes, the author used these sources:
Ancestry.com.
Chester Laabs Jr., telephone interview, June 25, 2016.
Notes
Born
April 30, 1912 at Milwaukee, WI (USA)
Died
January 26, 1983 at Warren, MI (USA)
If you can help us improve this player's biography, contact us.
http://sabr.org/sites/default/files/LaabsChet.jpeg
600
800
admin
/wp-content/uploads/2020/02/sabr_logo.png
admin
2016-08-25 17:10:18
2016-08-25 17:10:18
Chet Laabs